Dublin with kids
By Jody Halsted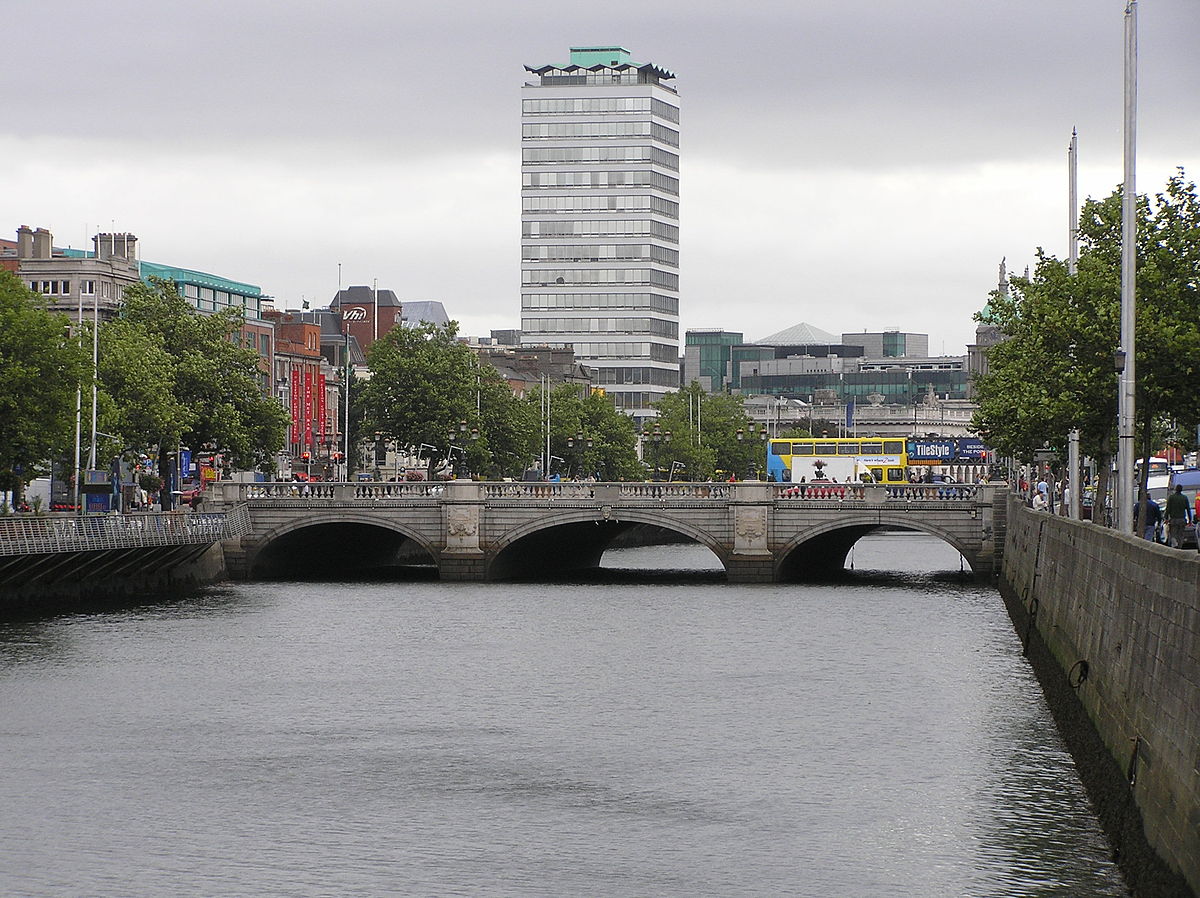 O'Connell Street Bridge in Dublin (Flickr: Thpohl)
The majority of international flights to Ireland arrive and depart from Dubin, making the 'Fair City' either the first or final place a visitor to Ireland explores.
And a fine city it is! The City Centre is compact enough that even a child can traverse it, and public transport – bus, Luas, or taxi – are frequent and inexpensive. Here's a great family's guide when visiting Dublin with kids.
(MORE: Family-Friendly Hotels in Dublin)
Exploring Dublin With Kids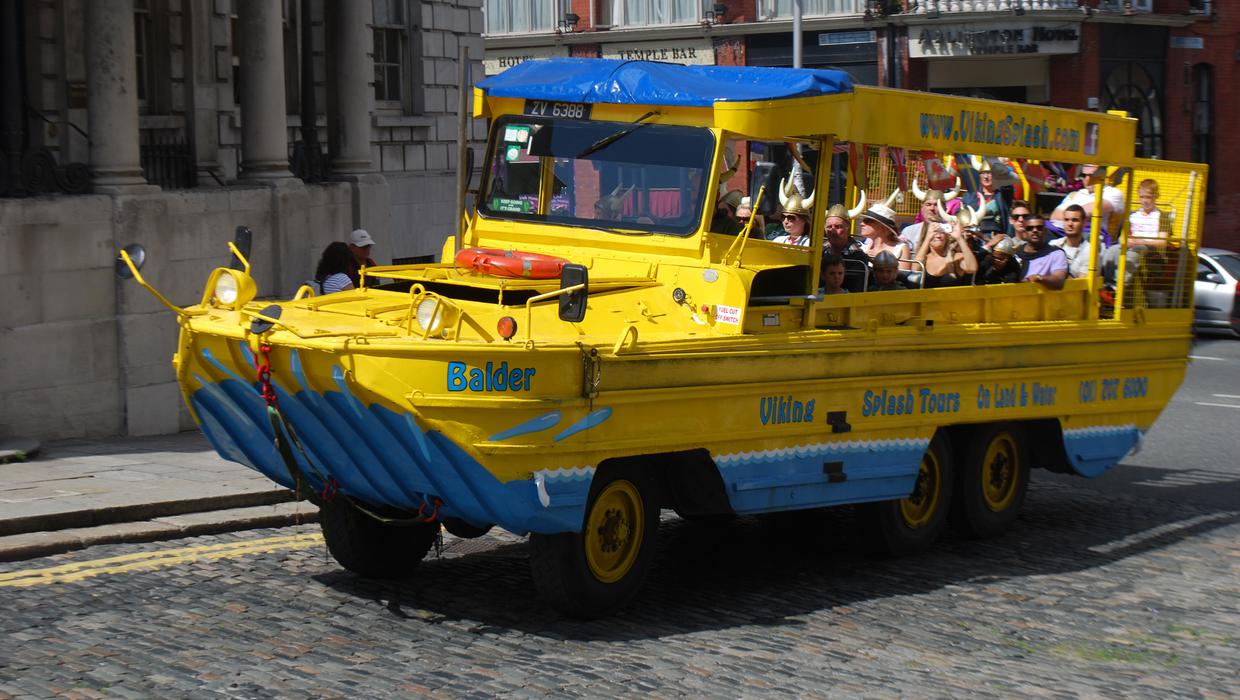 Viking Splash Tours (Courtesy Viking Splash Tours)
Ireland's most populous city is small in size, but packs plenty for families to enjoy. The best way to get your bearings in any new place is to take a tour. In Dublin, you have your pick of options.
The Pat Liddy Best of Dublin walking tour is a fun way to learn a bit of Dublin's long history while spotting landmarks to guide your own explorations later.
For history served with a side of good fun, opt for a Viking Splash tour of Dublin. After offering you a traditional Viking helmet and teaching you to roar like a pillager, your guide will share bit of Dublin history, peppered with stories, as the aquatic vehicle takes you across land and water through the city.
If short legs will protest too much walking and you don't 'speak Viking', the Dublin Hop on Hop off bus is the perfect way to get from sight to sight while learning about the city.
Fans of self-guided tours will love the kid-friendly trails and maps from Get Out Find Out. Choose from three kid-friendly tours through Dublin that pack plenty of information for parents to enjoy, too.
Don't Miss These Kid-Approved Dublin Highlights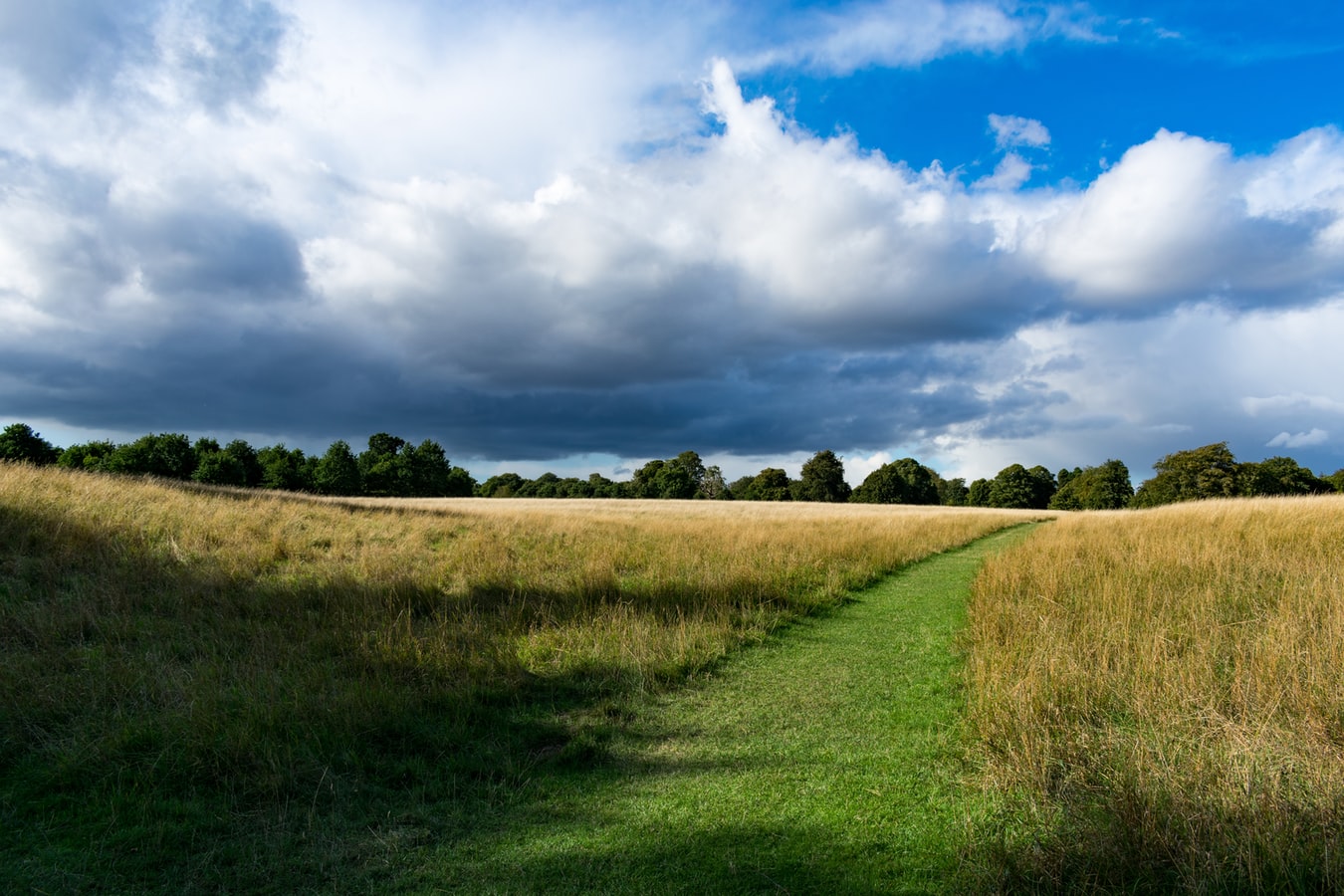 Phoenix Park (Flickr: Michalis Mantelos)
These are the not-to-be-missed, kid-recommended sights in Dublin.
National Museum of Ireland Archeology. Every visit to Dublin includes a stop at this museum! Kids love the free worksheets that help guide them through exhibits. For the adults, the hordes of Celtic gold and the ancient Bog Bodies draw visitors back time and again. Added bonus: always free entry!
Little Museum of Dublin. This townhouse museum gets high points for its interactivity. Rooms are mish-mashed with photos, clippings and keepsakes, taking you through decades of Dublin history. The guided tour provides incredible insight into Ireland's capital city.
Dublinia Located at the 'crossroads of modern Dublin and old Dublin', Dublinia turns your family into history hunters as it leads you through Viking and Medieval Dublin.
Phoenix Park & Dublin Zoo. Established as a Royal Deer Park, Phoenix Park is one of the largest dedicated parks in a European city. Walking and biking paths lead visitors to the park's many sights – a fort, castle, monuments and gardens. Dublin Zoo, located within the grounds, is one of the oldest zoos in the world and home to over 400 animals.
St. Stephen's Green. Located at the end of Grafton Street, the park maintains its original Victorian layout. Bring bread to feed the ducks while you enjoy a lakeside stroll. Be sure to search out the waterfall on the west side of the park, as well as the numerous sculptures and playground for the kids.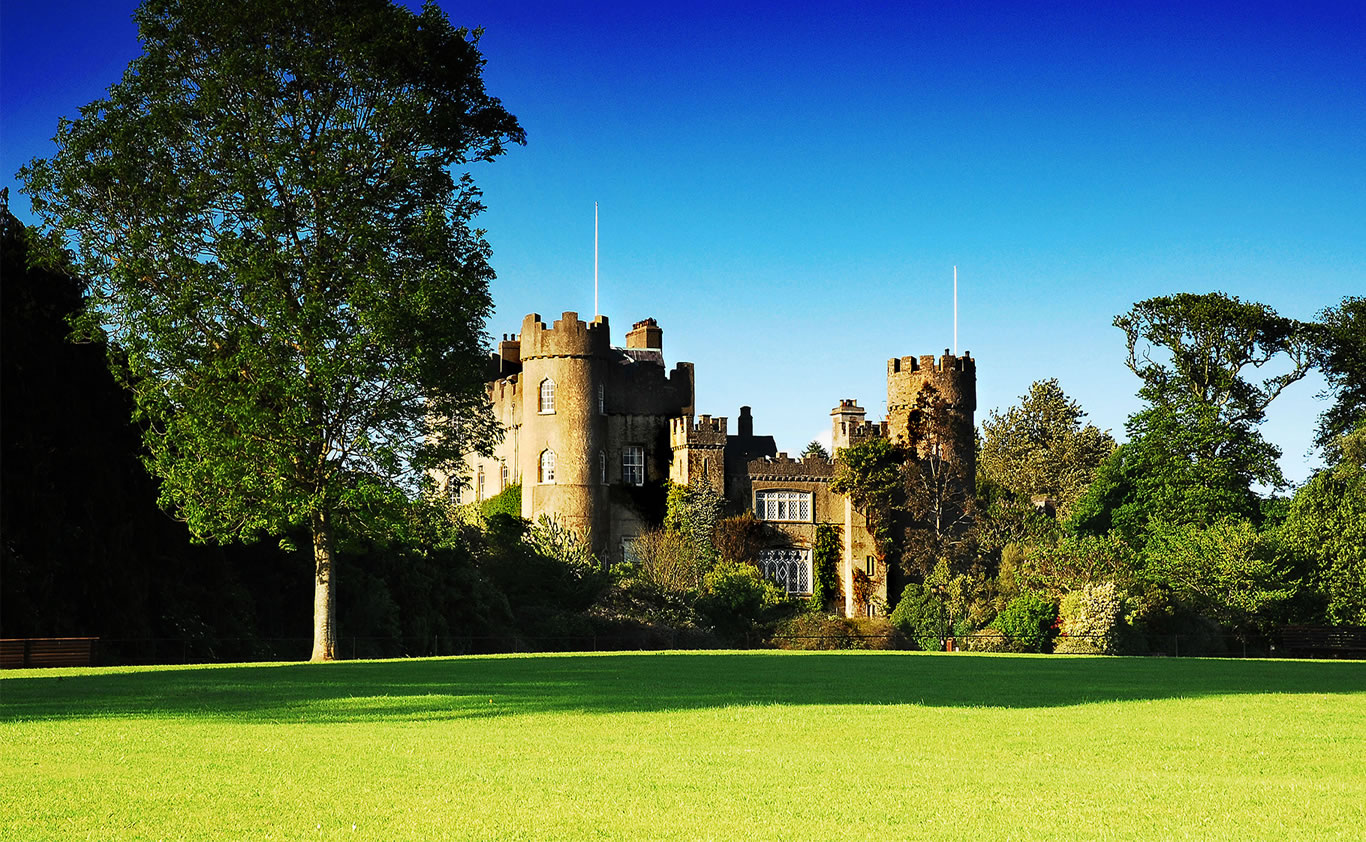 Malahide Castle (Photo: Malahide Castle Official Website)
Malahide Castle.Though located a bit outside Dublin in the village of Malahide, this castle is well worth leaving the city centre for! In the ownership of one family for over 800 years, the castle is filled with history – and a few ghosts! The castle tours are entertaining and the guides spectacular with kids. Afterwards enjoy the beautiful castle grounds and take a mini-train ride into Malahide village before taking the real train back to Dublin.
(MORE: Best Things to Do with Kids in Dublin)
Family-Friendly Dublin Tips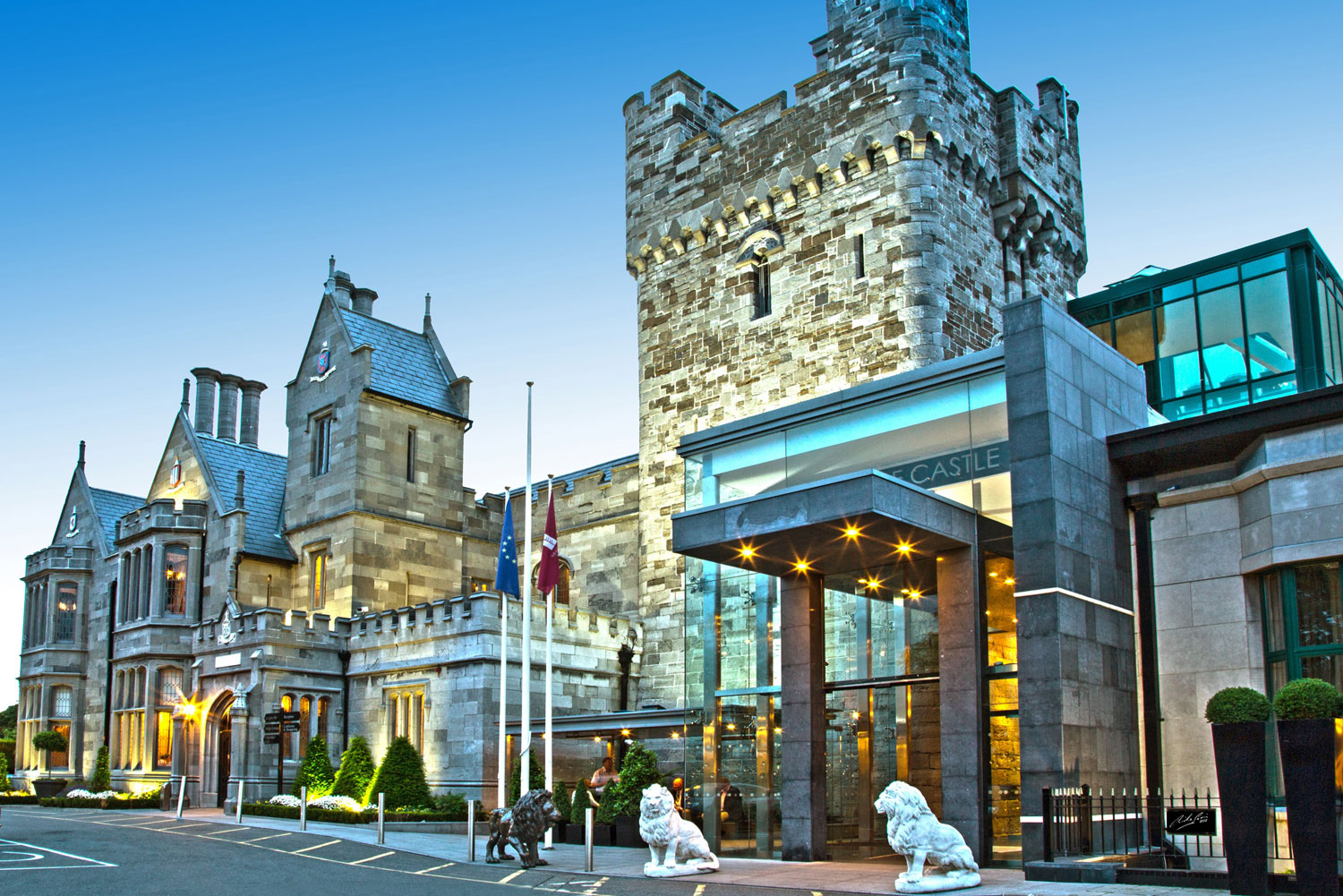 The Castle Hotel (Courtesy The Castle Hotel)
Where to stay: Dublin is not an inexpensive city, but we found the family room at the Castle Hotel to be incredibly spacious and very comfortable with a large sitting room just outside the door. The pub, located in the lower level, has live music nightly. Complimentary breakfast each morning and easy walking distance to the city centre makes this a great and budget friendly-family option.
Where to eat: Your Irish breakfast at the hotel should keep you filled until afternoon. When it's time for a meal, look for one of four KC Peaches locations. Everything is made fresh daily and blessedly affordable.
A daily splurge: Between your hearty breakfast and your evening meal be sure to stop at Murphy's Ice Cream on Wicklow Street. The incredibly friendly staff will indulge your request for samples and offer advice on which flavor (or flavors) to choose. The Caramelized Brown Bread with a bit of Carmel Honeycomb is a personal favorite.
Photo Opp: Built as a shortcut over the River Liffey, the convenience of using the Ha'Penny Bridge once cost a half penny per person. After suffering years of neglect, the bridge was restored and reopened in 2001. The bridge is busy, but patience pays off in a great memento of your trip.
Save money: If you have a few of Dublin's more popular sites on your itinerary, consider purchasing a Dublin Pass for each member of your family. It offers entry into 33 of Dublin's top tourist destinations (including the Little Museum of Dublin, Malahide Castle, Dublinia, and the Guinness Storehouse) as well as special savings for pass holders.
Live Music: Finding a pub in Dublin with live music that you can take kids to can be tough. Just down O'Connell Street from the Castle Hotel, Murray's Bar & Grill welcomes families for a meal, live music, and Irish dancers. Tip: music begins at 9pm; arrive earlier for best table.
Whether you stay in the city, or take the train in for a day trip, Dublin is a fun, kid-friendly addition to your Ireland family vacation.
Jody Halsted of FamilyRambling.com contributed this to MiniTime.