12 Reasons to Visit the Finger Lakes
By Suzanne Rowan Kelleher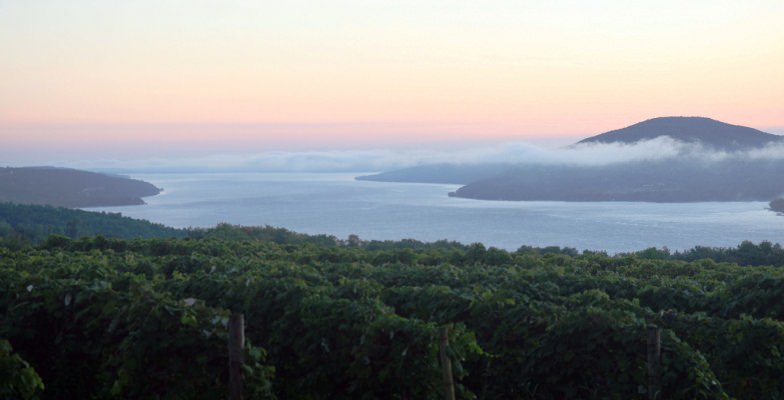 Finger Lakes in New York (Flickr: Visit Finger Lakes)
Within an imaginary triangle of Upstate New York between Syracuse, Rochester and Elmira-Corning, there are eleven long, narrow lakes lying roughly parellel to each other. According to Iroquois legend, God looked upon this land with special favor and reached down to bless it, leaving the imprint of his hands. From the sky, the Finger Lakes do indeed look like handprints, but of course, geologists tell a different story. As the last ice age ended, receding glaciers gouged enormous and deep holes, leaving not only lakes, but also magnificent gorges and over a thousand waterfalls.
Still, the scenery plays only a part of this region's riches. Love culture? There are more than 135 museums and 80 art galleries here. Enjoy exploring vibrant college towns? The area is home to a dozen scholarly institutions, including Cornell University and Ithaca College (both in Ithaca), Wells College (in Aurora), and Hobart and William Smith Colleges (in Geneva). The 100 or so vineyards in the area make this New York's largest wine-producing region. With more than 650 miles of shoreline, the Finger Lakes are a natural recreation magnet and a superb destination for a family vacation. Here are a dozen reasons to bring the kids:
1 You'll need at least half a day to fully explore Rochester's National Museum of Play at the Strong, a mega wonderland devoted solely to games, toys, and just having fun. Along with its many collections—including the National Toy Hall of Fame—this museum is fabulously interactive, with 150,000 square feet of cool, hands-on exhibits for families to explore. Don't miss the American Comic Book Heroes exhibit, where kids can practice a coveted super power (gamma rays! super memory! flight!) to battle evil. Tip: Before you go, consult the event calendar for special programming. (One Manhattan Square, Rochester; 585/263-2700; Open Mon-Thurs 10am-5pm, Fri-Sat 10am-8pm, Sun noon-5pm; Admission: $12/adult, $10/child 2-15, free for kids under 2.)
2 Towering 400 feet above the gorge floor, the namesake of Taughannock Falls State Park is twice as tall as Niagara Falls and one of the highest waterfalls east of the Mississippi. You can park at the overlook on Taughannock Falls Road, but viewing the falls is more fun and memorable from below. Park in the lot off Route 89, and hike the flat, .75-mile-long Gorge Trail that skirts along the creek and leads up to the base of the falls. (Don't forget your camera; it's a spectacularly photogenic location.) The park also boasts many miles of hiking trails, plus a sheltered, lifeguarded public beach on Cayuga Lake that has a playground, barbecue facilities, and lots of room for kids to run and roam. (2221 Taughannock Rd., Trumansburg; 607/387-6739; Entry fee: $7/vehicle.)
3 Active families—especially those with adrenaline-loving teens and 'tweens—will definitely want to check out the brand new Adventure Center at Greek Peak Mountain Resort, featuring a mountain coaster, four zip lines, two ropes challenge courses, and the Virtusphere—a 10-foot hollow sphere you enter to experience a virtual reality adventure. In addition, there are miles of mountain biking trails, a year-round tubing center, and a Euro bungee. Stay at the resort's Hope Lake Lodge and you'll get admission for four to its indoor waterpark, complete with tube slides (one is three stories tall), an interactive play structure, splash pad, and lazy river. (2000 NYS Rte. 392, Cortland; 800/955-2754; Adventure Center day pass: $59/person.)
(MORE: Find more family mountain getaways.)
4 For kids of all ages who love astronomy, a trip to the Sciencenter guarantees you will never look at a starry sky the same way again. Start with a round of Galaxy Golf, a unique outdoor mini golf course that challenges players with a different principle of science or math at each hole. Then check out the interactive computer games at the Mars and Stars exhibition, which features beautiful images taken by the Hubble Space Telescope. Above all else, be sure to visit the outstanding Sagan Planet Walk, named for former Cornell astronomy professor Carl Sagan. This outdoor walking-scale model of the solar system extends .75 mile and features over 250 hands-on exhibits that encourage kids to wonder at the universe and its billions upon billions of stars. (601 First St., Ithaca; 607/272-0600; Open Tues-Sat 10am-5pm and Sun noon-5pm; Admission $7/adult, $5/child 3-17, free for kids under 3.)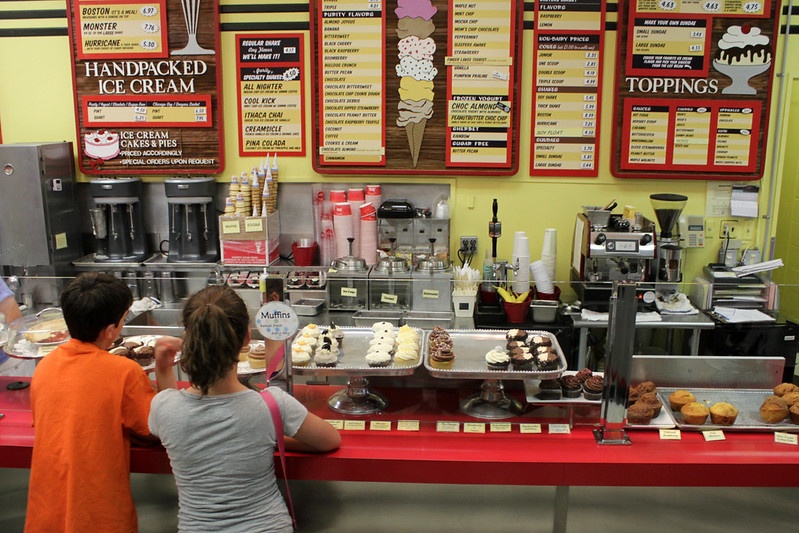 Purity Ice Cream in Ithaca, NY (Flickr: woodleywonderworks)
5 You scream, I scream, we all scream for Purity Ice Cream, a retro institution that's been serving up scoops of luscious ice cream and frozen yogurt in Ithaca since 1936. Every scrumptious flavor is homemade (Madigan Mint! Bulldog Crunch!), and the milkshakes and root beer floats have earned legions of devoted fans. (700 Cascadilla St., corner of Rte. 13; 607/272-1545; Open weekdays 7am-9:30pm, weekends 9am-9:30pm.)
6 Some museums are all about show and tell, but the really great ones know that kids learn best by doing. The Corning Museum of Glass dazzles with fabulous galleries of glassworks and terrific demos of live glassmaking. But the wow factor here is that kids and parents can sign up for workshops to learn artisanal crafts such as glassblowing, fusing, glassforming and sandblasting—and leave with one-of-a-kind souvenirs they made themselves. Tip: Sign up in advance for the workshops; tickets are on a first come, first served basis. (One Museum Way, Corning; 800/732-6845; Open daily 9am-8pm; Admission: $14/adult, free for kids 19 and under; workshops $10-$28/person.)
7 The Hawaiian sport of stand-up paddleboarding is sweeping the nation, and this is an ideal place to try it. Finger Lakes Paddleboard will deliver a board anywhere in the Finger Lakes; delivery is for free for Cayuga Lake, Owasco Lake, and Skaneateles Lake. (Based in Skaneateles; 315/237-7000; Rentals, including board, paddle, life vest and instruction: $25/hour, $60 for three hours, $80/day.)
(MORE: Find more kid-friendly lake vacations.)
8 For the perfect Finger Lakes souvenir, head to The Windmill Farm & Craft Market, an outlet for nearly 200 local producers and craftsmen, from painters and woodworkers to jewelry makers and basket weavers. Beyond shopping, there are horse-and-buggy rides, live entertainment, and an outdoor café in the middle of a mini pine forest. (3900 State Rte. 14A, Penn Yan; 315/536-3032; Open every Saturday 8am-4:30pm from late April to mid-December; also open Memorial Day, 4th of July and Labor Day.)
9 Ask a local where to head for affordable dining with kids, and you'll likely be steered to the wildly popular Doug's Fish Fry. The secret to Doug's success with seafood? Keeping the menu simple and doing everything really well. Come for delectable fish, shrimp, lobster, oysters, scallops, steamers, and a chowder that rivals New England's best. And for the non-seafoodie in your family, chicken tenders are also on the menu. (8 Jordan St., Skaneateles; 315/685-3288; Second location: 206 West Rd., Cortland; 607/753-9184; Dinner $5-$10/person.)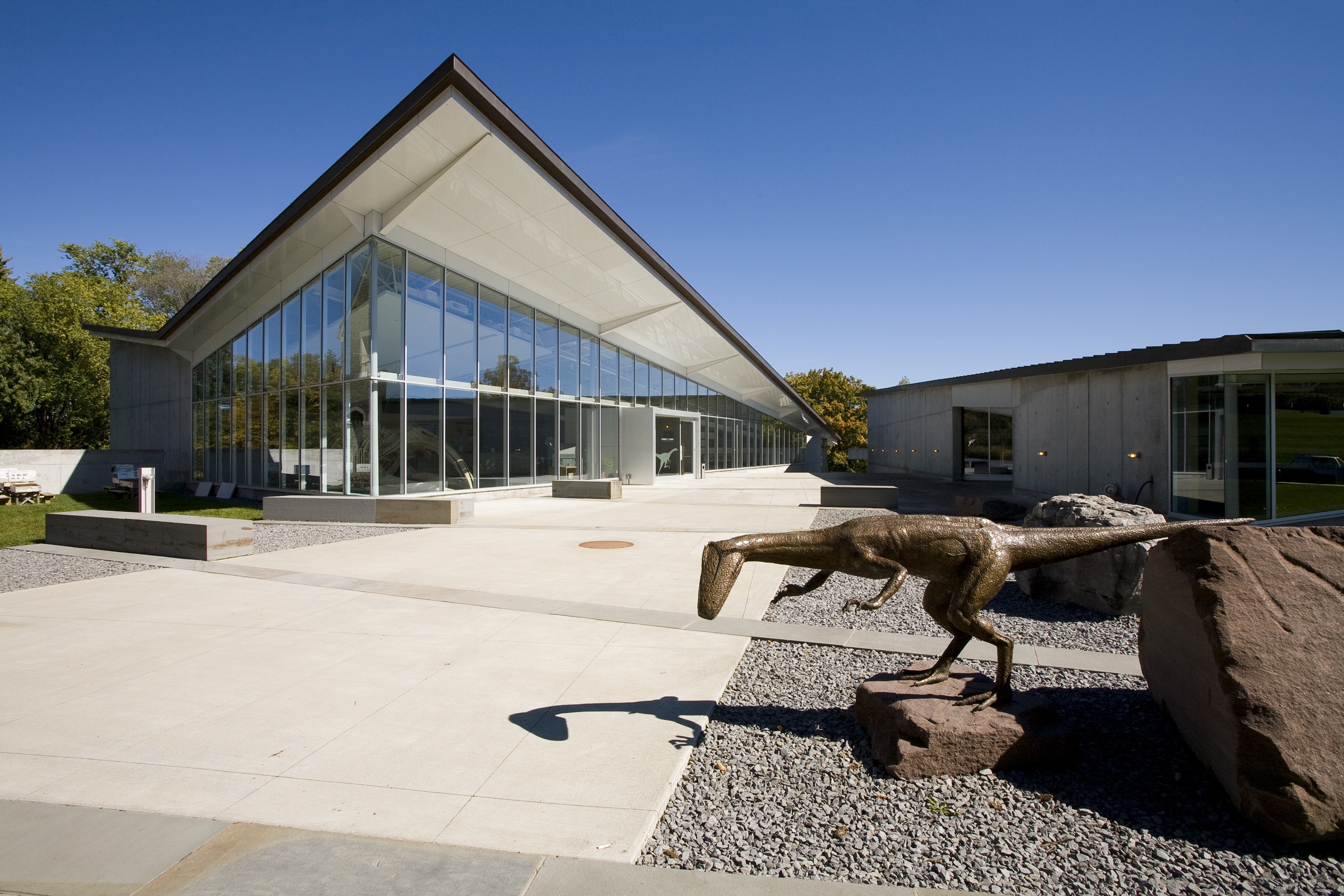 Museum of the Earth (Photo: events.cornell.edu)
10 Fossils and dinosaurs and mastodons, oh my! Befitting a region created during the ice age, the Museum of the Earth takes you back to when it all began. Kids can touch and feel history through hands-on exploration of fossils at the discovery stations, and get their photo taken with the skeleton of the Hyde Park Mastodon, one of the most complete mastodons ever discovered. (1259 Trumansburg Rd., Ithaca; 607/273-6623; Open Mon-Sat 10am-5pm, Sun 11am-5pm; Admission: $8/adult, $3/child 4-17; free for kids 3 and under.)
11 The highlight of visiting this region is getting out on the water. Hop aboard a cruise on the Mid-Lakes Navigation Company's Judge Ben Wiles flagship, whose upper deck allows you to walk around and really appreciate the beauty of Skaneateles Lake. There are nine different day cruise options, from a 50-minute sightseeing cruise to a three-hour barbecue dinner cruise. Tip: Grab some take-out from Doug's, above, for a picnic on the boat. (11 Jordan St., Skaneateles; 315/685-8500; 50-minute cruise: $12/adult, $8/child; three-hour barbecue cruise: $47/adult, $38/child.)
12 Finding an affordable place to stay with kids in the Finger Lakes is never a problem. The Upstate New York Hotel Marketing Association includes family-friendly Holiday Inn properties in Ithaca, Auburn, Elmira, Rochester and Seneca Falls/Waterloo, as well as Holiday Inn Express properties in Horseheads and Rochester. There's an awful lot for parents to love about these hotels, including free kids' meals, swimming pools, fitness centers and free wi-fi. (800/HOLIDAY.)
Click to rate this post!
[Total:

0

Average:

0

]