Cold winter weather? Brrrring it.
By Katrina Brown Hunt on Dec 4, 2013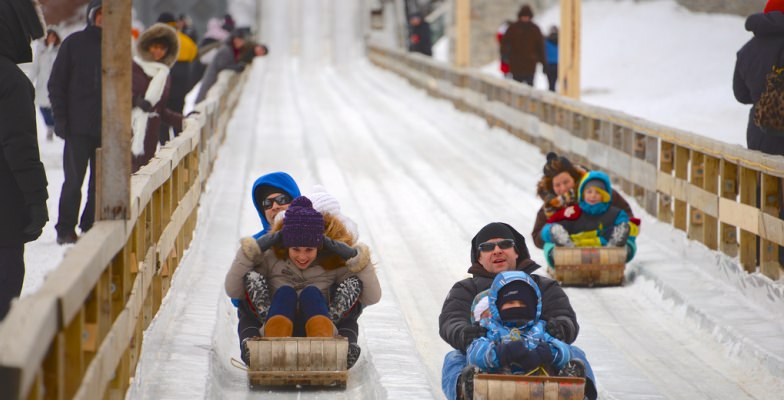 Flickr: Jamie in Bytown
At the height of winter, folks in snowy towns have long created excuses to embrace the cold and shake off cabin fever. Here are nine festivals in North America—some lasting up to three weeks—where you and your family can throw snowballs, see reindeer gallop down city streets, try skijoring, or even celebrate cryogenics:
Stowe Winter Carnival: Jan. 18-Feb. 2, 2014
Because "there's always snow in Stowe," this picturesque Vermont resort town throws a party every year with snow carving demonstrations, ski races and a kids' carnival of games—as well as the much-anticipated competitions of snow golf and snow volleyball.
(MORE: Browse parents'reviews of kid-friendly hotels in Stowe.)
St. Paul Winter Carnival: Jan. 23-Feb. 2, 2014
This annual event began in 1886, in part to spite a New York Times writer who called the Minnesota twin city uninhabitable during the winter. You can't miss the enormous ice palace, and you won't want to miss the ice-carving contest, snowplow races, dog sledding, and a re-staging of the overthrow of King Boreas (king of the winds). Families can also take part in a moonlight stroll, fun run, or—giving a slight nod to that Times reporter—some cozy, indoor bounce houses and roller skating.
Winterlude: Jan. 31-Feb. 17, 2014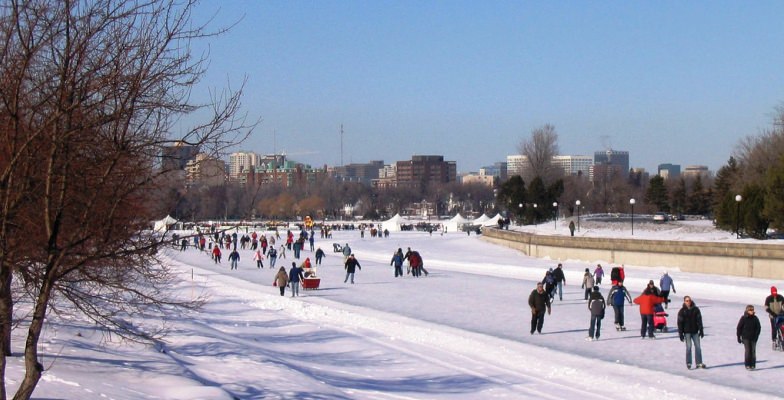 Flickr: Robbie1
North of the border in Ontario, the city of Ottawa claims the largest natural ice rink in the world: the frozen Rideau Canal, which stretches more than four miles. You can skate through downtown, or play in the giant Snowflake Kingdom in neighboring Jacques Cartier Park. Festivities include bed races, snow slides, obstacle courses, and igloo-building workshops. You can also get a hug and photo op with the big furry character mascots, the groundhog-esque Ice Hogs.
Saranac Lake Winter Carnival: Jan. 31-Feb. 9, 2014
Less than an hour from the Canadian border, this pretty town in New York's Adirondacks has been hosting this winterfest—with a giant homemade ice palace as its centerpiece—since 1897, when the lake supplied blocks for home iceboxes all over the region. There are winter sports contests—such as alpine and Nordic skiing, kids' skating races, and curling—as well as snow broomball, snow volleyball, snowshoeing and an all-ages ultimate Frisbee contest. This year's theme is Celtic Carnival, and festivities will include a parade and fireworks.
Carnaval de Quebec: January 31-Feb. 16, 2014
North America's biggest snow party belongs to Quebec City, along the ice-chunk-filled St. Lawrence River. There are slip-and-slide canoe races, horse races, snow sculpture competitions, parades and a snowman mascot named Bonhomme. Kids will love the snowball-tossing Castle Conquest game, snow slides and the giant table-soccer games. To fit in, wear a red hat or sash, and grownups can order a caribou (a warming mix of brandy, vodka, sherry, and port).
(MORE: View a family trip itinerary: 2 days in Quebec City with kids.)
Steamboat Springs Winter Carnival: Feb. 5-9, 2014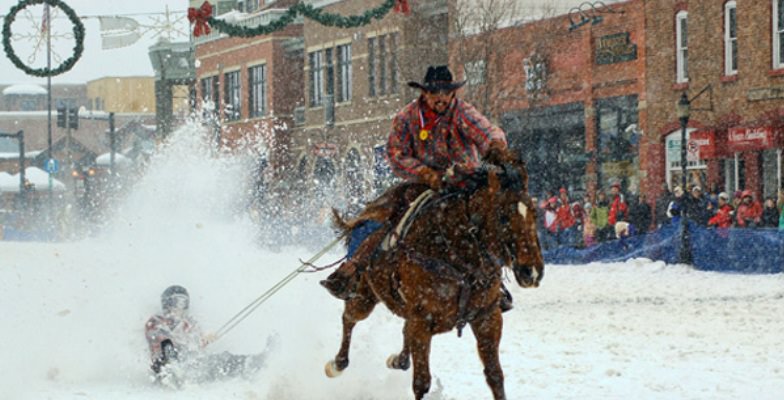 Steamboat Springs
This Colorado ski town's wonderland has Wild West flair, featuring a biathlon where competitors dress in vintage fur trapper's clothing and then ski while shooting black powder muzzleloaders. Aside from other traditional ski contests, there are also shovel races, a donkey jump and two races that blur the line between dog sledding and dad sledding: in one contest, family dogs pull their kids on sleds, and in the other, dads do the same, on all fours.
Whitefish Winter Carnival: Feb. 7-9, 2014
This Montana festival, south of Glacier National Park, pays homage to Ullr, a god of snow. There are parades in the town of Whitefish, as well as ski races, hockey, skijoring (skiers towed by horses), and, for the brave, a dip in chilly Whitefish Lake as part of the annual Penguin Plunge. Kids will especially enjoy watching for the costumed yetis who try to kidnap the snow queen and pull other pranks.
Fur Rondy: Feb. 21-Mar. 2, 2014
Visit Alaska in late winter and you can witness the northern lights—as well as outhouse races and the annual running of the reindeer, two festive activities that will take to the streets of downtown Anchorage during the 77-year-old Fur Rendezvous. The centerpiece of the Fur Rondy, as locals call it, is dog sledding, but there's also winter fun such as snow sculpting and snowshoe softball. Hang around a few days afterward and you can watch the Iditarod kick off in town, too.
Frozen Dead Guy Days: March 7-9, 2014
Just 16 miles west of Boulder, the small town of Nederland, Colorado, was once home to Grandpa Bredo Morstoel, a Norwegian immigrant who has been kept cryogenically frozen in his relatives' home since his death in 1989. This has inspired an annual weekend of good-humored frozen festivities, from hipster-friendly live music and a beer tent to family-friendly events such as the parade (of hearses), ice carving, frozen-turkey bowling, a brain-freeze contest, and a salmon-tossing competition.
Katrina Brown Hunt contributed this to www.MiniTime.com.