From Mickey to minions, these hotels go all out to entertain and immerse.
By Katrina Brown Hunt on Jun 25, 2014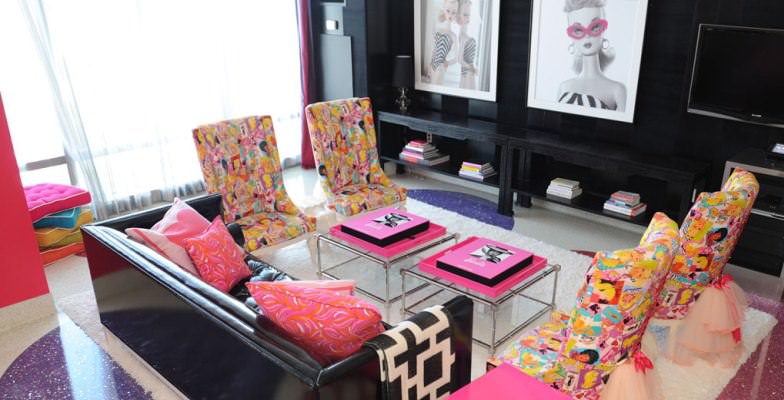 Barbie Suite at the Palms Casino Resort in Vegas (The Palms Casino Resort)
On many a theme park vacation, kids fall asleep with visions of Mickey or minions dancing in their heads. And sometimes if you book the right hotel room, they can wake up to those same characters dancing on the walls. Plenty of hotels—especially those at theme parks—recognize the wow factor that comes from immersing guests in a fantasy realm.
Granted, some of the most over-the-top and seemingly childish hotel suites in the world—such as the Hello Kitty rooms in Taiwan's Hi-Lai Plaza Hotel—aren't just for kids. But many American hotels have families in mind, offering extra special suites that balance eye-popping color and theming with a more subdued zone for the grownups. Here are seven delightfully vivid digs for the kids:
Barbie Suite: The Palms Casino Resort
Where else but Vegas could you expect to sleep inside Barbie's Dream House? This blinged-out, 2,300-square-foot suite at The Palms features Barbie art, giant pink poodles flanking the two-way fireplace and a sunburst mirror made from 65 dolls. With one king and two queen beds, the suite easily sleeps six. As an acknowledgement that the some guests' doll-playing days are behind them, however, the suite carries a steep price tag—as well as VIP status, if you need it, at a nightclub downstairs. Starts at: $3,000 on weeknights, $4,000 on weekends.
(MORE: Browse parent reviews of kid-friendly attractions in Las Vegas.)
Minion Suites: Loews Portofino Bay Hotel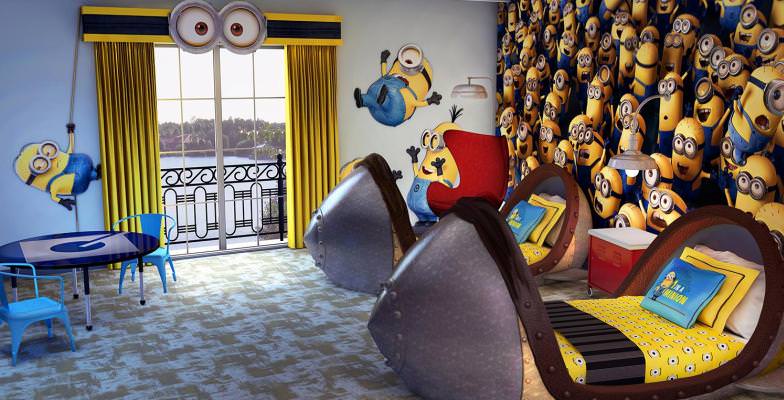 Minion Suites in Loews Portofino Bay Hotel (Loews Portofino Bay Hotel)
Inside the Minion Suites at this Universal Orlando Resort hotel, the little yellow guys from the "Despicable Me" movies are emblazoned all over the walls in the kids' room. The suites have a standard king room for the parents, connected by an interior "vault" door to the kids room. The kids get missile-shaped beds—similar to the ones that the movies' plucky orphans sleep in—but unlike Margo, Edith and Agnes, your kids will also get their own TV. Starts at: $575 a night.
Mickey Mouse Penthouse: Disneyland Hotel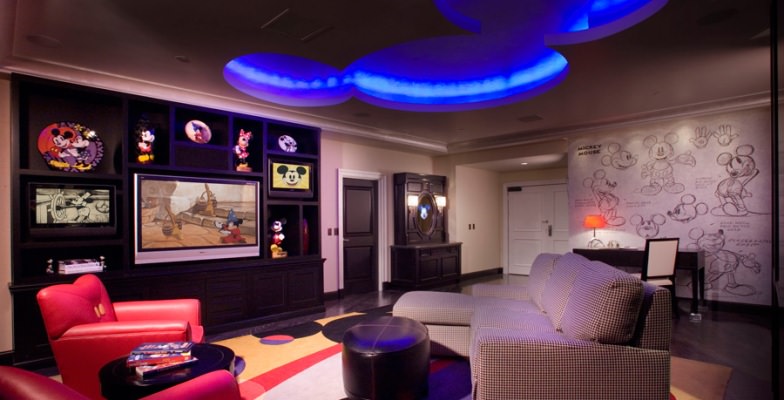 Mickey Mouse Penthouse in Disneyland Hotel (Disneyland Hotel)
This Anaheim classic sets the bar high with its themed Signature Suites, and the most jaw-dropping of all is the penthouse, which offers the beloved mouse on the walls, bedding, and pretty much everywhere else. Both the master bedroom and the second bedroom have the luxurious, stylized feel you'd expect in a penthouse.
For gorgeous aesthetics at a much lower pricetag, you could go with any other Signature Suite, choosing from among the old-world-style "Pirates of the Caribbean" suite, the rustic Big Thunder suite, or the safari-on-steroids AdventureLand suite, which features a secret closet behind a bookcase. Junior Princesses, meanwhile, might prefer the Fairy Tale Suite, which boasts a giant Sleeping Beauty mosaic over the tub and a canopy bed worthy of being knocked out for 100 years. Starts at: $660 for Signature Suites; the Mickey Mouse Penthouse starts at $2,822 a night.
Royal Guest Rooms: Port Orleans Riverside Hotel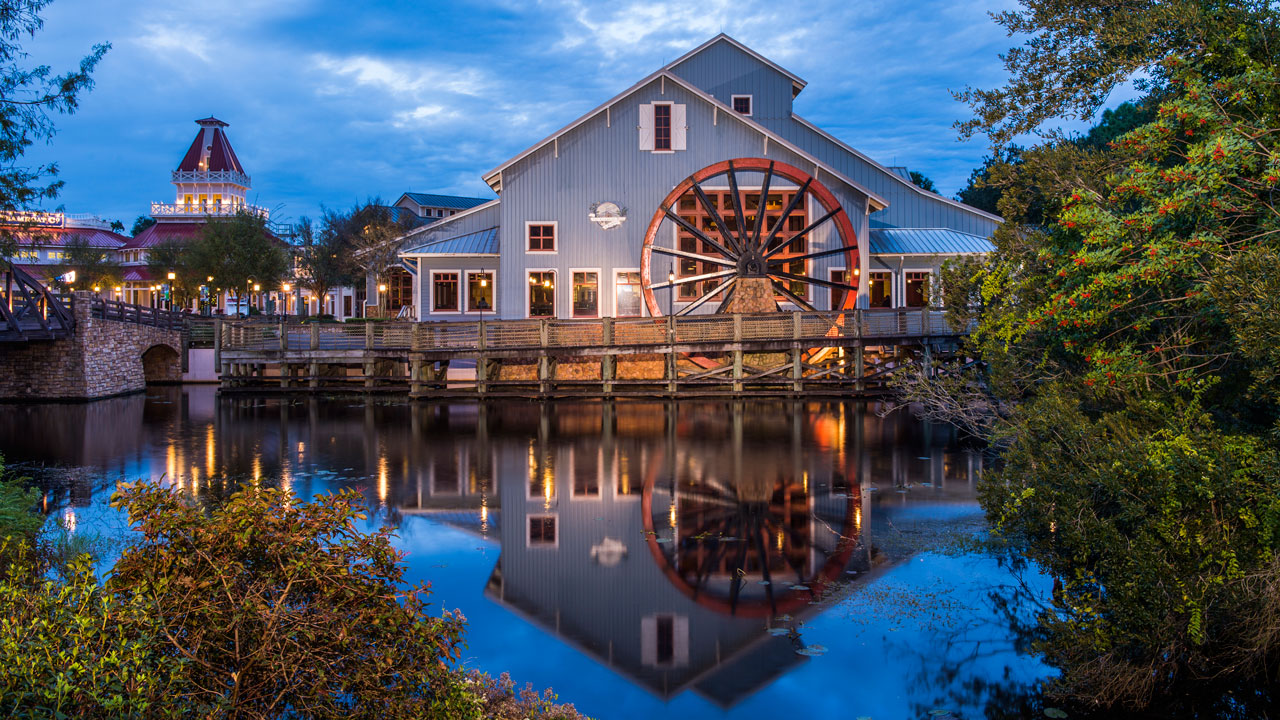 The oh-so-regal guest rooms at this bayou-inspired Disney World resort will make you feel like you're waving a magic wand. They are themed to Aladdin, Beauty and the Beast or The Princess and the Frog, with beds adorned with crystal and gold accents and fiber-optic headboards that create their own fireworks displays. Also impressive are the prices; unlike many premium-priced themed rooms, these run only slightly more than regular rooms. Starts at: $221 a night.
The Eloise Suite: The Plaza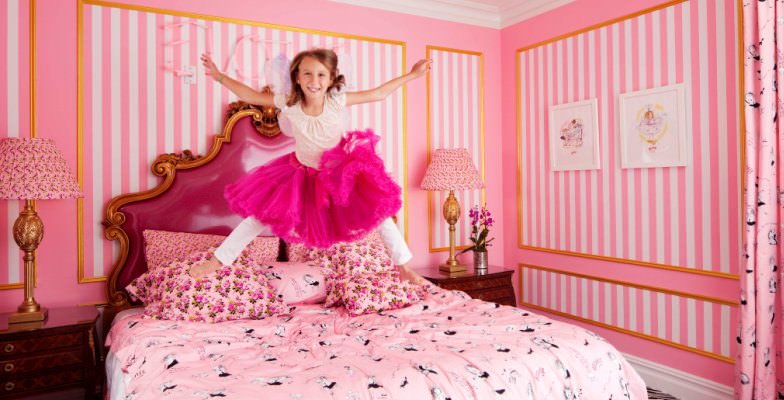 The Eloise Suite in The Plaza (The Plaza)
The fictional heroine from the book series set at this iconic NYC hotel has a portrait hanging in the lobby and a dedicated shop in the basement. But Eloise also has her own two-bedroom suite on the 18th floor, decked out with a pink chandelier, a sparkly padded headboard, and her name in neon lights on the wall, alongside original Hilary Knight prints. You also get use of Eloise DVDs, books, and a tea set. Room rates include a $100 gift card to the Eloise shop and a variety of Eloise goodies, such as bathrobe, USB stick and book. Starts at: $1,295 a night.
(MORE: View a family trip itinerary: 6 days in New York City with kids.)
SpongeBob and Dora Suites: Nickelodeon Suites Resort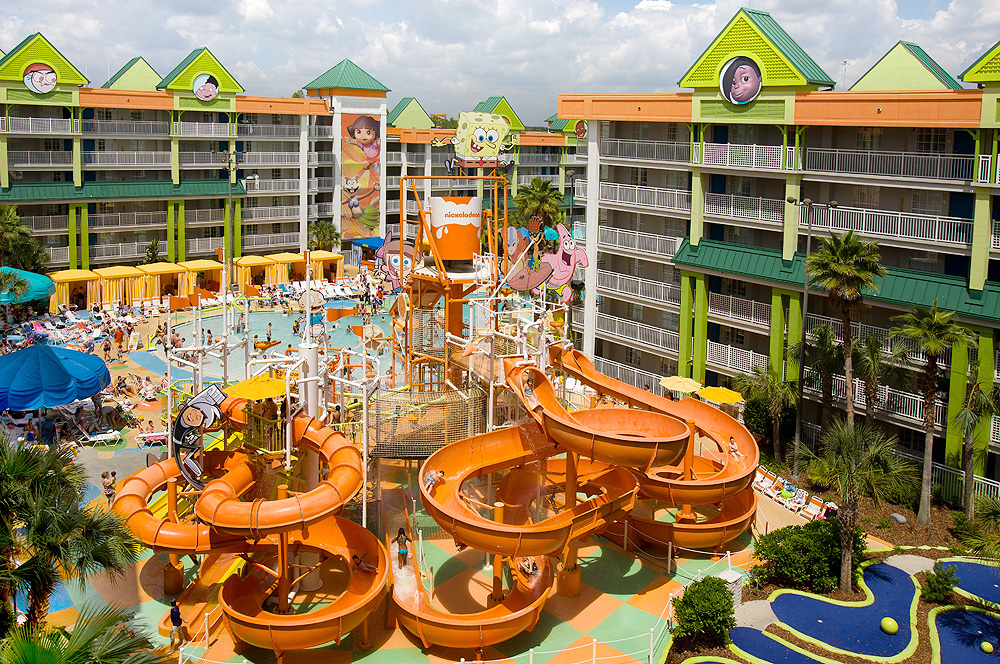 At the mega-popular Nick Hotel, these two- and three-bedroom suites offer a kids' room with twin beds or bunks, a flat-screen TV and eye-popping wallpaper with giant images of SpongeBob or Dora. Good news for overstimulated parents: The master bedroom is just decorated in solids that exude a vaguely cartoony vibe. The three-bedroom suite comes with two master bedrooms, plus a full kitchen, while the two-bedroom features a kitchenette. Starts at: $124 a night.
Legoland Hotel: Legoland California Resort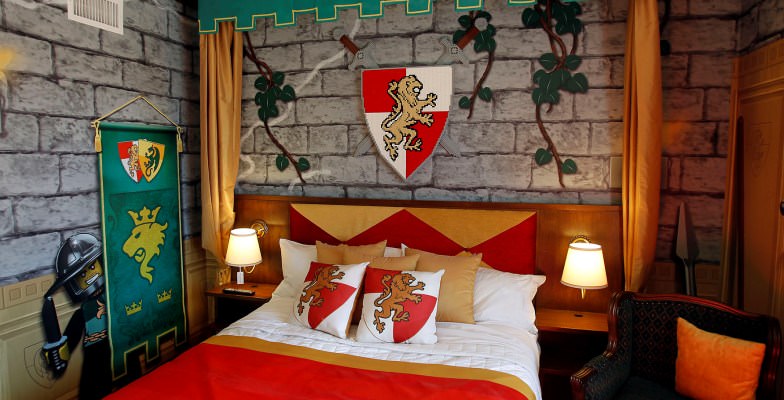 Legoland Hotel at Legoland California Resort (Legoland Hotel)
Every room at the Legoland Hotel in the eponymous Carlsbad, California, theme park is done up big in one of three themes: kingdom, pirate or adventure. Kids get their own alcove with bunk beds and a TV, and the décor features LEGO creations set on sconces and giant LEGO people on the wallpaper. Don't want to wake up to a grimacing LEGO pirate? Ask for the standard room, which limits the patterned wallpaper to the kids' alcove. Starts at: $189 a night.
Katrina Brown Hunt contributed this to www.MiniTime.com.