Top stops on the mother of all tourist trails
By Suzanne Rowan Kelleher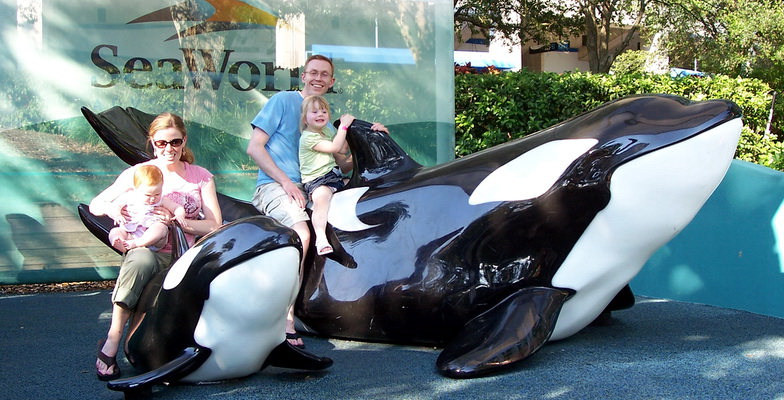 flickr:gracesfam
International Drive is the most touristy thoroughfare in America's most touristy town. As many a visitor to central Florida has discovered, it's a place where anything goes. You can swim with dolphins, drive go-karts, ride rollercoasters, go skydiving in a vertical wind tunnel, or get ejected from the inside of a mock volcano. You can play both championship and mini golf. You can fill up on a $3.99 breakfast buffet or savor a $90 porterhouse steak. You can walk through a re-creation of the Titanic or tour an attraction that depicts Biblical highlights from the Holy Land. Along International Drive's 14.5 miles, you'll find five of the country's top theme parks, over 33,000 hotel rooms, more than 160 restaurants, several mega movie cinemas, roughly 500 designer and outlet stores, and at least that many tacky tee-shirt and souvenir shops. Heck, this road even has its own transportation system, the I-RIDE trolley. Here's a guide to the best attractions located on and just off the famous I-Drive:
SeaWorld Orlando
Best age: 3 and up.
There's much more to SeaWorld than Shamu. This extraordinary theme park is a celebration of all marine life, with exhibits on hundreds of species of wildlife that live in or near the ocean, including interactive workshops and shows with crowd-pleasing dolphins and penguins. Because the day is built around performances and exhibits rather than rides (there are just four in the whole park), a day at SeaWorld is infinitely less hurried and stressed than one at Disney World or Universal Orlando. Kids will like: The many workshops and hands-on exhibits. (Bring your waterproof camera.) Don't miss "The Clyde and Seymour Show," featuring sea lions and otters, and "Believe," the latest and greatest live show starring Shamu and human acrobats. Insider's tip: SeaWorld offers an exceptional array of educational and memorable experiences, including "up close" tours, shark dives, "dine with Shamu" meals, and even sleepovers. They all require advance reservations. Another excellent reason to visit SeaWorld's web site: Purchasing "Be A Kid Again" tickets one week in advance lets adults pay kids' prices—a savings of $24 for a family of four.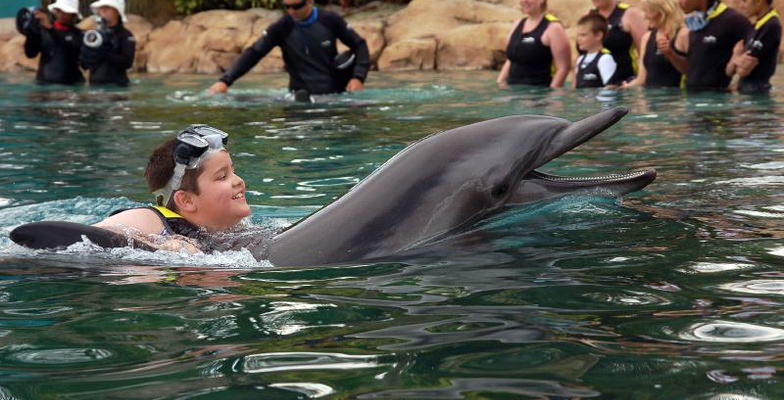 flickr:julioenriquez
Universal Orlando Resort
Best age: 8 and up.
This resort is actually two theme parks, three hotels, and an entertainment mini neighborhood called CityWalk. At Universal Studios, attractions like Men in Black, Alien Attack, and Terminator 3-D transport you inside blockbuster movies with amazing special effects. Islands of Adventure, its sister park, features thrilling coasters based on comic books. The park's Seuss Landing aims at younger kids with gentler rides. Older kids will like: A more adventurous, grown-up selection of rides than at Disney. Insider's tip: Purchase tickets online and you'll shave a few dollars off the one-day ticket price. Buying the multi-day tickets makes more sense: A family of four can get 5-day tickets to both parks for just under $200.
Discovery Cove
Best age: 6 and up
A day here is pricey, but truly unforgettable. This sister park to SeaWorld Orlando delivers wonderfully up-close encounters with marine animals in a resort-like setting of pools with lazy rivers and sandy beaches, with meals and beverages included in the admission price. Kids will like: During the shallow water dolphin swim for kids 6 and up, you can pet, kiss, play with, and even reward the dolphins with fish for following hand signals. More cool experiences: Snorkeling in the coral reef with tropical fish, and stroking the backs of stingrays in the Ray Lagoon. Insider's tip: The web site lists nearby hotels that offer discounted accommodation packages.
Best age: 3 and up. Minimum height for many rides is 36 inches.
The 25-acre Wet 'n Wild is Orlando's third most popular waterpark (behind Disney's Blizzard Beach and Typhoon Lagoon, respectively), with everything from squeal-inducing watercoasters to lazy rivers. Kids will like: Disco H2O, an enclosed 4-passenger flume raft ride that sends you soaring through a 1970s soundtrack, complete with mirror balls and strobe lights. Speedsters will love the Surge, one of the longest, fastest multi-passenger tube rides in the Southeast. For kids under 48 inches, there's also a large kids' area with smaller versions of many big rides. Insider's tip: Admission is part of the multi-day FlexTicket package that includes entry to Universal Orlando and SeaWorld.
Pirate's Cove Adventure Golf
Best age: 4 and up.
There are scores of mini golf venues on I-Drive, but this one is a cut above the pack for its innovative hole designs and lush landscaping. The two 18-hole courses evoke the world of 18th-century buccaneers, with an impressive display of sunken ships, cascading waterfalls, pirate dungeons and tropical vegetation. Kids will like: The fun pirate theme, including a mischievous skeleton that fires a cannon from his raft.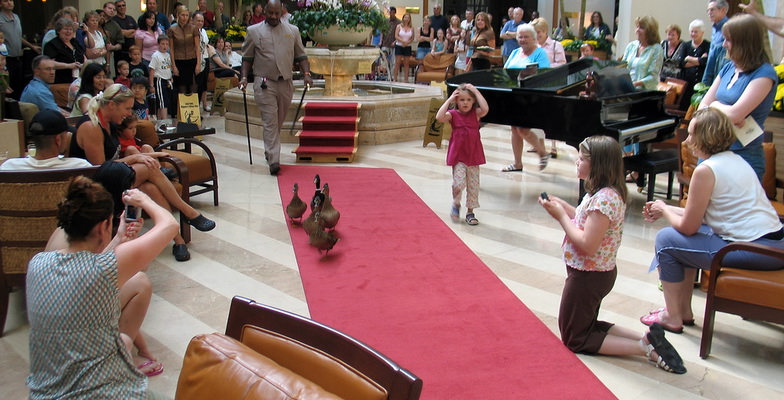 flickr:deapeajay
Cost: Free
Best age: Under 8.
You don't have to be a guest to see this short but sweet show at the elegant Peabody Orlando hotel. Every day at 11am, five mallards march into the lobby to John Philip Sousa's "King Cotton March," led by a duck master in a dapper red coat. Once there, they get to splash and play in a marble fountain all day. Then, at 5pm each afternoon, they march back to the elevator and retire to their fourth-floor suite. Little kids will like: The marching quackers. Insider's tip: Go for the 11am show on a Sunday and stay for the award-winning brunch.
Best age: 11 and up.
Your family's fashionistas have found their Mecca. Orlando's most upscale outlet center features 110 designer and brand name discount shops including Adidas, Armani Exchange, Banana Republic Factory Store, Barneys New York Outlet, BCBG Max Azria, Burberry, Calvin Klein, Coach, Dooney & Bourke, Escada Company Store, Fendi, Giorgio Armani, Hugo Boss, Kenneth Cole, MaxMara, Mikasa, Nike Factory Store, Polo Ralph Lauren Factory Store, Puma, Reebok, Salvatore Ferragamo, Timberland, Tommy Hilfiger, and Versace.