The family ski vacation gets simplified
By Suzanne Rowan Kelleher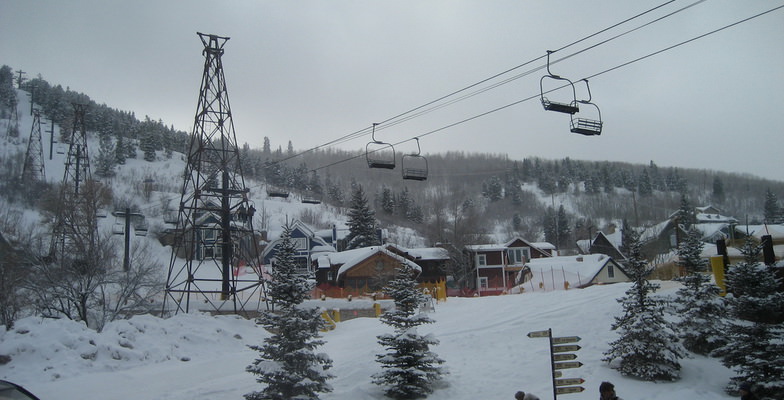 We know what you're thinking. Family ski trips are fun, without a doubt. But they're also famously high maintenance. The packing. The loading. The schlepping. And don't get us started about the logistics of lodging, lift tickets, and lessons. It's enough to thaw any winter-wonderland fantasies.
Don't put your snow pants away just yet. Over the past few years, North American ski resorts have been enticing families to come play in the white stuff by sweetening deals, beefing up their kids' programs, and developing services with parents in mind. One shining example can be found in Park City, the charming Utah mountain town that hosted the 2002 Winter Olympics and gets an infusion of star power during the annual Sundance Film Festival. Snow-loving families appreciate Park City Mountain because it has responded to their needs, delivering a big Utah family ski experience that's fun, affordable, and—hallelujah!—downright simple.
With most ski vacations, it can be a challenge simply to get to the mountain. So often you land at the airport, only to face another two hours on the road. One of the most compelling reasons to choose Park City is that it's just a half hour from Salt Lake City's airport. You can forget the expense of a rental car, thanks to inexpensive shuttles that can zip you from baggage claim to your hotel or condo. Once at the resort, free shuttles are available to take you to the slopes and other activities in this winter playground.
A silver mining town in the late 1800s, Park City was nearing ghost-town status for decades before it installed a few ski lifts and began reviving its quaint, Old West-style downtown. Today, the area boasts a trio of world-class ski resorts. The one closest to the old town, Park City Mountain Resort, is also the most family-friendly, with 3,300-acres of terrain, 16 lifts, and 107 trails laid out with the easiest, green slopes well separated from the advanced slopes, so that littler skiers and novices can go at their own pace without fear of a hotdogging teen whizzing by. A $10 million renovation has also just brought a new high-speed lift, a gladed run, and a remodeled lodge.
What really makes Park City Mountain Resort a standout for families, though, is its new Signature Programs at the Kids Mountain School, located at the resort base. These programs boast one of the best child-to-instructor ratios in the country, so parents don't need to spring for private lessons for their kids to get the attention they need. Kids 6 to 14 attend the Signature 5 program, where the age- and skill-appropriate ski or snowboard classes are guaranteed to have no more than five kids per teacher. Smaller groups, no surprise, make it easier for the teacher to adapt to everyone's abilities, and give more personalized attention. The six-hour day on the slopes includes a lunch break, where kids get to pick their own lunch at one of the à la carte mountain restaurants.
For potty-trained preschoolers between the ages of 3-and-a-half and 5, lift tickets are free, plus the Signature 3 program drops the student-to-instructor ratio to 3:1. Little ones start on the Mountain School's Magic Carpet (a gentle, conveyor belt-style lift that takes kids up the mellow practice slope) and then progress, when ready, to more challenging runs via a chairlift with their teacher. Parents can be reassured that all ski teachers at this level have child-development training. Signature 3 kids get two 75-minute lessons during their six-hour day, and spend the rest of their time keeping cozy inside—doing crafts, having lunch, reading books, or climbing an indoor jungle gym. Tip: Book Signature lessons online and you'll score 20% off gear rentals, too.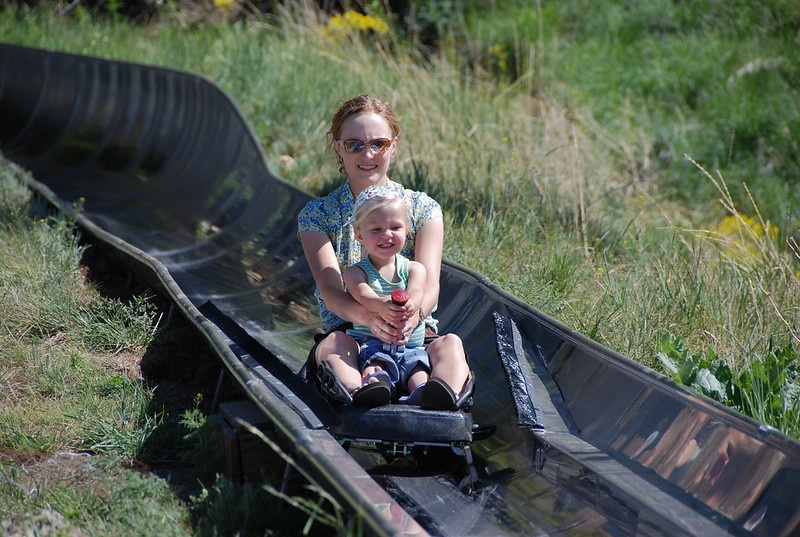 Before, Between, and Après Ski
At some point, you'll want to take a break from the slopes and explore all the other wonderful pursuits that this fun town offers.
If your kids are at least preschool age, you'll probably want to try the resort's Alpine Coaster at least once. You'll board a two-person toboggan-style car and glide 4,000 feet down the mountain on automated-lift tracks that twist and turn around snowy curves. (Prices: $20/ride for drivers, who must be at least 54 inches tall; $7/ride for passengers, who must be at least 3 years old). Your kids will also drag you to the kid heaven that is Gorgoza Park, just a shuttle or bus ride away, which offers tubing, mini-snowmobile rides and even a preschoolers' play fort with a tubing carousel. (Admission for kids 3 and up. Two-hour tubing session: $10/kid 3-6, $20/kid 7 and up. Mini-snowmobile rides for kids 5 to 12, $9/ride. Play fort admission for kids 3-6: $6/child, or free with two-hour tubing ticket.)
For older kids who want to up the ante on thrills, take a shuttle to Olympic Park, where everyone can watch bobsled and luge competitions, or explore the Eccles Olympic Museum, where you can check out highlights from the 2002 Games and hold a real Olympic torch. Teens 14 and up can even ride a bobsled, one of Park City's top attractions, if they dare. This rough, 70-mph ride (with a G-force of 4, no less) is off limits to younger siblings. During non-winter months, kids and tweens can get their adrenaline up by riding a zip line or an Alpine Slide. (Park admission is free. Rides range from $15 for the zip line to $200 for the winter bobsled rides.)
For more snow-filled fun, check out the activities offered by the local outfitter All-Season Adventures. You can go cross-country skiing or snowshoeing on mellow, scenic terrain, or ride a dogsled and let huskies do all the work. (Cross-country skiing and snowshoeing starts at $55/person, including gear. Dogsled rides start at $350 for two adults and one child.) Or for the ultimate low-impact snow sport, take a sleigh ride pulled by draft horses, offered by the Snowed Inn Sleigh Company. The ride culminates with a hearty dinner at a nearby lodge, in front of a roaring fireplace; the current menu offers entrées such as prime rib, chicken, and Utah trout. (Dinner ride: $79/person 13 and up; $49/child 3-12. A 30-minute ride without dinner: $20/person 3 and up; free for kids 2 and under.)
And, of course, there's plenty to do inside. Park City's art galleries line the downtown streets, and are a great (and free) way to expose kids to a variety of styles in short, colorful spurts. Even if you don't visit during the star-studded Sundance Festival in January, you can catch smaller film festivals, music festivals, art shows, and Broadway musicals throughout the year.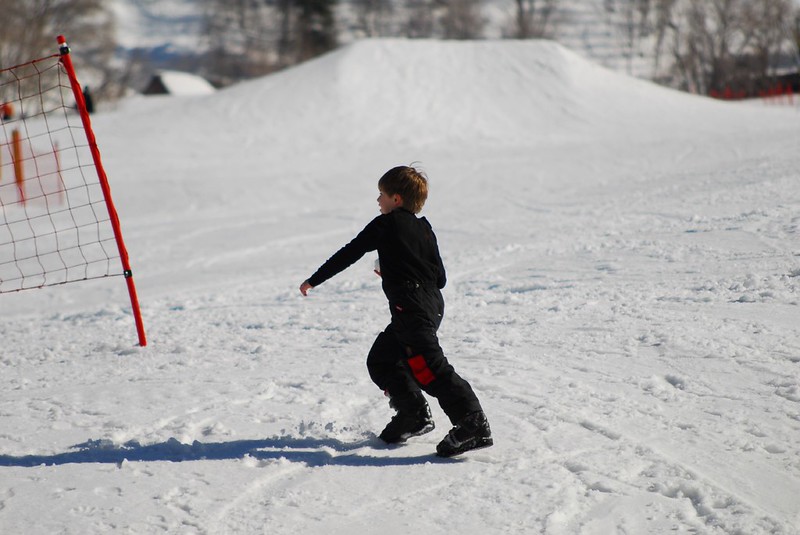 Planning Your Trip
The resort's web site has two nifty tools to help you plan your visit. Ironing out your logistics is a snap if you plan ahead with Park City Mountain Resort's simple-to-use Vacation Planner tool, whose drop-and-drag functionality lets you create a customized itinerary that includes all the elements of your Park City vacation, from lodging, lift tickets, equipment rentals, and Kids' Signature Programs to dining, après ski activities, entertainment, and non-ski activites such as snowmobile rides, Alpine Coaster, hot air balloon rides, or tubing at Gorgoza Park. The dining function will even make suggestions that are in line with your family's needs. Once you've created your itinerary, you can view it as a calendar, list, or map. You can even download or print out your itinerary and keep it as a handy reference.
You can familiarize yourself with the mountain before you leave home with the Personal Mountain Tour, an online feature lets you factor in everyone's skill level and goals to map out a day on the slopes, right down to where you can meet up for lunch.
Try to arrive on an early flight. You can often swap your airline boarding pass for a same-day lift ticket through Park City's Quick START deal.
Before you book any lodging or lessons, check the resort's Mountain Reservations site for online specials and package deals. At presstime, we found an "Extraordinary Family Package," starting at $192 per person, per night, including family-of-four lodging and two adult two-day lift tickets. And extraordinary it is, saving you over 50%. Two-day adult lift tickets would otherwise set you back $166 apiece, and lodging at Town Lift Lodge, one of the participating properties (where, again, units come with kitchens and laundry rooms), would normally run at least $470 a night (or $235 per adult). Meanwhile, two-day lift tickets for kids 7 to 12 start at $104 each, while kids 6 and under ski free.
Given how close Park City Mountain Resort is to the heart of town, it's not hard to find a hotel or condo with ski-on, ski-off access to the slopes, or one that is within walking distance of the resort base, the town's historic district, and the shuttles. If you're willing to stay a mile or so out of town, you can pay as little as $120 a night for condo-like accommodations. The closer you get to the base, the higher rates go—but even moderate rates usually mean a full kitchen and washer-dryer, to help keep hassles and dining costs down.
One prime choice: The Caledonian, a condo property on Main Street that sits next to the Town Lift, an express ride from the town to the middle of the mountain. Each of the one- to three-bedroom units is done up in a contemporary, warm-woods décor and boasts a full kitchen, laundry room, and at least one fireplace. (Info: 888/976-2732. Rates from $460/night.)
About a mile from the base, the Hotel Park City breathes the mountain vibe with its classic stone-and-timber-lodge style, and walks the line between condo and hotel. Each unit has a full kitchen and fireplace but there are also a few hotel-style services, such as breakfast served downstairs. On the hotel's web site, we found a ski-season package that includes four lift tickets, free breakfast for two, and a $100 credit that can be used toward equipment rentals, starting at $349 a night. (Info: 435/200-2000)
Food can drive up the costs of any ski trip. But between your in-room kitchen and the resort's eight (mainly cafeteria-style) dining options, meals can stay as easy and economical as you like. At the newly renovated Mid-Mountain Lodge, a historic mining lodge famous for its fortifying turkey dinners, entrees average $10. Same goes at Summit House, which has a heated patio, great mountain views, and an array of burgers, burritos and homemade soups. To go even more quick and casual, you can pick up a ready-made sandwich and hot cocoa at Five-Way Cafe (located on the green Homerun Trail) or a slice of pizza at The Legacy Lodge for as little as $5—then shoosh your way to your next adventure, or head back to relax in front of your own fireplace.
Lift tickets: Packages that bundle lift tickets and lodging can bring down your costs substantially. Kids 6 and under ski free at Park City Mountain Resort. During the regular season, a basic two-day lift ticket costs $166 per adult and $104 per kid 7-12. A three-day lift ticket costs $249 per adult and $152 per kid 7-12. For kids 6 to 14, the Signature 5 program starts at $210 a day, including lift ticket and lunch. For preschoolers, Signature 3 starts at $160 a day and includes lift ticket, lunch, supervised indoor playtime, and rental gear.