Pinehurst, North Carolina
By Lynne Miles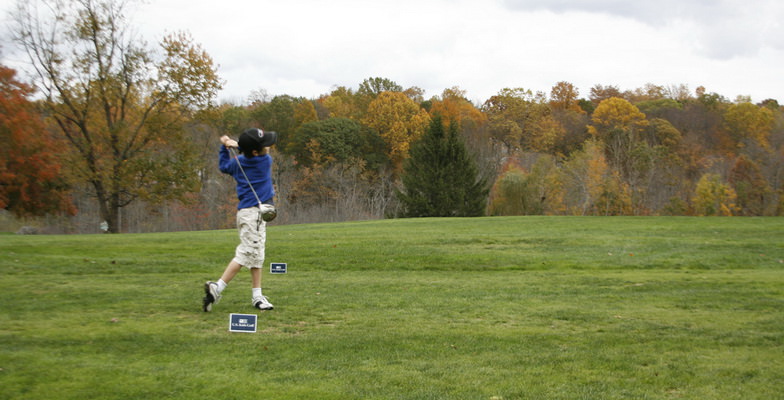 Why Go: For folks who love golf, few resorts in the US hold the allure of Pinehurst. Have a soft spot for history? More than a century's worth of great golf moments have transpired on the hallowed greens that Bobby Jones called "the St. Andrews of American golf." Danny Shute's victory in the 1936 PGA Championship. The United States' defeat of Great Britain in the 1951 Ryder Cup. Payne Stewart's exciting finish on the 18th green to take the US Open in 1999. New Zealander Michael Campbell hitting even par to beat Tiger Woods in the US Open in 2005.
The irony is that golf came to Pinehurst by accident. In the late 1890s, a Yankee entrepreneur named James Walker Tufts founded Pinehurst as a winter retreat for well-to-do New Englanders. Back then, most Americans dismissed golf as a Scottish curiosity and a passing fancy of the affluent. One day, as the story goes, Tufts received an angry complaint from a neighboring dairy farmer. Pinehurst guests, it seemed, were hitting little white balls into his pasture and frightening his cows. Tufts's response was to build his guests a proper golf course. Not long afterward, Tufts hired Scottish golf pro Donald Ross to redesign that first course. By 1919, Ross would create three more courses at Pinehurst, bringing the total to four.
As Pinehurst's reputation as a golf destination grew, the guest register filled with society names like Rockefeller, DuPont, and Morgan. Annie Oakley brought her father, and even treated guests to a shooting exhibition. John Philip Sousa, Will Rogers, Bing Crosby, Mary Pickford, and Douglas Fairbanks, Jr. visited, and Amelia Earhart landed her plane on Pinehurst's airstrip in 1931. In more recent decades, Pinehurst has attracted a Who's Who of golf-loving celebrities, including Troy Aikman, Robert Redford, Sean Connery, Kevin Costner, Dustin Hoffman, and Mario Lemieux. Even Oprah has played Pinehurst.
For golfers, the real thrill is walking in the footsteps of legends such as Ben Hogan, Sam Snead, Curtis Strange, Arnold Palmer, and Jack Nicklaus. Pinehurst's eight courses are simply numbered from No. 1 to No. 8. The star attraction is No. 2, site of the 2005 US Open, but every course has its appeal. No. 6 was extensively renovated last year under the direction of Tom Fazio, and Nos. 4 and 8 regularly earn spots on Golf magazine's "Top 100 Courses You Can Play" list. Along with the US Open, Pinehurst has hosted the most prominent competitions in the world, including the PGA Championship and Ryder Cup matches.
Like any great resort, Pinehurst is more than just a great place to play; it's also a wonderful place to stay. There are three lovely inns, each with its own character and appeal: The elegant, century-old Carolina Hotel, the cozy Holly Inn, and the sports lodge-like Manor. Excellent restaurants, swimming pools, tennis courts, a beach club and an award-winning spa offer ample ways to relax and rejuvenate. Last year, Pinehurst was voted the "Best US Golf Resort" by the persnickety readers of Travel + Leisure Golf.
With so many golf resorts claiming to be family-friendly, Pinehurst is a standout example of a top golf resort that really delivers. To start with, you gotta love a year-round pricing policy that lets kids 12 and under stay, golf, and eat free when accompanied by a parent. Pinehurst offers golfing families ample opportunity for individual instruction, group clinics, and on-course family time. When our correspondents, Lynne and Regis Miles, visited Pinehurst with their kids, the combination of beautiful, quality golf courses and top-notch lessons made for an excellent environment in which to play and learn the game of golf. ("There's an intense golf school for those who truly desire to improve their game, and the resort's other activities—tennis, croquet, spa, kids' camp—allow everyone to keep busy and have fun.") The Mileses also appreciated the welcoming staff ("super friendly, courteous, and helpful at all times") and found plenty of nice low-key touches, like ice cream sundae socials, s'more-making, and a family-friendly putting green on the Carolina Hotel's West Lawn. There's a cozy library in each inn with chess and checker boards set up to invite guests to linger. In the Carolina Hotel lobby, a gigantic jigsaw puzzle is spread out invitingly so that guests can work on it together, like one big happy family.
Getting Oriented: Pinehurst is nestled in the Sandhills of North Carolina, 69 miles southwest of Raleigh and 92 miles east of Charlotte. The resort is expansive, covering 2,000 acres and comprising eight golf courses, three hotels, over 100 villas and condos, nine restaurants, a full-service spa, two dozen tennis courts, a pair of croquet courts, a lawn bowling course, and an activity center with a kids' club. Nearby, on the banks of a 200-acre freshwater lake, The Pinehurst Beach Club offers seasonal boating, fishing, and watersports, plus a sandy beach and safe swimming.
It's no accident that the surroundings are reminiscent of quaint old New England. Back in the 1890s, the prestigious Frederick Law Olmsted landscaping firm (designers of New York's Central Park) laid out manicured green commons, rows of stately trees, and handsome Colonial-style architecture. The Village of Pinehurst, with its collection of charming shops and cafes, is about a seven-minute walk from the resort. ("The beauty and close proximity of this village made us want to explore the shops and pretty neighborhood surrounding the resort. You don't encounter traffic, crowds, or honky-tonk. We loved this aspect.")
Getting Around: Getting around Pinehurst is easy. The resort provides a complimentary shuttle service, with guests tipping if they so choose. There are no set routes. Drivers pick up and drop off passengers to and from requested locations within the resort, in the Village of Pinehurst, and at the Beach Club.
Bringing a car? There is no charge for parking, regardless of whether you self-park or use the valet service. Tipping is discretionary.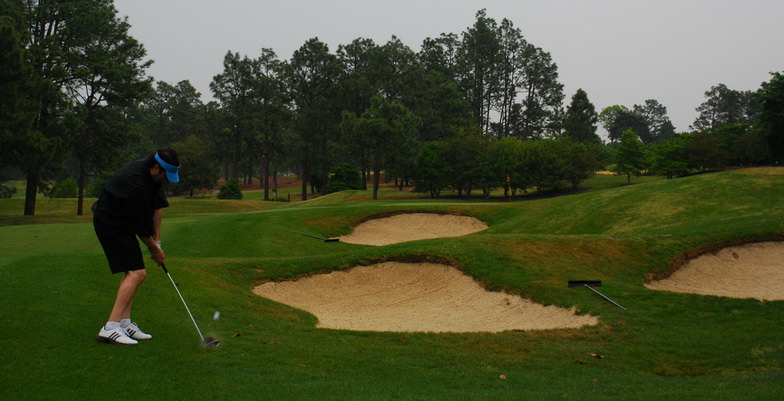 We Are Family: Pinehurst knows a thing or two about junior golfers. In 2006, the resort hosted the US Kids Golf World Championship, the world's largest golf tournament for girls and boys between 4 and 12. Using US Kids Golf Foundation guidelines, the resort has established five of its eight courses as family courses, with special family tee markers on courses Nos. 1, 3, 4, 5, and 8.
Spring and fall are the high seasons at Pinehurst, but summer is the most family-friendly time to visit. To begin with, it's the least expensive season at Pinehurst. All year long, the resort lets kids 12 and under stay, golf, and eat free when their parents have purchased a package. In the summer, the same deal extends to kids 17 and under. This can save $135 a day per teen. (During other seasons, teens pay $70 per day for the meal plan, which includes breakfast and dinner. In addition, there is a daily $65 junior golf fee.)
Pinehurst's Golf Academy is run by Eric Alpenfels, recognized as one of America's Top 100 Teachers by Golf magazine. Highlights include a low student-to-teacher ratio of 4:1, state-of-the-art facilities, and situational on-course instruction on the resort's eight courses. The school offers multiple ways for parents and kids to improve their game individually or together. You can sign up for a short clinic, a one-day course, or choose one of the longer, more intensive programs. In June and July, the popular summer junior golf school offers kids 11 to 17 an intense 6-day golf camp experience ($1,425/child). A more inclusive option is the 4-day parent-child program, where one parent and one child 9 to 17 can enjoy a round of golf on course Nos. 1, 3, or 5, plus three days of instruction and self-guided play on the last day ($2,400 for parent and child). Regis Miles and his 15-year-old son, Sean, chose this option. ("Overall I would rate the parent-child program as very good to excellent. We worked on all facets of game—grip, posture, swing, take away, approach to ball, follow through, as well as chipping, putting, pitches, and bunker play. There was also discussion on strategy, course management, club selection, and equipment fit. We were videotaped on the first and last days, and given a critical analysis of where we'd improved and things we could work on. The quality of instruction was very good and there was always plenty of staff around.")
Having access to Pinehurst's eight courses is a boon for golf-loving families. ("All in all, the facilities and courses were fantastic. Enough variety and playability to suit all level of players.") Depending on which of the resort's packages you book (see Price Tag, below), it's possible that green fees will be discounted or included in your rate. For the Mileses, green fees to Pinehurst Nos. 1, 3, and 5 were included in the Golf Academy package. ("We paid $30 for a golf cart.") To play the other courses, the Mileses paid a surcharge. ("We paid a special rate of $150 to play No. 2, the US Open course, instead of the normal rate of $310. We had no problem getting a tee time. No. 2 is awesome, historic, and lived up to expectations.")
One of the best reasons for visiting in the summer is to take advantage of Pinehurst's "Family Fairways" package, which encourages families to play golf together. Kicking off every afternoon at 4pm, Family Fairways includes free rental clubs for the entire family, a one-hour beginners' or basics refresher clinic, unlimited range usage, and a round of golf on course No. 8, a Tom Fazio-designed championship course. ("No. 8 is tremendous! It's an interesting course, with no two holes alike. Tough but fair, and walkable. Just one of the best courses I've ever played.") Family Fairways makes it easy to golf as a family, since you don't have to worry about who is playing ahead of or behind you. ("A very nice program. Pretty low-key, not intense, and suited for families learning the game of golf. After the lesson and range work we played about six holes together in about 90 minutes. Nice family time.") Family Fairways costs $175 for a family of up to 6 people and must be reserved in advance. The program is offered from Memorial Day weekend through Labor Day weekend, as well as on certain holiday weekends, such as Thanksgiving and Easter.
Need another reason to aim for the warmest time of year? Pinehurst's KidsClub is open every day in the summer, but only on Saturdays during the rest of the year. This program gives parents the chance to get in some golf, visit the spa, or go shopping while their children have fun in a safe, supervised environment. Kids can enroll for a full day (9am to 4pm, including lunch and snack; $55/child) or a half-day (9am to 1pm, including lunch, or 1pm to 4pm, including snack; $40/child). The day offers a combination of structured indoor activities (crafts, group games, learning magic tricks), outdoor play (playground, ball games) and periods of free play. The clubhouse is stocked with board games, toys, craft supplies, computer games, sidewalk chalk, and a big-screen TV with a collection of movies on DVD. The club's outdoor playground area is shaded and fenced. On the morning that 8-year-old Elizabeth Miles attended, there were two counselors for a total of five children aged 3 to 11. ("I thought the club was well set-up, in a clean, very bright, and cheery room. The half-day program allowed me some downtime and to still spend part of the day with Elizabeth.") The kids were given a choice of activities and split into groups depending on what they wanted to do. The activities often deviate from the printed schedule, depending on the kids' interest level. ("Saturday was supposed to be Sandcastle Saturday, but the activities didn't follow this theme. Elizabeth didn't mind and was very happy with her day. She especially liked the playground and the computer games.") On some days, the older kids in the group might be given the option of visiting the Beach Club for fishing, sailing, and swimming in the lake.
The Beach Club is the headquarters for Teen Adventures, a camp for kids 13 to 18 ($45/teen, including lunch and a snack). Popular activities include swimming, boating relays, sailing, kayaking, volleyball, and paintball challenges.
If your kids are too young for the KidsClub, you can hire an in-room babysitter with certification from the American Red Cross ($20/hr for up to two children; $25/hr for three children; $30/hr for four children; four hour minimum). Babysitters should be booked with 48 hours notice, though requests can sometimes be met on shorter notice.
During the summer months, Pinehurst's outdoor pools stay open from 8am to 10pm. The pool at the Carolina Hotel is the largest, set in an enclosed, nicely landscaped garden area off the West Lawn. Small kids can safely enter the three-foot-deep shallow end via large steps, in addition to three ladders. The pool's depth becomes progressively deeper to five feet, before sloping to eight feet in the roped-off deep end. There are noodles and inner tubes available to guests free of charge, but no diving board or slide. This pool area also features a 30-foot-diameter shallow misting pool with a giant fountain, as well as a fenced area with a two-foot-deep kiddie pool. There is one hot tub with no minimum age restriction. The pool features a cabana-style snack bar where you can purchase lunch and drinks, and there's also poolside wait service. ("The turkey wrap served poolside was great!") S'mores are served at a large outdoor fireplace, and there's a small playground nearby. Another fantastic feature for families is the large putting green on the West Lawn near the pool and playground. ("Young children and adults can practice putting, with clubs and balls provided right on the green. I saw a number of young children practicing their putting there.") The pool at the Holly Inn has a freeform shape and a smaller set of steps into the shallow end. ("This pool was quiet and provided a more private atmosphere. Drink service and lunch made the Carolina pool more fun for me, but Elizabeth preferred the Holly pool.")
Non-golf family activities at Pinehurst include horse-drawn carriage rides, tennis, horseback riding, and a variety of watersports at the Beach Club. There are frequently scheduled activities, games, and arts and crafts in the afternoon during the summer at the Carolina pool and the Pinehurst Beach Club, and in the Carolina Hotel during the other three seasons. One afternoon, Lynne and Elizabeth made tie-dyed tee-shirts. On another occasion, they took a croquet lesson ($50/hr; best for 7 and up). ("We truly enjoyed our lesson. Golf Croquet is fun and easy, but the competitive version, American Croquet, sounded quite complicated. Our instructor, Ron, was very informative and was great with Elizabeth. I didn't expect to like it so much.")
Pinehurst's award-winning spa offers KidSpa (ages 6 to 11) and TeenSpa (ages 12 to 16) treatments and packages. Lynne and Elizabeth visited for pedicures. ("We were a bit early so we hung out in the Teen Lounge, a very pretty girly room with soft music. We were offered fruit smoothies, and Elizabeth was given coloring materials while I read. Elizabeth says the spa was her favorite part of the trip.") Adult treatments take longer and are more expensive than kids' versions. (Adult 30-minute spa manicure: $40. Adult 50-minute spa pedicure: $60. Kids' 25-minute "fancy fingers" manicure: $30. Kids' 25-minute "twinkle toes" pedicure: $40. Service charge, 18%.)
Where to Eat: Not only is dining a high point at Pinehurst, but breakfast and dinner are included when you book a Pinehurst package (see Price Tag, below). Nine restaurants offer plenty of diversity, whether you're looking for an elegant meal or just a light bite. Families will particularly appreciate that there are so many casual, affordably-priced places to eat throughout the resort. Kids 12 and under eat free when dining with adult guests of the resort who have booked a package. (In the summer, this perk extends to kids 17 and under.)
Carolina Dining Room, in the Carolina Hotel, is the resort's most elegant place to eat. There's a popular buffet offered at breakfast, along with à la carte choices. The lunch and dinner menus are heavy on steaks, chops, and seafood. At lunchtime, you can also choose to dine on the Carolina's magnificent porch. ("The big wrap-around porch is sensational and one of my favorite things at the hotel. There are white rockers, beautiful flowers and hanging baskets, and a view of the hotel's West Lawn, where the pool area is located.") The dining room is grand and formal, with white linens and live jazz music in the evenings. The fixed-price, 4-course dinner menu offers a choice of soup or salad, appetizer, entrée, and dessert. ("The food at dinner was excellent. A big meal.") Jeans and shorts are banned and men are required to wear collared shirts and jackets. (Breakfast 6:30am-10am; buffet $21/person; average entrée $9. Lunch noon-2pm; average entrée $18. Dinner 6:30pm-9:30pm; fixed-price 4-course dinner $51/person. Kid's menu $9.95.)
1895 Grille, in the Holly Inn, was given a AAA Four Diamond rating in 2002. The room is traditional and formal, with original hardwood paneling and columns leading toward the atrium ceiling. At breakfast, you can select from a large buffet or order from the reasonably-priced à la carte menu. The lunch and dinner menus feature seafood and Southern favorites such as roasted pork tenderloin and stone-ground grits. At dinnertime, the dress code outlaws jeans and shorts and men must wear collared shirts. (Breakfast 6:30am-10am; buffet $21/person; average entrée $7. Dinner Wed-Sun 5:30pm-9pm; average entrée $26.)
The Tavern, in the Holly Inn, was a favorite of the Miles family. The decor evokes a 19th-century Scottish pub, complete with stained glass and mirrored inlays and an English Oak bar that was hand-carved in Edinburgh in 1880. It's a casual, intimate place for lunch or dinner, with additional seating outside on the patio. The fare is casual—think soups, salads, sandwiches, paninis, pizza, and pasta dishes. ("Excellent homemade potato chips arrive in a basket the moment you sit down. My kids really liked the chicken tenders and fries. Great burgers, too.") No kid's menu. (Lunch 11:30am-5pm; average entrée $11. Dinner 5pm-9pm; average entrée $15.)
Donald Ross Grill, in the Clubhouse, is open for lunch. The menu offers up a wide variety of delicious light fare, from wings and potato skins to wonderful salads, wraps, and sandwiches. (Lunch 11:30am-5pm; average entrée $10.)
Hackers, in the Manor, is a sports-themed eatery with a menu of sandwiches, pizzas, and other casual fare. This lively place is packed with sporting memorabilia and big-screen TVs, and can be noisy when crowded. In summertime, you can eat outside on the patio. The kid's menu includes mozzarella sticks, chicken wings, BLT wraps, fish and chips, grilled chicken, and a variety of desserts. (Dinner 5pm-10pm; average entrée $13. Kid's menu $9.95.)
Ryder Cup Lounge, just off the lobby in the Carolina Hotel, is decked out with mementos from Ryder Cup battles and has a relaxed, lounge atmosphere. There's a pub menu with light snacks at lunchtime and heartier fare, such as steaks, crab cakes, and pasta dishes, in the evening. (Lunch noon-5pm; average entrée $9. Dinner 5pm-11pm; average entrée $23.)
91st Hole, in the Clubhouse, serves up light snacks, soups, and sandwiches after lunch. (Open 2:30pm-4pm; average snack item $8.)
Centennial at No. 8, at the course of the same name, offers a seasonal lunch menu of grilled chicken, quesadillas, and inventive sandwiches of all types. (Snacks served all day 7:30am-5pm. Lunch 11:30am-3:30pm; average entrée $9.)
Fairwoods on Seven, open for lunch only, delivers a fantastic view of the lakes and fairways of Pinehurst No. 7. It's known for its Cobb salads, burgers, and tasty sandwiches. (Lunch Tues-Sun 11am-2:30pm; average entrée $9.)
Other light dining options include the Carolina Coffee Shop, just off the lobby in the Carolina Hotel, which serves coffee, cappuccino, smoothies, and light pastries, sandwiches, and salads throughout the day. A complimentary afternoon tea, complete with scrumptious cookies, is served in the Carolina lobby every day from 4pm to 5pm.
Nightlife: During the summer, Pinehurst offers a schedule of evening activities that parents and kids can attend together between 6pm and 9pm. On a typical week, you might find family movie nights, scavenger hunts, bonfires at the Beach Club, sundae bars on the West Lawn, bedtime story reading, tennis round-robin tournaments. Rates vary according to activity, and families can sign up in advance at the concierge desk.
If you're looking for a quiet dinner out without the kids, there are two rather pricey babysitting options. Each Saturday night from 6pm to 9pm, Pinehurst offers a supervised Kids' Night Out to children 6 to 12 ($35/child). The evening takes place in the KidsClub and typically includes dinner, a movie, and games.
The in-room babysitting service (see We Are Family, above) is available in the evening at the same rates and conditions.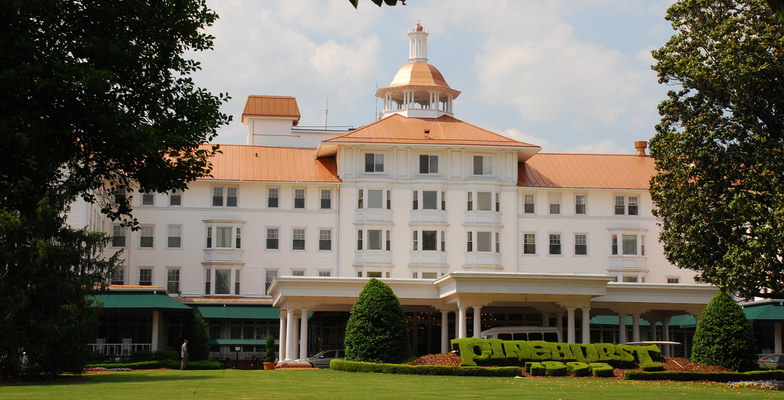 Where to Stay: Pinehurst has three hotels. The Carolina Hotel is located the most centrally in the resort, while the Holly Inn and the Manor are a five-minute walk away, in the Village of Pinehurst. If you're traveling with small children, the resort will provide a crib or a cot at no charge.
The 220-room Carolina Hotel, built in 1901, is a National Historic Landmark. This is Pinehurst's answer to the grand hotel, with its stately columns, dramatic entrance, and attendants taking care of guests' needs. The Carolina is the hub of Pinehurst, with numerous restaurants, shops, lounges, and the West Lawn activity area, with its multiple pools, playground, and putting green. Rooms are luxurious and elegant. Some overlook golf course fairways.
The Miles family stayed at the "very quaint and beautiful" Holly Inn. ("At first I thought that the Holly might not be close enough to the other resort sites, but this was not the case. I loved the Holly and would ask to stay there again.") With 82 rooms and suites, the Holly Inn is about a third as big as the Carolina Hotel. It was built in 1895 as Pinehurst's original hotel and retains the intimate charm of the Victorian era while still offering several restaurants, a cozy library, and outdoor pool. The Miles family stayed in a 2-bedroom duplex suite. ("The suite was lovely and decorated in period décor. We were surprised at how large the rooms were.") You entered into a narrow living room appointed with a sofa and armchairs, TV, and a wet bar with a small refrigerator. A powder room was just off the living room. The two bedrooms were located upstairs. The master bedroom was spacious, with a very comfortable king-size bed, TV, small sitting area with a chaise lounge, and a large bathroom with a double vanity. The second bedroom featured two double beds, a TV, and standard-sized bathroom. ("Although I would not define our room as truly luxurious it was very lovely, comfortable and roomy.")
Taking its cue from the region's strong outdoor influence, the 45-room Manor feels like a sportsman's lodge. It's the least expensive place to stay at Pinehurst. The common areas at the Manor are more relaxed than those at the Carolina and the Holly. This is said to be one of Arnold Palmer's favorite spots, where he remembers visiting with his dad as a boy.
In addition to the hotels, Pinehurst offers nearly condos that range in size from one to three bedrooms. All have well-appointed living areas and fully-equipped kitchens. For larger groups, Pinehurst also offers 4-bedroom private villas with spectacular views of the lake and fairways.
Price Tag: Pinehurst offers a wide range of package deals that bundle accommodation and most meals into one price. If you plan to spend all your time at the resort, these packages make a great deal of sense. Some packages also include a round of golf each day; packages that include unlimited access to the golf courses are naturally the most expensive of all.
One of the most flexible deals is My Social Package, which includes accommodation, breakfast and dinner. You're free to add a round of golf, spa treatment, or golf or tennis lesson, as you like. During the summer, this package costs $159 per adult ($318/night per couple) if you stay at the Manor; $202 per adult ($404/night per couple) if you stay at the Carolina or the Holly; and $252 per night ($504/night per couple) if you stay in a villa. For a family with kids 12 and under, who can golf and eat for free, this package is awesome. It also makes sense if family members have varying degrees of interest in golf, or if you want to mix golf with other activities.
For avid golfers, the Donald Ross is the most popular deal at Pinehurst. It includes one round of golf daily, breakfast and dinner, cart rental, a sleeve of golf balls, plus free access to the practice range and club storage. You can upgrade to a round on Pinehurst No. 2 for $150. During the summer, this package costs $368 per adult ($736/night per couple) if you stay at the Manor. The rate climbs to $411 per adult ($822/night per couple) if you stay at the Carolina or the Holly, and $461 per adult ($922/night per couple) if you stay in a villa. Rates are lower in the winter, but higher during the spring and fall.
Want to play more than one round of golf per day? The Putterboy Package includes all the components of the Donald Ross, but with unlimited golf on seven of the eight Pinehurst courses. Again, you can upgrade to a round on No. 2 for $150. During the summer, upgrading from the Donald Ross to the Putterboy package will cost an additional $105 per adult, per day. That means a family's nightly rate will be $956 to stay in the Manor; $1,032 for the Carolina or Holly; and $1,132 for a villa.
For larger or extended-family gatherings of at least 10 people, Pinehurst offers a Family Reunion Package during the summer. Overnight rates start at $99 per adult and $20 per child, including a "room block," complimentary hospitality room for family gatherings, continental breakfast each morning, pre-printed tee-shirts with the family name, and a welcome basket.
Realistically, a golf vacation at one of the country's premier resorts is never going to be a cheap getaway. On the upside, any parent will appreciate the policy that lets kids 12 and under stay, golf, and eat free. And at first glance, Pinehurst appears to have an incredibly generous spirit, providing free parking, a free shuttle bus to get around the resort, free afternoon tea in the Carolina Hotel lobby, and many free family activities throughout the day. Meals won't break the bank here, since most families will book packages that include two meals a day. The resort offers many excellent and reasonably-priced options for lunch.
On the downside, getting away for some quality kid-free time is a pricey proposition. All three options (in-room babysitters, KidsClub, and Kids' Night Out) come with steep price tags, particularly if you have more than one child.
When you check out, prepare for sticker shock. On top of your package rate, you'll pay North Carolina's 7% sales tax and a 3% local occupancy tax. Then comes the real stinker: A 10% resort service fee that covers the "freebies" you'd enjoyed throughout your stay. A family staying in the Carolina Hotel or Holly Inn on the My Social Package can expect to drop a hefty $80 each night in taxes and fees. It can be twice that for folks on the Donald Ross Package. Ouch.
Insider Tips:
Set aside some time to explore the village. Don't miss the old-fashioned candy shop and ice cream parlor.