13 reasons kids love Kissimmee
By Suzanne Rowan Kelleher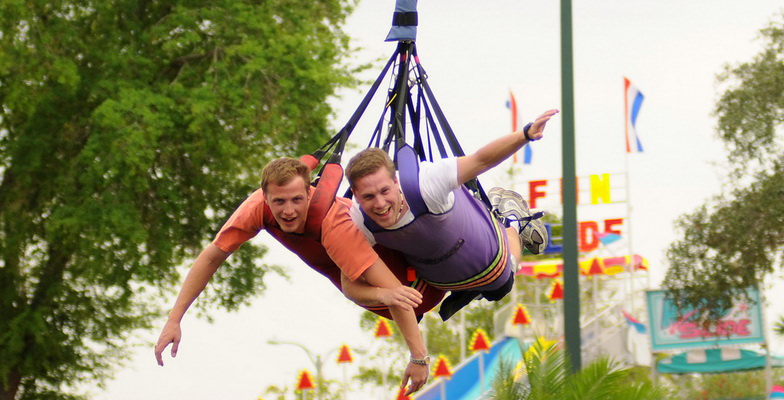 SkyCoaster Ride at Old Town in Kissimmee, FL (Flickr: kissheartoffl)
Kissimmee is often described as Orlando's friendly next-door neighbor, but it's more accurate to think of these two towns as extensions of each other—in fact, you probably won't even notice crossing the town line. Kissimmee has grown up right alongside Disney World to become an immensely kid-friendly destination in its own right, with the kind of family attractions and entertainment that Orlando is famous for. Here is a baker's dozen of fun things happening just one zippity-doo-zip-code from Disney World.
1 The fun starts as soon as you walk through the famous gaping jaws at Gatorland, one of Central Florida's first tourist attractions and still one of the most memorable. Plan to spend at least a half a day here, so you can explore the 2,000-foot boardwalk that winds through a natural cypress swamp allowing an up close look at wildlife, breeding marshes, alligator nurseries, and rearing ponds. You'll also want to catch all three shows: Up Close Encounters (in which trainers show off dangerous animals such as venomous snakes), Gator Wrestling (don't try this at home, kids!), and—not for the feint of heart—Gator Jumparoo (where the big reptiles leap out of the water to snatch meat from a trainer's hand). For little kids, there's a train ride, petting zoo with farm animals, and—don't forget your bathing suits—Gator Gully Splash Park. (14501 South Orange Blossom Trail; 407/855-5496; $23/adult, $15/child 3-12; save $3/person when you book online)
2 Get more bang for your buck with Kissimmee Swamp Tours, whose 60- and 90-minute tours deliver twice as much time on the water as most other local airboat outfitters. Experience the thrill of flying across the water, and then glide quietly through the natural swamp habitat spying whooping cranes, osprey, wild deer, pigs, and alligators. (Lake Kissimmee; 407/436-1966; 60-minute tour: $47/adult, $30/child 10 and under; save $4/person by mentioning website)
3 Central Florida may not be on the coast, but the surf's always up at Fantasy Surf, a new $4-million facility that lets kids of all ages learn to boogie board, wakeboard, and surf in a safe, indoor environment. Fantasy Surf features a FlowRider system with a three-inch sheet of water that rolls over a 32-foot-wide cushioned beach and floor. The result is a surfable area that lets kids have fun without worry of injury. The spectator area features a café and surf shop. (5151 Kyngs Heath Rd., off Poinciana Blvd.; 407/396-7433; Sessions: $25/child age 10 and up, $20/child 9 and under)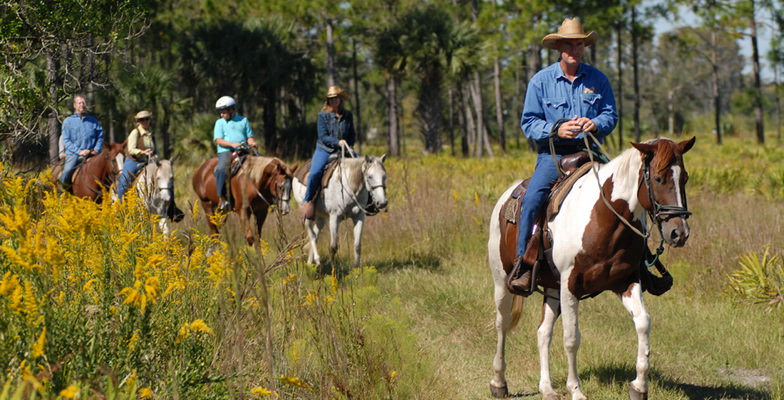 Scenic Trail Ride at Florida Eco Safaris Kissimmee (Flickr: kissheartoffl)
4 Is your kid addicted to Animal Planet? Let the naturalist guides at Florida Eco-Safaris introduce you to the amazing wildlife in this part of the Sunshine State. During the two-hour tour, you'll travel in an open-sided safari coach through five different ecosystems to spy bald eagles, peacocks, black bears, Florida panthers and, of course, alligators. (4755 N. Kenansville Rd.; 407/957-9794; $28/adult, $22/child 6-12; free for kids under 6)
5 There's no better place to discover the joy of fishing than on 18,000-acre Lake Tohopekaliga (known locally as Lake Toho), which is famous for its trophy-size largemouth bass. A half-day excursion with Fishing Charters comes complete with an expert to teach little anglers how to cast and reel in the big one. (101 Lakeshore Blvd.; 800/244-9105; half-day, $250 for 2 people, $50 for each additional person)
6 Does your teen think Universal Orlando's Incredible Hulk Coaster is a walk in the park? Does Dr. Doom's Fearfall make him yawn? Thrill-seekers will find the ultimate adrenaline rush on the world's largest SkyCoaster, one of many attractions at Fun Spot USA. SkyCoaster combines the freefall of sky diving and the soaring sensation of hang gliding, as you pull your ripcord and swing from a harness suspended 300 feet in the air. Fun Spot USA is also home to a multi-level go-cart track, G-Force drag racing, six NASCAR simulators, and an 18-hole indoor miniature golf course. (Fun Spot USA, 5720 W. Hwy 192; 407/397-2509; Admission to Fun Spot USA is free. SkyCoaster rides: from $30/person)
7 Hankering for a slower pace? Horse World Stables offers guided trail rides for every level of experience, for adults as well as kids as young as 4. For beginners, the leisurely one-hour ride on the nature trail is just the ticket. Intermediate and advanced riders can tackle harder trails at a faster gait. The stables are home to over 45 horses. (3705 Poinciana Blvd.; 407/847-4343; Nature trail ride: $43.95/person; $16.95/child under 40 lbs riding double with adult; save $3/person with online coupon)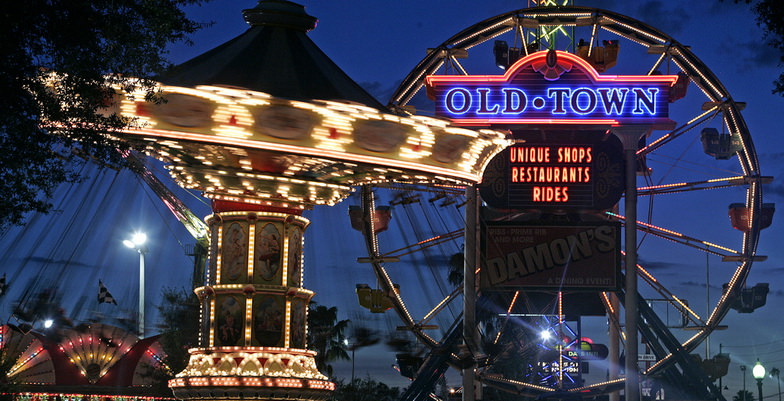 Old Town Ferris Wheel (Flickr: kissheartoffl)
8 With waterfalls and caves at every turn, the tropical-themed Congo River Adventure Golf is not your average mini golf course. As your family plays 18 holes, your kids are simultaneously on an expedition-like scavenger hunt—if they find all six lost artifacts, they win a prize. Afterward, you can feed alligators safely with fishing poles, mine for gems, take a boat ride, and play in the indoor arcade. (4777 W. Irlo Bronson Memorial Hwy; 407/396-6900; $10.95/adult, $8.95/child; save up to $6 with coupon at the bottom of this page.)
9 For anyone fascinated with snakes, a visit to Reptile World Serpentarium is a must. On display is an impressive collection of snakes from all over the world—some harmless, others quite deadly. Time your visit to catch one of the twice-daily "venom shows," during which dangerous species such as the Eastern diamondback rattlesnake and the king cobra are milked behind a plexiglass wall just a few feet from the audience. Other residents include iguanas, turtles, and a 14-foot gator. (5705 E. Irlo Bronson Hwy.; 407/892-6905; $6.75/adult, $6.75/child 6-17; $3.75/child 3-5; free for kids under 3; Open Tues-Sun, year-round except September; Shows at noon and 3pm)
10 Do your kids just love a spooky story? Join the 90-minute guided Kissimmee Ghost Tour through the streets of the historic downtown and hear tales of Kissimmee's most ethereal residents, such as the local headless horseman and the ghost girl who still pushes a playground swing. Book in advance and don't forget your camera to snap photos of "paranormal" activity. (231 Broadway; 321/251-5204; $19/adult, $9/child 8-12; free for kids under 7)
11 In a town that invented the character breakfast, the hottest dinner table is at Medieval Times Dinner & Tournament. Your family can sit down to a four-course feast in an 11th-century-style castle, surrounded by princesses as you watch knights on horseback do battle in a jousting tournament. As part of the royal audience, a big part of the fun is cheering for your knight. Before the dinner show starts, you can visit the replica Medieval Village and mingle among actors dressed in period garb, and even visit the dreaded dungeon. (4510 W Irlo Bronson Hwy; 866/543-9637; from $59.95/adult, $35.95/child 12 and under)
12 Ducks and lambs and donkeys, oh my! If your little one loves animals, Green Meadows Petting Farm is guaranteed to be the highlight of your trip. Along with over 300 farm critters of all kinds, there are hayrides, pony rides, little red wagons, train rides, and a terrific hands-on learning experience with animals. Families can take a two-hour guided tour of the farm, and kids can even milk a cow. (1368 South Poinciana Blvd.; 407/846-0770; $21/person)
13 Escape the crowds and head to a vintage amusement park straight out of yesteryear. A must for small fries, the brick-lined Old Town features teacup rides, kiddie coasters, an old-fashioned merry-go-round, dozens of shops, kid-friendly restaurants and fairground-style games. (5770 W. Irlo Bronson Memorial Hwy #324; 407/396-4888; $1/ride, all-day wristbands $15-$35)
Click to rate this post!
[Total:

0

Average:

0

]