South Casco, Maine
By Nadine Burke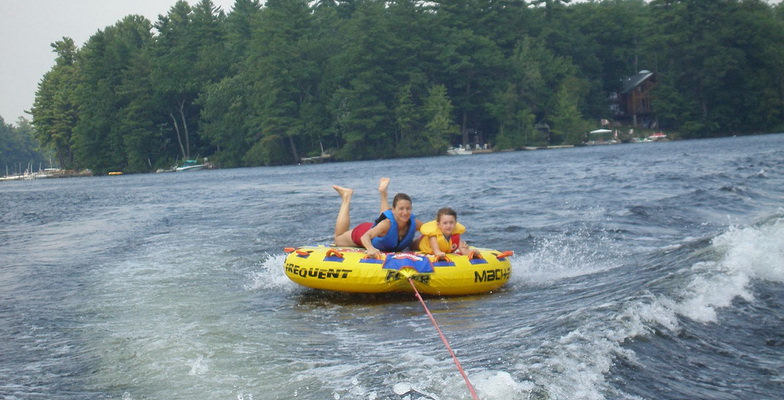 flickr:chrisarella
Why Go: The Indians called it "big stretch of water," which is an understatement even in a part of the world known for understatement. Spanning 45 square miles, Sebago Lake is the second largest of Maine's 6,000 inland bodies of water, and also the deepest, having been carved out by a great glacier during the Ice Age. Today Sebago Lake is famous for its pristine and azure waters, making it a standout destination in the state that proclaims itself "Vacationland."
Skirting a large bay in the northeast corner of the lake, Point Sebago Resort is well-known as a family-friendly camp with non-stop activities, complimentary children's day and evening programs, nightly entertainment, and a championship golf course. Our correspondent, Nadine Burke, and her family arrived expecting a relaxed, friendly campground atmosphere. They looked forward to laid-back fun with the kids, playing catch on the beach, campfires at night, and playing golf as a couple while their kids were in daycamp. Point Sebago delivered on all counts. ("Our kids definitely loved it and would love to go back. In our almost-8-year-old's words, 'It was 100% fun!' We definitely have several wonderful memories and our kids are still enacting the pirate cruise. The programs were fun and well-organized, the facilities clean, and the staff very friendly.")
Still, folks should know that there is neither a swimming pool nor a fitness center here. Accommodations are basic. You get the upsides of a campground (the Great Outdoors! s'mores!) but also some of the drawbacks (mosquitos, too-close neighbors). ("This is not for a family accustomed to luxury accommodations and fine dining. I think this is a good match for families who like the idea of camping without owning a tent or trailer. It's for people who prefer a party atmosphere to quiet. It's great for parents who like to do fun activities with their children but also have a little free time.")
Getting Oriented: Point Sebago Resort is set picturesquely on 775 wooded acres along the northerly shores of Sebago Lake. The resort is located in South Casco, a 45-minute drive from Portland and within three hours of Boston, which can only mean one thing. ("You would fit right in if you're a Red Sox fan.") The nearest town, North Windham, is about seven miles from the resort and has two large supermarkets for groceries and other necessities.
Most of the action at the resort takes place along the horseshoe-shaped beach. At one end is the Beach Pavilion, which contains two restaurants and two lounges. It is the venue for many themed events during the week. Next to the Beach Pavilion is a small outdoor waterpark. At the other end of the beach, Sebago Square is your go-to place for souvenirs, Internet use, fax machines, phones, and supplies. It houses a small general store, outdoor café, and Chippy's Playhouse, where children's daycamps and evening programs are held. There is a small playground just outside. A road leads out onto a small peninsula stretching into the lake, also known as "The Island." Several dozen rental units are here, along with the resort's small marina and its fleet of sailboats, paddleboats, canoes, kayaks, and cruise pontoons. Moving away from the beach, it's a short walk to the sports center and its six tennis courts, eight horseshoe pits, deep sand volleyball, basketball and shuffleboard. Further back from the water, the resort's 18-hole championship course was named the No. 1 golf course in Southern Maine by Golf Digest. Clustered along the lakefront, on the beach, in the woods, and near the golf course are more than 550 sites, including resort cottages, vacation homes, park homes, and sites for RVs and tents.
Getting Around: Even though the resort is vast, the main activity hubs are within walking distance of each other. You won't need your car to get around, and parking is free. Many people rent golf carts ($30/day; $175/week) or bring their own bicycles. Note: There is a $5 registration fee for each bike.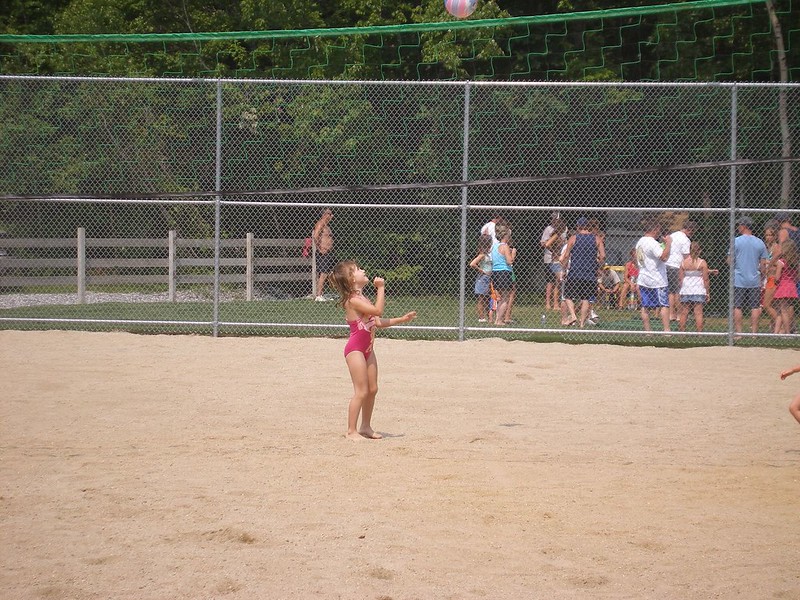 flickr:chrisarella
We Are Family: Every day at Point Sebago, the schedule offers many organized activities. One day there might be puppet shows, mini golf games, hayrides, and talent shows. The next day, you might find scavenger hunts, shuffleboard tournaments, father-son canoe races, bingo, and flag football. Crafty kids can try jewelry-making, scrapbooking, ceramics, and tie-dying. The week includes Broadway dance workshops, relay races, and capture the flag. Anytime you like, you can head to the marina and rent a paddleboat, kayak, or canoe (all $7/hr).
For the Burkes, one of the week's highlights was the Sebago Pirates Treasure Quest Cruise ($10/adult, $5/child 3-11, free for kids under 3). You board the Sebago Princess (actually a pontoon boat festooned with pirate regalia) for a 45-minute cruise with a few singing pirates. Suddenly, a band of attacking scalliwags pulls up in their own pirate motorboat. ("This was not scary by any means, even for the younger kids. The most startling thing was two fake cannons going off. The humor was tongue in cheek and the songs were very clever. Some of the humor was geared to adults but it wasn't offensive in the least. Our family is still quoting a few lines from this cruise.") Best of all, the fun did not end when the cruise docked. ("We were led to a clearing near the beach where the show continued and the kids got a bit of 'treasure'. And then, throughout the day, we spotted pirates singing on the beach.") Tip: Have your kids go to the bathroom before departing, because there is no bathroom on the boat.
For kids 3 to 9, two supervised daycamps operate daily, 9am to noon and 1pm to 4pm. Chippy's Camp is for kids 3 to 6 and Discovery Dynamos Camp is for kids 6 to 9. Before you leave home, you can pre-register your kids online for a maximum of three days of camp. After you arrive, you may be able to sign up your kids for additional sessions, if space permits. Occasionally, you can even get lucky as a last-minute walk-in. ("There is a better likelihood of getting in as a walk-in for Chippy's Camp. It can be tough for the Discovery Dynamos group.") Note: Children are not given snacks or drinks in daycamp, but they can bring their own.
When Burke arrived to drop off her 7- and 6-year-old for the afternoon session of Discovery Dynamos Camp, there was an organized check-in line. ("We were given a security card to be used to pick up the children. We then proceeded to another line for name tags and arm bands. That day the maximum 40 children were in camp and there were four counselors, for a 10:1 ratio.") On that first afternoon in daycamp, the theme was "Games Galore," and the kids played Simon Says and kickball on the beach. They built sandcastles and went to the outdoor waterpark. ("Tommy did not want to attend at first but ended up having a good time. He went back a second day and loved it. The group played indoor hockey and dodge ball and went back to the waterpark.")
The Burkes' youngest, 3-year-old Isabel, attended Chippy's Camp one afternoon. ("The drop-off was outside, behind the playhouse in a fenced-in, nicely shaded play area. Again, we were given a security card for pick up. The counselors checked to see if she had any allergies and took our cell phone number. This age group stays in the fenced-in area or plays inside the playhouse. The maximum number of children is 30 with three counselors, for a 10:1 ratio.")
There is no daycamp for kids 10 and up, but every day the resort offers four to 12 organized activities for kids 9 to 12 and 12 to 14. These might include scavenger hunts, Ping-Pong tournaments, Nerf football, game cruises, dance nights, atomic dodgeball, and theater games. Golfing families will want to take advantage of the complimentary junior golf clinics available to kids 9 and up.
There are also activities scheduled for kids 15 to 20, but the teen turnout seems to taper off in middle school. ("Although programs were available for older teenagers, we didn't see too many around. There were plenty of families with babies and young toddlers. They were certainly relaxing and enjoying themselves, but could not use the daycamps or Chippy's Playhouse at night.")
The beach is the heart and soul of the resort and a major activity hub. The water gets deeper very gradually, so young children can wade in safely. At least one lifeguard is on duty every day in the summer from 9:30am to 5pm. There are no diving platforms, docks water trampolines or slides in the water, and large inflatables such as rafts are not allowed. Children can, however, wear life jackets, swim bubbles, or water wings. ("The beach could get fairly crowded on a nice hot day, but not overly so. We never felt like we were sitting on top of another family.")
Point Sebago Resort offers some nice opportunities to work some quality golf time into a family vacation. Parents who want to get in 18 holes can sign their kids up for a full day of daycamp and schedule a 9:30am tee time ($55/weekday, $65/weekend). For an additional $5 per child, the daycamp counselors will provide your kids with lunch during the hour break between the morning and afternoon sessions. The Burkes figured that if you snagged a 9:20am or 9:30am tee time, you just might have time to pull off nine holes before the morning daycamp session ended. Note: You can reach the golf course from the resort via internal roads, but you need a card to pass through a security gate. ("You are only given a security card at check-in if you have pre-scheduled a tee-time prior to your visit. We wish we knew this ahead of time, because I lost about half an hour one day having to go back and get a security card before a golf clinic.") Speaking of which, the complimentary group golf clinics available to adults is one of the best perks at Point Sebago.
The resort's large arcade is another popular hangout for kids of all ages. There is air hockey, a half dozen skee ball games and about 20 other arcade games. The more you play (and spend), the more tickets you can win, which can be redeemed for small prizes.
Where to Eat: Every rental unit at the resort has kitchen facilities and an outdoor charcoal grill. Cooking and grilling your own meals is a good way to keep costs down, but when you feel like eating out, there are several dining options. At each eatery, high chairs and booster seats are readily available.
The Lakeview Restaurant, at the Beach Pavilion, is the flagship restaurant at the resort. The daily breakfast buffet includes a big spread of cereal, French toast, sausages, bacon, fresh fruit, and features waffle and omelet stations where you can get your order as you like it. ("Since we were at the resort during a Family Fun Week, we received coupons for a free breakfast buffet for four people. We used them one morning and paid for one child.") At lunchtime, there is a pub menu offering casual dishes such as onion rings, BLTs, quesadillas, buffalo wings, and burgers. At dinner, there is a full menu with appetizers, soups, and salads, and featuring a wide range of chicken, beef, pasta, and seafood dishes. The children's menu features old reliables like hamburgers, hot dogs, macaroni and cheese, chicken tenders, and pizza. (Open breakfast, lunch, dinner. Breakfast buffet: $7.95/adult; $5.95/child; Average lunch item: $6.95; Average dinner entrée: $12.95).
The Outdoor Café, at Sebago Square, sells ice cream and snacks such as lobster rolls, grilled cheese, burgers, fried dough, onion rings, and French fries. (Open daily 11am-10pm.)
Café on the Greens, at the golf club, serves light fare all day. (Open daily, 6:30am-8pm.)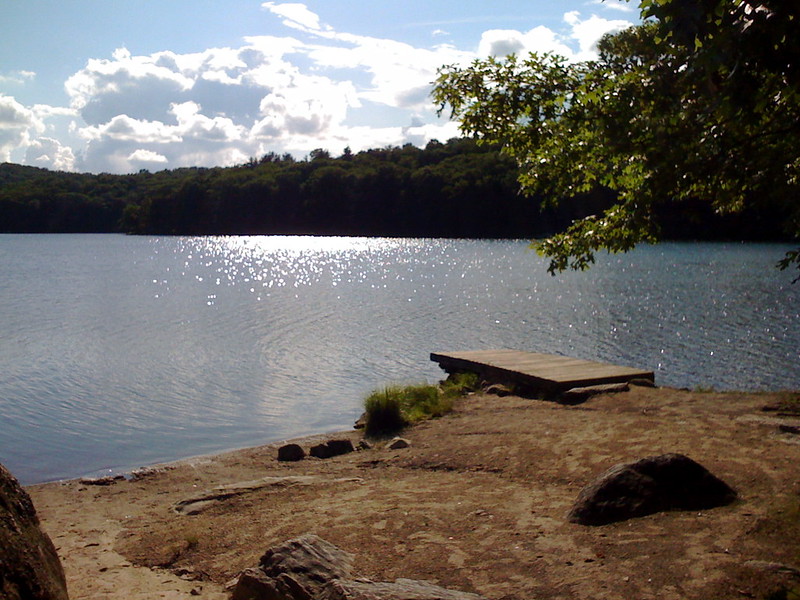 flickr:bettyx1138
In addition, Point Sebago puts on several themed lunches and dinners throughout the week, including a pancake breakfast, two barbecue lunches on the beach, a prime rib dinner, and a lobster dinner. Almost all of these events are sell outs, so it's a good idea to register in advance. One evening, the Burkes headed to the Beach Pavilion for "Chippy & the Gang's Welcome Show and Pizza Buffet" ($10.95/adult, $5.95/child 3-11, free for kids under 3), starring the resort's chipmunk mascot and his buddies, a moose, skunk, and raccoon. ("This was fun. The show was definitely geared toward families with younger children. Our 3-year-old loved it and our 6-year-old was also engaged. The food was fine, akin to a school function. There was a cash bar which many adults seemed to like.") During the week the Burkes visited, tickets to this dinner sold out the day before.
Nightlife: Every night, the resort hosts a themed party or show. Many events are geared to the whole family. There was a family bonfire and singalong one night. Another evening, the Burkes attended a free summer stock play of "The Jungle Book," which they thought was excellent. On Carnival night, Chippy and his pals joined forces with face painters and clowns to put on a circus-style show. There were also many fairground-style games, with proceeds going to Camp Sunshine, an adjacent camp for families with terminally ill children. ("The carnival games were better than I anticipated. It ran from 6:30pm to 9pm and was very well-attended. You could also purchase hamburgers, hot dogs, popcorn, cotton candy, and beverages.")
A few events, like Monte Carlo night, begin a bit later in the evening and are just for parents. The Burkes had purchased advanced tickets for Comedy Club night ($10/person cover charge), which later sold out. ("They had three comedians, and the second two were very good. The headliner has been on Comedy Central and has been to Iraq to perform for US soldiers.") Alcohol was served at the bar and at the table. Free popcorn was available and pub food could be ordered off the menu.
If parents want to have dinner or attend a show, there is a free, supervised group babysitting service available at Chippy's Playhouse Sunday to Friday, from 6:45pm to 10:30pm. The Burkes took advantage of this service on Comedy Club night. ("We dropped off our kids at Chippy's at 8:30pm. They wore their pjs and brought pillows and sleeping bags. As we arrived they were just starting the Disney movie "Peter Pan." Children were laying on provided mats and the lights were off. When we picked up our kids at the 10:30pm closing time, our kids were awake, but some children were asleep by then. They limit the spaces to 40 children, who are supervised by three counselors. Again, we were given a security card to use at pickup. Children were not given snacks or drinks, but they could bring their own.")
There's never any pressure to attend any of the shows, and many families choose make their own fun. Bonfires spring up and some families roast marshmallows or make s'mores. On gorgeous summer evenings, kids remain playing at the beach and on the playground until twilight. Some people fish until it is too dark to see.
Where to Stay: There are several categories of rental units, ranging from vacation homes and resort cottages to park homes. Prices are determined by the size of the unit and the location within the resort. The most expensive units are on the water, followed by those on the beach, and finally those in the woods. ("I think your ideal location choice depends on what you want from your vacation, the age of your children, and how you want to get around the resort—by bike, golf cart, or car.")
Vacation homes, the most comfortable option, are situated near the golf course. These two-bedroom homes are fully furnished and feature a living room, dining room and fully-equipped kitchen including a microwave. Each has air conditioning, cable TV and several decks. A one-week stay during the peak summer season costs $1,995, or $285 a night.
Resort cottages have one to three bedrooms, plus a living area, dining area, bathroom, equipped kitchen, and an enclosed sunroom or deck. Each comes with cable TV, basic cooking utensils, bath towels, sheets, pillows and blankets. All units have air conditioning. A one-week stay during the peak summer period costs from $1,540 to $1820, depending on the unit's size and location. This works out to $220 to $260 a night.
Park homes are basic mobile homes with one or two bedrooms that sleep up to six people. They have a living/kitchen area, bedrooms, a full bathroom, and a deck. All park homes have air conditioning.
There are two kinds of park homes: non-equipped and equipped. Non-equipped park homes do not include kitchen utensils, sheets, towels or blankets. In other words, you still have to pack as if you were camping. You can rent an equipped park home for $20 to $60 extra per night, depending on the location of your unit. Equipped and non-equipped park homes are identical except that equipped units also have cable TV plus linen and kitchen packages that include basic necessities. Staying in a park home during peak season costs from $1,379 to $2,149 a week, or $197 to $307 a night. Prices vary depending on location and whether you opt for the equipped package.
The Burkes stayed in a two-bedroom park home on Site No. 22, on Lakepoint Road, which is the entrance to the boat launch. ("On the weekend there were a fair number of boats being launched, which created a bit more traffic in front of our unit.") The site was directly across the street from the beach and Beach Pavilion, and a short walk from the sports center and laundromat. The proximity to the Beach Pavilion and to neighboring units made it difficult, at times, for the whole family to get a good night's rest. ("The quiet hours are from 11pm to 7am. It can be very noisy in the evening, especially if you want a quiet evening or you are putting your kids down early.")
The Burkes entered into a living room/kitchen, which held a futon, small TV, small table with four chairs, full-size refrigerator, small oven/stovetop, and a sink. There was no dishwasher. There was a double bed in the rear bedroom and bunkbeds in the second bedroom. Both rooms had large closets with four built-in drawers. Each room, including the living room/kitchen, had a ceiling fan. ("Overall, the accommodations are basic. Our older two children slept in the twin bedroom. We let our 3-year-old fall asleep in the rear bedroom and then we would move her at night onto the pull-out futon in the main room.")
The Burkes were glad to have the linen and kitchen packages, which saved them from having to pack a carload of household items. ("The linen package included plenty of sheets and pillows. Plenty of towels were provided, but the quality was very poor. They were thin and small. On the humid summer day, they took a while to dry. No kitchen towels were provided.") The kitchen package included a 12-cup coffee pot, toaster, knife set and cutting board, dishes, bowls, mugs and glasses. Also included was a basic pot and pan set, a large colander, plastic bowl set with lids, dish drain, utensils and three plastic serving spoons. Burke recommends bringing a few extra supplies, including a spatula, peeler, can opener, sponges, paper towels, and dish soap.
After touring the resort, the Burkes identified some of the optimal sites as Nos. 722-724 and 774-785. Unsurprisingly, these are among the priciest units. ("Most of these sites are right on the water. Some face west and have a small beach front. We saw other nice spots on 'The Island,' though these may not be as suitable for families with small children. They are also on the water, but have a rocky shore. The park home units further away toward the golf course seemed quieter.")
Note: There is a seven-night minimum stay during peak season for all lakefront units. We recommend staying a full week to take advantage of the activities schedule and the many planned events. It is possible, however, to stay fewer nights in a park home that does not have a premium location. During the peak summer season, there is a $35 weekly charge for fifth and sixth family members.
Price Tag: A seven-night stay for a family of four in peak season—this year, it will be June 28 to August 16—costs between $1,379 (park home in the woods) and $2,149 (equipped park home, "premium water" site). ("Overall, I believe this resort offers a great value for families. There are a lot of nice amenities, and the fact that the daycamps are included in your rental unit price is a great value in and of itself.") In addition to childcare, rates include free access to the beach, sports center, many family and adult entertainments, and even golf clinics.
Even so, it's important to keep in mind that Point Sebago's pricing is inclusive, but nowhere near all-inclusive. You can wind up spending significant money on non-included extras, such as meals, cruises, boat rentals, mini golf, the arcade, and the many themed diversions that go on here all day, every day.
It seems like quibbling, but we'd like to see the resort scrap the $5 bike registration fee. You schlep your own bikes hundreds of miles on the back of your car and then you have to pay to ride them? That seems awfully petty. We'd rather see Point Sebago rent bikes to guests at a reasonable rate—say $30 a week.
Insider Tips:
Visiting during "Family Fun Vacation Weeks" can reduce your bill significantly.
Pre-register for all your entertainment, golf, daycamps, and evening childcare in Chippy's Playhouse.
Pre-book a golf cart. ("We did not even know these were available as a popular method of transportation. Therefore we did not have one booked and could not get one even for a one-day rental. However, it is not a total inconvenience if you don't have one.")
Pack plenty of bug spray. Bring flashlights and candles in case of a power outage. Vinyl table clothes are handy for picnics. Beach umbrellas and chairs are nice to have, and are not provided by the resort.
Don't overpack. There is a coin-operated laundromat near the sports center.