Rocky Mountain high. Rock-bottom price.
By Suzanne Rowan Kelleher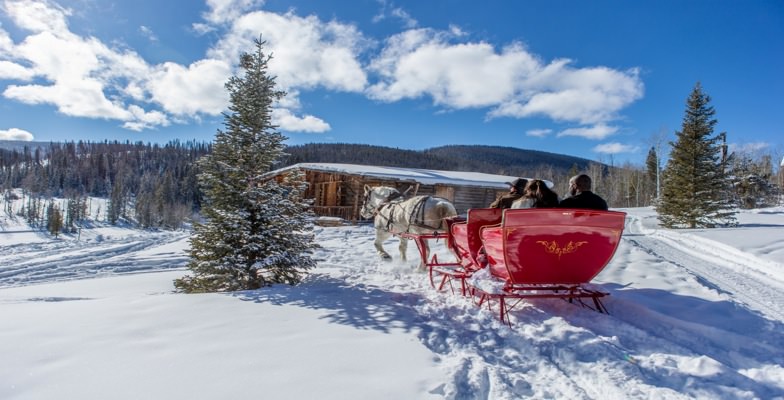 Families who love winter brace themselves for more than the cold each year, knowing that even a run-of-the-mill ski getaway can cost a king's ransom. Parents have gotten used to the idea that the joy of snow typically comes with sticker shock, which is why Snow Mountain Ranch, near Winter Park, Colorado, is such a revelation. The destination that Outside magazine named No. 1 for affordable family adventure travel offers rates starting at well under $100 a night.
This 5,100-acre resort, located less than a 90-minute drive from Denver, delivers an exceptional bang for your buck. Phenomenal vistas of the Colorado Rockies from an elevation of 8,750 feet. Oversized accommodations. Deep, powdery snow. Bountiful buffets. And a low-key, outdoorsy vibe that lets families take advantage of an awesome menu of outdoor and indoor activities. In the wintertime, families flock to Snow Mountain Ranch for its first-rate Nordic Center, which offers more than 60 miles of groomed trails for cross-country skiing and snowshoeing, plus ice skating, sledding, tubing, and horse-drawn sleigh rides—and for a fraction of what you'd pay for a day of lift tickets.
How come it's so affordable? Snow Mountain Ranch is run by the dependable, not-for-profit YMCA. In addition to more than 2,000 daycamps and some 330 summer sleepover camps for boys and girls, the Y also operates a handful of lodge- and cabin-based camps that offer family vacations. The vast majority of these camps are open during the summer, but Snow Mountain Ranch at the YMCA of the Rockies is a year-round destination and one of the best-kept open secrets in family winter vacations.
There's a rich family program offered year-round, with a full roster of activities during the day and at night. Your stay could include live shows, guided snowshoe hikes, art classes, dancing, wildlife education talks, cross-country ski lessons, campfires, sports tournaments, family tubing, nature hikes, and much more. The resort provides a weekly bulletin listing activities and events, and guests are invited to participate in as many programs as they like. There's never any pressure, just friendly encouragement to make the most of your visit.
Snow-filled adventures are available for people of all ages and experience levels. Even toddlers can enjoy the white stuff here. ("If they can walk, they can snowshoe," goes the saying.) Novice skiers can take lessons and do short loops around the Nordic Center while more experienced skiers can choose from longer trails and steeper slopes. If you want to experience some of Colorado's finest downhill skiing and snowboarding, you can pop over to nearby Winter Park Ski Resort and SolVista Basin at Granby Ranch.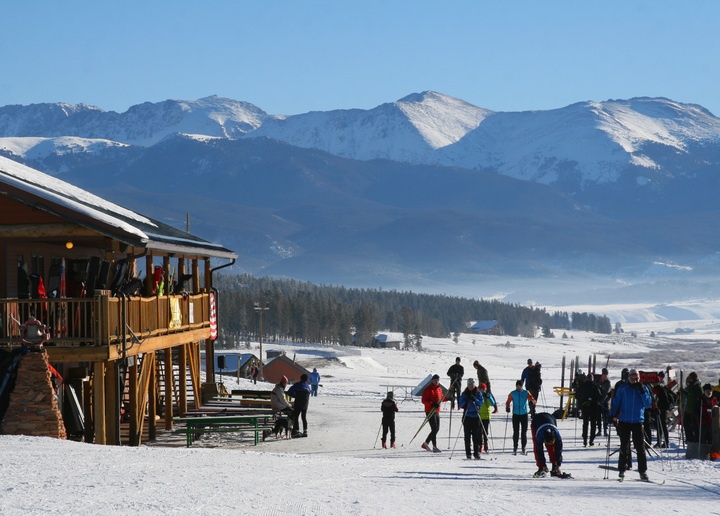 Sombrero Stables at Snow Mountain Ranch provides an abundance of horseback riding opportunities in the wintertime, including trail rides, breakfast rides, and dinner rides. Experienced wranglers lead the way through breathtaking trails and fields backed by snow-capped mountains, pointing out the local wildlife and natural beauty of the Colorado Rockies. This is a great way to experience the splendor of the mountains from a fun and unique vantage point.
Your family can also go dashing through the snow in a sleigh pulled by a team of horses. After the ride, hot cocoa and cider await around a huge bonfire. If you want to make it a special evening, treat your family to a sleigh ride that leads to a warm and cozy dining hall, where the cowboys serve an authentic three-course western dinner (Sleigh Ride: $28/adult, $25/child 6-11, $12/child 5 and under, $6 for children 3 and under. Dinner Sleigh Ride: $60/adult, $45/child 6-12, and $15/child 5 and under).
Finally, when you need a break from the cold, you can try out one of the many indoor activities at Kiva Center, an indoor recreation hall that offers rollerskating, basketball, volleyball, Ping-Pong, and foosball. There is also a library, as well as an indoor swimming pool and sauna. For those who want to get a taste of one of Colorado's most favored pastimes, the Kiva Center also features a 22-foot indoor rock climbing wall. At the Snow Mountain Ranch Craft Shop, you can take a specialty class or independently make leather crafts, sun catchers, tie-dye shirts, walking sticks, and jewelry. (Fees vary per craft, depending on the materials needed.)
Planning Your Trip
Snow Mountain Ranch is located in Granby, Colorado, about 80 miles west of Denver. YMCA members receive a $15-per-night discount on all lodging. Complimentary cross country ski and snowshoe trail passes, ice skating, sledding, tubing, and other activities at the Winter Fun Center are now included with your stay. Note: Some equipment rentals incur an additional charge.
Snow Mountain Ranch's lodge rooms sleep up to six people. Its cabins and vacation homes have two to five bedrooms and can accommodate five to 12 people. The cabins are extremely popular and tend to get snapped up first. All cabins have a fireplace and kitchen facilities and are fully furnished and stocked with cooking and dining utensils, pots, pans, coffee makers, linens and towels. The half-dozen vacation homes boast microwaves, dishwashers and televisions. Basic lodge rooms, which sleep four, start at $79 a night; two-bedroom cabins start at $139 a night.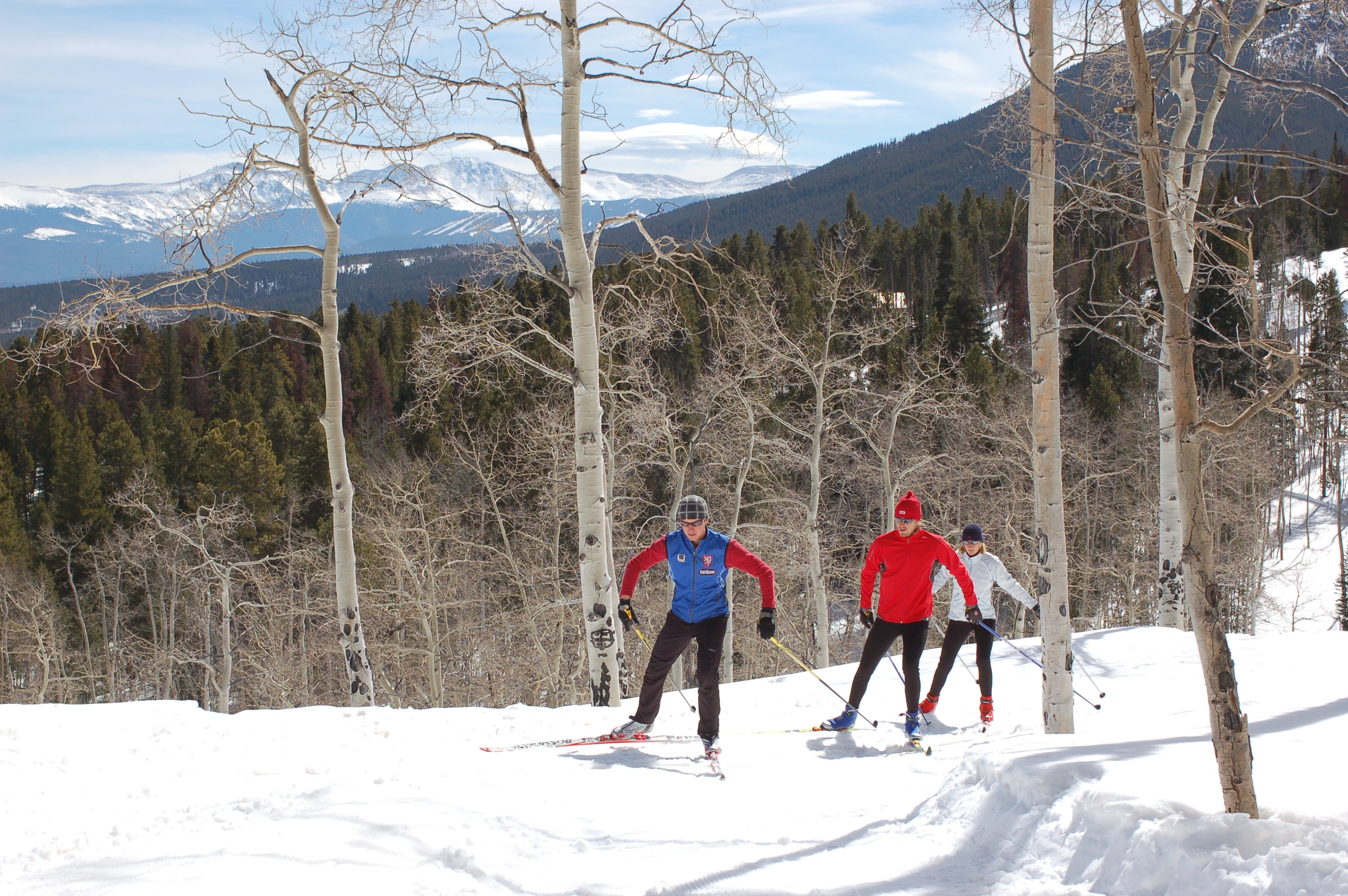 Part of what makes the Snow Mountain Ranch experience so convenient and affordable is its great variety of dining options. Meals are available on a meal plan or pay-as-you-go basis. Dinner at the camp's main dining room, Schlessman Commons, costs only $12 for adults or $7 for kids, with breakfast and lunch prices considerably less. Buying a meal plan will save you even more money, and deliver hearty, delicious food with no extra surprise expenses. Note: Families that book lodge rooms get a free daily breakfast for two people.
Member requests for lodging are processed first. Tip: It boosts your chances of receiving your desired lodging choice if you purchase a $200 annual family membership to the YMCA of the Rockies (in addition to your local Y membership).
A particularly good-value time for families to visit Snow Mountain Ranch is during one of the special Family Fun Weekends. During the SMR Winter Fest (December 3-5 and 10-12, 2010), for example, scheduled activities include an outdoor family campfire, guided snowshoe hike, family snowshoe race, sledding, tubing, indoor crafts, climbing wall, swimming, gingerbread house decorating, family square dancing, and a movie. Also, you get free Nordic ski lessons when you buy a trail pass and equipment rental. Horseback riding and sleigh rides are available at a discount.
Tip: Call 970/887-2152 (ext. 4173) to register your son or daughter in the children's Nordic Ski program, offered only on Fridays and Sundays for seven weeks during the winter. Don't forget to pack your child's immunization records along with a doctor's note affirming his or her good health.
Sample rates for the Nordic Center and Winter Fun Park:
One-day cross-country trail pass: Free with lodging; otherwise $15/adult, $8/child 6-12; free for kids 5 and under
One-day cross-country ski equipment rental: $15/adult, $8/child 12 and under (half-day rentals also available)
Learn-to-ski program (trail pass, equipment rental, one-hour lesson): $40/adult, $25/child 12 and under
Snowshoe rental: $15/full day, $8/half-day
Skating: $5/person; free for YMCA members 9 and under
Visit the YMCA of the Rockies web site.