10 big family adventures in South Dakota
By Suzanne Rowan Kelleher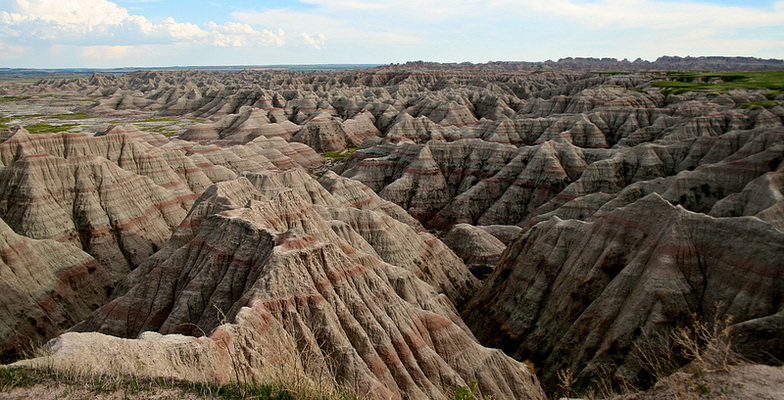 Badlands National Park (Flickr: Joel Washing)
Oh, give us a vacation where the buffalo roam and the skies are not cloudy all day. Looking for a destination to match your family's giant sense of adventure? Few states can deliver like South Dakota. The wide-open spaces and incredibly diverse landscape is larger than life—a sprawling, spectacular playground of windswept prairies, glacial lakes, muscular black hills, granite mountains, and ancient, otherworldly terrain. These lands have witnessed countless pivotal moments in American history, and yet the expanse of unfettered wilderness reminds us of the enormous sense of promise that drew people in the first place. Where else can you stare into the 60-foot-high visages of four American presidents carved out of granite cliffs, and touch the massive bones of dinosaurs and woolly mammoths? You can walk in the footsteps of explorers Lewis and Clark, who traversed the Missouri River as they headed westward into the great unknown. Trace the footsteps of Wild Bill Hickok and Calamity Jane down the streets of an authentic Wild West frontier town, and dance to Native American drumbeats at a Sioux celebration. Here are 10 amazing adventures to share with your kids in South Dakota.
Walk on the moon. The natural stone formations and rugged ancient bedrock of Badlands National Park, just 80 miles west of Rapid City, are often compared to the lunar landscape. But Badlands is much more than jagged rock and blue sky: Its unique sandstone formations hold the fossilized remains of mammals that inhabited this part of the world millions of years ago. It's also the site of a protected mixed-grass prairie that is unchanged from the days the first settlers ventured west in the 19th century. There is always plenty for families to do here, from hiking the seven trails to spotting bighorn sheep and free-roaming herds of bison. A 45-minute Junior Ranger program lets kids 5 to 12 earn badges by filling out activity booklets and participating in ranger-led activities like hikes, crafts, or fossil talks. You can also watch genuine paleontologists at work at the summer Pig Dig, which so far has unearthed some 13,000 fossil bones from a site estimated to be 33 million years old. What have they found so far? The remains of ancient three-toed horses, tiny deer, a saber-toothed cat, and a hornless rhinoceros. Tip: Check out Robert's Prairie Dog Town, five miles west of the junction of Sage Creek Rim Road and Badlands Loop Road in the northwest corner of the park, for glimpses of the impish, barking prairie dogs peeking out of their burrows. (Ben Reifel Visitor Center and park headquarters is located in the Cedar Pass area, two miles east of Interior; 605/433-5361; Open daily 24 hours year-round; Admission: $15/car for seven days, $30/Badlands National Park Annual Pass.)
(MORE: Find more National Park destinations for the whole family.)
Dig for woolly mammoth bones. During the Ice Age, dinosaurs and woolly mammoths roamed the great plains of what is now South Dakota. Today the state is one gigantic bone zone. One of the best places to see real fossils is at The Mammoth Site of Hot Springs, an active excavation site and home to the world's largest mammoth research facility. In the Pleistocene era this site was a pond for thirsty animals passing by, but its steep sides kept many animals from leaving. So here they stayed for some 26,000 years until they were discovered by a developer's backhoe in 1974. You can get up close to massive mammoth bones, displayed exactly the way they were found. Even better, kids 4 to 13 can sign up for the popular Junior Paleontologist program that runs from June 1 to August 15. Participants can dig up full-size fossil replicas using the same tools that real fossil-hunters employ. The hour-long mini dig is stationed right next to an actual excavation site, so kids work practically side by side with genuine paleontologists. Tip: This program fills up very quickly, so reserve several months in advance. (1800 West Hwy 18 Bypass, Hot Springs; 605/745-6017; Open daily summer 8am-8pm, shorter hours fall to spring; Admission: $7.50/adult, $5.50/kids 5 to 12, free for kids 4 and under. $9 extra fee for Junior Paleontologist program.)
Attend a real powwow. As home to more than 50,000 descendants of the Great Sioux Nation, South Dakota is one of the best places to participate in an authentic Native American powwow. These harmony-loving Plains Indians were the dominant tribe in the territory that now comprises North and South Dakota. When gold was discovered in the Black Hills in the 1870s, the influx of white settlers overwhelmed the Sioux, who would not allow mining rights on their land for prospectors. The conflict ended in 1890 at Wounded Knee, where US troops killed 153 Lakota Indians in a bloody battle that would topple the Great Sioux Nation. Today, Sioux culture is celebrated with a number of major powwows and other Native American celebrations held throughout the state. These powwows (called wacipi) are vibrant with color and sound, as Native Americans in splendid native clothing and headdresses dance to drums and chants. The state's most celebrated powwows are held from late May through early October.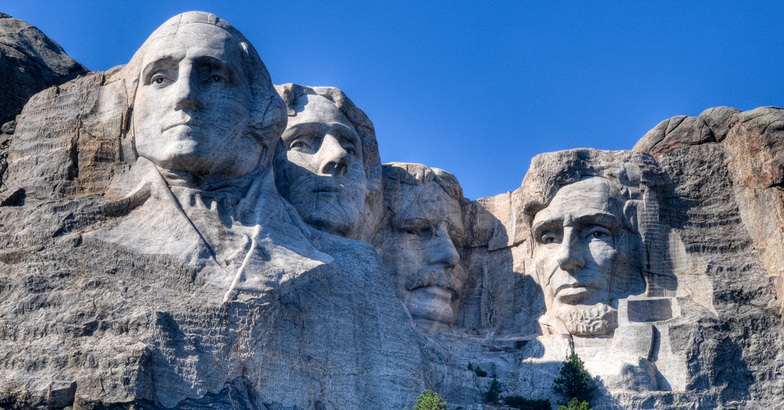 Mount Rushmore (Flickr: Sebastian Bergmann)
See some familiar faces. Like the Eiffel Tower and the Grand Canyon, Mount Rushmore National Memorial is an iconic attraction on every traveler's must-see list. Located in the Black Hills of South Dakota, the monument is a grand testament to the can-do American spirit. It took sculptor Gutzon Borglum and his team of 400 workers over 14 years to carve the 60-foot faces of four American presidents—Washington, Jefferson, Theodore Roosevelt, and Lincoln—out of the smooth granite hills. Two Junior Ranger programs allow kids 5 to 12 to earn a ranger badge by completing a series of games and activities. And, at the museum visitor center, kids can detonate a simulated dynamite explosion like those set off by the monument workers some 80 years ago. (Hwy 16, west of Keystone; 605/574-2523; Open daily in summer 8am-10pm, shorter hours fall to spring; Admission: $11/annual pass for cars and RVs.)
(MORE: Find more kid-friendly historical vacations.)
Step into a frontier town. After gold-rush fever died, many frontier towns of the Old West faded away into the dusty plains. Not so the infamous former mining camp known as Deadwood. This shoot-'em-up town not only survived its Wild West days, it even went on to Hollywood immortality with an eponymous HBO series that relives the days of Wild Bill Hickok and hard-drinking cowgirl Calamity Jane. (Hickok, incidentally, was shot and killed here in 1876 while playing poker at Mann's No. 10 Saloon; he's buried in Mount Moriah Cemetery, on the northern edge of town—as are Calamity Jane and Potato Creek Johnny, a 4'3″ prospector who found one of the largest gold nuggets in the Black Hills.) Today, Deadwood is a National Historic Town and a thriving artifact of the Wild West days of saloons, stagecoaches, and unsavory grubstakers—which, of course, makes it sheer catnip to young wranglers. When they're not chatting with costumed town folk, kids can pan for gold in the 1876 Broken Boot Gold Mine and thrill to a real-life rodeo at the Days of '76 Museum.
Go on a buffalo safari. Giant herds of buffalo still roam free in Custer State Park, the second-largest state park in the US, which is packed with jaw-dropping Black Hills scenery and outdoor adventures. Every family should take time to complete two famous self-drive routes. The first is the 18-mile Wildlife Loop, which affords a safari-style experience and up-close encounters with buffalo (park rangers advise that you stay in the car) and wild burros (they're actually quite tame and fond of apple slices). The second scenic drive is the 14-mile Needles Highway, which tunnels through the Needles Eye granite column and rewards with magnificent views of Cathedral Spires, jagged fingers of stone that rise majestically out of the granite cliffs. Active families will find plenty to do in the park, from hiking 7,242-foot Harney Peak, horseback riding, fishing, and taking open jeep rides to view the bison. The annual autumn buffalo roundup is a thrilling chance to see cowboys round up the thundering herd. Plan on attending an outdoor chuckwagon supper, where future wranglers can eat cowboy food like barbecued meats, beans, and biscuits slathered in honey. Kids 7 to 12 can earn a certificate or an embroidered park patch in the Junior Naturalist Program by completing an activity such as panning for gold and gemstones in a nearby creek or taking a ranger-led caravan to stops along the Wildlife Loop. Similar activities are offered in the "Pups" Program for kids 4 to 6 who can earn a very cool embroidered park patch. Best of all, these kids' programs are free. (13329 US Hwy 16A, Custer; 605/255-4515; Open daily year-round; Admission: $23/annual park license, $12/vehicle for seven days; George S. Mickelson Trail Pass $2/day or $10/year, half-price fees Nov 1-April 30.)
Be a cave man. Beneath South Dakota's black hills and big-sky prairies, there lies an amazing underground world. In Jewel Cave National Monument and Wind Cave National Park, the state has the second and fourth longest caves in the world, respectively. At 140 miles long, Jewel Cave is filled with calcite crystals that sparkle like jewels, especially during the ranger-led candlelight spelunking tour (minimum age, 8). At Wind Cave, you can explore underground cave passages and then head aboveground to spot free-roaming bison, elk, and prairie dogs. Both parks offer Junior Ranger programs for kids 5 to 12, who can earn badges and certificates by completing an activity booklet and taking cave tours. (Wind Cave: 26611 US Hwy 385, Hot Springs; 605/745-4600; Jewel Cave: 11149 US Hwy 16, Custer; 605/673-2288; Both parks are open daily year-round; check websites for current fees.)
Visit the Little House on the Prairie. Many of the heartwarming stories in the Little House on the Prairie series were drawn from life in small-town South Dakota, where author Laura Ingalls Wilder grew up alongside her family, friends, and neighbors. At the Ingalls Homestead in De Smet, you can take a covered wagon ride on the open prairie and attend a "class" in the 1880s Little Prairie School. Some 18 sites in town were mentioned in the books, including two houses where the Ingalls family lived that contain thousands of personal family mementos. (De Smet is about 100 miles northwest of Sioux Falls; 20812 Homestead Rd; 800/776-3594; Open daily 9am-7pm; Admission: $7/adult, free for children under 5.)
Learn about a legend. Sculptors have a longstanding love affair with South Dakota's formidable granite hills. Just 17 miles from the somber visages on Mount Rushmore, another massive memorial to a storied American is being chiseled out of stone. But when it's complete, the Crazy Horse Memorial will be even bigger than Rushmore, measuring a whopping 563 feet high and 641 feet long. The sculpture-in-progress depicts the legendary Lakota Chief and tribal war leader Crazy Horse in a heroic pose atop his trusty steed. You can visit the Indian Museum of North America, the late sculptor's studio, and watch the progress of the carving high up in the hills. Visit in the evening, so you can behold the multimedia laser-light show, "Legends in Light," which beams colorful animated images into the night sky from Memorial Day weekend through Native American Day in mid-October. (US Hwy 16/385, Crazy Horse; 605/673-4681; Open daily summer 7am to end of light show, winter 8am-4pm; Admission: $10/adult, free for kids 6 and under.)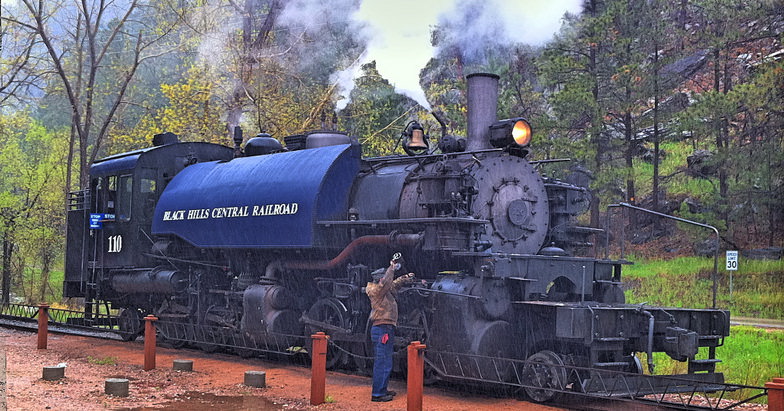 Board the steam train for a scenic ride through the Black Hills. (Flickr: Chris Favero)
Ride a steam train. Climb aboard the 1880 train, a vintage 19th-century steam train that makes daily two-hour trips through the spectacular Black Hills from early May through early October. Engine No. 7 is particularly renowned, having starred in various movies and a Gunsmoke episode. This is an unbeatable trip for Black Hills sightseeing, as the route takes in the Holy Terror Mine, Old Baldy Mountain, the Indian Cliffs, and even Harney Peak. For small fries, the hugely popular "Day Out with Thomas" takes passengers on a 25-minute trip led by Thomas the Tank Engine; the trips are scheduled for late August, and reservations are essential. (Hill City; 605/574-2222; trips daily May 7-Oct 7; check website for departures times; Roundtrip fare: $21/adult, $12/kids 4 to 12; One-way fare: $17/adult, $10/kids 4 to 12; Free for kids 3 and under. "Day Out With Thomas" itinerary: $9/kids 2 and up.)
Click to rate this post!
[Total:

0

Average:

0

]