Exploring Yellowstone is a fun and educational way to spend the summer with the kids. Read on to find out the 10 great things to see and do at the park.
By Erin Gifford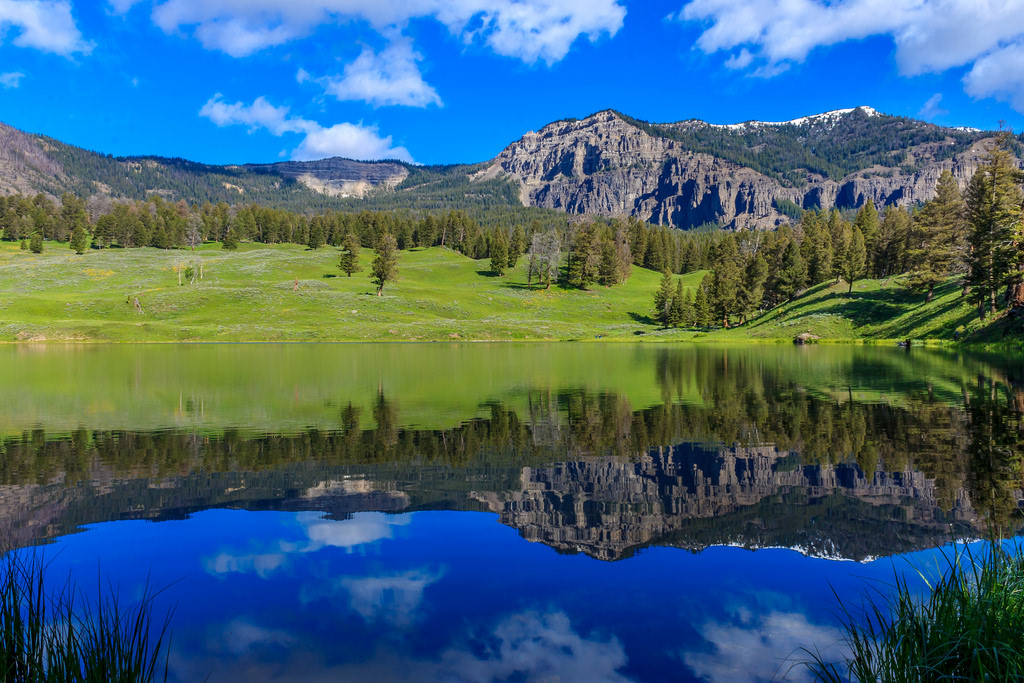 Yellowstone National Park (Flickr: Always Shooting)
Between geysers, hot springs, mud pots and wildlife, like bison and elk, there's almost too much for kids to see at Yellowstone National Park. The national park is huge, covering more than two million acres across Wyoming, Idaho and Montana.
To make the most of your visit, enter the park from the West Yellowstone (Montana) or Flagg Ranch (Wyoming) entrance, both of which are convenient to must-sees, like Old Faithful and Grand Canyon of the Yellowstone. With so much to see, it's important to narrow down the best of the best, so here are ten must-do activities to maximize a visit with kids to one of our nation's most popular parks.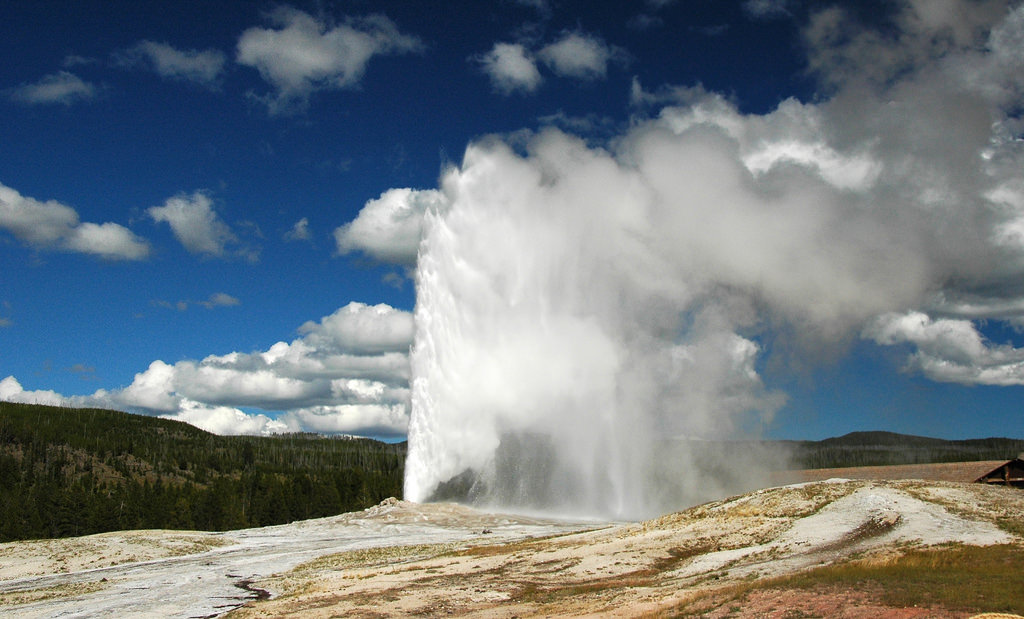 Old Faithful (Flickr: James St. John)
1. Watch Old Faithful Erupt. This is a must, especially for first-time visitors. Park at the Old Faithful Visitor Education Center and check inside to see when the eruptions are predicted for the day. Old Faithful erupts every 35 to 120 minutes and can be seen from benches outside the visitors center.
2. Explore Upper Geyser Basin. From Old Faithful, walk along the one-mile boardwalk through Upper Geyser Basin to check out a variety of hot springs and geysers, including Morning Glory Pool. Take one of the short hiking trails that branch off the boardwalk to explore the geysers from a new vantage point.
3. Let Bubbling Mud Pots Entertain You. Stop to watch bubbling, blooping mud pots throughout the park, including Fountain Paint Pot and Artists Paint Pots. Kids will love to watch the mud pots bubble, though they may hold their noses at the lingering smell of rotten eggs thanks to sulfur in the ground.
4. Have a Picnic at West Thumb. There are picnic areas across Yellowstone, but if you can, stop at one of the tables at West Thumb Geyser Basin along Yellowstone Lake. The picnic area is small, but it's a short walk to a self-guided trail around some of the most beautiful geyser basins in the park.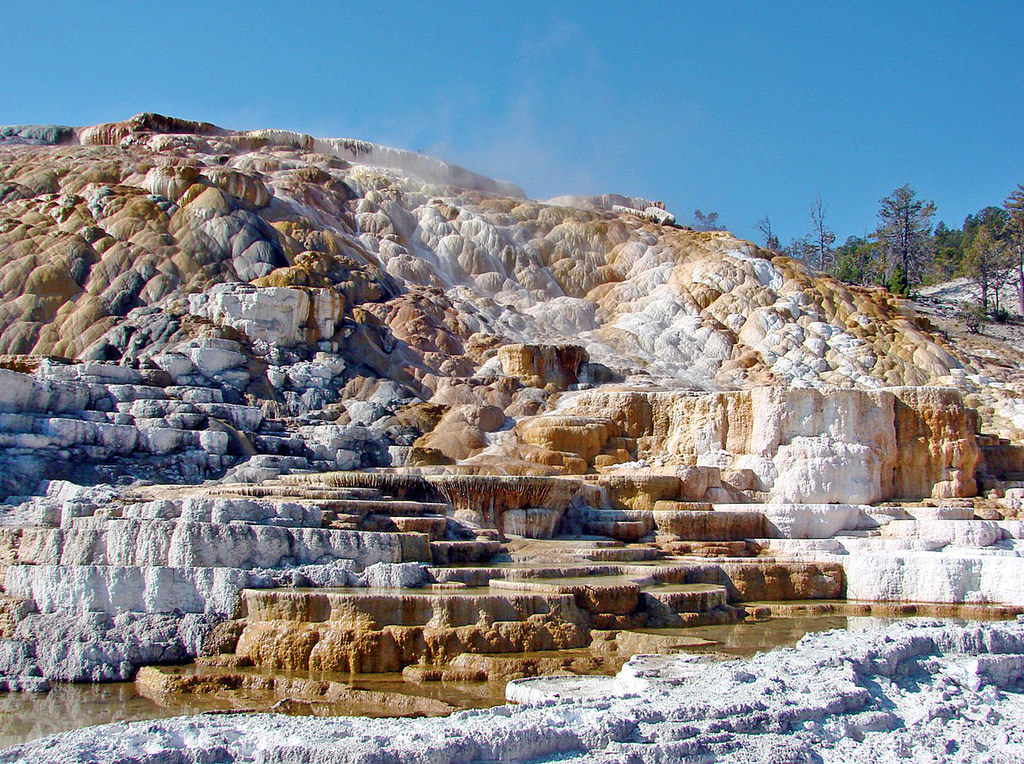 Nature's Sculpture, Mammoth Hot Springs (Flickr: Don Graham)
5. Take a Soak in the Boiling River. Bring your swimsuits and splash around in the Boiling River just north of the Mammoth Hot Springs. Kids will love soaking in the warm water after a half-mile trail walk spent looking for wildlife, like bison and elk.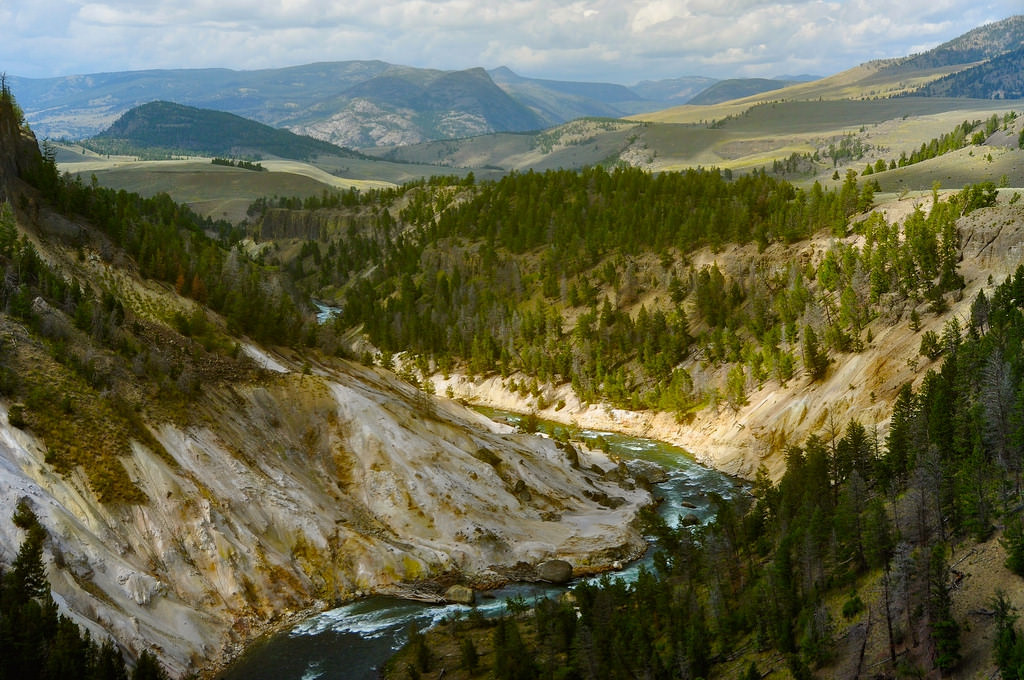 Grand Canyon of Yellowstone (Flickr: faungg's photo)
6. Be Awed by the Grand Canyon of the Yellowstone. While the Yellowstone's Grand Canyon may not be as large as the Grand Canyon in Arizona, it's still a must stop that's sure to impress your kids. Park near North Rim Drive to hop out of your car for a short walk to a lookout point to see the Lower Falls.
7. Enjoy a Chuckwagon Dinner. Ride on horseback or in a wagon to Yancy's Hole near Roosevelt Lodge for an Old West Dinner Cookout. Enjoy steak plus all-you-can-eat cole slaw, baked beans, corn muffins and fruit crisp under the stars.
8. Take a Short Hike. There are a variety of easy hikes across Yellowstone that are ideal for families, particularly those with young children. Try South Rim Trail, a flat, five-mile hike that goes along the Grand Canyon of the Yellowstone, offering unmatched views of the Upper and Lower Falls.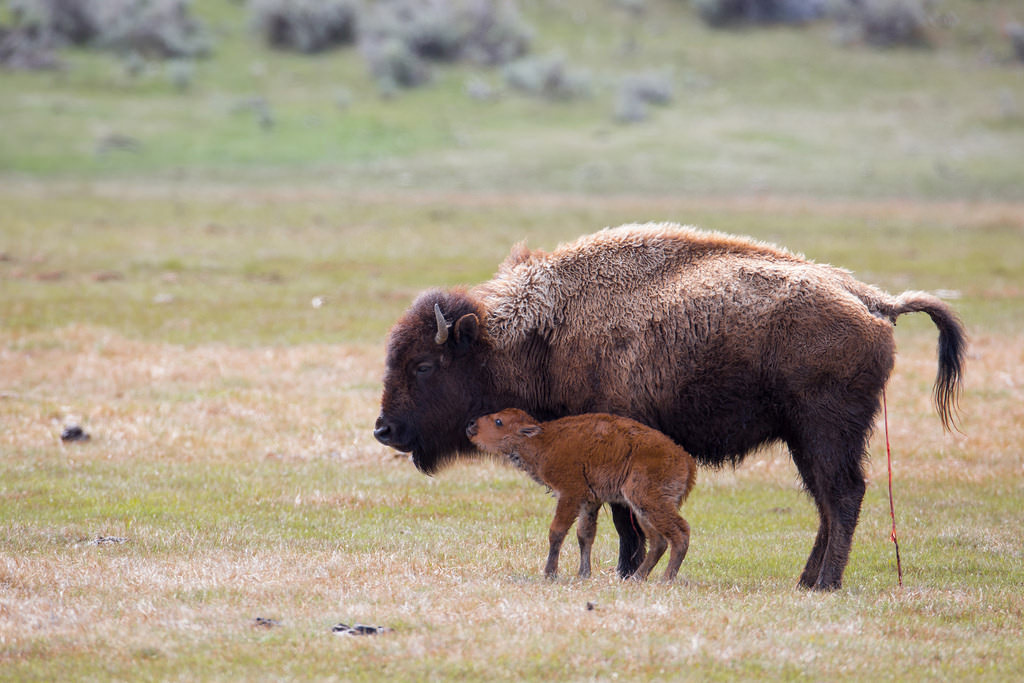 Bison and calf in Yellowstone (Flickr: Yellowstone National Park)
9. Get to the Park Early for Animal Watching. Yellowstone is well-known for its wildlife, including elk, moose, bison and bald eagles. Arrive at the park early when the animals are most active and bring along binoculars for some prime wildlife viewing.
10. Become a Young Scientist. At the Old Faithful Visitor Education Center, kids can check out a Young Scientist Toolkit, which includes a thermometer, stopwatch and more, to investigate the area around Old Faithful. Also, pick up and complete an activity booklet to earn a Young Scientist patch or key chain.
(MORE: 5 Majestic National Parks to Visit with the Kids)
There are a number of hotels and lodges inside the park, each of which have restaurants, snack shops and cafeterias open to all park guests, including Old Faithful Inn and Mammoth Hot Springs Hotel. Plan ahead as some of the most popular in-park accommodations can book up a year or more in advance.
Yellowstone National Park is also home to 12 campgrounds for those who want to pitch a tent or hook up an RV. Just outside the West Yellowstone entrance, visitors can also stay at the Yellowstone Park / West Entrance KOA, which boasts one- and two-room cabins, as well as mini golf and a children's playground.
Erin Gifford of Kidventurous contributed this to MiniTime.