Affordable family-friendly hotels in Berlin
By Sonia Esther Soltani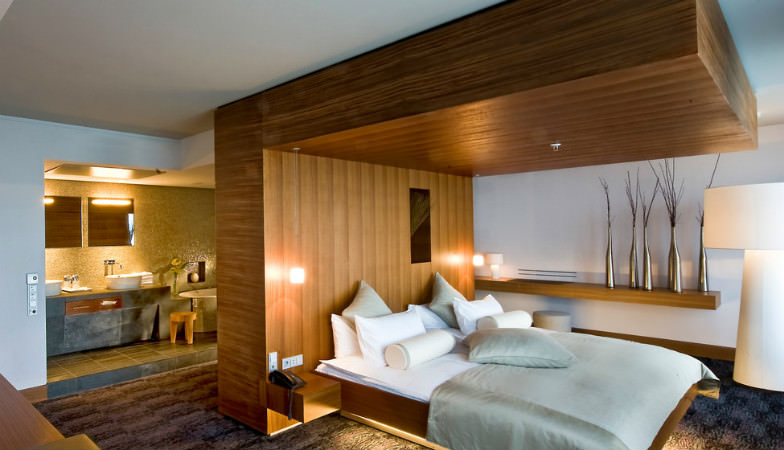 Sheraton Grand Hotel Esplanade Berlin (Courtesy The Sheraton)
A family vacation in Berlin can be packed with outdoor activities and visits to the many kid-friendly attractions the German capital is home to without breaking the bank. Thanks to the BVG Welcome Card, you can access museums and public transports at a great rate. What's more, when it comes to choosing a family-friendly hotel in Berlin you'll be impressed by the properties' high quality standards, design and modest price tag.
The Circus Hotel
The Circus Hotel (Courtesy The Circus)
A delightfully bohemian atmosphere reigns at The Circus Hotel that offers bright and cheerful accommodations in the Mitte, Berlin's coolest district. Each of the 60 minimalist rooms and suites has been individually designed and features artworks and colorful touches. A great option for families is to stay in one of the three-room apartments that includes a fully-equipped kitchen. The Circus Hotel offers free Wi-Fi to its guests as well as bike and segway rentals, babysitting services, guided tours, and even yoga classes. On-site restaurant Fabish serves up wholesome breakfast buffets (the offering range from organic cereals to an excellent choice of cold meats), lunch and dinner — an opportunity to sample delicious German cuisine based on locally sourced produce. As for the nearby attractions, the Berlin Wall is less than 10 minutes' walk away and the hotel is a good base to explore the city's main sites.
Adina Apartment Hotel Berlin Hauptbahnhof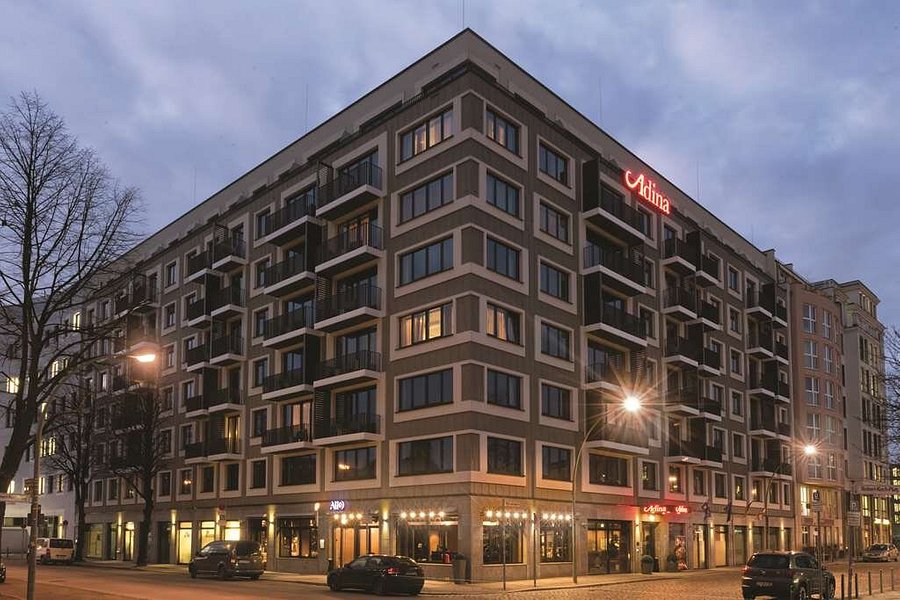 Imagine going back home after a long day of sightseeing and being able to relax at an indoor swimming pool, gym, and sauna? That's what the family-friendly Adina Apartment Hotel Berlin Hauptbahnhof offers its guests. The 139 studio rooms and one- and two-bedroom apartments all come with fully equipped kitchen and display an opulent decor while offering a very homely feel. An elegant palette of greys and whites with splashes of bright colors will certainly appeal to the whole family. Wi-Fi is available but comes at an extra charge. On-site Alto Restaurant & Bar is an alternative to home cooking with its elegant setting, international menu and jazz music in the background. Located in the Mitte district, the hotel is close to the Berlin Natural History Museum and some of the city's best attractions such as Brandenburg Gate and the Reichstag (Parliament).
Sheraton Grand Hotel Esplanade Berlin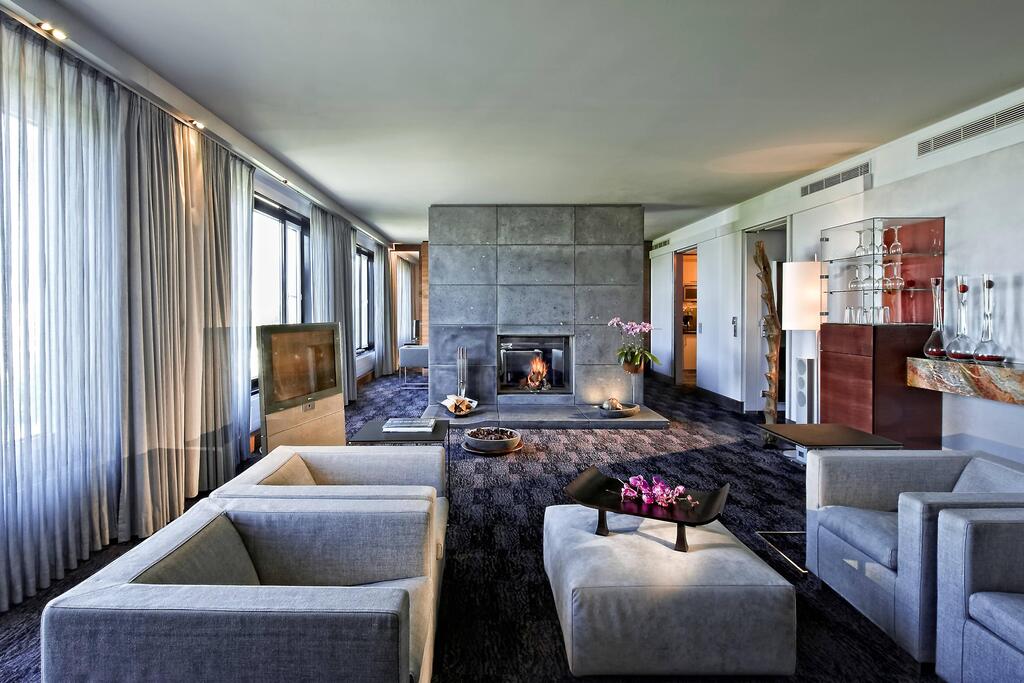 As you'd expect from a Sheraton hotel, the decor is super sleek and stylish with minimalist furniture, dark woods, neutral tones, and all the luxury trimmings. Set in the Mitte, this 394 rooms and suites property offers superb views over Berlin — make sure to book a river view room for a peaceful panorama. You might want to check the Sheraton Grand Hotel Esplanade Berlin's suites: the executive suites have a sauna while the penthouse suites offer 56 square meters of living space, are decorated in rich earth hues, and come with a roof terrace. The rates in Berlin are surprisingly much lower than similar accommodations elsewhere. The hotel also has a spa and indoor swimming pool, a traditional Berlin-style Eck Restaurant and Harry's New York Bar. Free Wi-Fi is only available in the public areas. For a lovely family-friendly outing, take advantage of the hotel's bike rental service to explore the nearby Tiergarten Park.
Schoenhouse Apartments Berlin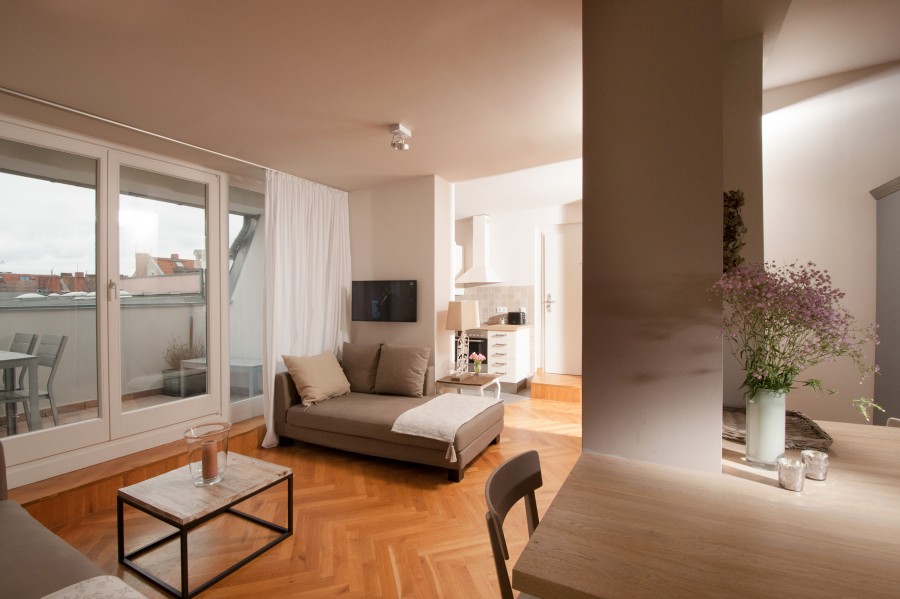 Schoenhouse Apartments (Courtesy Schoenhouse)
Self-catering is the best way to save money on a family vacation and make sure the kids are eating what they like even if it means some extra work for the parents! At the Schoenhouse Apartments Berlin, located in the Mitte district just one subway stop away from the famous Alexanderplatz, you can stay in a modern, comfortable, and spacious apartment featuring an open kitchen. The 50 apartments range from 30 to 105 square meters in size and all have free Wi-Fi. The garden terrace is a lovely spot to enjoy in the summer and family-friendly Hackescher Markt with its lively cafés and restaurants and many stores is only a 10 minutes' walk away. The hotel has a bike rental service and for those days when you'd rather not cook, the on-site Schoenhouse's deli has a great selection of snacks and homemade pasta.
(MORE: Look for kid-friendly attractions to see in Berlin.)
Arcotel John F Hotel Berlin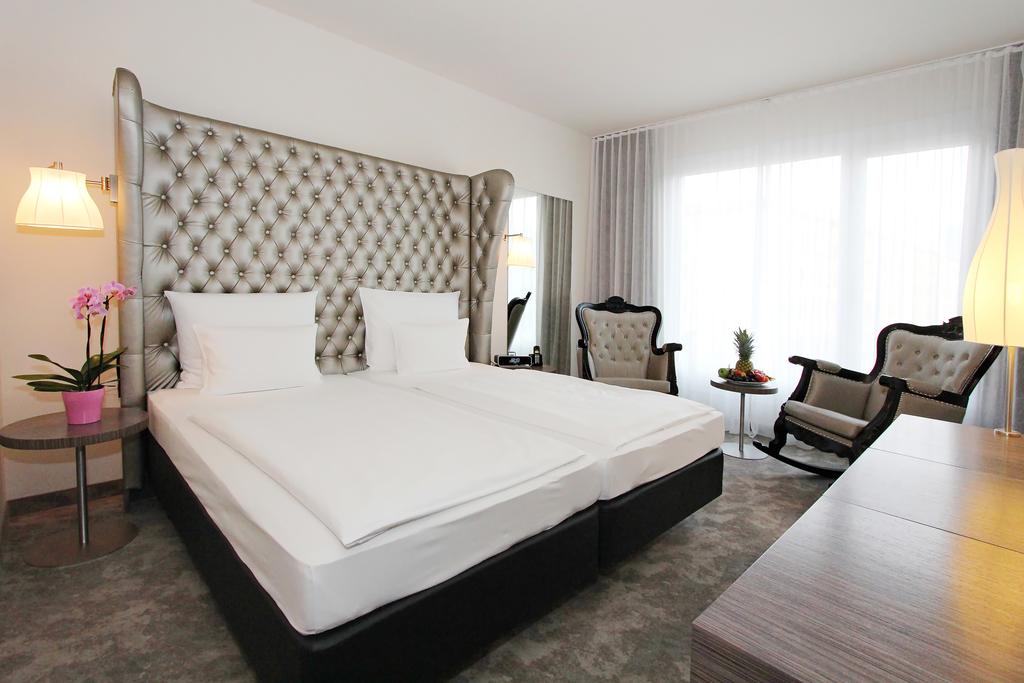 The 190 rooms and suites Arcotel John F Hotel displays the perfect balance between contemporary design and classical style — think big leather sofas in shiny silver tones. Add to this a spa and gym located on the sixth floor offering gorgeous views over the nearby park, free Sky Cinema and free Wi-Fi, and you have a great recipe for a family-friendly vacation. If you're into design, the International Style room decorated with authentic furniture and artwork from the 1920s to the 1960s might be an attractive option. If it's history and the hotel's namesake that interest you — John Fitzgerald Kennedy and his famous "Ich bin ein Berliner" are still remembered vividly — look no further than the Kennedy Room with its ambiance and decor directly inspired by the White White's West Wing and First Lady's bedroom. You can rent bikes here too, one of the most pleasant ways for kids to discover Berlin. Otherwise the hotel is within walking distance to the historic Unter den Linden avenue and Museum Island, hosting the most fascinating collections in town. For dinner, the on-site The Foreign Affairs restaurant offers gourmet international cuisine and Austrian recipes — don't miss out on the apple pie!
Sonia Esther Soltani contributed this to MiniTime.