15 Reasons to Bring Your Kids to Daytona Beach
By Suzanne Rowan Kelleher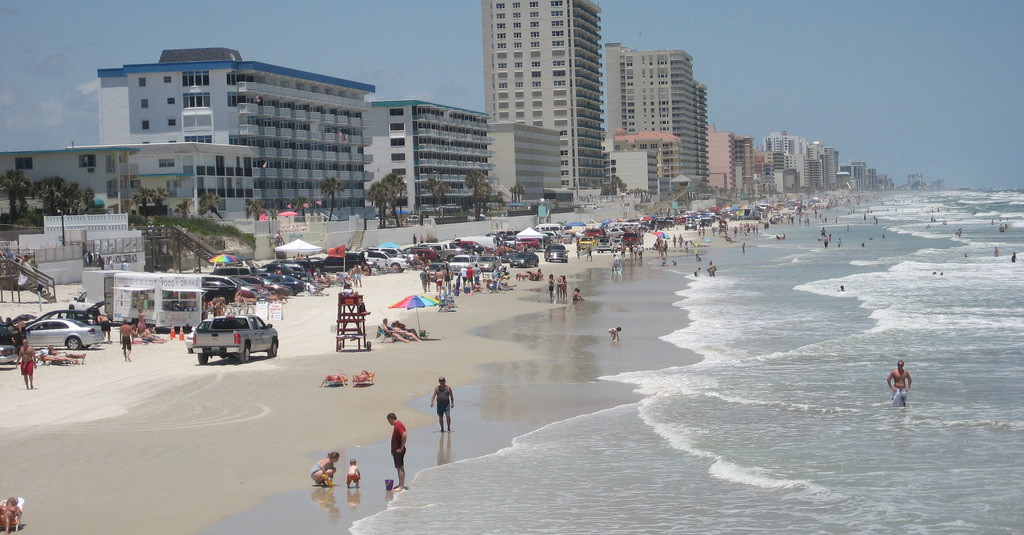 Daytona Beach, FL (Flickr: chenines)
Daytona Beach and car racing. The two have been synonymous since 1902, when automobile racing became a regular pastime along its wide beach of hard-packed sand. NASCAR moved stock car races to the Daytona International Speedway in 1959, but Daytona remains one of the few beaches in Florida where you can still drive on the sand—though the maximum speed is now 10 mph, and 12 miles of beach are pedestrian-only. Daytona Beach is full of fun ways to enrich, educate, and entertain kids of all ages. Here are 15 ways to bring your family up to speed.
1. The beautiful beach and clear blue-green waters make the area an irresistible vacation spot for fun-loving families. Up to 500 feet wide at low tide, the beach is ideal for sandcastle building and strolling, and that's just for starters. Along the beach, you can rent everything from surfboards, kayaks, and snorkel gear to ATVs, scooters, and Segways. You can also head out into the surf for jet skiing, fishing excursions, parasailing, and more.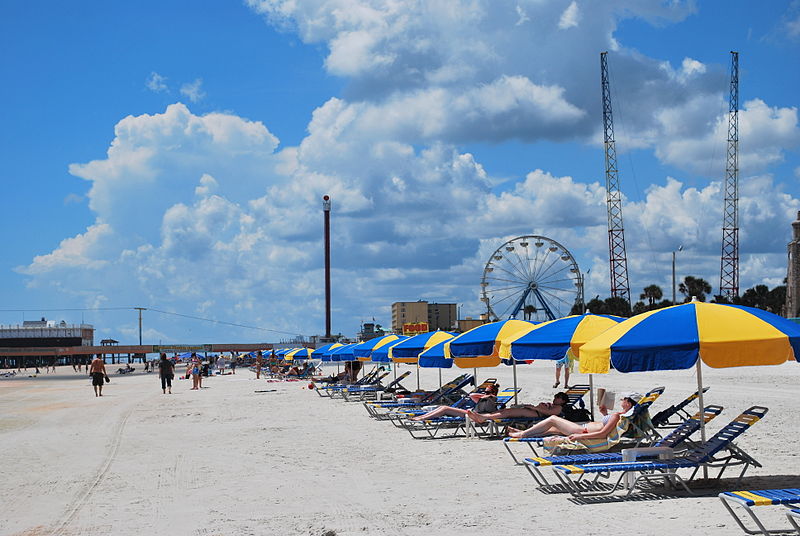 Daytona Beach, near the Boardwalk (Flickr: Pat Williams)
2. For a hands-on way to explore the intercoastal waterway eco-system, join the Daytona Beach Aqua Safari. The 90-minute eco-cruise features commentary from a marine biologist, who will help you spy and identify sea turtles, dolphins, and manatees in the river. A highlight comes when the crew hauls in fishing nets and crab traps, then lets young passengers examine the catch before the sea creatures are returned to the water. Typical hauls include crabs, fish, and perhaps even a sand dollar or a stingray. (4936 S. Peninsula Dr., Ponce Inlet; 386/405-3445; Eco-cruise $25/adult, $20/child age 12 and under)
3. Little kids with big imaginations just love the Charles & Linda Williams Children's Museum, a new addition to the Museum of Arts & Sciences. This 9,300-square-foot interactive wonderland features dozens of cool educational exhibits, including a Crime Scene Investigation exhibit that teaches kids basic forensic investigation such as DNA, fingerprint, and fiber analysis. There's also a race car station where kids can build and race model cars, and a tennis ball launcher that works with compressed air. Other exhibits let kids pretend to be a doctor, builder, pizza maker, or scientist. The 3-and-under crowd has a dedicated play area all to itself. (352 S. Nova Rd.; 386/255-0285; Open Tues-Sat 9am-5pm, Sun 11am-pm; Admission: $12.95/adult, $6.95/child ages 6-17, free for kids 5 and under)
4. Mid-may through the end of October is sea turtle season in Daytona Beach. Expecting mother turtles emerge from the surf at night to lay their eggs in nests dug into the dry sand, then return to the sea. A few months later, hundreds of baby turtles emerge and crawl to the ocean. To learn more about these majestic sea creatures, head to the Marine Science Center, where you can view sea turtles close up and visit a kid-friendly teaching lab—complete with microscopes. Other exhibits include horseshoe crabs, needlefish, puffer fish, and hermit crabs. (100 Lighthouse Dr., Ponce Inlet; 386/304-5545; Open Tues-Sat 10am-4pm, Sun noon-4pm; Tickets: $5/adult, $2/child ages 3-12, free for kids 2 and under)
5. Kids as young as toddlers have enjoyed a bird's-eye view of the beach thanks to Daytona Beach Parasail, the number one parasailing operation on the east coast. One to three people can fly at a time, and you don't even need to wear a bathing suit—the crew can give you a dry landing or a splashdown, depending on your wishes. (4936 S. Peninsula Dr., Ponce Inlet; 386/547-6067; $65-$100/person for a 800- to 2,000-foot flight)
6. During the Civil War, the The Old Spanish Sugar Mill provided grain to Confederate forces. Today it is a tremendously popular griddle house where the specialty is grill-your-own pancakes. The pancake batter is made from grain that's been ground on site with French buhr millstones. Each table is equipped with a griddle; you pour and flip your own pancakes right at your table. (601 Ponce DeLeon Blvd., DeLeon Springs State Park, DeLeon Springs; 386/985-5644; Open Mon-Fri 9am-4pm, Sat-Sun 8am-4pm; Do-it-Yourself Pancakes: from $18 for a family of four)
7. Don't let your kids leave Daytona Beach without catching a few fish. Join the locals on the 1,000-foot-long Main Street Pier—the longest on the east coast—where a wide variety of fish can be caught year-round and no fishing license is required. The century-old pier is also a great place to kick back and enjoy some peel-'n-eat shrimp while enjoying the superb vantage of the coastline. (1200 Main St.; 386/253-1212; Admission: $5/adult, $3.50/child ages 11 and under, $13 for bait and gear)
8. Need one location to deliver a full day of fun? Head to Daytona Lagoon Family Fun Center, whose main draw is a huge outdoor waterpark featuring waterslides, flume and raft rides, a wave pool, climbing structure, tipping bucket, and lazy river. Stay-dry activities include go-kart racing, mini golf, rock climbing, and laser tag. For the best price, come on Wednesday evenings from 5pm to 10pm, when waterpark admission costs only $8 per person. (601 Earl St.; 386/254-5020; Admission: All-day, all-inclusive $55/person, All-day waterpark $27.99/person, 3-hour dry pass $29.99/person)
9. Ease your little one into the beach scene at Sunsplash Park, which is an ideal hangout for the under-5 crowd. This four-acre oceanside park features an interactive water fountain, sea-themed walkways, shaded playground, picnic areas, outdoor showers, and a Coca-Cola sponsored "cool zone" with water jets and spritzers. From the park, you can get to the popular boardwalk and beach via access ramps. (611 S. Atlantic Ave.; 386/736-5953; Open dawn-dusk; Free admission)
10. Once named a "best food find" by Southern Living magazine, the Angell & Phelps Chocolate Factory has been specializing in quality chocolates since 1925. The free factory tour is a great way to show kids how chocolate is made the old-fashioned way, without an assembly line. You can peer through the window gallery to view experienced candy makers creating a variety of chocolates by hand. After the tour, you'll get to sample some complimentary chocolates. (154 S. Beach St.; 386/252-6531; Factory tours Mon-Fri 10am, 11am, 1pm, 2pm, 3pm, 4pm; Free admission)
11. Want a fun way to burn off those chocolate calories? Climb the 203 steps that lead to the top of Florida's tallest lighthouse, the historic Ponce de Leon Inlet Light Station. At the top, you'll be rewarded with a breathtaking, panoramic view of the coast and sea. (4931 S. Peninsula Dr., Ponce Inlet; 386/761-1821; Open daily 10am-6pm; Admission: $5/adult, $1.50/child age 11 and under)
12. If your idea of a heavenly summer evening features the crack of a baseball bat and a few hot dogs, take the kids to the Jackie Robinson Ballpark, so named because Daytona Beach was the first Florida city to allow Robinson to play during the 1946 spring training season. Today, you can watch the Daytona Cubs in action. The Class-A farm team of the Chicago Cubs plays first-rate hardball and the atmosphere is laid-back and family-friendly. Between innings, your children can check out the kidzone behind the grandstand. (Jackie Robinson Ballpark, 105 E. Orange Ave.; 386/257-3172; Admission: $7/adult, $6/child age 12 and under)
13. Does your family love a good ghost story? Join the evening Haunts of Daytona walking tour, where the focus is on "education, not fear." Led by a certified ghost hunter and paranormal researcher, this tour shares several love stories from Daytona Beach's past, as well as tales of gun runners, rum runners, and a stray dog named Brownie. Bring your camera; many visitors have captured "orbs" and mysterious figures in their photos. (NW corner of Main St. and Peninsula Ave.; 386/253-6034; Walking tours depart nightly at 7:30pm; Price: $10/person, free for kids age 5 and under)
14. Of the dozen or so mini golf courses in Daytona Beach, Congo River Golf has a standout design, taking you under waterfalls, inside mysterious caves, atop rocky summits, and through tropical rainforests. After you've had your fill of putting, your kids can go gem mining, feed live gators, and play a scavenger hunt-like exploration game. (2100 S. Atlantic Ave.; 386/258-6808; Tickets: $10.95/adult, $8.95/child age 9 and under; free for kids 5 and under)
15. Looking for a fun way to learn about the wildlife in this area? Quin's Kayaks offers four-hour guided kayaking trips on the St. Johns and Tomoka Rivers. The easy-going pace makes these outings ideal for families. Paddlers often encounter manatees, otters, alligators, turtles, osprey and even an occasional bald eagle nesting along the shoreline. (300 N. Atlantic Blvd.; 786/487-8114; Tours daily at 9am and 1pm; Tours $40/adult, $25/child age 4-14)
Click to rate this post!
[Total:

0

Average:

0

]