Dixville Notch, New Hampshire
By Suzanne Rowan Kelleher
We Just Checked Out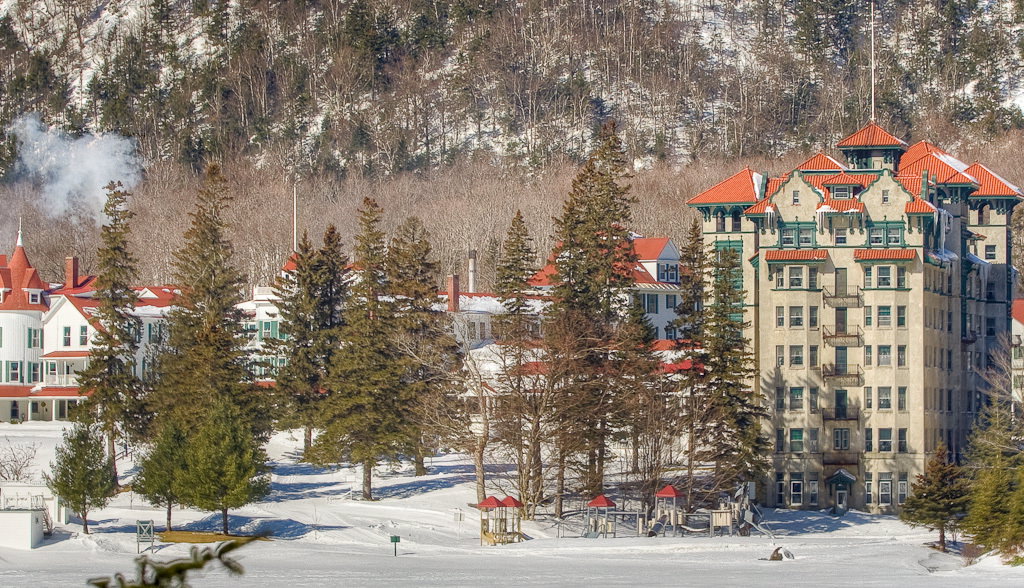 Why Go: Crystalline mountain lakes surrounded by vast expanses of wilderness. Granite cliffs, pristine forests, and the haunting call of the loon. Sound like a good place to chill out? The Victorians thought so, too. By the late 19th century, there was a higher concentration of grand resort hotels in New Hampshire's rugged White Mountains than anywhere else in America. The area's tremendous beauty, coupled with its proximity to Boston and other East Coast cities, allowed wealthy executives to send their families to the mountains for the summer and visit them on weekends.
The Balsams Grand Resort, set on 15,000 remote acres in northern New Hampshire, is a proud holdover of this golden age of hotels. Its beginnings were modest, as a stopover for stagecoach travelers needing a comfortable place to stay on their passage through the mountains. By the 1880s, however, railroad lines had made the journey much easier. A new generation of well-to-do Americans reveled in the area's scenic wonders and, before long, guests were staying for months at a time.
Thanks to its picturesque setting beside a pristine mountain lake, the hotel became known as the "Switzerland of America" and drew a clientele of socialites interested in active pursuits such as boating, hiking, and fishing. There was croquet, shuffleboard, badminton, and tennis. In 1915, the resort opened an 18-hole championship golf course designed by Donald Ross, best known for Pinehurst No. 2. A ski resort was eventually added, with 57 miles of cross-country trails and an alpine area with 16 trails, five glades, and a terrain park.
In many ways, much has stayed the same at The Balsams over the years. The spectacular setting remains remarkably free of development and blight. The resort still offers guests good food, personal service, and a raft of sporting and leisure activities. Accommodations are spacious, comfortable, and quaintly old-fashioned, if a bit outdated. The big news for families is that this grand resort has become an increasingly kid-friendly place.
During a short family getaway in mid-July, our correspondent, Suzanne Kelleher, found plenty for families to like, starting with value packages that include one or more meals. The popular Modified American Plan, for example, bundles accommodations with breakfast and dinner. On top of that, you get the free children's program and a multitude of complimentary activities. Every day, the resort provides a huge roster of organized activities—most of them free—from tennis clinics and fly-fishing demos to kayaking tours and moose safaris. ("Beyond that, there is a genuine spirit of generosity at this resort that's quite refreshing. Each child gets a gift package that includes a stuffed toy moose and a bag of cookies—get it? Moose and cookies? And every afternoon, guests can sample a complimentary buffet of hors d'oeuvres in the lobby. Even valet parking is free.")
The Kellehers liked the unpretentious, friendly atmosphere at The Balsams, and were continually impressed by the staff. ("There was an above-and-beyond helpfulness, from the valets to the wait staff to the college kids working at the waterfront. Everyone knew a lot about the resort's history and was happy to answer questions.")
So what's not to like? There's no cell phone service in the area and no TV in the guestrooms, though the hotel has televisions available in several public areas. ("But this can also be seen as a big plus. You need to appreciate and embrace the remoteness. We didn't miss the TV at all. My kids were so interested in all the activities and what we were going to be doing next that they never even asked about TV.") If you need to check your e-mail, wi-fi access is available for $9.99 a day.
Getting Oriented: The massive glacier that shaped the White Mountains some 10,000 years ago left more than a dozen distinctive mountain passes behind. Each of these "notches," as they're known, was scooped out by a protruding tongue of ice that was even more unyielding than the granite layer of earth. The most northern and narrow of these U-shaped depressions is Dixville Notch. It makes for a particularly dramatic drive, with sheer granite cliffs lining a passage no wider in places than two-lane Highway 26. It's easy to imagine how difficult it once was to traverse this region.
And talk about off-the-beaten track: the Kellehers' Garmin GPS navigation unit couldn't find teeny Dixville Notch (population 75), though it did manage to locate Colebrook, the next town west on Highway 26. Welcome to the far northern reaches of New Hampshire, just 20 miles from the Canadian border. Drive east for 30 minutes and you'll come to the Maine state line; drive west for the same half-hour and you'll be in Vermont. The nearest major airports are in Portland, Maine (118 miles) and Burlington, Vermont (150 miles). The drive from Boston takes 3.5 hours. If you're coming from New York, figure on twice that.
The hotel's 202 rooms and suites are spread between the original white-clapboard inn, built in 1866, and the "the new wing," which was added in 1918. There are three restaurants at the resort, plus a spa, sunroom, library, billiard room, and game room. The historic Ballot Room serves as the polling place for the nearly two dozen area residents who are the "first in the nation" to vote in national Presidential elections. ("This is an extremely cool room. Its walls are crammed with photos of political candidates and campaign memorabilia from every US President and major politician since the 1960s.")
With mountains surrounding the hotel on all sides and the lake in front, the hotel feels protected and very secluded. The lobby's huge picture overlooks a formal ornamental flower garden (a popular wedding location) and across the great lawn that sweeps down to the shores of Lake Gloriette.
Getting Around: Once you arrive at The Balsams, your car will come in handy. While you won't need to leave for meals or most activities, some amenities are off-property. It's a two-minute drive uphill to the mountain golf course and its clubhouse, where the Panorama Grille is a popular dining spot with a spectacular view. If you like hiking, the trailheads to many popular routes are located outside the resort grounds.
We Are Family: The Balsams offers families plenty to do, but everything is laid-back and optional. Parents can spend all day with their kids doing activities together, or use the supervised children's program for all or part of the day.
The Balsams' free children's summer program is called Camp Wind Whistle. It is available daily from 9am to 4pm for children ages 5 to 12. Sign-in is flexible; parents can drop kids off for the morning, the afternoon, or the entire day. (Lunch costs $12 extra unless you're on the Full American Plan.)
On the first morning of their stay, all three Kelleher kids attended Camp Wind Whistle for the entire morning, from 9am to noon. There were three counselors. Fifteen children signed up altogether, which the counselors said was about average. Kelleher's 9-year-old daughter, Aisling, was the oldest participant; most kids were 5 or 6.
The camp schedule indicated that participants would be broken into smaller age groups, but on that morning the counselors kept the participants together as one big group. This set-up rarely works out for the oldest kids in the group, because activities inevitably skew to the youngest participants. Predictably, Kelleher's 5-year-old had a great time and wanted to return the following day, but her 8- and 9-year-old kids thought the activities were a tad boring. The group had spent time playing board games and coloring, visiting the playground, and playing a game called Mafia. There was also a very brief etiquette class on table manners. ("The counselors were friendly and engaging with the kids, but it seemed more like a glorified babysitting session than an activities-based program—fine for the youngest kids but dull for my 8- and 9-year-old. A middle-school kid would have been bored to tears coloring, playing board games, and visiting the playground. The older kids could have split off to do something geared for their age. They did enjoy playing Mafia, though.")
The next day, Kelleher signed up MacDara into Camp Wind Whistle for the morning session, while his older brother and sister declined. Only five kids were attending, and they were all at the younger end of the age range. The activities on Day Two turned out to be mainly a repeat of Day One. When Kelleher went to pick up MacDara around 11:30am, she found the group in the upstairs lounge. The counselors were chatting and the kids were watching TV. ("Again, it felt more like babysitting than camp.")
The Balsams pool is a classic rectangle, set at the bottom of the great lawn near the waterfront. It ranges in depth from 3 to 8 feet, with two ladder entries (one is an "easy ladder," resembling steps) into the shallow end. There's no slide or diving board, but plenty of foam swim noodles and inflatable beach balls are available for guests to use, and there's a lifeguard on duty all day. ("The pool was impeccably clean and heated to 80 degrees or so. Kids were playing and having fun in the water, but the scene wasn't overly noisy or crazy. The location by the lake was extremely pleasant and low-key, and there's a bar where you can order drinks and light snacks.") Lined up around the pool deck were plenty of lounge chairs, with fresh towels for guests to use.
The longer the Kellehers were at the hotel, the more they discovered to do. There was a sand volleyball court, shuffleboard, and equipment for croquet and bocce. The waterfront area features a dock and wooden boardwalk, where you can take out paddleboats, canoes, and rowboats. ("We took paddleboats out several times during our stay, which was really fun and relaxing.") There is also a nice playground sized for school-aged kids, with a large play structure, slides, swings, and a sandbox. There's also a mountain bike center where you can rent bikes of all sizes, including trailers for little kids.
On the morning MacDara attended Camp Wind Whistle on his own, the Kellehers took Cian and Aisling on a hike to the top of Table Rock, the mountain that faces the resort from across the lake. The trailhead was about a quarter of a mile outside the resort, and easy to find. The Kellehers took a mile-long route, known as "the easy way," which was well-marked and a bit steep in places but manageable with school-age kids. ("It took us about 45 minutes to get to the top, but we were able to handle it without too much trouble. At the top, we were rewarded with a breathtaking view over Lake Gloriette and The Balsams.")
Kelleher's husband, Emmet, sat in on a free fly-fishing clinic one morning. And he signed up with 8-year-old Cian for a kayak tour on Mud Pond one afternoon (free; advance sign-up necessary due to limited space). Mud Pond turned out to be neither muddy nor a pond, but a secluded lake without a single man-made structure in view. ("It was just fabulous," said Emmet. "Complete wilderness. We saw many loons and other birds, and trout were literally jumping out of the water right in front of our kayak. It was a truly wonderful experience." Cian had also loved kayaking out on the water, and said the jumping fish were "totally awesome.")
The Balsams is rated one of the top 15 tennis resorts in the world by TennisResortsOnline.com. The Director of Tennis at The Balsams, Bob Greene, is also a member of the coaching staff that took the US Olympic Tennis Team to Beijing. His well-respected program at The Balsams makes learning tennis fun for kids. Half-hour tennis clinics for kids start at $15; the popular parent-and-kids clinic costs $30 per family.
Golf Magazine called the 18-hole Donald Ross-designed Panorama course "one of the best courses in America." Greens fees are $84, including cart; several packages include free golf. A one-hour family clinic with Abby Spector, The Balsam's PGA Director of Instruction, costs $20 per person.
While there is no organized program for kids under 5, there is a babysitting service available for kids as young as 6 months old (see Nightlife, below, for pricing). There is no kiddie pool for small children, but the main pool has child-sized life jackets, foam noodles, and beach balls on hand. Most of the equipment on the playground is sized for slightly bigger children. Moreover, the vast majority of resort activities (hikes, mountain bike rides, kayak trips, etc) are better for kids who are a few years older.
The Balsams is a great place for teens, even without an organized program. Since the property is so naturally self-contained, it is a safe place to let even young teens explore a bit on their own. Older kids are able to participate in virtually every activity offered, either with their parents or on their own. ("Several teens signed up on their own for the fly-fishing demo, and I noticed kids in this age group playing tennis, hiking, mountain biking and golfing.") The billiards room and adjacent game room—think arcade games, foosball, air hockey, Ping-Pong, and large tables for playing board games—were popular hangouts for this age group in the evening.
The resort is also a popular family destination in the winter, when activities include alpine and cross-country skiing, skating, tubing, snowshoeing, and sledding.
Where to Eat: Dining options range from formal to casual, offering much-needed flexibility for families. Meal plan tickets must be shown to the wait staff at each meal. Alcoholic beverages are not included in meal plans and will be charged to your room. At each of the three main restaurants, high chairs and booster seats are available for young children.
The Dining Room is the hotel's main restaurant, a large, rather formal room with floor-to-ceiling windows, white tablecloths, and wait staff in bow ties. There's a terrific buffet breakfast with an omelet station, waffles, potatoes, eggs, bacon, sausage, breads, muffins, bagels, yogurt, granola, fresh fruit, and cereals. ("A lovely buffet with delicious food—a huge hit with the whole family.") There is a dress code at dinner, and the atmosphere is more formal but not stuffy. The five-course table d'hôte menu featured an appetizer, soup, salad, entrée, and dessert. Main dishes included Angus ribeye steak, swordfish, and steamed lobster. ("Our dinner here was one of the highlights of our stay. Each course was delicious and beautifully presented, and service was excellent. It was so nice to enjoy a nice dinner here as a couple.") The Kellehers saw several families dining with their dressed-up children, and there was a children's menu available. (Open daily for breakfast, lunch, and two dinner seatings.)
The Panorama Grille is in the stone clubhouse at the golf course, located two miles from the hotel. The terrace affords a fantastic view spanning the mountaintops in three states and into Canada. It's a particularly popular lunch spot, so call ahead to reserve a table. The menu features light, casual fare—think yummy salads, pasta dishes, burgers, and club-style sandwiches. (Open daily for lunch, dinner Fri-Sun.)
The Tavern, off the lobby in the hotel, has a relaxed, pub-like setting with banquettes and tables. There are several TVs (usually tuned to sports or news, with the volume down) and a menu full of kid pleasers such as pizza, chicken tenders, spaghetti, burgers, mac 'n' cheese, and fish sticks. (Open daily for lunch and dinner.)
Nightlife: Parents have the opportunity to enjoy a nice dinner alone while kids are supervised and entertained with an age-appropriate movie. On the weekend the Kellehers visited, the hotel was screening "Mr. Magorium's Wonder Emporium" on Friday night and "Enchanted" on Saturday night. ("The kids' movie night is a super option for families, since it adds choice. My kids would much rather watch a movie than sit through a fancy dinner in a formal dining room, so they were happy. And Emmet and I got to have a lovely adult dinner together, so we were happy, too. It was win-win.")
At 9:30pm, after the G-rated movie has finished, the hotel screens a PG-13 film for older kids. On the weekend the Kellehers visited, the movies were "Déja Vu" and "License to Wed."
Each evening after dinner, there are always several choices for live entertainment—from music to dancing to comedy acts—held in the ballroom and other venues at the resort. If parents would like to extend their evening with a nightcap or dancing, they can arrange to hire a babysitter through the concierge desk ($9/hr; $1/hr for each additional child; $20 minimum).
One night, the Kellehers joined a moose safari (sign-up in advance; $12/adult, $5/child), which ended up being a highlight of their stay. ("This was so much fun for the whole family. My kids were fascinated with the idea of going out looking for moose, and the excursion was not only fun but very informative.") The safari took place aboard a mini bus and was led by a guide armed with a strong searchlight-style lantern. There was room for a maximum of 10 participants and one other family had also signed up. Happily, both the guide and driver turned out to be fountains of moose trivia. ("Did you know that the male is a buck and the female is a cow? Or that moose love water and can swim as fast as 35 mph? Or that bucks lose their antlers every winter and grow them back the next spring, only bigger?") Moose safaris leave the resort at 8pm and usually return around 9:30pm. If the moose are elusive, however, the group will often stay out later. ("We drove around for two hours without any luck. My 5-year-old fell asleep in the back of the bus, and by 10pm I was thinking that the night was going to be a bust. But then, out of nowhere, a baby moose lumbered slowly out of the dark woods and crossed the road right in front of our bus, which by now had stopped. His mama followed close behind. I think the adults on the bus were more excited than the kids! And that was just the beginning. On the way back to the hotel, we saw six more moose—for a total of eight in all. It ended up being a late night, but definitely worth it.")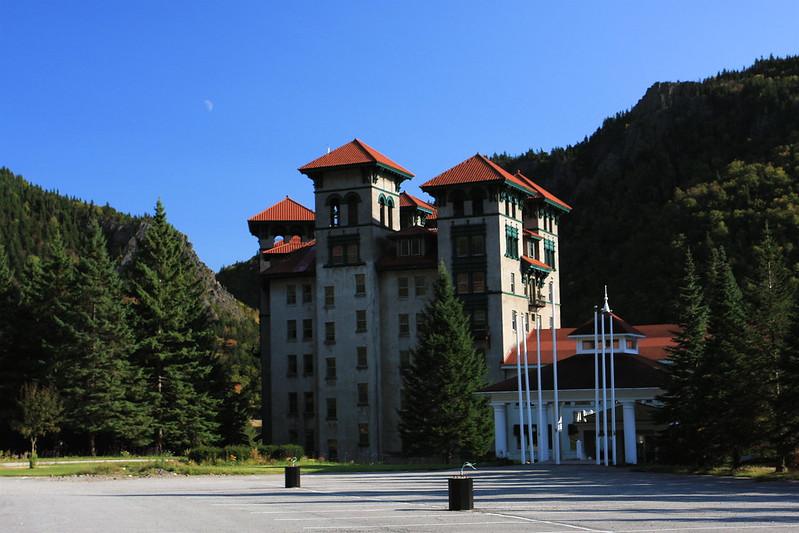 Where to Stay: Every room at The Balsams is unique. Some are a bit smaller, others more spacious. Some are third-floor walk-ups, others have easier access via elevator. All reflect the period of the resort. It's worth asking for a view of the lake.
The Kellehers had two connecting rooms in the "new wing." Each was very spacious with two double beds, a vanity, desk, dresser, and original closets with built-in cabinetry. ("Even with the beds and lots of furnishings, there was a lot of floor space in each room so we didn't feel at all cramped. The décor was straight out of the 1920s, a flashback of grandma's house with flowered wallpaper and antique furnishings painted a pale green.") On the walls hung framed historical photos of vacationers from long ago, along with vintage postcards sent from Dixville Notch in the 1930s and '40s, back when it only cost a penny to send a postcard. ("The view from our room was just gorgeous—the lake and mountains in the background, ornamental garden and pool in the foreground.") The bathrooms were dated but they were impeccably clean and not without charm. There was a pedestal sink ("and I liked our tub with its porcelain spigots marked 'hot,' 'cold,' and 'waste'").
Price Tag: The Balsams offers a number of packages that include one or more meals a day, which provide terrific value for families. During the summer, the Modified American Plan (accommodations plus breakfast and dinner daily) starts at $588 a night for a family of four. The Full American Plan (accommodations plus three meals daily plus free golf) starts at $763 for a family of four. Both plans include access to the complimentary children's camp and myriad free resort activities.
In the winter, The Balsams offers a 5-Day Ski & Stay package, priced at $149 per person per night. It includes accommodations, two meals a day, plus ski lift tickets, daily ski rentals, and one ski lesson per person at the resort's own ski area.
Insider Tips:
If your GPS system can't locate Dixville Notch (the Kellehers' Garmin Nuvi couldn't), try searching for Colebrook or Errol, the nearest towns on Hwy 26.
Consult the daily activities list and sign up early for popular excursions with limited space. The Kellehers recommend the moose safari and kayak trip to Mud Pond.
Don't forget to pack dinner clothes. Men and boys 7 and up must wear a dinner jacket and tie in the dining room after 6pm; women and girls should wear dresses. (If your kids are going to opt for the movie, they can dodge the fancy-clothes bullet.)