San Francisco, California
By Janelle Nichols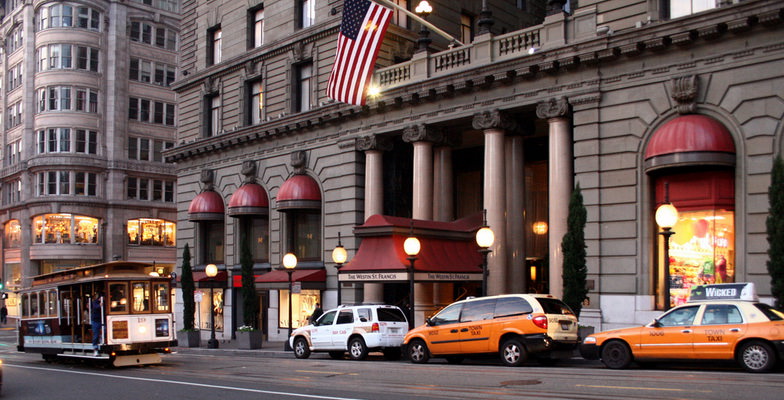 First Impressions: Built in 1904, this imposing landmark hotel on Union Square positively breathes history, from its elegant lobby of black marble and redwood paneling to a guestbook that reads like a Who's Who of the 20th century. The Westin St. Francis has hosted every US president since Taft as well as a long line of foreign heads of state, including Queen Elizabeth II of England, King Juan Carlos of Spain, and Emporer Hirohito of Japan. In 1950, Al Jolson died here during a poker game. Twenty-five years later, President Gerald Ford survived an assassination attempt while he was staying here. The hotel has been renovated and re-renovated over the past decade to the tune of over $185 million. Carpets have been replaced, furniture refurbished, bedding upgraded, and the lobby restored to the ornate grandeur of another era. One of the most talked-about updates has been the 2004 addition of the the chic Michael Mina restaurant.
In 1972, the Westin St. Francis added a 32-floor tower of guestrooms with a high-speed glass elevator that zips up and down its exterior, providing stupendous views over Union Square and the city. For our correspondent, Janelle Nichols, and her family, this was a huge highlight for her kids. ("It was very exciting to stay in a historic hotel on the 25th floor. My children had a fabulous time with a glass elevator that looked over the city.")
Location: 335 Powell Street, on Union Square. This location is terrific if you're looking forward to serious shopping and theater-going. Getting around is quite easy. ("One of the best reasons to stay here is that the cable car stop is directly outside the front of the hotel.")
Union Square is a hot spot for upscale shopping, including kid favorites like the Disney Store (400 Post St). Within a 10-block walk is Zuem (221 4th St), a fabulous interactive children's museum, and the four-story Metreon mall (101 4th St), which has an IMAX cinema. If you want to go to the theater, head to the discount kiosk in the middle of Union Square to grab a real bargain on same-day tickets. (For more great kid-friendly things to do in the vicinity, see our Insider Guide to San Francisco.)
Rooms: The Westin is absolutely enormous, with nearly 1,200 guestrooms located in two sections of the hotel. Rooms in the original building exude a traditional Old World style, with Empire-style furnishings, carved crown moldings, and glass doorknobs. In the tower, rooms convey a luxurious and contemporary elegance, thanks to Asian-style lacquered furniture, exceptionally large walk-in closets, huge marble bathrooms, exquisite Egyptian cotton bedding, and spectacular city views. The Nicholses stayed in one of the tower's 350-square-foot Grandview rooms, which featured two double beds dressed in white down comforters, a TV armoire, a small wet bar, and a small sitting area with two armchairs and a coffee table.
Every room has small fridge and a coffeemaker. Along with cable TV, there are pay-per-view movies available ($9.99 to $10.99 each for children's titles), as well as pay-per-use Nintendo video games ($6.99-$9.99/hr).
Just For Kids: Kids under 12 are supposed to get a welcome gift at check-in, so make sure the front desk knows you have children in tow. For the Nichols girls, the goody bags came better late than never. Nichols's daughters went empty handed until check-out, when they each received a Westin Kids backpack containing postcards, colored pencils, and a map of the world.
If you're traveling with little ones, the Westin provides an impressive raft of child-friendly extras, all at no charge. Need a crib, a cot, or bedrails? Coming right up. The hotel will also lend you a bottle warmer, stroller, high chair, booster seat, diapers, wipes, even a diaper genie or a potty—and it won't cost you a dime. Big kudos.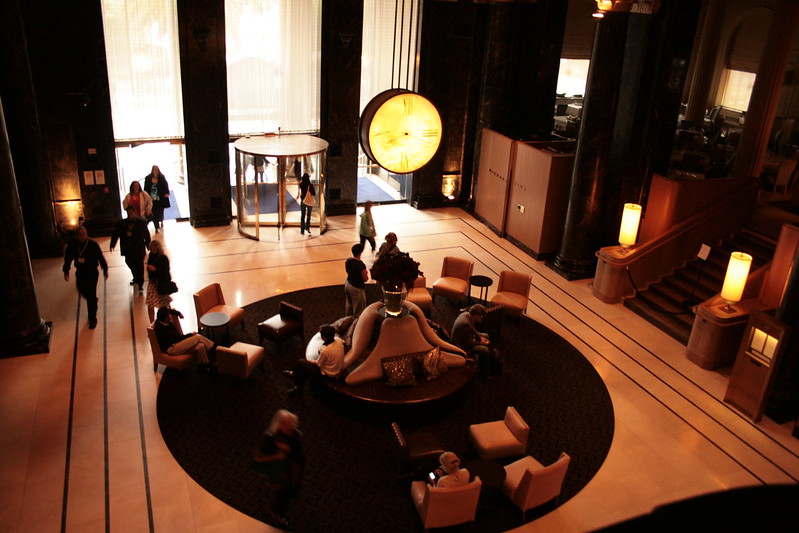 Babysitting: Like most San Francisco hotels, The Westin neither provides a babysitting service nor will the staff make arrangements for you. The concierge can, however, recommend outside babysitting agencies that are fully licensed, bonded, and insured. It's then up to you to contact the agencies yourself. ("The hotel takes zero responsibility for that service.")
Recreation: Guests can pay $12/day or $30/stay for access to the hotel's Reebok-partnered gym, which is equipped with up-to-the-minute climbing, elliptical, leg curl, treadmill, and step machines, as well as bikes and weights.
Like to run? Ask the concierge for a three-mile or five-mile Runner's World jogging map, which display routes through the neighborhood.
The hotel has no pool, but there is a spa offering massage and other treatments.
Service: A place this huge is never going to deliver the personalized service you find at a boutique hotel, but you can look forward to excellent housekeeping, efficient front desk personnel, and a top-notch concierge desk. Check-in is at 3pm, with check-out at noon. Video check-out is available for a speedier exit. Nichols's one complaint is that it was difficult to contact the front desk from their room. ("We kept getting a busy signal.")
Anytime you stay at a city hotel, always ask at the front desk to see if there are any discounts available for local businesses and attractions. Upon arrival, the Nicholses received a coupon for 11% off purchases at Macy's, plus four coupons for free coffee at Caruso's café in the lobby.
Where to Eat: The Westin has four dining options:
Michael Mina is an award-winning restaurant and one of the most stylish places to eat in the city. Diners choose from the menu to create their own three-course prix-fixe meal. (Open daily dinner only.)
The Onyx Lobby Lounge is a seen-and-be-seen place for appetizers and cocktails. (Open daily after 2pm.)
The Oak Room is the most kid-friendly of the hotel's three main venues. There is a wide selection of American fare and a kid's menu, plus free refills on kids' beverages. (Open daily breakfast, lunch and dinner.)
Caruso's is an inexpensive café in the Tower Lobby that serves coffee, pastries, paninis, salads, and casual fare. (Open daily 6am to midnight.)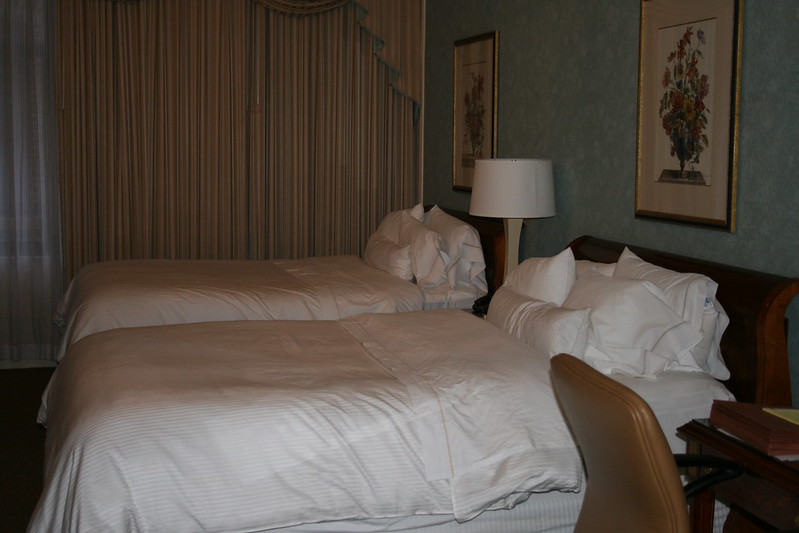 Concierge's Picks: For a nice family dinner out, the concierge recommends Scala's Bistro (432 Powell St.; 395-8549), an upscale Italian restaurant (think booths, but with white tablecloths, soft lighting, and waiters in white jackets) just a half-block from the hotel. Kids can choose off their own three-course menu.
Price Tag: Rates at the Westin St. Francis are in line with those at other luxury hotels in San Francisco. For a standard room with two queen-size beds, rack rates range between $209 and $409, depending on time of year and whether you visit midweek or on a weekend. (Weekends are typically cheaper.)
Don't forget to check the Westin's web site for "Hotel Offers," and be sure to click the link for "Family Offers." At press time, we spotted a "Family Reconnect Package," available for $249 to $299/night, for Thursday to Sunday stays at select times of the year. It includes one complimentary in-room movie for each day of your stay, plus free meals for up to two kids under 12. Children get a complimentary entrée in the Oak Room restaurant when their parents order adult entrées.
The "Hotel Offers" page also displayed a springtime special of $179/night for weekend stays (Thursday to Sunday) during May. In addition, we spied an earlybird summer special (must be booked by April 30, 2007) for $159/night from June 1 to September 3, available seven days a week.
Additional Costs: San Francisco, like all major cities, comes with its share of steep parking fees and hotel taxes. Figure on paying a ballpark of $50/night in extra charges. Double that if you bring your car.
14.08% San Francisco city hotel tax.
$45/night for parking ($52/night for an SUV), plus additional 14.08% tax. There are less expensive public parking garages nearby.
Dining: 8.5% sales tax on meals. Tipping is discretionary.
Room service: 8.5% sales tax on meals, plus 20% automatic gratuity, plus $3.25 delivery charge.
Insider Tips:
For a tremendous view, ask for a room in the tower.
If you will have special needs, such as a babysitter or a dinner reservation at a specific restaurant, contact the concierge prior to your trip.