Druif Beach, Aruba
By Jinny VanDeusen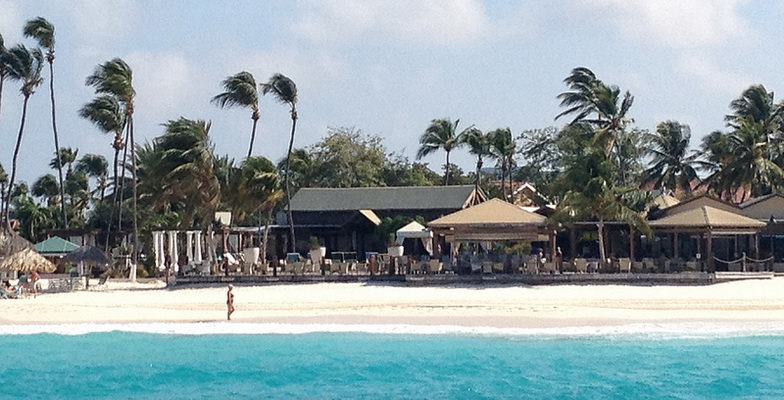 Why Go: If a laid-back beach vacation is what you're after, Aruba delivers in spades. Silky-soft white sand, turquoise water, and a near-guarantee of sunshine are some of the reasons why Aruba has the highest rate of repeat visitors in the Caribbean.
Sprawled along beautiful Druif Beach on Aruba's western coast, four Divi sister resorts —Divi Aruba, Divi Tamarijn, Divi Dutch Village, and Divi Village Golf & Beach Resort—make up the largest hotel group on the island. While guests at the four resorts share a large array of restaurants, amenities, and recreational pursuits, each Divi Resort is different. Three resorts are on the oceanfront, and the fourth offers condo-style lodging in a village-style community.
Families want options, and as our correspondent, Jinny VanDeusen, discovered, the Divi Village Golf & Beach Resort delivers the best of all worlds—spacious lodging in a well-equipped condo, super-fun swimming pools, and a stunning beach within walking distance. Guests can choose between paying a room-only rate or an all-inclusive package, and VanDeusen took advantage of the latter.
Want a vacation that's easy? The resort is just a quick hop from the airport—a huge plus when traveling with children. Spacious condos with full kitchens help give families the flexibility to manage their meals (and expenses) as they choose. There is a gorgeous beach and well-conceived pools featuring ultra-safe zero-depth entries for small fries and fun waterslides and swim-up bars for older kids. To top it all off, there's a huge variety of recreational pursuits on hand, from golf and tennis to sea kayaking and bike riding. The supervised kids' program is too basic to elicit any wows from us, but it still serves a useful purpose. ("All in all, we voted this our best beach vacation ever. The setting is just gorgeous, the staff incredibly friendly and helpful, and our accommodations perfect for our family. We loved the beach and my kids had a blast in the pools. All the Divi Resorts were at full capacity during our visit, but because the beach is so big and there are so many pools, it never felt crowded at all. There were many times when we had the beach practically to ourselves. We would definitely go back.")
Getting Oriented: Divi Village Golf & Beach Resort and its sisters are clustered on the west coast of Aruba, set in what's known as the "low-rise" hotel area. The resort is less than five miles west of Queen Beatrix International Airport in Oranjestaad. There's no free resort shuttle, but it's easy to grab a cab at the airport for a flat fee of $25 one way. ("In Aruba, taxis do not have meters. I found fares—from our hotel to Oranjestaad, and from our hotel to the high-rise hotel section—to be about $9 each way.")
Divi Village Golf & Beach Resort sits just across the road from her oceanfront sister resorts and the beach. It has an extremely scenic 9-hole golf course, three tennis courts, and four swimming pools. Within the resort, condo buildings are divided into two distinct clusters. Divi Village, where the reception building is located, is nearer the road and thus closer to the beach. The Golf Villas are set a bit further back, on a little island in a lagoon that's surrounded by the resort's golf course. (See resort map.) Buildings are connected via small courtyards and curved walkways, and life centers around the pool areas. (Guests can also enjoy the pools at the other three Divi Resorts.)
VanDeusen and her kids stayed in a one-bedroom condo in the Golf Villa section, where units have views of the pool or golf course or both. ("We had a super location. From our patio, there were stepping stones that led right to the pool deck. We were three steps from the zero-depth end of the pool.") Many of the two-bedroom units on the third floor have views beyond the golf course to the ocean. ("Our unit put us about a five-minute walk to the beach, which was easy even for kids younger than my 11- and 8-year-old. Some parents carted their little ones to the beach in backpack carriers.") If you're not in the mood for the stroll, you can hop on one of the golf cart shuttles that run through the resorts.
Getting Around: Grabbing a cab to Oranjestaad, the closest town, costs less than $10 each way. There are no sidewalks on the main road that follows the western coast of the island, so heading anywhere on foot—especially with kids—isn't advised. It's the same story when going north along the coast to high-rise area, where there are shops and restaurants.
One big reason families choose an all-inclusive is so they can stay put and soak up the food and atmosphere, so many families won't need a car every day. Still, if you want to spend a day exploring, there is a Hertz desk in the lobby (rates run about $45/day for a car; $125/day for a Jeep). ("The woman at the Hertz desk told me that you need to book a car at least a couple of days ahead but, interestingly, you can snag a Jeep the same day.") There are plenty of kid-friendly excursions on the island, including hikes, "submarine" rides, snorkel trips, and visits to the Arikok National Wildlife Park. ("We might have tried some of these outings if we'd stayed for a longer time.") It's easiest to do these things with a rental car, which you can either pick up at the airport or at Hertz. Each of the Divi resorts has its own desk.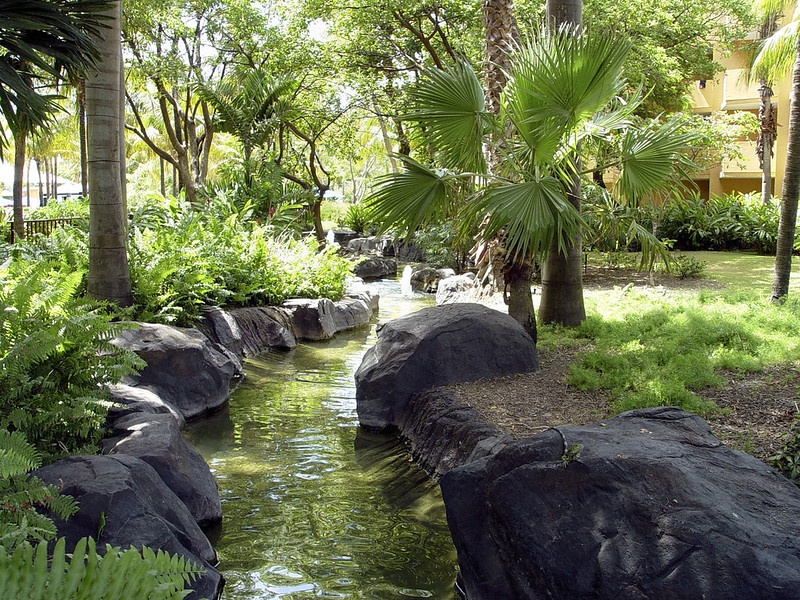 We Are Family: During her March visit, VanDeusen estimated that just under half of her fellow guests had come with kids, ranging from infants to teens. There were a good number of multi-generational families at Divi Village Golf & Beach Resort because of its spacious one- and two-bedroom condos. While VanDeusen encountered mainly American accents, she also heard Spanish and a sprinkling of French.
The supervised children's program, the "Kids Fun Club," is based at the Tamarijn and available for kids 5 to 12 staying at all three Divi resorts. It's free for guests at Divi Resorts who are paying an all-inclusive rate (which means everyone staying at the Divi Aruba and Divi Tamarijn). For families staying at the Divi Village Golf resort that are not paying an all-inclusive rate, the program costs $15.46 per child for a half day and $20.62 for a full day. Alternatively, children can pay between $6.19 and $10.31 to join in a single activity. The payment covers the cost of art supplies.
The program is basic and it seemed to VanDeusen that a smattering of families used it as a convenience. On the occasions when her children attended the program, anywhere from two to five other kids were participating at any given time. For parents, the main benefit of having a kids' club is added flexibility in planning the day. Kids got to mix with their peers and get out of the sun for a spell, while parents got a chance to play a game of golf, grab a spa treatment, or just read by the pool in peace.
The kids' club runs from Monday to Friday. The morning session starts at 9am or 10am (depends on the day) and ends at noon, while the afternoon session runs from 1:30pm to 4pm or 4:30pm (depends on the day). Parents should sign up children 24 hours in advance for the morning session, afternoon session, or both. This club probably won't win any awards for originality—expect a mix of arts and crafts, t-shirt painting, board games, occasional pool games, and coloring and drawing contests. In other words, the ho-hum you find at any generic daycamp. We'd love to see Divi inject the program with a few activities that introduced children to some facet of Aruban culture. Even so, VanDeusen's kids enjoyed their time. ("Kate and Jack attended the club for a couple of mornings and one afternoon. They painted t-shirts, played board games, and tie-dyed t-shirts by the pool. Another craft was 't-shirt cutting,' where they cut the lower half of a t-shirt into small strips and strung them with beads, creating a beach cover-up. There really weren't any lowlights for my kids; they even enjoyed playing board games. Families that used the club appreciated it for what it was. The counselor was very friendly and engaging with the kids.") There were also field trips to a nearby butterfly farm and a factory tour of the Aruba Aloe company.
While it does not offer an organized program for pre-schoolers, Divi Village Golf & Beach Resort is a terrific place for families with young children. Zero-depth entry pools are a godsend for parents of little ones who have yet to earn their water wings, and you can't beat condos for convenience. ("I loved having a washer and dryer. Happiness is returning from vacation with no dirty laundry.") And while kids under 5 cannot attend the kids' club on their own, they can join up to two or three activities each day (usually crafts) if accompanied by a parent.
Beyond the "Kids Fun Club," Divi resort hosts many other kid-friendly events during the day, including putting contests, poolside games, salsarengue lessons, bingo, rock climbing, and even—wow—free tennis clinics.
There are four pools at Divi Village Golf & Beach Resort—two in the Divi Village section, and two at the Golf Villas. The pool outside VanDeusen's condo was perfect for all ages and a huge hit with her kids. It was a long, winding, free-form pool that begins with a large zero-depth shallow end that sloped gradually to about four feet deep. ("My kids loved to swim the length of the pool to reach the swim-up bar for their virgin strawberry daiquiris.") Fun features include a volleyball net and two man-made islands—one with a basketball hoop and the other with two lounge chairs and an umbrella. ("This seemed to be the clutch location for kids.") At the opposite end of the pool, where the water was five feet deep, a crowd-pleasing waterslide attracts both adults and kids as young as three. Just past the swim-up bar, there is an infinity pool overlooking the golf course.
VanDeusen and her kids also spent a lot time playing on Druif Beach. ("Stunning water, soft sand, and gentle surf every day but our last.") The large beach between the Tamarijn and Divi Aruba is safe for playing and wading, since the water stays shallow a long way out. ("Be careful during the heat of the day, though, as there is no shade here. There are a few dozen palapas set up far from the water, but they were claimed by 7:30am every morning.") For VanDeusen and her kids, the best beach was at the Divi Aruba. ("It's wide enough so you don't feel crowded.") It's also equipped with chairs or umbrellas—though you still need to snag them early—not to mention restaurants where you can grab snacks and drinks. VanDeusen warns that the water gets suddenly deeper about 15 feet from the surf's edge. ("It's probably not the best for really little kids. But we found it a great spot to set up.") For guests on the all-inclusive plan, there's no charge to borrow kayaks, windsurfboards, snorkel equipment, or boogie boards.
Where to Eat: The four Divi Resorts feature 10 restaurants, most of which are available to guests on the all-inclusive plan. Guests who are paying the room-only rate can dine at these restaurants, too, of course. The three restaurants located at Divi Village Golf & Beach Resorts are:
Mulligan's is a casual, open-air eatery overlooking the golf course. ("We had many meals here and enjoyed the very good food. As all-inclusive guests, we just signed the check.") (Breakfast: Entrées $6-$9. Lunch and dinner: Appetizers $5-$9, soups $6, brick-oven pizzas $12-$17, pasta dishes $14-$18, grilled options $12-$21, entrees $17-28.)
Windows on Aruba is a circular, glass-enclosed restaurant located above Mulligan's. It's not included in the all-inclusive package, but all-inclusive guests get a 20% discount. (Dinner: Appetizers $9-$23, entrées $21-$54.)
Sea Breeze Café is located poolside at Divi Village. It serves up a light menu of salads, burgers, sandwiches, and pizzas. (Buffet breakfast: $11.95/adult, $6.50/child under 12. Lunch: Entrées $5-$14. Dinner: Entrées $15-$30.)
Other Divi restaurants serve up a variety of cuisines, from Caribbean and Italian to Asian to grilled meats. ("We thought the food was very good, in general. I liked that portions weren't crazy, as you see at so many other all-inclusive resorts. There was a nice selection each day, very nicely executed.") Kid-friendly offerings typically included the usual suspects—chicken fingers, pizza, pasta, and the like.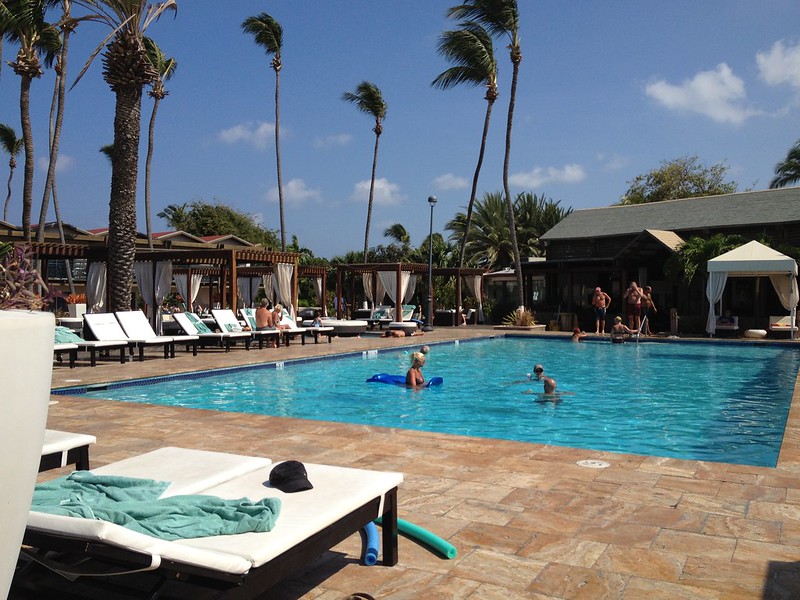 Nightlife: In the evenings, the atmosphere at the Divi properties always felt family-friendly to VanDeusen. ("Families are free to do any number of things with their evenings. From dinner time up until about 9pm, we noticed many families out and about in the restaurants, at the pools, and dancing to live bands that were playing.") On Friday night, a kid's movie is shown on the sand at the Tamarijn's "beach-in" theater, followed by a more grown-up film.
Hoping for an adults-only dinner or some time in the casino? We'd love to see Divi introduce a supervised "kids night out" program, even if it were only a movie-and-pizza night one or two nights a week. Right now Divi does not offer a supervised children' program in the evening, although there is a list of babysitters available through the concierge desk ($15/hr for up to two children, minimum three hrs; $2.50/hr for additional children).
The Tamarijn and Divi Aruba are the major activity hubs in the evening. Comparatively, Divi Village Golf & Beach Resort is quite a bit calmer after sundown. This is yet another reason we think it makes a great home base for families.
Where to Stay: Divi Village Golf & Beach Resort offers a mix of studios and one- and two-bedroom condos. All of them have full kitchens and either a patio or balcony. Two-bedroom condos in the Divi Village section and all units in the Golf Villas section come with a washer and dryer.
VanDeusen and her family stayed in a spacious one-bedroom unit in the Golf Villas. ("It was more than comfortable, with modern amenities, a great location, and a cheerful yellow-and-blue color scheme. Plus, the unit was spotless.")
The master bedroom had a king-size wrought iron canopy bed with a TV, large closet, and a good-sized bathroom with a large shower and Jacuzzi tub. The living area featured a pull-out sleeper sofa and two armchairs, a dining area, and a wall-mounted flatscreen TV. The list of available US channels included Disney, ABC Family, CNN, and all the major networks. There was one patio off the living room that was mere steps from the pool, and a second patio accessible from sliders in the master bedroom.
A second bathroom off the living room featured a separate shower and Jacuzzi tub. The kitchen was fully equipped with major appliances, including a dishwasher and microwave, as well as cookware and dishware.
The in-room wi-fi ($15/day, $50/week) worked for VanDeusen on the patio and poolside. For an additional fee, parents of small children can rent a crib ($25/week) or rollaway cot ($10/day).
Price Tag: One big clue that you've found a good-value resort is when you don't feel nickel-and-dimed— or worse, gouged—at every turn. ("I was pleasantly surprised that prices for sundries and gift items weren't ridiculous. You might pay slightly more for an item than you'd pay at home, but nowhere near where I've seen prices at some resorts. Even the dining prices were reasonable, and in some cases a really good value. I didn't come across any hidden costs.")
During high season, the room-only rate at Divi Village Golf & Beach Resort ranges from $139 a night for a studio to $199 a night for a two-bedroom third-floor condo, or $973 to $1,393 for a one-week stay. In the off-season, rates for studios and one-bedrooms drop $30 to $50 a night—making a one-week stay $210 to $350 less expensive than in high season. Rates for two-bedroom condos remain about the same year-round. In March (high-season), VanDeusen's one-bedroom unit ran for $189 a night, room only, which works out to $1,323 for a week.
Guests who opt for the all-inclusive package are entitled to unlimited food and beverage at all the Divi Resorts' restaurants, plus complimentary access to the "Kids Fun Club," non-motorized watersports, and free golf after 3pm. Opting for the all-inclusive package increases the room rate by $95 per adult and $35 per child 15 and under, or $260 a night for a family of four. Note: Teens 16 and up are charged as adults. The all-inclusive package is not available if you stay in a two-bedroom condo.
("For us, going with the all-inclusive option definitely saved money because we ate nearly every meal on-property. I found it especially helpful for snacks and beverages during the day. That's where it usually really adds up and it was a relief to not be shelling out money every time one of us wanted something to nibble on or drink. And don't forget that the all-inclusive option extends beyond just food—it saved us going out-of-pocket for the kids' club and for my kayaking.")
On the other hand, reasons VanDeusen, a family could rent a car, stock up at the grocery store, and make good use of the condo's full kitchen and dining area. ("I got the feeling that the majority of guests staying at Divi Village did that.")
A family of four staying in VanDeusen's one-bedroom condo with the all-inclusive package would pay $2,360 a week in the high season. Comparatively, the all-inclusive rate for a standard hotel room at the Tamarijn or Divi Aruba would start at $2,534 for the same week. ("Essentially, the difference is that the Tamarijn and Divi Aruba are oceanfront. But both offer standard hotel rooms, and many families would want a second room. So for my money, Divi Village Golf & Beach Resort offers the best value. I'd stay in our unit again, in a heartbeat.")
The good news: There always seem to be online specials on the Divi Resorts web site, which can bring rates way down. Case in point: At press time, the Special Offers page included a "kids stay & eat free" deal for kids 12 and under, which essentially offers the all-inclusive plan for kids (normally $35/day) for free. For a family of four, this could save $70 a day, or $490 for a one-week stay.
Insider Tips:
If you're headed to the beach, grab your towels at the Golf Villa pool towel hut. You won't be able to get them anywhere else.
Don't worry about packing plain white t-shirts for the kids' club crafts. They're provided.
If your kids like chess, there's a fun life-size chessboard near the activity center/towel hut at the Tamarijn.
For an evening excursion, consider heading to the high-rise hotel section, where there are lots of shops and restaurants. You can go the tourist route and have dinner at Smokey Joe's, where the Caribbean ribs are delicious.
If you want to visit Oranjestaad, do it on a day when there aren't a bunch of cruise ships docked for the day. It makes it very crowded. Your best bet is first thing in the morning or mid-to-late afternoon.
You'll find cheaper souvenir shopping off the property—such as in Hotel Zone open-air markets.
If your daughter wants to get her hair braided, make an appointment at the on-site "beauty parlor" at Divi Aruba. It's quick and inexpensive—a better alternative than getting it done in the market.
For your flight back to the US, when they say you need to be at the airport three hours before departure time, they mean it. ("You go through US customs in the Aruba airport, and it takes a while. But it's so worth it when you land back home and can go straight to baggage claim.")