Travel advice from a Venice travel expert
By Josephine Levin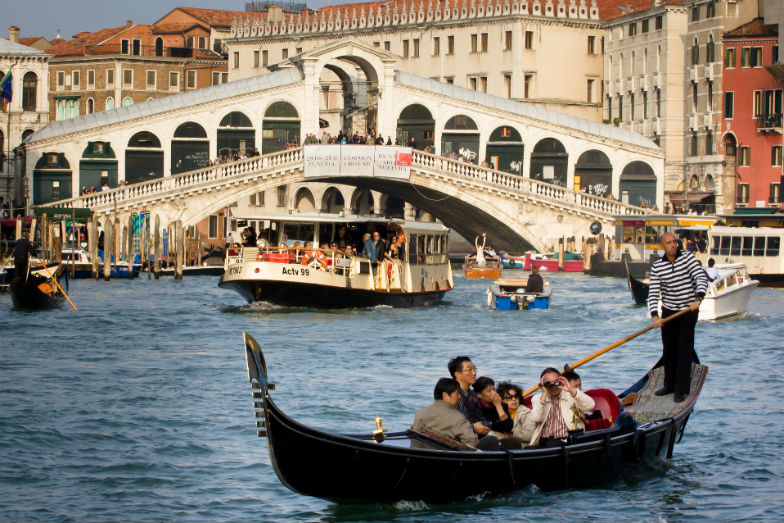 Venice, Italy (Flickr: Hernán Piñera)
Venice with kids is an experience like no other because of the total kid-friendly absence of cars, busses and roads. Instead, all transportation is by boats on the canals linking all the 117 Venetian islands that make up the city of Venice, and there is nothing more exciting for kids than to travel around by boat. Here are some tips in order to get the maximum enjoyment out of a family trip to Venice.
Tip 1 – City access pass: The Venezia Unica City Pass will allow you to access public transport, attractions, museums, churches, and toilet facilities.
Tip 2 – Open canals: Venice has about 450 open canals. You must teach the kids not to go close to them. Some tourists even put safety harnesses on toddlers. Instruct your kids to stay away from the smooth white stones near the edge of the canals, which are slippery so that they will not fall in.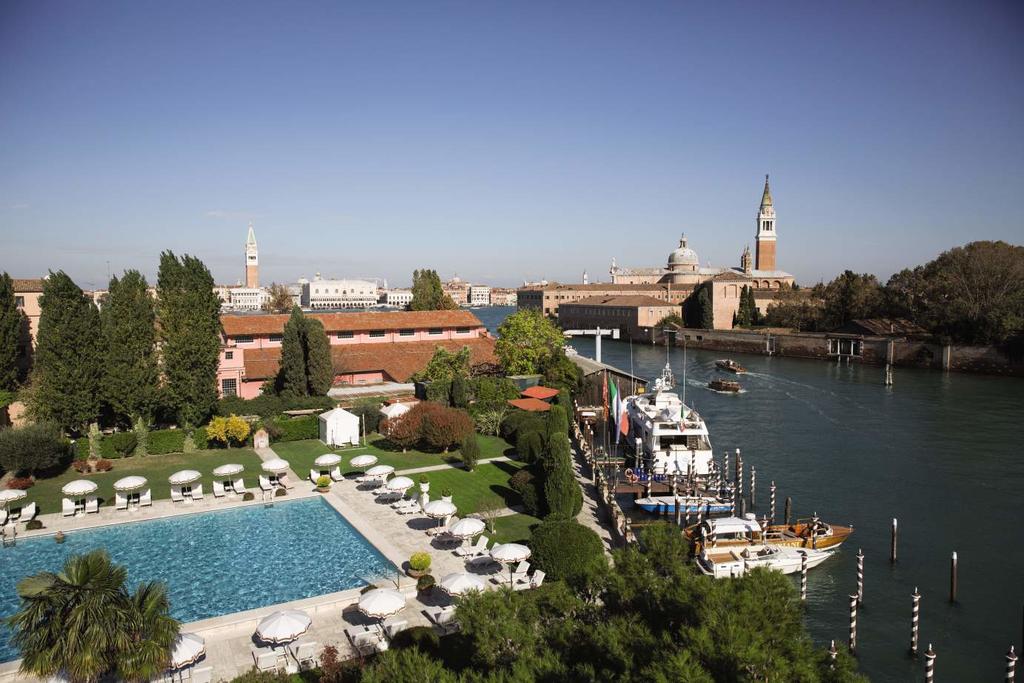 The Belmond Hotel Cipriani Venice (Courtesy Belmond)
Tip 3 – Swimming: Swimming is prohibited in the canals, as there is some water pollution due to the fact that only 70% of the sewage from Venice is properly treated. If you are there in the summer, pick a hotel that has a swimming pool like The Belmond Hotel Cipriani Venice on Giudecca Island or the Hotel Excelsior Venice Lido Resort that not only has a large outdoor pool, but is also on the beautiful Lido Beach.
Tip 4 – Walking around Venice: Four main bridges connect some of the islands so you can opt to walk instead of taking boats through Venice to see many of the historical sites such as the famed art work in museums and churches. If you have a toddler keep in mind Venice is full of steps so bring only a very lightweight stroller. You might prefer carrying infants in back or front carriers.
Tip 5 – Waist pouches: Free your arms by wearing waist pouches so you can hold on to the kids.
Tip 6 – Carrying valuable: Don't carry valuables around with you or a lot of money. Best to keep it in the hotel safe or locked in your luggage as Venice has some skilled pickpockets.
Tip 7 – Water transportation and safety: The canals do not have waves so getting sea sick is highly unlikely. However, if a kid suffers from motion sickness in a car they might also get sick on a boat. Bring anti-motion sickness meds and some disposable paper bags with you.
Tip 8 – Bring snacks: Be sure to bring bottled water along with you and snacks for the kids if you are going on long boat trips.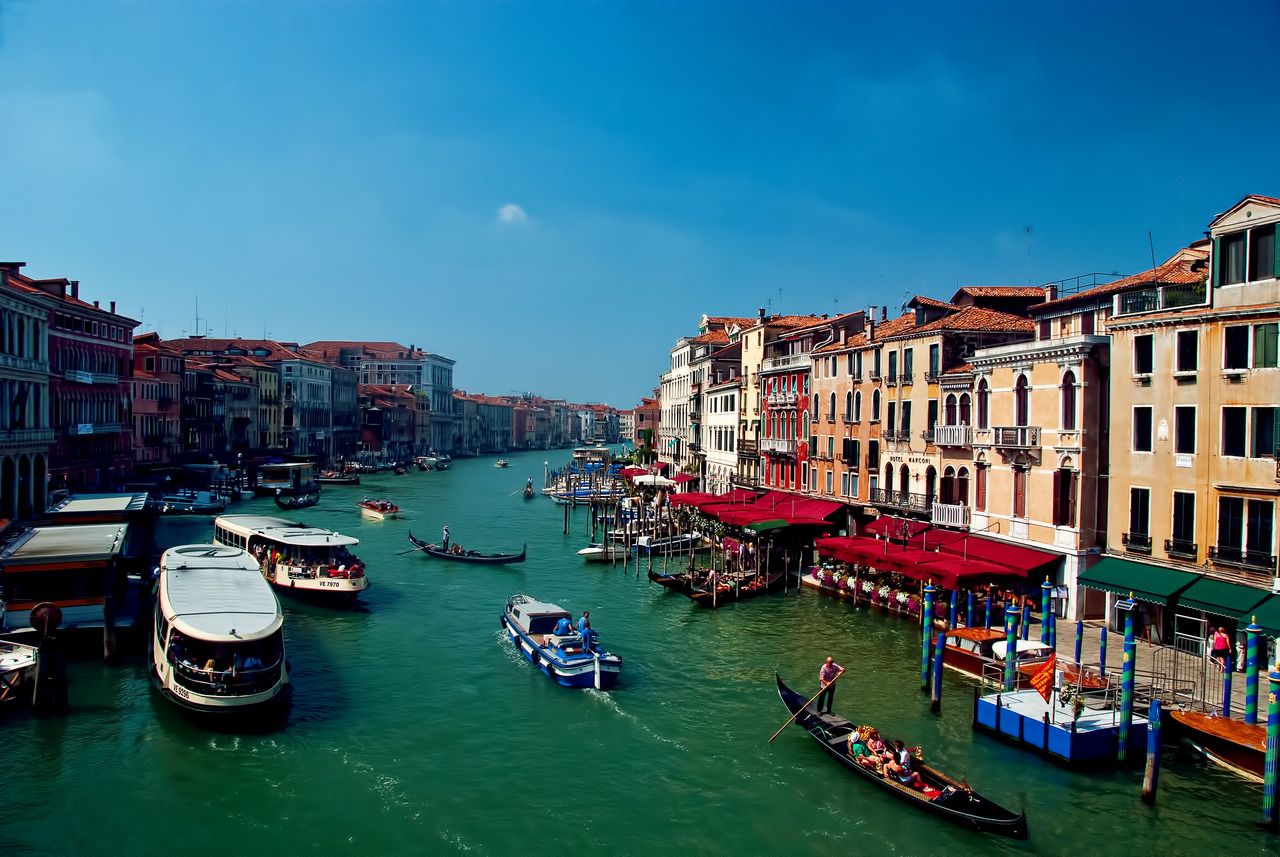 Different water transportation in Venice. (Flickr: Trish Hartmann)
Tip 9 – Transportation: The public water buses vaporetto can hold up to 20 people. They have some water jackets and flotation equipment. They are often crowded especially during morning and early evening rush hours and you might have to stand. Some vaporettos have seats in the bow for sightseeing where you can get the best photo shots, but there is no guaranty you will be able to move fast enough to get a seat, especially if you are carrying kids and bags. Keep your eye on your bags!
Tip 10 – Gondolas: While you may dream of a romantic tour in a gondola, which many feel is the ultimate Venice experience, they do not have life jackets and are the most expensive way to travel. Gondolas hold up to six people and are navigated by a standing gondolier who might even serenade you. A traghetto, is like a gondola manned by two oarsmen and is used mainly to cross the Grand Canal. It is cheaper than a gondola but you stand rather than sit. This may be difficult if you have toddlers and infants. Decide for yourselves if you want to bring your own life jackets for small kids if you want to take a gondola or traghetto tour.
Tip 11 – Alternative water transportation: Water taxi companies have life jackets for every passenger and fire extinguishers. They can hold up to 10 people and carry 10 pieces of luggage. These are the most comfortable and safe way to travel with small kids, but are expensive. You can purchase tickets online to get discounts. It is cheaper to buy a 2-day ticket for a water taxi than a one-day one.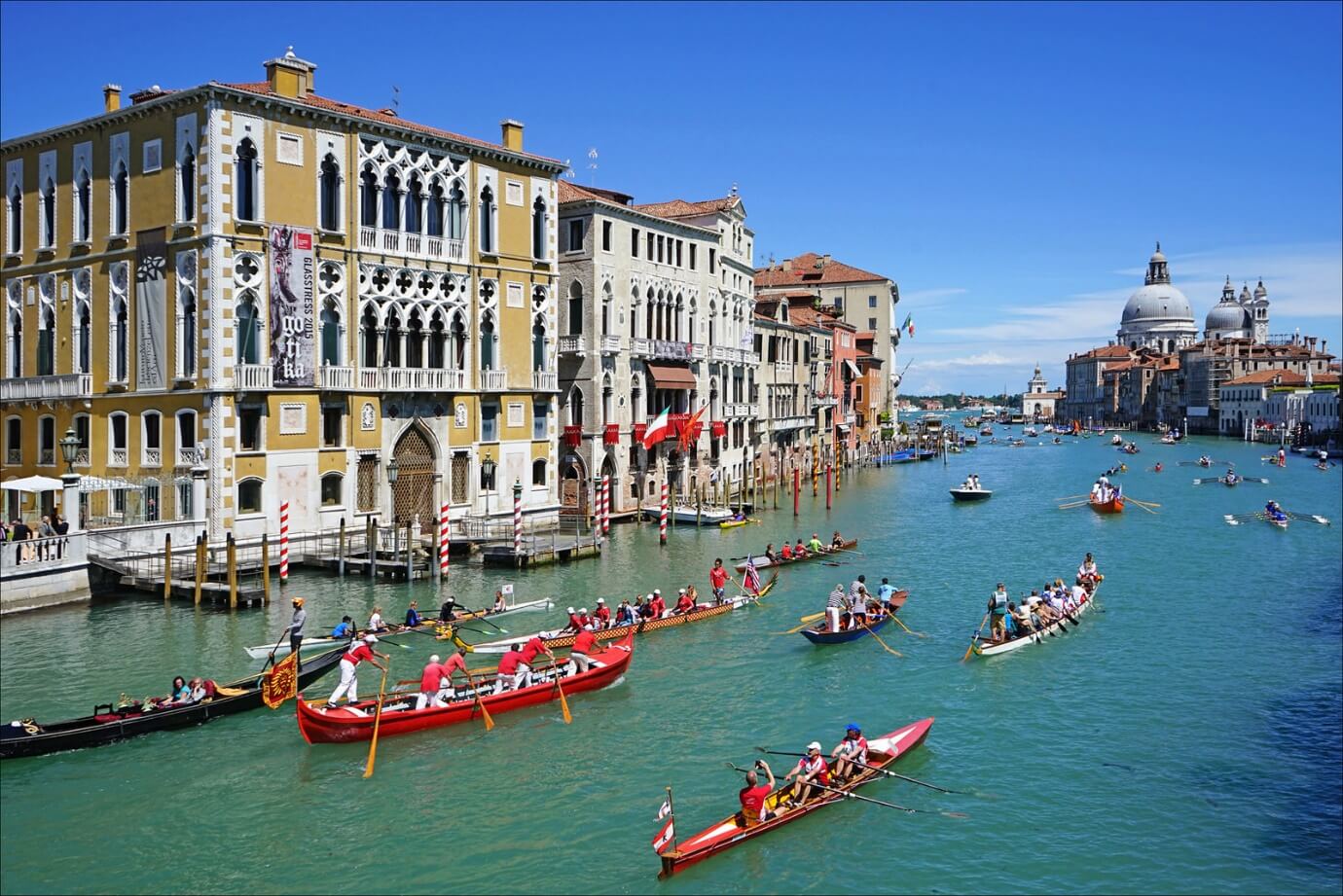 Bring along your own high waterproof boots when traveling in Venice in the Fall or Winter. (Flickr: Jean-Pierre Dalbéra)
Tip 12 – High Tide Water: Venice in the fall and winter sometimes suffers from flooding from high tides called Acqua Alta, which can expose you to contaminated water. Bring along your own high waterproof boots for touring the flood-prone areas during the fall or winter. Some hotels will provide boots for their guests.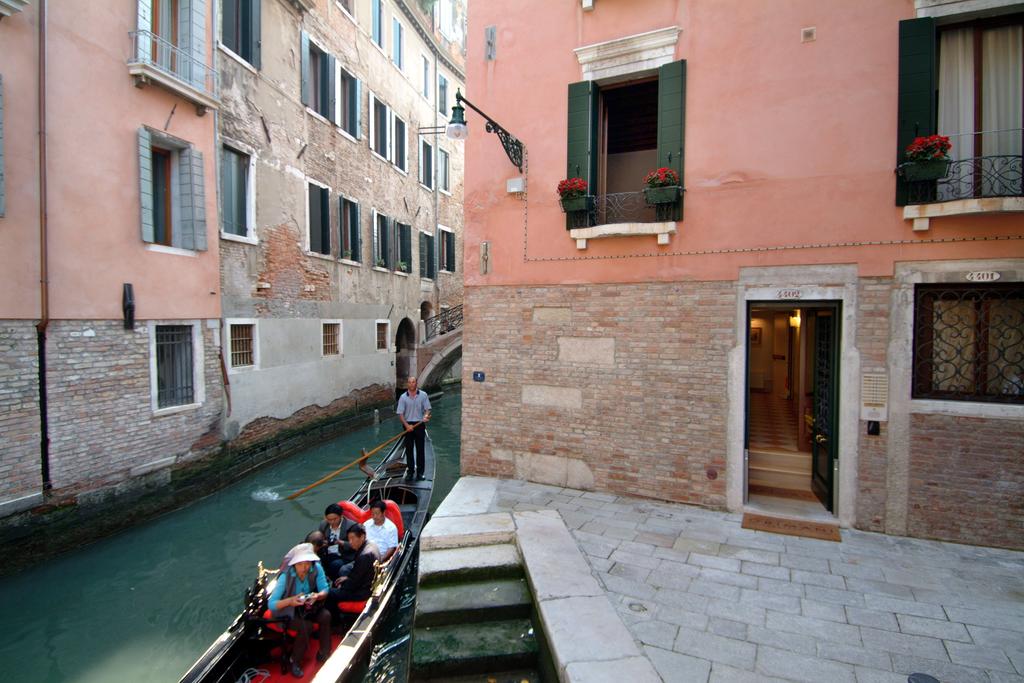 Residence Corte Grimani (Courtesy Residence Corte Grimani)
Tip 13 – Historical hotels: Some of the hotels, especially in the Santa Croce area and along the Grand Canal are actually fascinating refurbished medieval and Renaissance palaces. The kids will feel they are little princes and princesses! If you have little kids, strollers and lots to carry, make sure you book into a refurbished palace that has an elevator like the Residence Corte Grimani or that you have a room or suite on a ground floor.
Tip 14 – Summertime: On very hot summer days, the canals have a bad odor. Stay in a hotel that is not right on a canal if you plan to visit during the hot days of summer or visit Venice in the spring!
(MORE: Check out more of our great travel tips written by travel experts from all over the world.)
Tip 15 – Appropriate attire: When visiting churches or other holy sites like St. Mark's Basilica, women must dress modestly so that shoulders and knees are not exposed. In fact the guard at the door can refuse entrance to you! You can tuck a shawl in your purse or pack as a cover up.
Josephine Levin contributed this to MiniTime.