Outdoor adventures with the kids
By Kasey Austin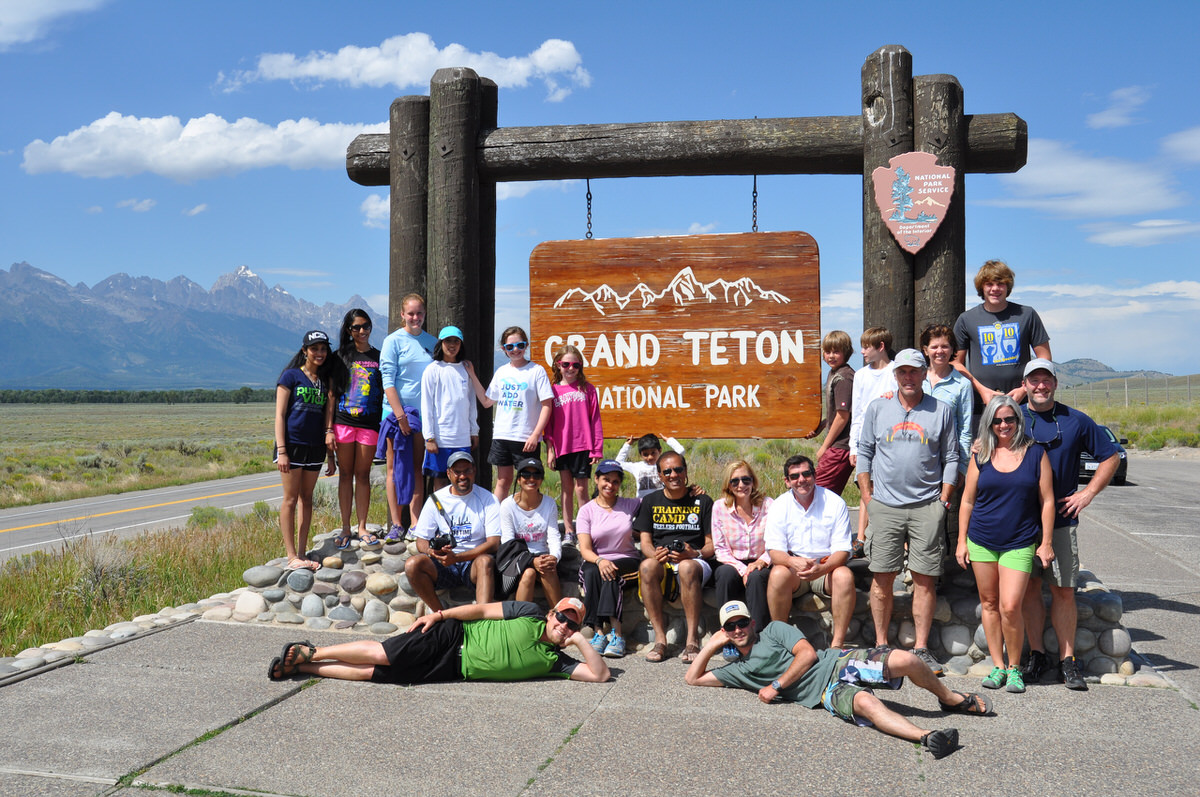 Families in Grand Teton National Park (Courtesy Austin Adventures)
To help families celebrate National Park Week, which kicks off on April 18 and runs through April 26, Vice President of Operations at Austin Adventures and Outside's 2014 Best Family Guide Kasey Austin shares her tried and tested ways – from easy bike rides to canoeing on Jackson Lake – to enjoy one of the most stunning national parks in the country.
Read on after the jump and get the troop ready for an adventure of a lifetime!
Grand Teton National Park is one of the gorgeous gems of our national park system, and the next time you visit this beautiful place, take a look at the list below to help you decide which way your family should experience it first. (** Bonus points if you complete all ten!!)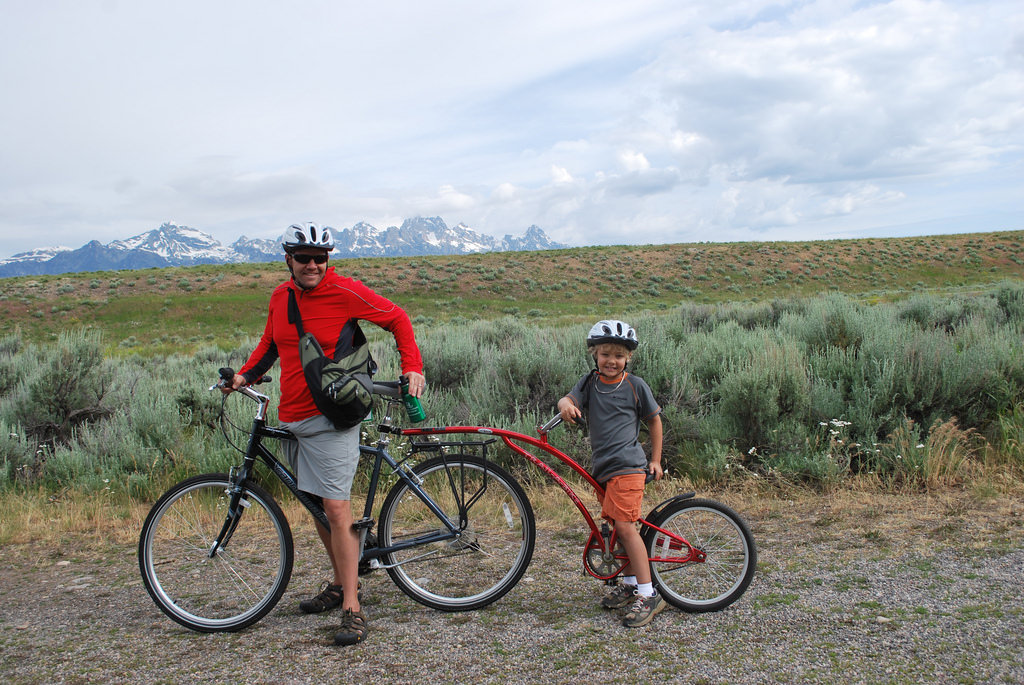 Biking in the Tetons (Courtesy Austin Adventures)
1) Rent Bikes for an Easygoing Trail Ride
It's simple and inexpensive to rent bikes from a few hours to a full day for prime exploration of the wonders of Grand Teton National Park via bike path. Today, bike paths extend from the town of Jackson into the Park, eventually stopping at the Jenny Lake parking lot – complete with bike racks. Keep in mind the distance between these two points is about 22 miles one way before embarking on an epic expedition with your family! You can rent bikes in the town of Jackson, or if you're looking for a shorter ride, look no further than the town of Moose (and grab a slice of pizza while you're in the area from the locals' favorite: Dornan's).
2) Ride the Boat Across Jenny Lake and Hike to Inspiration Point
Jenny Lake is one of the stunning lakes lining the base of the Grand Teton Mountain Range like a pearl necklace. To get to the mountain range behind the lake, you can either walk a few miles around the side, or better yet – you can take the boat across for a small fee. The ride across the lake doesn't take long and it gives you a different perspective of the Tetons than the same ole' view from the car window. Once you arrive at the other side of the lake, embark on a short but beautiful hike (2.2 miles round trip) up to Inspiration Point to get gorgeous views of Jenny Lake and Jackson Hole from high up. To get back to your vehicle, walk back around the lake to lengthen your hike or take the boat back across to the docks.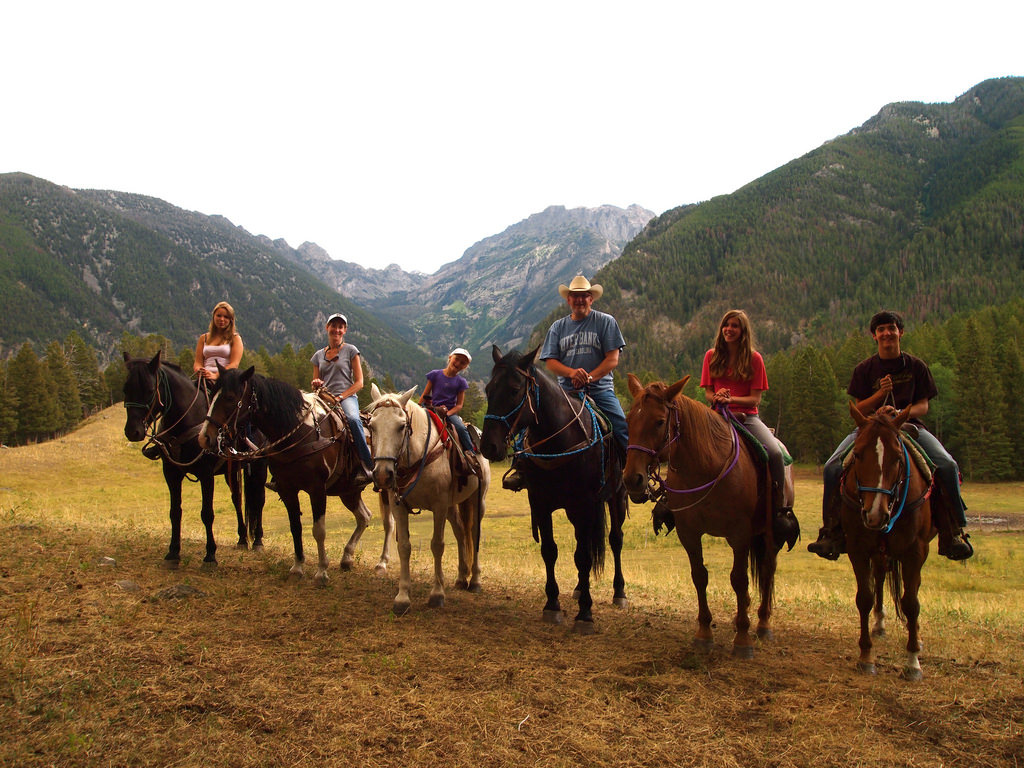 Horseback riding in Jackson Hole (Courtesy Austin Adventures)
3) Take a Horseback Ride in Jackson Hole
Not to be confused with the town of Jackson, Jackson Hole is the valley lying to the east of the Teton Mountain Range. Within this valley and its nearby surrounding areas, there are many ranches and horseback riding operators that offer trail rides anywhere from an introductory two hours to multi-day excursions. Horseback riding is one of those activities that is associated with the west and what better place to bust out that cowboy hat and old pair of jeans than Grand Teton National Park – a place brimming with old west history . For first timers, two hours of horseback time should be plenty (your legs will thank me for that suggestion later).
4) Float or Fish the Snake River Under the Towering Tetons
Book your family a guide and head out on the Snake River in Grand Teton National Park to either float or fly fish the calm section of the river that runs through the center of the Park. Floating the river involves a large raft and a goofy raft guide with lots of jokes – plus you will probably be paired up with another family or two, which can be fun for the kids. The section of river in the park is very mild and scenic, so you can just sit back and relax while your guide does the work of getting you downriver. (If you want more whitewater, you can still raft the Snake River – it will just be outside of the Park). Fishing is more personal and involves a smaller boat (usually 2 fishermen, plus the guide in one drift boat). Fishing tends to be more expensive but those who try it out are "hooked" for life! You'll likely catch some beautiful trout and will go home with photos of the big one that didn't get away.
5) Check Out the Moose Visitor Center in Moose, WY
The Moose Visitor Center sits in the tiny town of Moose, WY just off of the main highway of Grand Teton National Park. This visitor center shows off gorgeous displays on the region's wildlife, human history, geology, and even history of rock climbing. There are always a few antlers and horns for the kids to touch and pick up, to find out how heavy that bull elk antler really weighs. You can also ask to touch the animal pelts they usually have hidden behind the information desk – it can be truly fascinating for a child to feel the difference between a bear skin and a wolf pelt. If you see big crowds standing near the bridge nearby the visitor center, you'll want to bring your camera to photograph the moose that will no doubt be standing in the willow bushes near the river!
6) Hike to Phelps Lake in the Laurance S. Rockefeller Preserve
One of the most recent additions to Grand Teton National Park, the Laurance S. Rockefeller Preserve is located just off the dirt road between Teton Village and the tiny town of Moose. Beginning your hike at the small visitor center, you can decide which side of the loop you want to walk first to make it to Phelps Lake (3 miles round trip). This hike is a perfect half day excursion and gives your family the opportunity to see some of the beautiful Tetons scenery this Park is known for. From a picturesque tumbling creek to possible wildlife sightings to Phelps Lake itself, you'll leave at the end of this hike with too many photos to count and even better memories.
(MORE: Discover and explore the best national parks in the country.)
7) Hire a Guide to Teach Your Family How to Rock Climb
A rock climbing outing may seem a bit intimidating, but when you go with a professional, you'll soon find out how unique, fun and exhilarating a "jaunt up the mountain" can be. Many beginner rock climbing classes take place in Cascade Canyon, just behind Jenny Lake. Your guide will provide climbing shoes, ropes, and instruction on how to climb and how to get the most out of your family's experience. Climbs in Cascade Canyon range from an introductory climb up a not-so-steep slope (with ropes of course!) to expert level and everything in between. The best part: those beautiful views of Jackson Hole from high up!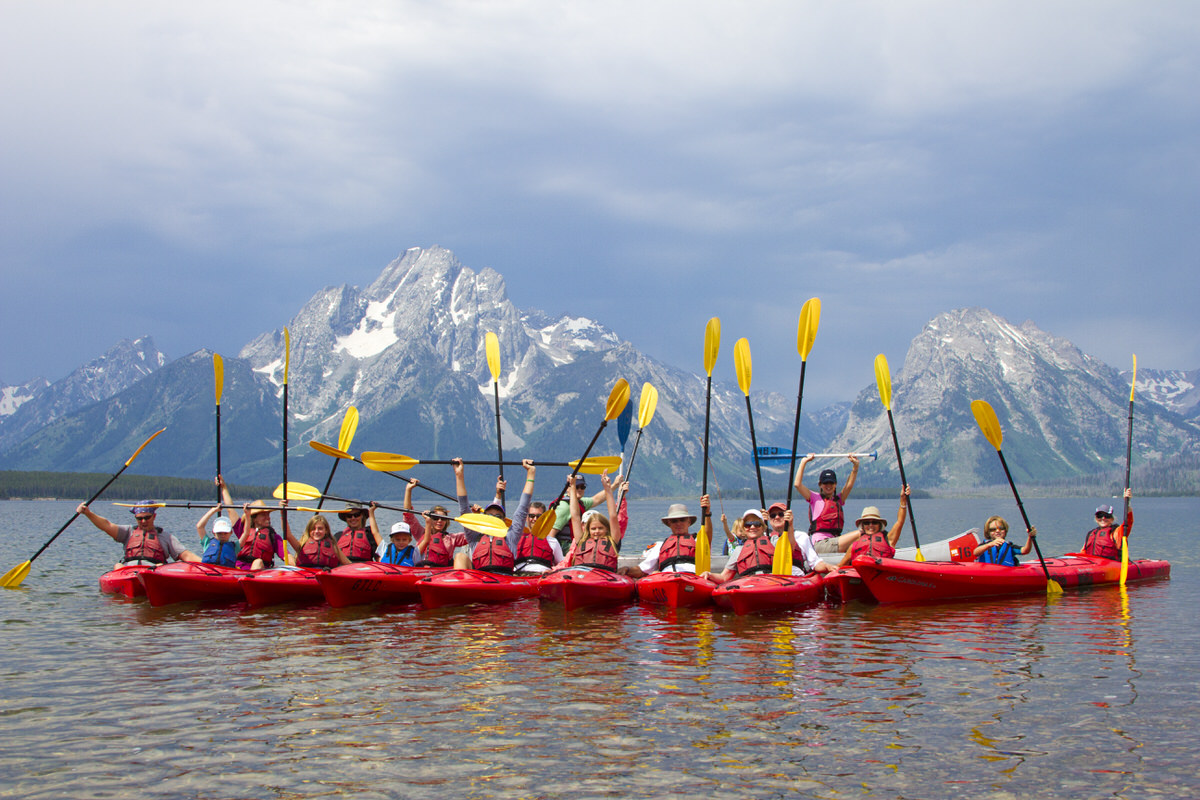 Kayaking on Jackson Lake (Courtesy Austin Adventures)
8) Kayak or Canoe on Jackson Lake From Colter Bay
One of the most memorable ways to view the Tetons is by paddling your own vessel, be it kayak or canoe, on the calm and clear water of Jackson Lake, the largest lake in Grand Teton National Park. Accessing the lake via Colter Bay brings you to a marina where you can rent canoes or kayaks for a few hours to take in the scenery from the water. After exiting Colter Bay and paddling towards the mountains, you'll eventually wind up with an unforgettable view of square-topped Mount Moran seemingly rising up out of Jackson Lake's western shore. You'll be given a map of the lake and a quick paddling lesson by the marina staff – then you're on your own to give it a go!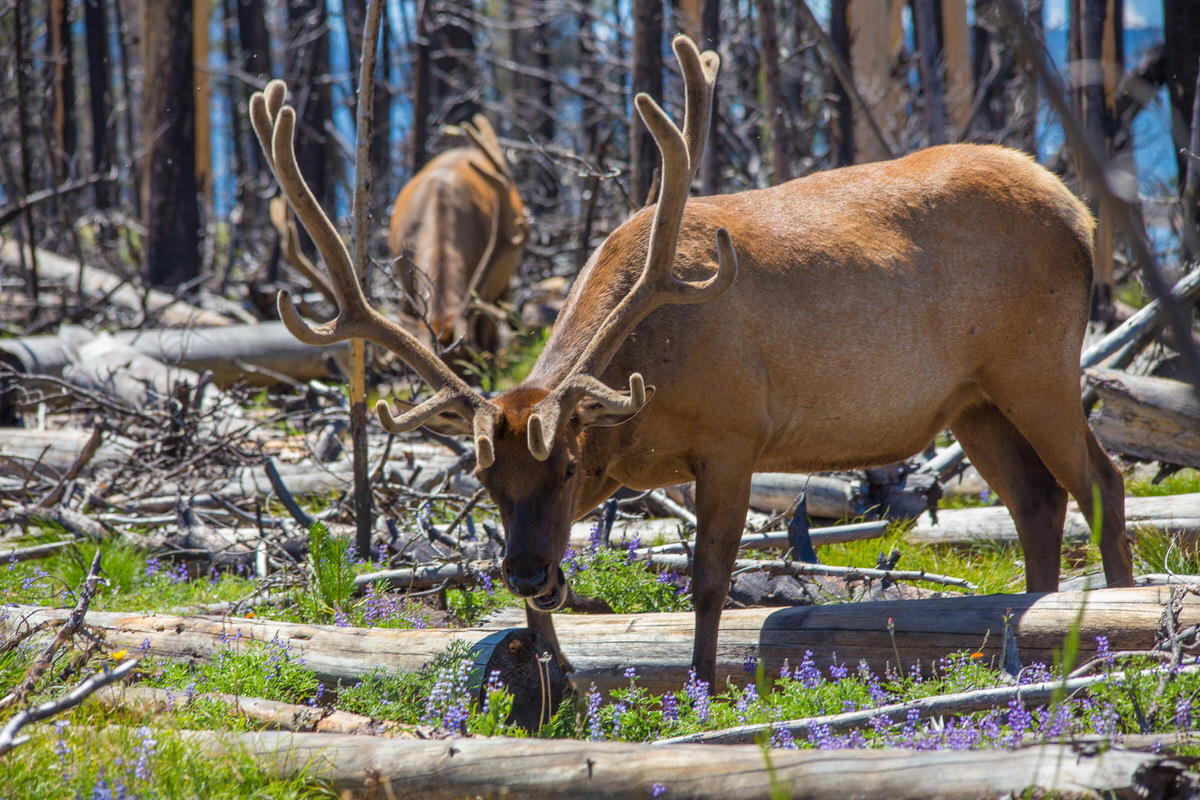 Embark on a wildlife safari in the park. (Courtesy Austin Adventures)
9) Embark on a Wildlife Safari on Antelope Flats Road
Towards the eastern side of the Jackson Hole Valley lies Antelope Flats Road, a mecca at any time of year for wildlife viewing. This road follows the Gros Ventre River at first, eventually passing through the small town of Kelly and winding up at the Mormon Row Historic District, where the famous Moulton Barn resides. Along the river, you'll want to search for moose hidden among the willows and in the open prairies, keep your eyes open for pronghorn, bison and coyotes. Bring a pair of binoculars and go early in the morning (just after dawn) or later in the afternoon to have the best chance of spotting wildlife when they're most active. Remember to keep a good amount of distance between you and these wild animals!
10) Accept the "Polar Bear Plunge" Challenge by Jumping into a Park Lake
The lakes in Grand Teton National Park are cold – so cold that we have deemed this activity "the Polar Bear Plunge" Challenge. The Polar Bear Plunge involves changing into your swimwear, having your towel on the ready, and charging into a cold mountain lake from the shoreline. The challenge is not complete unless you dunk your entire body (including head!) under the cold waters of Jackson, Jenny, Leigh, String, Phelps, Bradley or Taggart Lakes. Remember to check on the conditions of the lake with a park ranger or your guide before taking on this challenge. These lakes can feel heavenly (albeit freezing) on a hot summer's day. They can also be deadly in the winter or its shoulder seasons. When the heat is getting to you, it's time to test your family's toughness with the Polar Bear Plunge!
Now that you've been given these tools for family fun, plan your vacation by trying out an activity or two on the list above! If you just can't decide, give your friendly Austin Adventures Travel Consultant a call – they can help you figure out which adventure will work best for your family.
See you in the Tetons!
Kasey Austin, VP of Operations at Austin Adventures, contributed this article to MiniTime. She was honored as the world's top family guide in 2014 by Outside Magazine and most enjoys taking her guests on adventures in Yellowstone and Grand Teton National Parks.