Best things to do with kids in Calgary
By Linda Wilkinson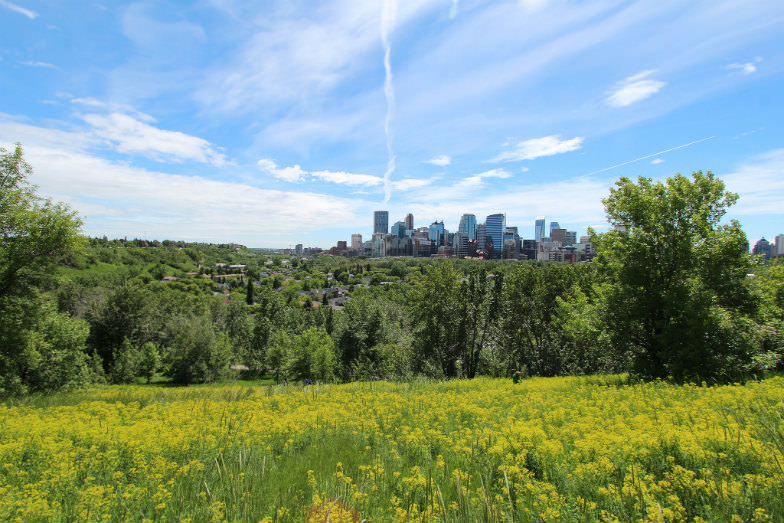 The city of Calgary in Alberta (Flickr: Dave Bloggs )
Surrounded by prairies, mountains and rolling foothills, Calgary (pop. 1.4 million) is a Western Canadian city that has lots to offer families with kids. Voted by The Economist as the fifth "most livable city" in the world, there is a plethora of kid-friendly activities in Calgary that will keep your family entertained for days. Come in the late summer or early fall and enjoy all that this bustling urban center has to offer – animals, rides, history, culture, and much more.
The Calgary Tower (Photo: Kaitlin Lee)
The Calgary Tower is the perfect tourist attraction to start your family vacation. At the top of the tower, which is 627 feet above the city's downtown core, you'll get a 360° view of Calgary and the surrounding area. To learn more about the city's history and landmarks, take a complimentary tour. Your kids will have fun on the observation deck and will get a unique view of the city streets on the glass floor. Your family won't want to miss an opportunity to eat at the Sky 360 Restaurant. You get an incomparable view of the city as the restaurant revolves completely once every 45 minutes during lunch and once every hour during dinner.
Tip #1: If you make a reservation at the Sky 360 Restaurant and each member of your family orders an entrée (there's a kids' menu), your ride to the top is complimentary. Just let the hostess know before you board the elevator.
Tip# 2: Check out upcoming observation deck closures before visiting the Calgary tower.
Tip #3: Plan to visit Tourism Calgary's Visitor Information Centre at the base of the tower to find out more about the city.
(MORE: Looking for a place to stay? Check out the kid-friendly hotel Four Points Hotel Airport Calgary and its affordable rates.)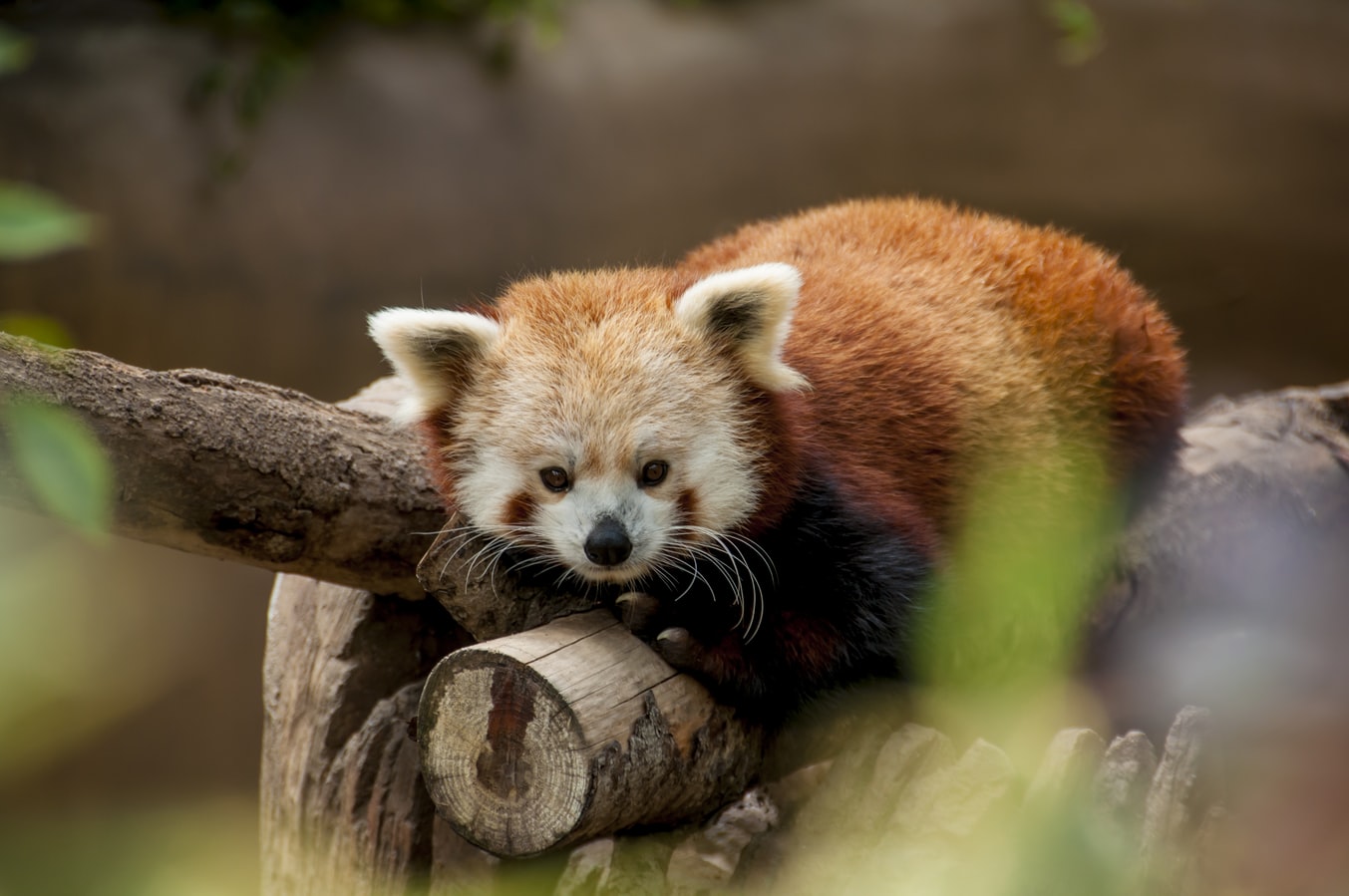 Red Panda at the Calgary Zoo (Unsplash: Jessica Weiller)
Of all the kid-friendly attractions in Calgary, keep the Calgary Zoo at the top of your list. Giraffes, hippos, bears, tigers and penguins are just a few of the animals that await your family. The zoo is divided into six sections that include Canadian Wilds, Conservatory and Gardens, Destination Africa, Eurasia, Penguin Plunge and the Prehistoric Park. You can explore each of these sections on your own or take advantage of the daily visitor programs for no extra charge. Young children will love the creature feature and story time (Thursdays only) and everyone (including your teens) will enjoy the interpreter talks to learn more about many of the zoo's animals. If you pack a picnic lunch, your family can enjoy the peaceful setting of the six-acre botanical gardens.
Tip #1: A stress-free way to travel to the zoo is on the C-Train (light rail system). Take the Northeast Line (Route 202) and get off at the "Zoo" stop.
Tip #2: Receive 15% off zoo admission with a Calgary attraction coupon.
Just 15 miles (25 kilometers) west of Calgary is Calaway Park. There are plenty of kids' activities at the largest outdoor family amusement park in Western Canada. The park boasts 32 rides, 24 food locations, 25 skill testing games and four attractions – with the Canadian Rocky Mountains as a backdrop. The "one-pay gate" admission covers unlimited rides, stage shows, live entertainment and even the parking. With something for everyone, you won't want to miss this family-friendly attraction. You can either drive or take a bus/taxi to Calaway Park. Visit the website for directions.
Tip #1: Save 38% if you order Playcation online discount tickets.
Heritage Park (Photo: explorekirkland.com)
For a change of pace, visit Canada's largest living history museum at Heritage Park. Located on 127 acres of parkland, there are over 200 exhibits and attractions that bring Western Canadian history to life. Kids' entertainment includes costumed interpreters giving demonstrations, including bannock and butter making, railway car shop tour, role playing with the Royal Canadian Mounted Police and Family Gallery crafts. There are different activities every day so it's best to check their website for the day that suits your family best. You can drive your car (parking is free) or take the C-Train to Heritage Station. During the summer months, Heritage Park Shuttle (Route 502) will take you right to the Heritage Park gate.
Tip #1: Download a self-guided walking tour in one of five languages (English, French, German, Chinese and Japanese) or pick up a map at the front gates.
Tip #2: Heritage Town Square is free to visit and is located just outside the park's gates. Within this two acre park, your family will be able to visit shops, an antique portrait studio, a café and restaurant. Gasoline Alley Museum is also free to visit. It houses the world's largest collection of antique trucks, cars and petroliana from the 1930s, 1940s and 1950s.
(MORE: Look for more kid-friendly things to do in Alberta, Canada.)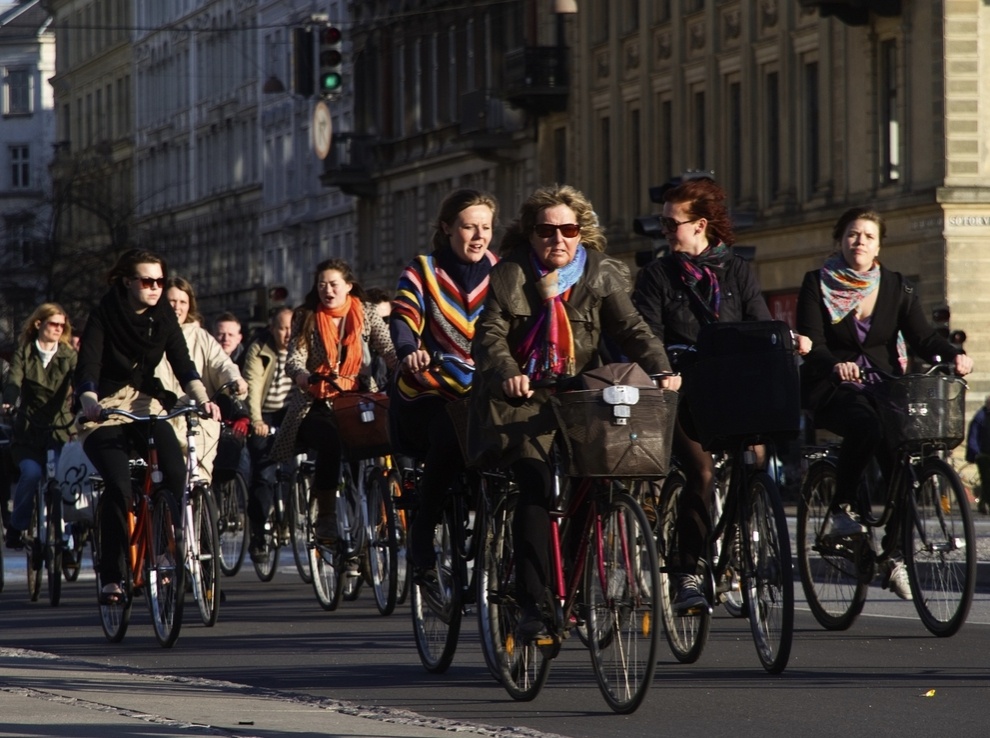 Bike culture in Calgary (Photo: Mikael Colville-Andersen)
There's one more thing you'll want to do in Calgary with the kids – bike riding on the most extensive urban pathway and bikeway network in North America. Bring your bikes (or rent them) and enjoy riding along the almost 500 miles (800 kilometers) of bike trails. A good starting point is Shouldice Park at 4900 Monserrat Dr. NW. Follow the bike path across the river to Edworthy Park, which offers a playground and has ice cream at the Angel Café – a great kid-friendly turn-around spot. The total return distance is about 2.5 miles (4 kilometers). If you want to go further, follow the bike path just under the Douglas Fir Hiking Trail and through the Lawrey Gardens Natural Area to Eau Claire Market ( in downtown Calgary, which is approximately 8.5 miles (14 kilometers). This is a super family-focused turn-around spot with a wading pool, indoor and outdoor playground and an indoor market with food court. Most of the path is flat except for the steeper hills under the downtown bridges.
Tip #1: Dress in layers as the weather in Calgary can change quickly.
Linda Wilkinson contributed this to MiniTime.