Unique Kissimmee attractions the kids will love.
By Holly Rosen Fink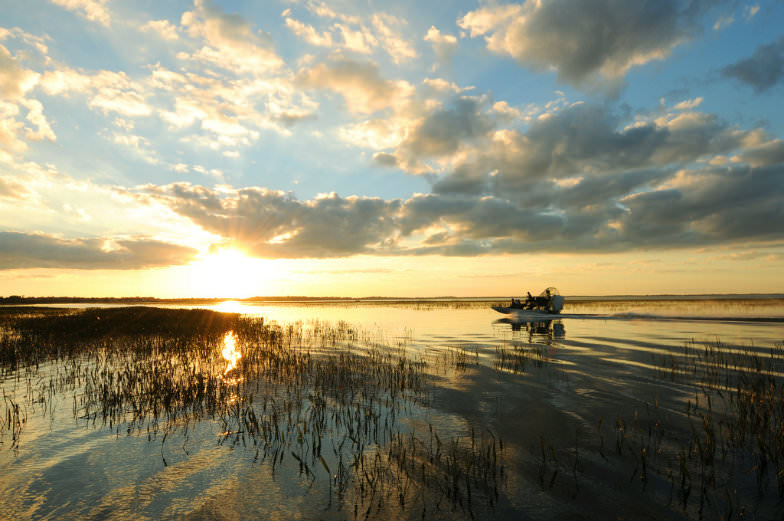 Lake Tohopekaliga in Kissimmee, Florida (Courtesy Experience Kissimmee)
If you're looking for a family vacation destination this spring filled with fun activities for adults and kids alike, look no further than Kissimmee, Florida. The town neighboring Orlando has so much to offer visitors and should not be overlooked. A vacation to Orlando can easily be split between the parks and the unusual attractions Kissimmee has to offer. Slightly off the beaten track, Kissimmee has adventures that have the capacity to leave a mark on your child's memory forever.
Here is a list of unusual family oriented activities and attractions that Kissimmee has to offer to include on your next family-friendly trip to Central Florida:
Orlando Tree Trek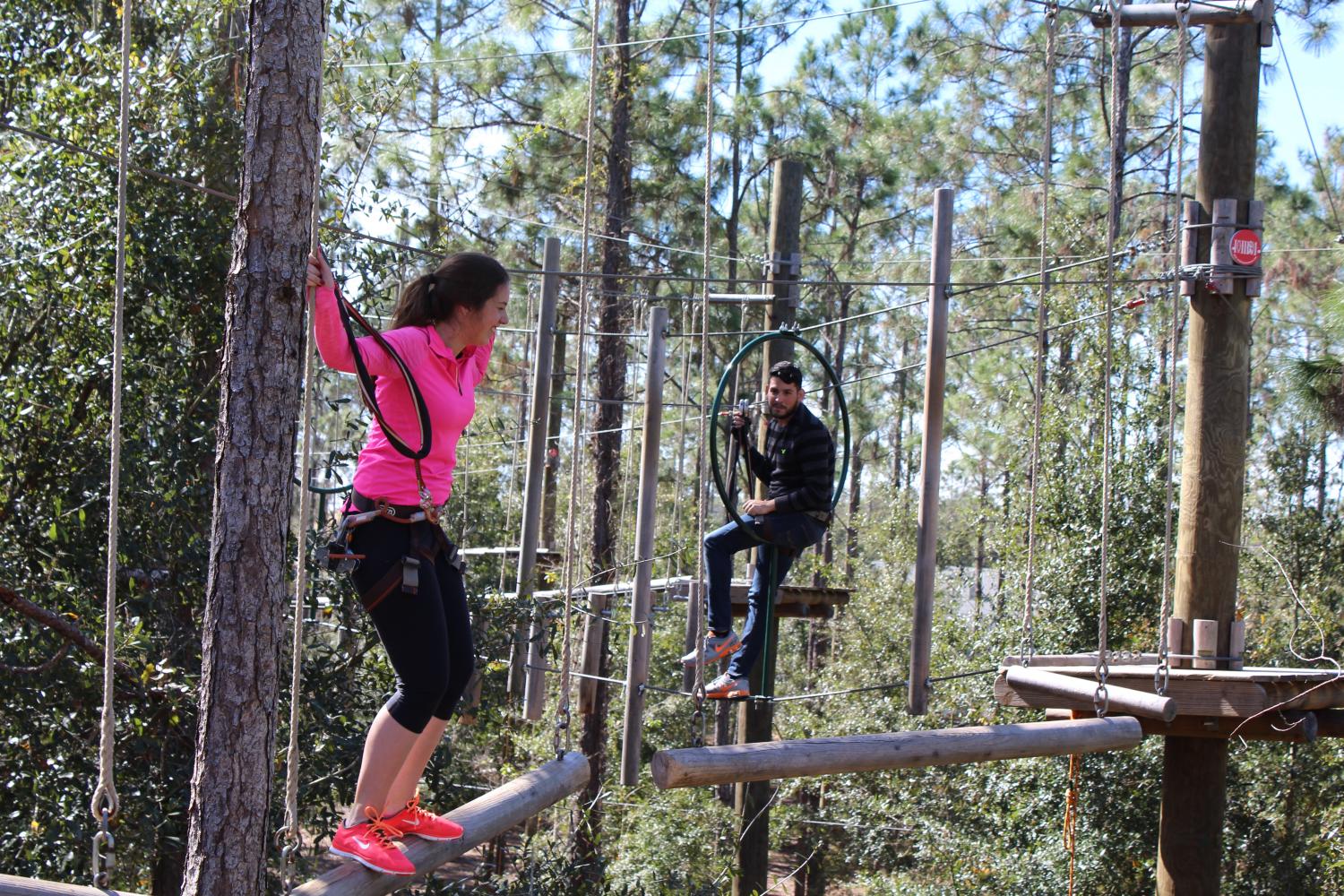 Swing through trees at Orlando Tree Trek (Courtesy Orlando Tree Trek)
Kids will go wild for a visit to the family-friendly Orlando Tree Trek. There they can partake in two hours of swinging through trees, zip lining and going through obstacles. The park has six color-coded courses, each with obstacles that include Tarzan-like swings, ladders, suspended bridges, scramble nets, swinging logs, surfboards and more. The experience offers great exercise and is a thrill for kids as young as 7. They offer a course for children ages 7-11 that includes 2 courses and 21 games.
Osceola Country History Society's Pioneer Village
Who knew that just miles from Disney would be a historical village comprised of authentic, original buildings from over a hundred years ago at Osceola Country History Society's Pioneer Village? On a walking tour around the village, you and your kids will be introduced to an 1898 "Cracker House," a 1900 general store, pioneer artifacts, blacksmith shop, sugar cane mill and an eight-acre pristine nature preserve under 100-year-old trees. It's a peaceful break and a worthwhile, family-friendly, educational visit for families.
Boggy Creek Airboat Rides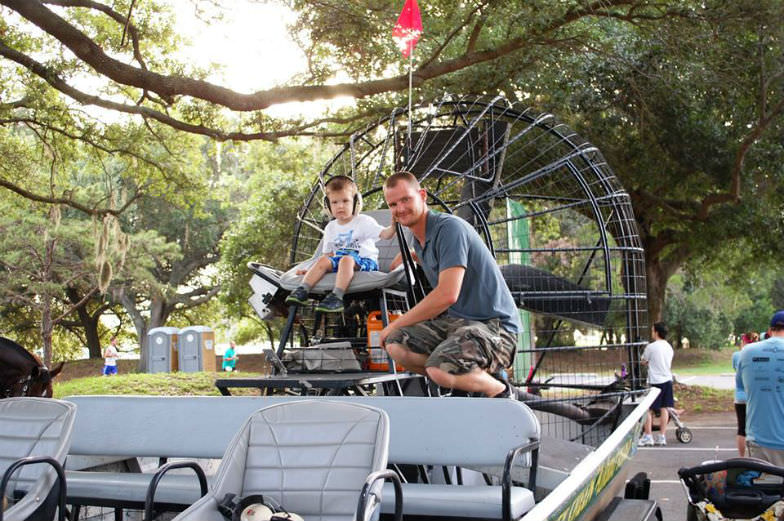 Airboat Ride with Boggy Creek Airboar Rides (Courtesy Boggy Creek Airboat Rides)
A highlight of any family vacation to Kissimmee is a ride on Boggy Creek Airboat Rides, where your kids will have the opportunity to ride the waves of the headwaters of the Everglades, spotting wildlife all along the way. The kids can search for alligators among the Florida everglades and get up close and personal with a baby gator at the end of this family-friendly trip.
The Paddling Center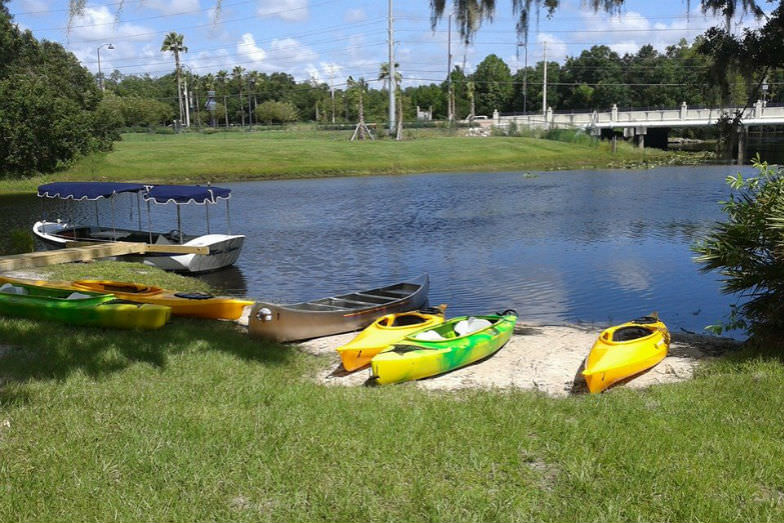 The Paddling Center (Courtesy The Paddling Center)
The Paddling Center, another family-friendly attraction, offers a helpful team to help choose and rent kayaks or canoes for one or two persons down Shingle Creek, a secluded area just off the main roads. You then take a self-guided tour (or guided tour) through braided channels in a cypress forest along a 32-mile trail extending from Kissimmee to Wek Springs Street Park and from Orlando to Mascotte. The multi-use trail runs along Shingle Creek, which are the headwaters of the Okeechobee-Everglades ecosystem. Along the way, your kids might spot vultures, frogs, birds and other forms of wildlife.
(MORE: Look for great kid-friendly hotels to stay in Kissimmee during your visit.)
The Osceola County Welcome Center & History Museum
The family-friendly Osceola County Welcome Center and History Museum has resources and exhibits that teach tourists about the county's rich history. The center contains the four different habitats that one will encounter in Osceola County including swamplands, pine flatwoods, oak hammock, and lakefront showcasing how nature and history are tied together. There are also various interactive exhibits and visitors can take a short walk down to the creek, and see first hand the wildlife in their natural setting as well as historic buildings in their original location.
Holly Rosen Fink of The Culture Mom contributed this to MiniTime. She is the founder of Pivoting Media who blogs about her love of culture and travel.