It's a great, big, beautiful tomorrow
By Dave Parfitt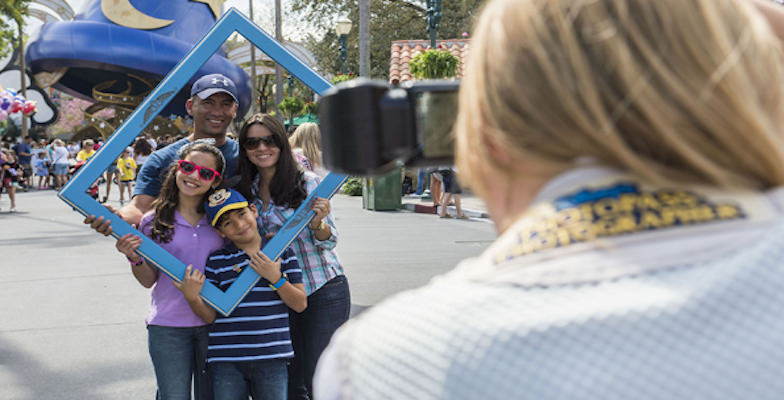 Walt Disney Parks
Walt Disney was a futurist, always looking towards the latest, greatest technology. It's fitting that on the 50th Anniversary of Walt Disney's Carousel of Progress that debuted as "Progressland" at the 1964 New York World's Fair – Walt Disney World ushers in MyMagic+ as its latest technological leap. MyMagic+ totally revamps how guests plan for and experience their Walt Disney World Vacation, and Disney hopes it creates even more "magic" for families. But just what is MyMagic+, and what makes it so… well, magical? Continue reading for our Walt Disney World MyMagic+ user's guide.
Essentially MyMagic+ is an integration of a new website and app (called My Disney Experience) with FastPass+ and a rubber/silicon wristband called the MagicBand. Walt Disney World has thrown out paper tickets, turnstiles and the old FastPass system in favor of MagicBands and FastPass+. Families can now make reservations for their favorite Walt Disney World ride, show, or character meet & greet in advance at home [60 days ahead for WDW resort guests and 30 days ahead for offsite guests]. Let's look at each component of MyMagic+ individually.
(MORE: View a family trip plan: 11 days in Orlando with kids.)
My Disney Experience Website and Mobile App
Once you have your Disney resort reservation or theme park ticket, the My Disney Experience website (mydisneyexperience.com) and free mobile app allows you to make plans and reservations right from home. You can add family members and friends to your party; link tickets and dining reservations; and keep everything in one place in the cloud.
My Disney Experience includes park maps, operating hours, show times, character locations, current ride waits, restaurant menus, and even bathroom locations. Every Walt Disney World theme park, resort hotel, and dining experience is included – providing the information you need to vacation plan and allowing you to have access to those details during your trip (via the mobile app).
If you feel like a vacation should be more free-wheeling, that's OK too. You can do as little or as much trip pre-planning as you like. The largest benefit of using My Disney Experience is making FastPass+ and dining reservations beforehand (more details below), but even if you decide to make no advanced reservations, you can still walk into the park and have a good time.
Disney FastPass+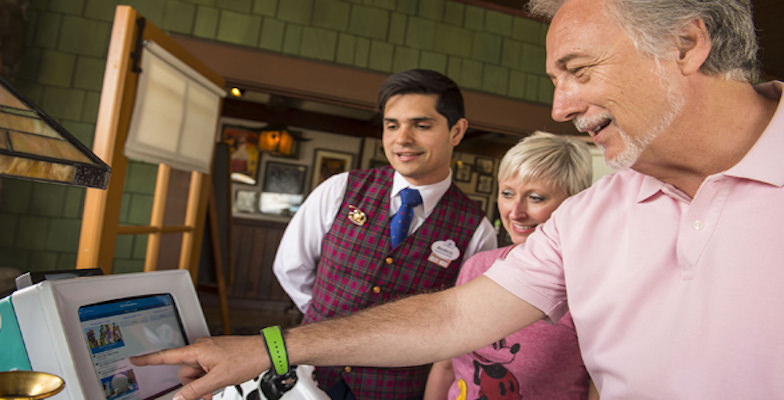 Walt Disney Parks
Disney's original FASTPASS system debuted in 1999, and allowed guests to receive a ticket with a one-hour window to come back and ride the attraction with little or no wait. Families could go off and enjoy other areas of the park instead of waiting in line. There was NO CHARGE for the FASTPASS system. With FastPass+, families can reserve their one hour window ahead of time, online, for up to THREE experiences as much as 60 days ahead of time for resort guests (30 days for offsite guests). There's still no additional cost for using the FastPass+ system.
Another change with FastPass+ is the number of attractions available to reserve. In addition to classic FASTPASS attractions like Space Mountain, Soarin', Toy Story Midway Mania, and Expedition Everest, Walt Disney World has added character greetings (think Anna & Elsa), viewing spots for parades (i.e., Festival of Fantasy) & fireworks spectaculars (Wishes), and even a reservation option for lunch at Be Our Guest Restaurant (WDW resort guests only). Yes, you can ensure your pomme frites are ready two months ahead of time. Once you have redeemed your first three FastPass+ selections, you can make a fourth FastPass+ selection. Redeem your fourth, select a 5th FastPass+ selection, and so on.
(MORE: Find a kid-friendly hotel near Disney World.)
Walt Disney World assures us that vacation flexibility is still key. You're not locked into the three FastPass+ selections. You can make changes at any time – even once you're inside the park – via the My Disney Experience mobile app or at kiosks throughout the park. Also, family members and friends within the same party are not required to have the same FastPass+ selections – everyone can make their own choices, share some, but not others, etc. Don't feel like making FastPass+ reservations ahead of time? That's OK too. You can still walk into a theme park that day and make three FastPass+ reservations at any in-park kiosk – or you and your family can just enjoy the park without using FastPass+ at all.
MagicBand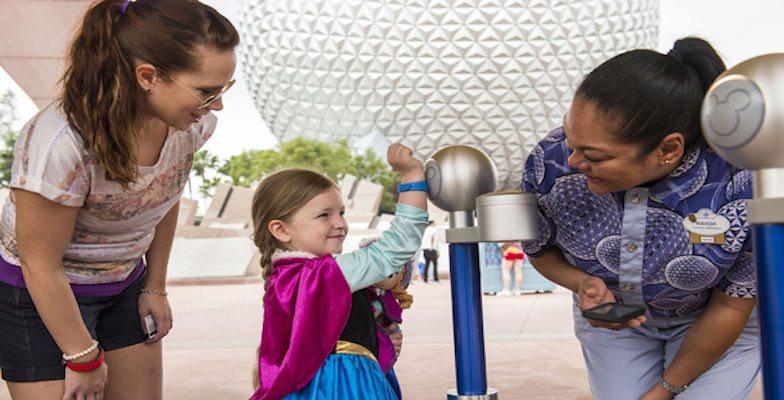 Walt Disney Parks
The key to MyMagic+ is a plastic/silicon bracelet known as the MagicBand. This high-tech, colorful band is your room key, park ticket, PhotoPass card, and wallet all rolled into one. The MagicBand comes in seven different colors (gray is the default option), and you can purchase accessories to give it your own personal style. You wear the MagicBand on your wrist, and it is incredibly comfortable. In fact, on my way home from Walt Disney World, I totally forgot I was still wearing it.
Radio-frequency (RF) technology connects your park plans, tickets, room keys, and even your credit card to the Magic Band. Disney assures us the MagicBands are safe and secure – no personal information is stored on the MagicBand. Instead, the MagicBand contains a randomly assigned code that securely links to an encrypted database to associate your Band with the experiences you selected. Purchases with the MagicBand require a PIN code that you assign to it, and the MagicBand can be disabled if lost.
Families staying at a Walt Disney World resort hotel can then opt to use the MagicBand to unlock their Disney hotel room, purchase food or merchandise, enter the theme parks and water parks, redeem FastPass+ reservations at attractions, and connect to Disney's PhotoPass (or Memory Maker). Simply hold your MagicBand to Mickey Head touch points throughout Walt Disney World, when the Mickey Head turns green, you're good to go.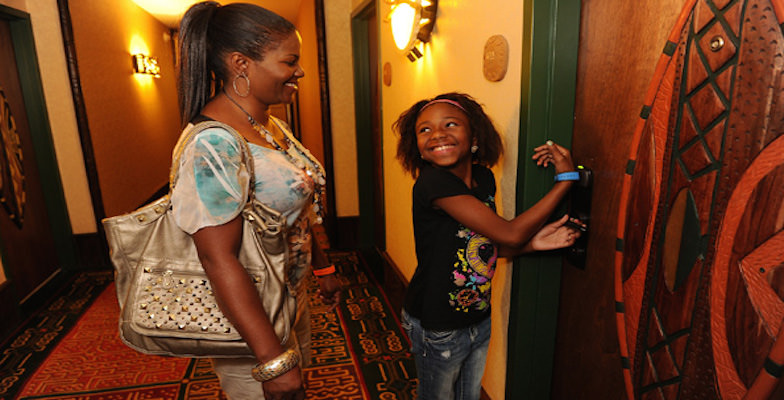 Walt Disney Parks
Disney is constantly looking for ways to streamline and improve the guest experience, from decreasing wait times with FASTPASS, to creating interactive queues when you are waiting in line, to now MyMagic+ and FastPass+ to help with vacation planning in addition to the experience. Walt Disney once said, "Disneyland will never be completed. It will continue to grow as long as there is imagination left in the world." MyMagic+ and FastPass+ will also continue to grow and evolve over time, but Disney hopes its latest innovation leaves guests thinking, "it's a great, big, beautiful tomorrow."
Dave Parfitt of Adventures by Daddy contributed this to www.MiniTime.com.