Ko Olina, Oahu, Hawaii
By Kristi Marcelle on Jul 16, 2015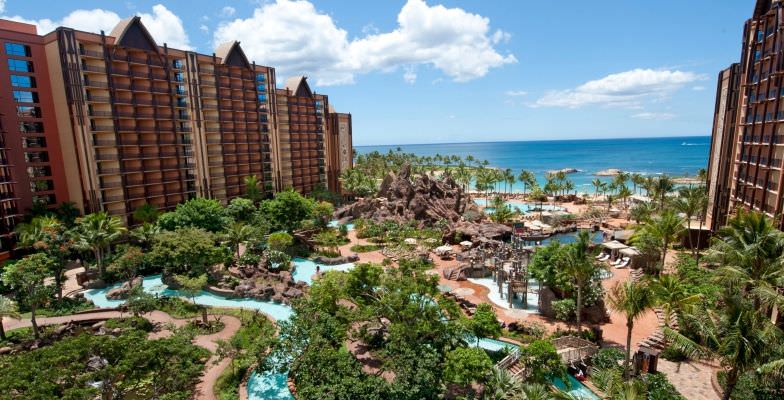 Aulani, A Disney Resort & Spa (Courtesy Disney)
Appealing to Disney fans and paradise seekers alike, Aulani, A Disney Resort & Spa, is at the intersection of two cultures rich in storytelling and family tradition.
Aulani, Disney's first property in Hawaii, opened in August 2011. In typical Disney style, the resort delivers exceptional entertainment for families with an impressively authentic Hawaiian accent. The overall experience is Disney lite; you'll catch glimpses of Disney characters, but except for resident Stitch, the rest of the cast is hanging loose on vacation at Aulani.
Why Go Now: Last fall, Aulani completed a resort-wide expansion that added more guestrooms and casual dining venues, as well as a sensational family infinity pool and water play areas. The signature Disney attention to detail and service finds its way into every guest experience.
Families may wince at the $400-a-night starting rate until they appreciate the myriad amenities and services included in a stay. From cultural experiences to beach and pool activities to the complimentary childcare at Aunty's Beach House, families can customize their schedules much as they would on a cruise ship.
Location: Aulani is located in the resort area of Ko Olina, on the island of Oahu, 17 miles from the Honolulu airport. Sitting on 21 acres, Aulani fronts one of four man-made lagoons that are home to green sea turtles, tropical fish, calm waters and a 2.3-mile walking path. Retail shops, a grocery and restaurants are across the street.
Room Options: The 840 rooms and Disney Vacation Club villas are spread out in two 16-story towers. Every room has a lanai or balcony. Standard guestrooms have mini-fridges and one- to three-bedroom villas feature full kitchens, washing machines and a hidden extra single bed. Regardless of which room category you choose, you'll likely spend most of your time enjoying the vast playground outside.
(MORE: View a family trip plan: 5 days on Oahu with kids.)
Aulani, A Disney Resort & Spa (Courtesy Disney)
Just For Kids: Except for Laniwai Spa, some exercise classes, and the two adult pool areas, it's all about kids at Aulani. From the Mickey waffles at the daily character breakfast to the hula party to mini outrigger canoe building and racing, kids can pack in the fun at Aulani. Popular events such as the fire-pit storytelling occur several times each day. Tweens and teens have their own clubhouse and scheduled activities, which include beach scavenger hunts, game nights, and crafts.
Childcare: Aunty's Beach House is a kids' club for ages 3 to 12 that's complimentary for guests and open daily from 9:30 am-9 pm. In-room babysitting is available for $30 an hour.
Recreation: The Waikolohe Valley is a spectacular seven-acre playscape featuring a man-made snorkeling reef, a lazy river, and pools with water slides and water play towers. Kids can go on a high-tech scavenger hunt and match wits with mischievous Menehune, or poke their heads underwater at the new Ka Maka Grotto infinity pool to hear intermittent whale and dolphin sounds. At the beach, they'll find complimentary Ping-Pong and boogie boards and can try out paddle boarding, kayaking, or snorkeling in the calm waters.
(MORE: Oahu's Most Amazing Hotel Pools)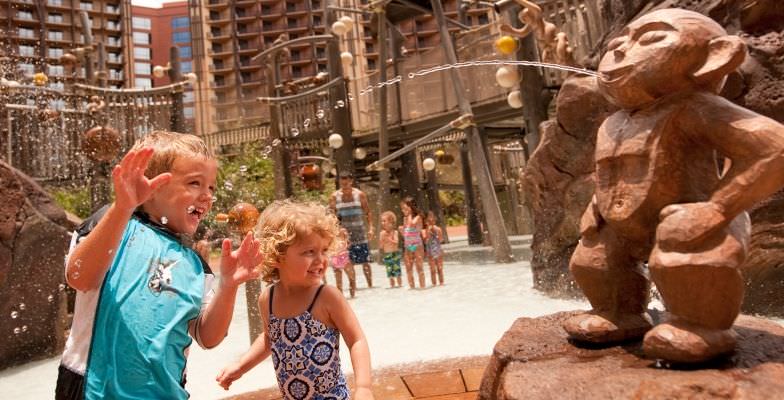 Aulani, A Disney Resort & Spa (Courtesy Disney)
Where to Eat: Aulani's signature restaurant, 'AMA 'AMA, offers gorgeous ocean views –you might catch a humpback whale breaching in season—and is more reasonable for families at breakfast and lunch. Casual options include Off the Hook, a sit-down open bar with lunch and nightly appetizers, and Makahiki, scene of the daily character buffet breakfast ($18 for kids ages 3-9; $32 for kids 10 and up) and nightly buffet. Quick grab-n-go options include the new Ulu Café and Papalua Shave Ice, Mama's Snack Shop. and Little 'Opihi's at the beach.
Insider Tips:
Laniwai Spa is a must for stressed moms. No other spa on Oahu has an outdoor hydrotherapy garden with rain showers that make you feel like a kid running through the sprinklers.
Don't miss the sea turtles at Paradise Cove. A five-minute walk from the resort takes you to a small cove where you'll typically see two to five turtles. The one without a flipper is named "Lucky."
The best deal for a snack is at Papalua Shave Ice ($3.75 for a single flavor)
Pool games with Disney characters on Fridays and Saturdays are a hit with kids
Kristi Marcelle, a California based-freelance writer, contributed this to www.MiniTime.com