Theme Parks with kids
By James Holland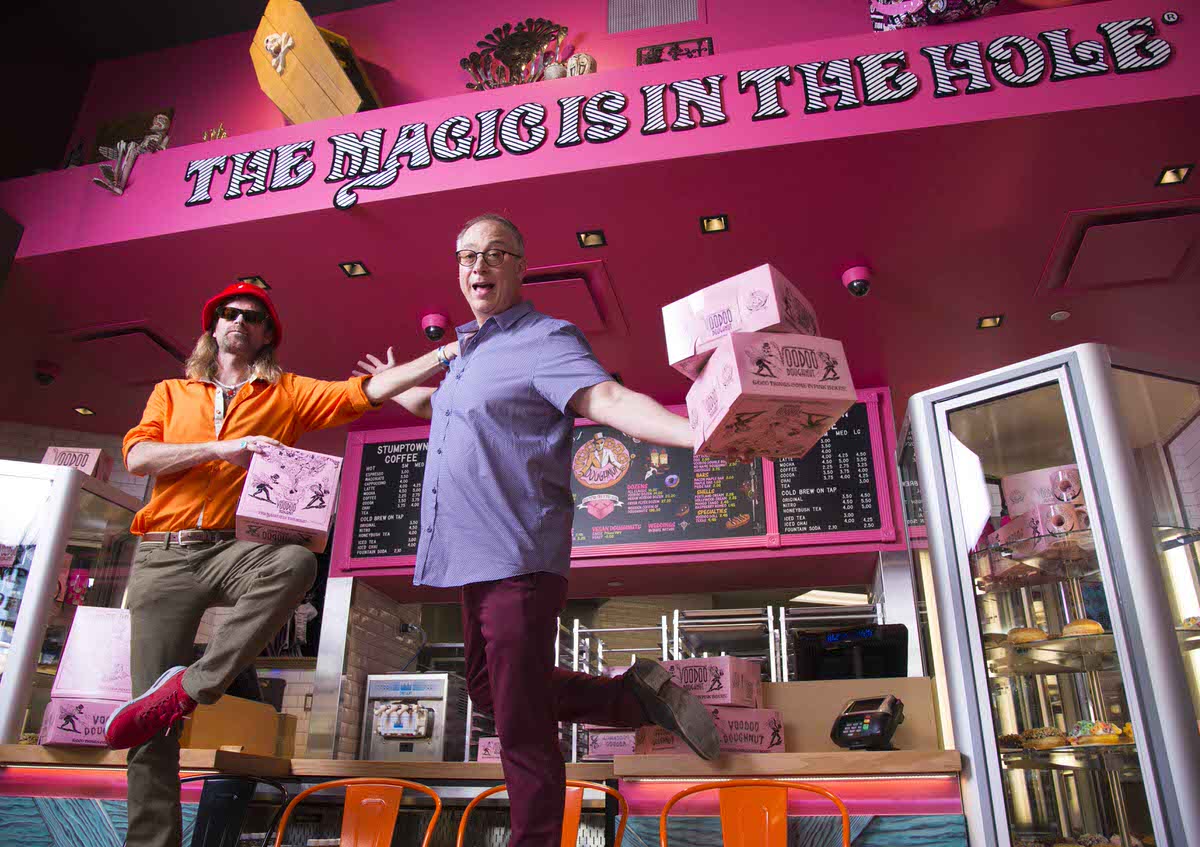 Voodoo Donuts is just one of the few new things at Universal Studios Hollywood this 2017. (Courtesy Wonho Lee/Universal CityWalk)
Universal Studios Hollywood is already a top family-friendly destination in Southern California. Still, they don't rest on their laurels. In fact, one of the most exciting things about Universal Studios is their continual roll out of new and exciting features, restaurants, and programs.
This upcoming season is already looking particularly exciting. Additions include Dreamworks related programs and the new nighttime Wizarding World of Harry Potter light show. New at Universal Hollywood also includes exciting new food options. Check out Portland's most famous and eclectic donut shop, Voodoo Doughnut, and the new, breezy Margaritaville location. Don't forget to take in a movie at the AMC Theatre, which has also gone through an amazing renovation.
(MORE: What's New at Universal Orlando in 2017)
Voodoo Doughnut
What's new at Universal Hollywood is a little taste of Portland in the form of eclectic and iconic Voodoo Doughnut. The bright pink building is hard to miss on the CityWalk where a large Voodoo Doll doughnut (statue) welcomes you in. Come for the iconic Voodoo Doughnut. Stay for the Hollywood Cream, the Bacon Maple Bar, The Loop and many, many more. There are even vegan options for those with said dietary restriction. Don't forget to grab a cup of Portland's finest Joe while there, courtesy of renowned Portland roaster Stumptown.
Margaritaville
The man himself kicked off the March opening of Jimmy Buffet's Margaritaville with a performance. The restaurant offers the perfect reprieve from an activity-filled day at Universal Studios. It's casual, complete with palm trees, thatched enclaves, and surfboard tables. The 5 O'Clock Somewhere Bar at the center of the restaurant offers an array of beverages for the adults in the family. Menu offers family favorites as the LandShark Lager Fish & Chips, Jimmy's Jammin' Jambalaya, and the Volcano Nachos.
AMC Theatre Universal Cinema
AMC Theater's exciting renovations, new at Universal Hollywood, are sure to pique the interest of film buffs in the family. Lounge in their new deluxe, recliner seating. The split-level structure makes every seat worth sitting in. You'll be immersed by upgrades such as the Christie RGB 4k Laser projection and Dolby Atmos immersive surround sound. Even the screens are perforated to allow for 360-degree audio. If the technical stuff doesn't excite you, then maybe the Director's Lounge Cocktail Bar will. Situated on the second level, the bar offers the perfect pre and post-movie going fun. Best of all, you can take your drinks into the second level theatres. The Marketplace offers more than popcorn, candy, and sodas. Hotdogs, nachos, curly fries, milkshakes and fruit smoothies are on offer as well. As Steven Spielberg said at the unveiling, "moviegoers have the rare opportunity to see movies at the very place where movies are actually made."
Nighttime Lights at Hogwarts
The Wizarding World of Harry Potter already a star attraction since its opening will offer one more reason to visit. New at Universal Hollywood come late June, "The Nighttime Lights at Hogwarts Castle" will run several times a night. This light display, accompanied by a special John Williams arrangement, highlights the four houses of Hogwarts. The projection fans beams of light into the night sky. So grab your butterbeer and end your night on a magical note.
(MORE: 5 Tips for a Family Day at Universal Studios Hollywood)
Dreamworks Programs
Dreamworks Animation is now a part of the Universal family and as such will become a part of the Universal Studios' landscape. New at Universal Hollywood in 2018, the Dreamworks Theatre will hold several action-packed attractions including one inspired by new Kung Fu Panda. You'll also be able to meet Kung Fu Panda, Madagascar and Trolls' characters as soon as this summer.
James Holland of Another Spur on the Road contributed this to MiniTime.