A Rundown of What's Up and Coming at the Universal Studios Orlando.
By Dave Parfitt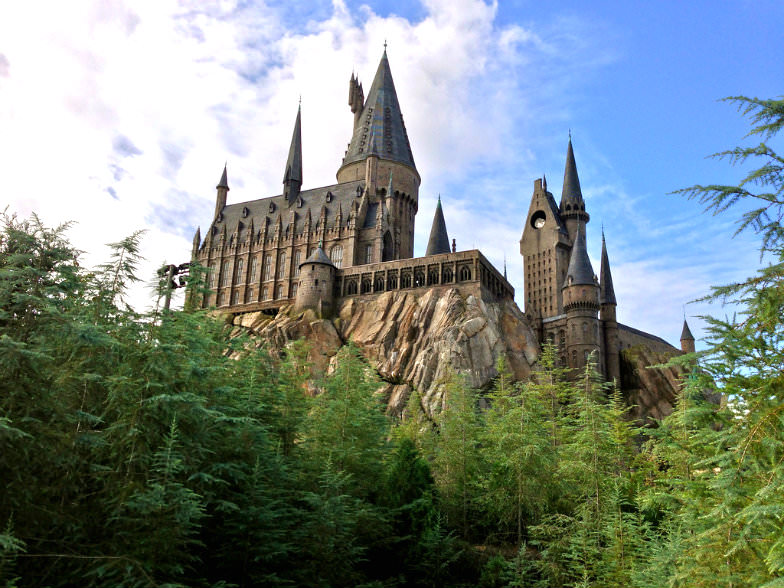 The Wizarding World of Harry Potter (Flickr: Jeff Kays)
Arguably the MOST anticipated addition to any theme park in the country (if not the world) is Universal Orlando Resort's expansion of the Wizarding World of Harry Potter. At least, it's the most anticipated in our family of Potterheads. The Wizarding World of Harry Potter's Diagon Alley opens at Universal Studios Florida this summer, but that's not the only new addition to the kid-friendly Universal Orlando Resort. They recently opened their fourth onsite hotel – a retro-cool throwback to the 60's called Cabana Bay Beach Resort, and Universal's CityWalk entertainment district is receiving a massive overhaul including eight new eateries opening over the course of 2014. Continue reading for more details on what's new at Universal Orlando in 2014.
Wizarding World of Harry Potter Diagon Alley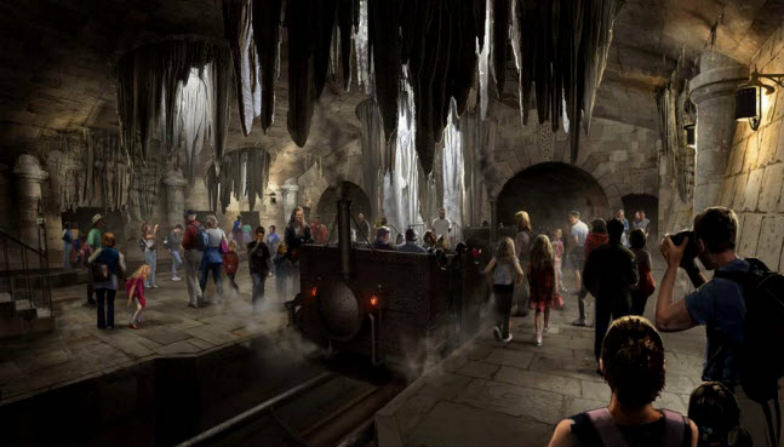 Rendering of Escape from Gringotts
When the Wizarding World of Harry Potter Diagon Alley opens at Universal Studios Florida, Muggles will pass, for the first time, through London to wander the alleys and storefronts that make up Harry Potter's world. In addition to the famous shops and restaurants from the books and movies such as: Wiseacre's Wizarding Equipment, Scribbulus, Ollivanders: Makers of Fine Wands since 382 BC, Borgin and Burkes (on the sinister Knockturn Alley), the Leaky Cauldron and Florean Fortescue's Ice-Cream Parlour, there will be a signature thrill ride that your kids will love called Harry Potter and the Escape from Gringotts.
Hidden deep underneath beneath the marble hall of Gringotts Wizarding Bank lie peril, trolls, the Death Eater Bellatrix Lestrange, a dragon and the darkest wizard of all, Voldemort. Not quite a roller coaster, Universal Orlando calls Harry Potter and the Escape from Gringotts a "next-generation" thrill ride integrating fully-immersive sets, 4K digital hi-def animation, 3D projection and live effects to create a seamless attraction.
(MORE: Find kid-friendly hotels near Universal Studios Orlando.)
Harry Potter and the Escape from Gringotts anchors the new Wizarding World of Harry Potter Diagon Alley. If that's not enough Harry Potter for you, wannabe wizards can pile their bags high on a trolley, gather a head of steam and start running towards the wall on Platform 9 ¾ to board the NEW Hogwarts Express. In your authentic Hogwarts Express car, you will experience iconic scenes from the Wizarding World including Hagrid, Buckbeak and possibly even Dementors as you travel from London's Diagon Alley to the original Wizarding World of Harry Potter Hogsmeade (located in Universal Orlando's Islands of Adventure theme park. 2 park tickets required.
Cabana Bay Beach Resort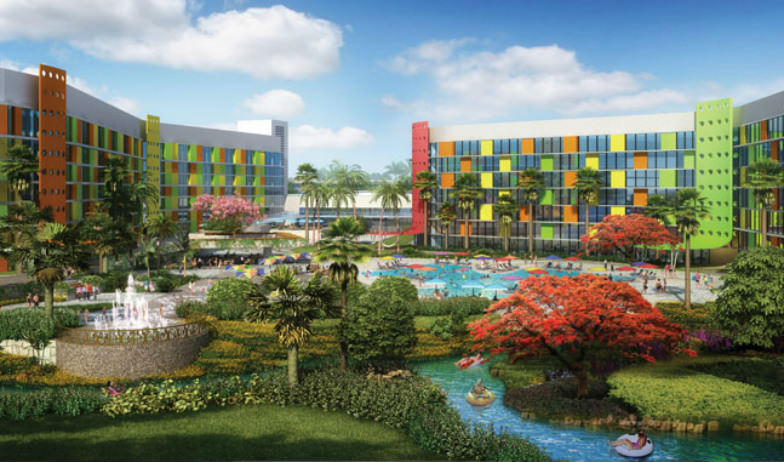 Rendering of Cabana Bay Beach Resort
In March, Universal Orlando Resort opened its fourth on-site hotel, Universal's family-friendly Cabana Bay Beach Resort. This ultra-hip, 1960's retro-inspired hotel features moderately priced family suites that sleep up to six along with value-priced standard rooms. Other amenities include a 10,000 sq ft zero-entry pool with iconic dive tower waterslide, Galaxy Bowl 10-lane bowling alley and Jack LaLanne Physical Fitness Center. Later this summer, the second phase of Universal's Cabana Bay Beach Resort will open and families can enjoy a second 8,000-square-foot zero entry pool complete with Universal Orlando's first on-site lazy river. Cabana Bay Beach Resort also features the Swizzle Lounge lobby bar, a well-themed Starbucks, the Bayline Diner food court and The Hideaway Bar & Grill. Dig out your horn-rimmed glasses, put up your beehive, pour a martini and slip back into the 60's when you check into Universal's Cabana Bay Beach Resort.
(MORE: Explore these wonderful trip plans by your fellow MiniTimers.)
Universal CityWalk
Complementing the addition of Diagon Alley and Universal Orlando's largest on-property hotel, Universal CityWalk will unveil eight entirely new venues over the course of this year. Two restaurants have already opened including Red Oven Pizza Bakery – Universal's first Neopolitan-style pizza bakery – and Antojitos Authentic Mexican Food, which you're going to want to give a try if you're a fan of mariachis, margaritas and mole.
The remaining eateries include Hot Dog Hall of Fame, featuring iconic hot dog creations from some of our nation's most famous ball parks; The CowFish, an innovative and trend-setting concept out of Charlotte, North Carolina with a signature dish called "Burgushi" – a fusion of burgers and sushi (I've got to try it to believe it); Bread Box, a home-style sandwich shop; and VIVO Italian Kitchen, where guests watch the culinary team prepare pasta from scratch. Rounding out the new additions are frozen treat spots Cold Stone Creamery (ice cream) and Menchie's (frozen yogurt).
With two theme parks, two Harry Potter Worlds, four themed on-site hotels and a state-of-the-art nighttime entertainment complex, Universal Orlando Resort is primed to help your family "vacation like they mean it" in 2014.
Dave Parfitt of Adventures by Daddy contributed this to www.MiniTime.com.