Best log rides to cool down this summer.
By Katrina Brown Hunt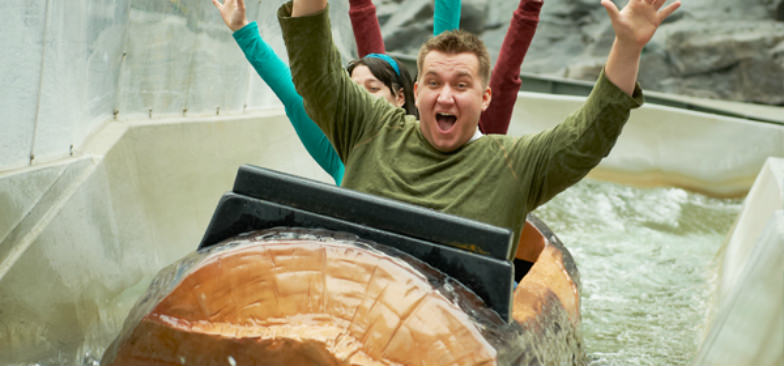 Log Chute at Nickelodeon Universe (Nickelodeon Universe)
During the mid-afternoon heat at a theme park, nothing (short of ice cream) breaks the fatigue quite like a log ride.
The classic theme park ride—fun, but rarely scary—has some legit historical roots. Back in the 19th century, v-shaped flumes were used at saw mills to transport logs, with the rushing water preventing the dreaded "log jams." No doubt, somewhere along the way a few mill workers realized it was fun to joy-ride on the logs, but it was not until the 1960s that a faux saw mill first appeared at an amusement park, with modern technology adding some speed and thrills. While most theme parks have some version of a log ride—most based on that lumber mill theme, but some straying from the theme (and even into the sewers)—here are the most classic, and craziest:
El Aserradero (Six Flags Over Texas, Arlington, TX)
This is the oldest log ride around, debuting in 1963 at this Dallas area theme park and sitting in the Spain section of the park (the park's zones are themed by the different flags under which Texas has existed). It lasts just 3.5 minutes and only goes 15 mph, but it's a classic. You can also ride its twins at parks such as Six Flags Great Adventure. Height requirement: 42 inches.
Timber Mountain Log Ride (Knott's Berry Farm, Buena Park, CA)
Timber Mountain Log Ride at the Knott's Berry Farm (Flickr: AngryJulieMonday)
Mechanical figures, taxidermy animals, and a 19th century vibe. This early log ride has been a favorite at the Orange County park since 1969 (John Wayne took the inaugural ride). The 3,900-foot-long ride includes an 8-story building and runs on a traditional lumber mill theme. In keeping with its It's a Small World-esque appeal, the characters and scenes got spruced up in 2013. Height requirement: 36 inches with an adult or 46 inches alone.
(MORE: Find kid-friendly hotels near Knott's Berry Farm.)
Log Chute (Nickelodeon Universe, Minneapolis)
This Paul-Bunyan-themed ride debuted in 1992 with the rest of the Mall of America's mostly-indoor amusement park, Nickelodeon Universe. The ride breaks out into the outdoors for sections and has two drops, including a 40-foot plunge as its finale. Considerately, since you're largely indoors (and depending on the time of year, Minneapolis is mighty chilly), the ride is designed to just mist, rather than douse, riders. Height requirement: 36 inches.
Dudley Do-Right's Ripsaw Falls (Universal's Islands of Adventure, Orlando)

Dudley Do-Right's Ripsaw Falls at Universal's Islands of Adventure (Universal Orlando)
Set in a sawmill in the Canadian North Woods, this much-loved log ride has its own storyline: Mountie Dudley Do-Right must save a damsel in distress, Nell Fenwich, from classic villain Snidely Whiplash. Along the way, the ride boasts of being the first to send you "below" the water's surface, with a 75-foot drop and an "exploding" dynamite shack. Height requirement: 44 inches with an adult and 48 alone.
Splash Mountain (Disneyland, Magic Kingdom and Tokyo Disneyland)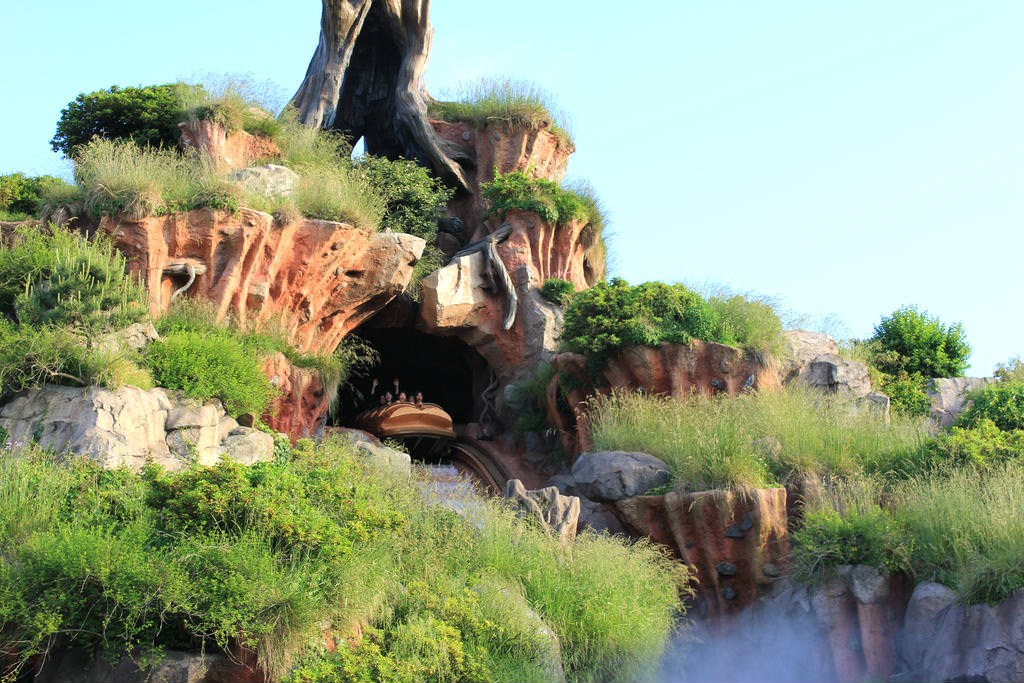 Splash Mountain at Disneyland (Flickr: Evelyn Lim)
This classic flume ride opened at Anaheim's Disneyland in 1989—it moves more briskly than its predecessors, at up to 40 mph—and has near replicas in Orlando and Tokyo Disneyland, all with a 53-foot drop, and is based on the 1946 film Song of the South. Serious Disneyphiles give special props to the version at Tokyo Disneyland, where the ride is most like the Orlando version, except that you get to hear the song "Zip-a -Dee-Doo-Dah" in Japanese. Height requirement: 40 inches.
Journey to Atlantis (SeaWorld parks in Orlando, San Diego and San Antonio)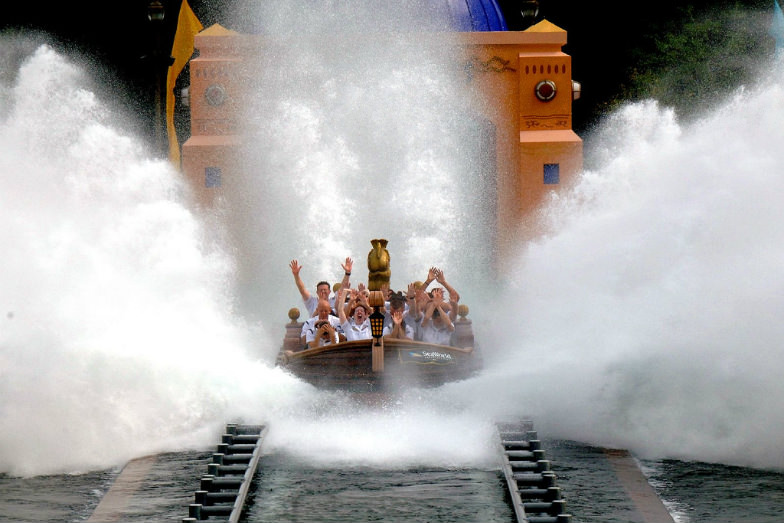 Journey to Atlantis at SeaWorld San Antonio (Sea World Parks)
The aquatic theme park swaps the mystical underwater city for a lumber mill in this hybrid coaster flume ride that lives at all three Sea Worlds. They differ slightly: Orlando has a bigger indoor section, while San Diego offers the longest ride. Each has a 70-foot drop and goes up to 42 mph. Height requirement: 42 inches with an adult and 48 inches alone.
(MORE: Experience all three log rides in Orlando. Find kid-friendly hotels in Orlando, Florida.)
The Flume (Alton Towers, UK)
When The Flume opened in 1981, it was the longest log ride in the world—2,900 feet long—and had a forest theme. In the 1980s, it morphed into a dinosaur theme, and these days, you ride in floating bath tubs, bobbing past rubber duckies among the three big drops, including one that's 85 feet high. Height requirement: 40 inches with an adult and 52 alone.
The Water Rats (Bon Bon Land, Denmark)
This—let's just say quirky—theme park in southern Denmark was founded by a candy maker whose sweets found success with kids despite (or because of) their icky names (exhibit A: Bird Droppings). The park is no different —Farting Dog is the signature rollercoaster—and the Water Rats flume ride recreates not a woodsy saw mill, but a jaunty ride through the sewers with their rodent residents (who, perhaps, sometimes throw up). Height requirement: 36 inches with adult, 52 inches alone.
Katrina Hunt Brown contributed this to www.MiniTime.com.