Top 7 colorful kite festivals to see this summer
By Josephine Levin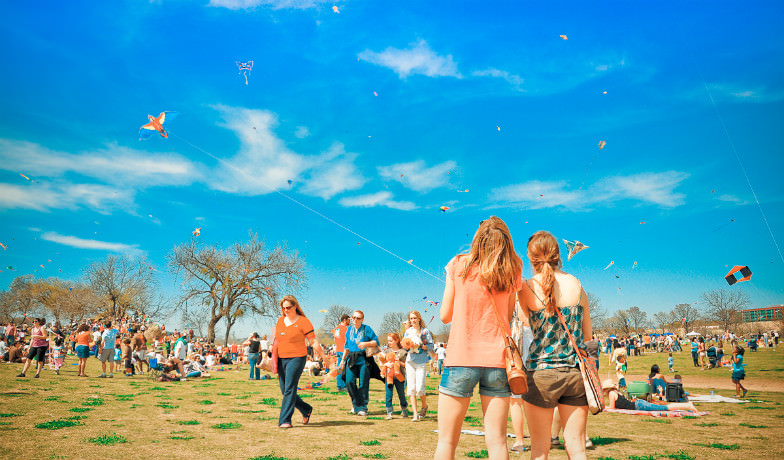 Zilker Kite Festival in Austin, Texas (Flickr: Joe Van)
If you are looking for a great fun filled day with the kids that will be enjoyed by all family members then go to a kite festival. As long as the wind blows there will be kites. There is something very relaxing about seeing the sky filled with all kinds of beautiful shapes and colors. Here are some of the best family-friendly kite festivals and suggestions of what to do in their area.
Washington State International Kite Festival, Washington
The Washington State International Kite Festival (August 18-24, 2014) is held annually at the Long Beach Peninsula, which is also the site of the World Kite Museum. The week-long Washington State International Kite Festival attracts kite flyers from over the world and is full of all kinds of kid-friendly activities such as kids camps, top kid award, kid kite-making, top kid on the beach, indoor kite flying, fireworks. and more. Best of all, you can fly your own kites along the longest beach in the world on the beautiful Pacific Ocean.
What else: The World Kite Museum offers kids a delightful experience with kid-friendly hands-on exhibits of 1,500 kites from 26 countries and a chance to make their own kites.
(MORE: Stay a while and see more. Look for kid-friendly hotels in Washington State.)
Lincoln City Fall Kite Festival, Oregon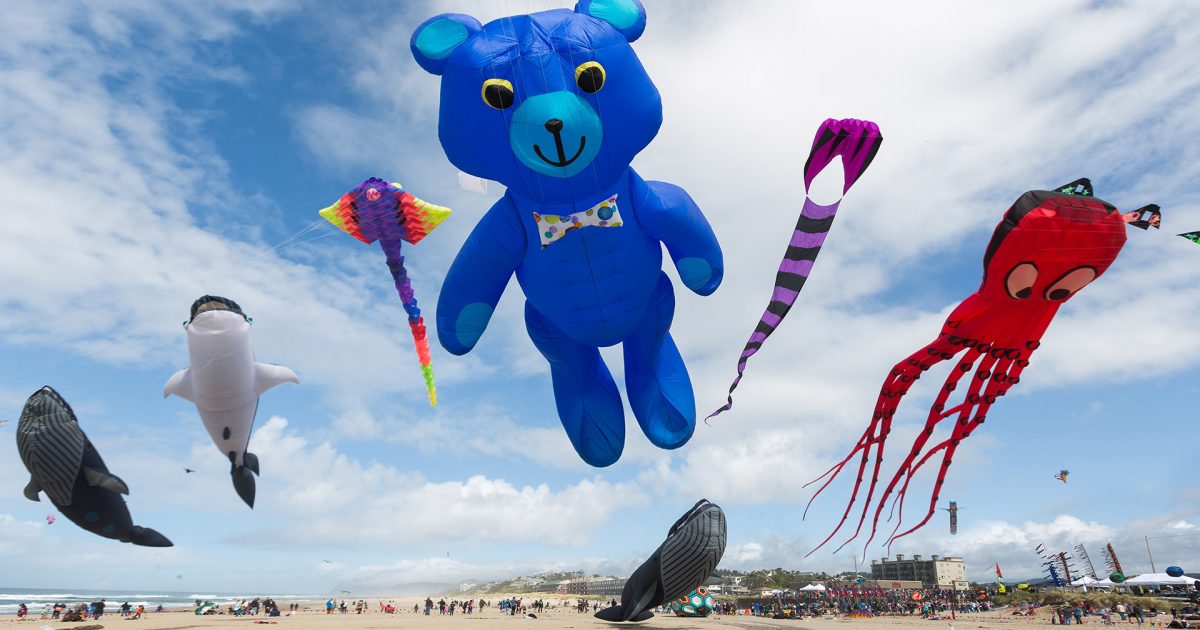 Lincoln City Fall Kite Festival in Oregon (Photo: oregoncoast.org)
Lincoln City, on the central Oregon coast, is the site of the Fall Kite Festival (October 4-5, 2014) and has special wind conditions which make it an ideal place for flying kites. Kids will love running with their kites along the beach of the D-River State Wayside. They will enjoy using their own special kids passports, attending a free kids kite-making workshop, and be enthralled viewing the life-size giant whale kites.
What else: Lincoln City offers surfing, paddle boarding, kite boarding, kayaking, rock and agate hunting, art shops, restaurants, and other festivals and events.
Zilker Kite Festival, Austin, Texas
The Zilker Kite Festival (March 1, 2015, Rain date: March 8) is a free kid-friendly event in Zilker Park that offers contests, moon walks, rock wall climbing, face painting, bungee jumping, and a make-your-own-kite workshop. Zilker also has kite festival safety rules to help insure that you and your little ones will have a wonderful and safe time. Money spent on T-shirts and food goes to local non-profits working to prevent child abuse.
What else: Austin is known as the "live music capital of the world" with live music played everywhere. Among the kid-friendly attractions are the Austin Zoo and Animal Sanctuary and the Austin Children's Museum.
Blossom Kite Festival, Washington, DC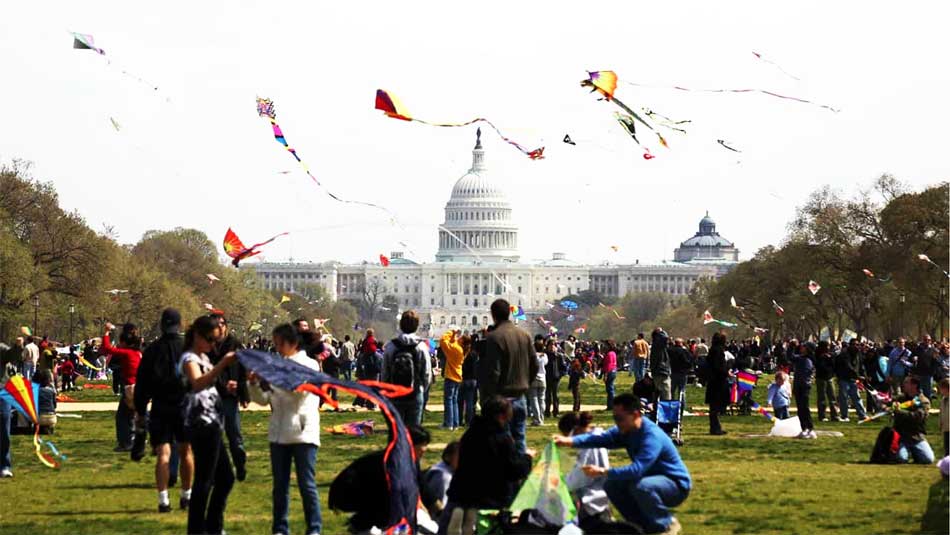 Kids at the Blossom Kite Festival in Washington, DC (Courtesy of the National Cherry Blossom Festival)
The Blossom Kite Festival (March 28, 2015; Rain date March 29) is part of the annual Cherry Blossom Festival in Washington DC that celebrates spring. The Kite Festival is a free event that attracts professional kite flyers from all over the world to perform and participate in various competitions. At the Family Field, kids can bring their own kite to fly or make a kite at the activity station.
What else: The Cherry Blossom Festival (March 20-April 12, 2015) has other free fantastic kid-friendly events, including a parade and fireworks. You can also take the kids to the National Zoo, the National Children's Museum, the National Air and Space Museum, Glen Echo Park, Discovery Theater, and Six Flags America.
(MORE: Want to more of the capital? Look for kid-friendly hotels in Washington D.C.)
Kite Fest Louisiane, West Baton Rouge, Louisiana
This free family-friendly Kite Fest Louisiane (April 2015) attracts about 20,000 people every year and has fun activities for kids like designing and making kites and fascinating night flying with lit up kites. Best of all for kids are the kites that drop candies!
What else: West Baton Rouge also offers some great southern hospitality, a chance to taste Cajun and Boudin cuisine, scenic strolls along the promenade and levee of the great Mississippi River, and picnics at the Mississippi Riverfront Development. Some nearby kid-friendly attractions are the Baton Rouge Zoo, Bluebonnet Swamp, Cajun Lagoon, Cat Island National Wildlife Refuge, and Jambalaya Park.
Great Lakes Kite Festival, Grand Haven, Michigan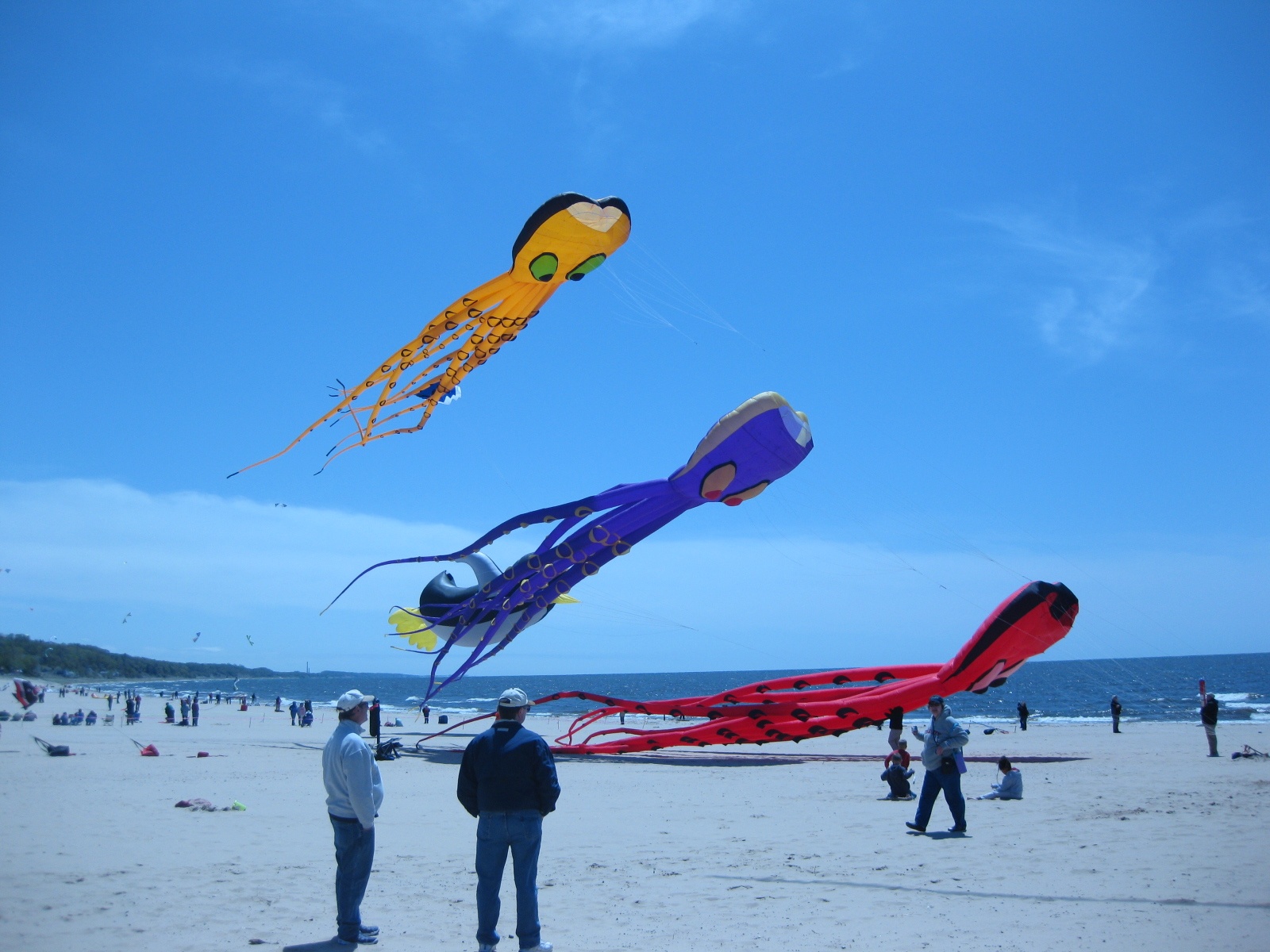 Purple octopus at the Great Lakes Kite Festival in Michigan (Flickr: Brandon C)
The Great Lakes Kite Festival (May 16-17, 2015) is a free family-friendly event held at the Grand Haven State Park Beach that offers the money-saving opportunity to camp at Grand Haven State Park. Some of the highlights are giant kites, indoor kite flying, kite ballets, and even kite boarding on Lake Michigan. The site also has a special Kids Fun area.
What else: Nearby is the world's largest Musical Fountain with summer nightly performances. The Harbor Trolley travels throughout the Tri-Cities area and is a great way to get to shops and restaurants.
Berkeley Kite Festival, Berkeley, California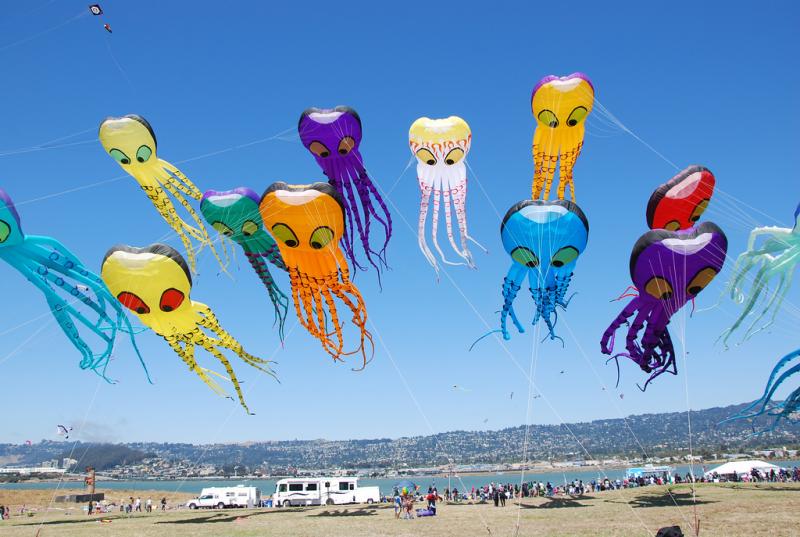 Flying octopus at the Berkeley Kite Festival in Berkeley in the Bay Area (Flickr: Maywong_Photos)
The Berkeley Kite Festival (July 25-26, 2015) is a free family annual festival held at Cesar E. Chavez Park at the north end of the Berkeley Marina in the San Francisco Bay area. Highlights include candy drop from the kites, free kite making, and free kite flying lessons. The Kids Zone features bounce houses, a petting zoo, pony rides, face painting, and arts and crafts. You can also get a reduced price on a yacht and meal cruise on the San Francisco Bay.
What else: The Bay area is full of all kinds of kid-friendly attractions and events. Some of the sights include Fisherman's Wharf in San Francisco, Golden Gate Park, the Nature Center and Adventure Playground at the Berkeley Marina, Children's Fairyland in Oakland, the Oakland Zoo, and Redwood Regional Park.
Josephine Levin contributed this to MiniTime.
Click to rate this post!
[Total:

0

Average:

0

]