Gargantuan skeletons, fossil digs, and even footprint tracking
By Dave Parfitt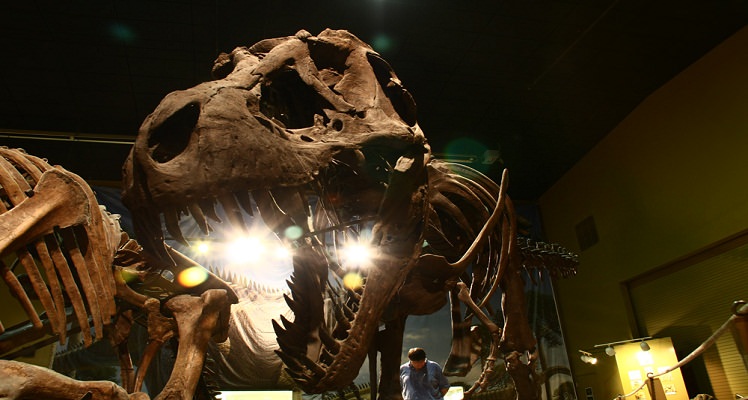 Skeletons at the Wyoming Dinosaur Center (Wyoming Dinosaur Center)
When "Jurassic Park 3D" roared into theaters last spring, it inspired a new generation of pint-sized paleontologists and their parents to seek out up-close and personal encounters. Natural history museums across the country are full of stupendous dinosaur fossils, but they are not the only way to foster a fascination with the prehistoric beasts. These 10 places offer a variety of ways—from fossil digs to gargantuan skeletons to footprint tracking—to learn about the giants that once ruled the Earth.
Wyoming Dinosaur Center
Did you know Wyoming had a state dinosaur? You'll find Triceratops on display at the Wyoming Dinosaur Center in the fabulously named town of Thermopolis, about 84 miles south of Cody. The center's 30 other mounted specimens include the only Archaeopteryx in North America and an enormous scene-stealing Supersaurus. Looking for something hands-on? You can go on a dig site tour, or join the "Dig for a Day" or "Kids Dig" programs and get a little dirty yourself.
Dinosaur National Monument
At the vast Dinosaur National Monument, a park that straddles the Utah-Colorado border, budding paleontologists can marvel at the nearly 1,500 bones and fossils still embedded in the rock face quarry wall. The Quarry Exhibit Hall overlooks the Carnegie Dinosaur Quarry where many of the specimens in philanthropist Andrew Carnegie's collection were discovered. Kids who complete an activity booklet can get a badge and be sworn in as a Junior Ranger.
American Museum of Natural History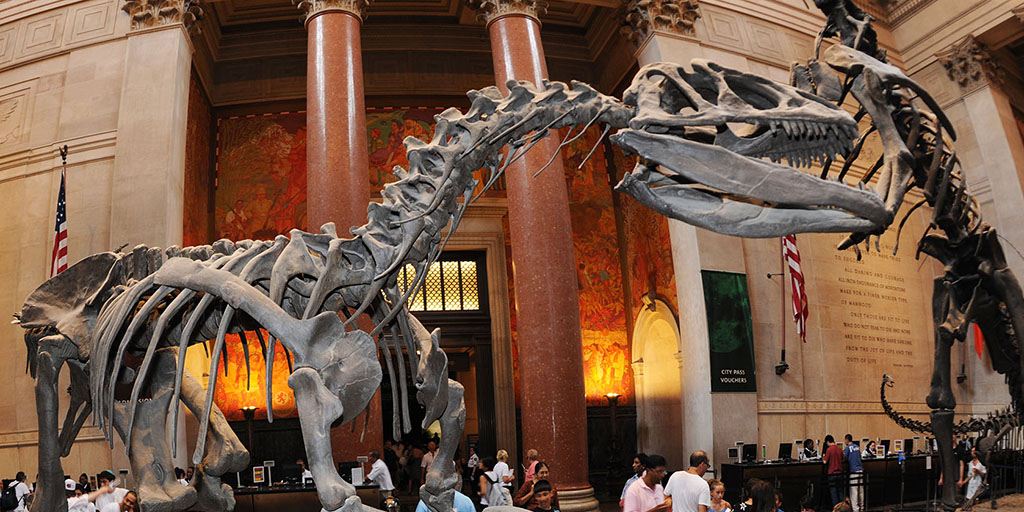 Inside the American Museum of Natural History (Photo: Roderick Mickens)
Talk about dinosaur street cred. An assistant curator of New York's American Museum of Natural History discovered the first virtually complete Tyrannosaurus rex fossils at the turn of the 20th century, and today the Central Park landmark has two separate dinosaur halls filled with nearly 100 fossils and cast specimens. In addition to the T. rex that chased Ben Stiller in "Night at the Museum," you'll find Apatosaurus (on display since 1905), Velociraptor (made famous by the Jurassic Park book and film), and a duck-billed dinosaur "mummy" that gives a peek at dino skin.
(MORE: Find a kid-friendly hotel in New York City.)
Dinosaur Valley State Park
You can literally walk in the footsteps of giants at Dinosaur Valley State Park, in Glen Rose, Texas, which contains some of the best preserved dinosaur tracks in the world. Take time to view the two fiberglass dinosaurs built for the 1964 World's Fair before going on a dino-tracking expedition in the park. Bring your bathing suits; there's a swimming hole whose ledge is embedded with dino tracks.
Smithsonian Museum of Natural History
Though the Smithsonian Museum of Natural History boasts one of the largest dinosaur displays in the country, it barely scratches the surface of the 46 million fossils in its entire collection. Dinosaur Hall's "Fossils: The History of Life" exhibit contains an impressive array of specimens, including T. rex, Triceratops, Stegosaurus, Allosaurus, Camptosaurus, Diplodocus, and Pteranodon. Note: Dinosaur Hall will close Spring of 2014 for renovation and the creation of a brand new exhibit. During this time, some of the dinosaurs will remain on display in other areas of the museum.
Carnegie Natural History Museum
Pittsburgh steel baron and philanthropist Andrew Carnegie funded many dinosaur excavations, and one of the oldest and largest discoveries, Diplodocus carnegii, even bears his name. The Carnegie Museum's "Dinosaurs in Their Time" is the first exhibit to pose dinosaurs in recreated environments arranged chronologically throughout the Mesozoic Era. Nineteen skeletons are currently on display, from Diplodocus carnegii to Stegosaurus, Triceratops, and T. rex.
Dinosaur State Park
Rocky Hill, Connecticut—just eight miles south of Hartford—is the somewhat surprising setting for one of the largest dinosaur track sites in North America, discovered in 1966 when the area was excavated. Five hundred of the tracks are enclosed inside the Exhibit Center's geodesic dome, including early Jurassic footprints made 200 million years ago. The park offers guided walks and, for kids, a scavenger hunt and dinosaur-themed arts and crafts.
Fernbank Museum of Natural History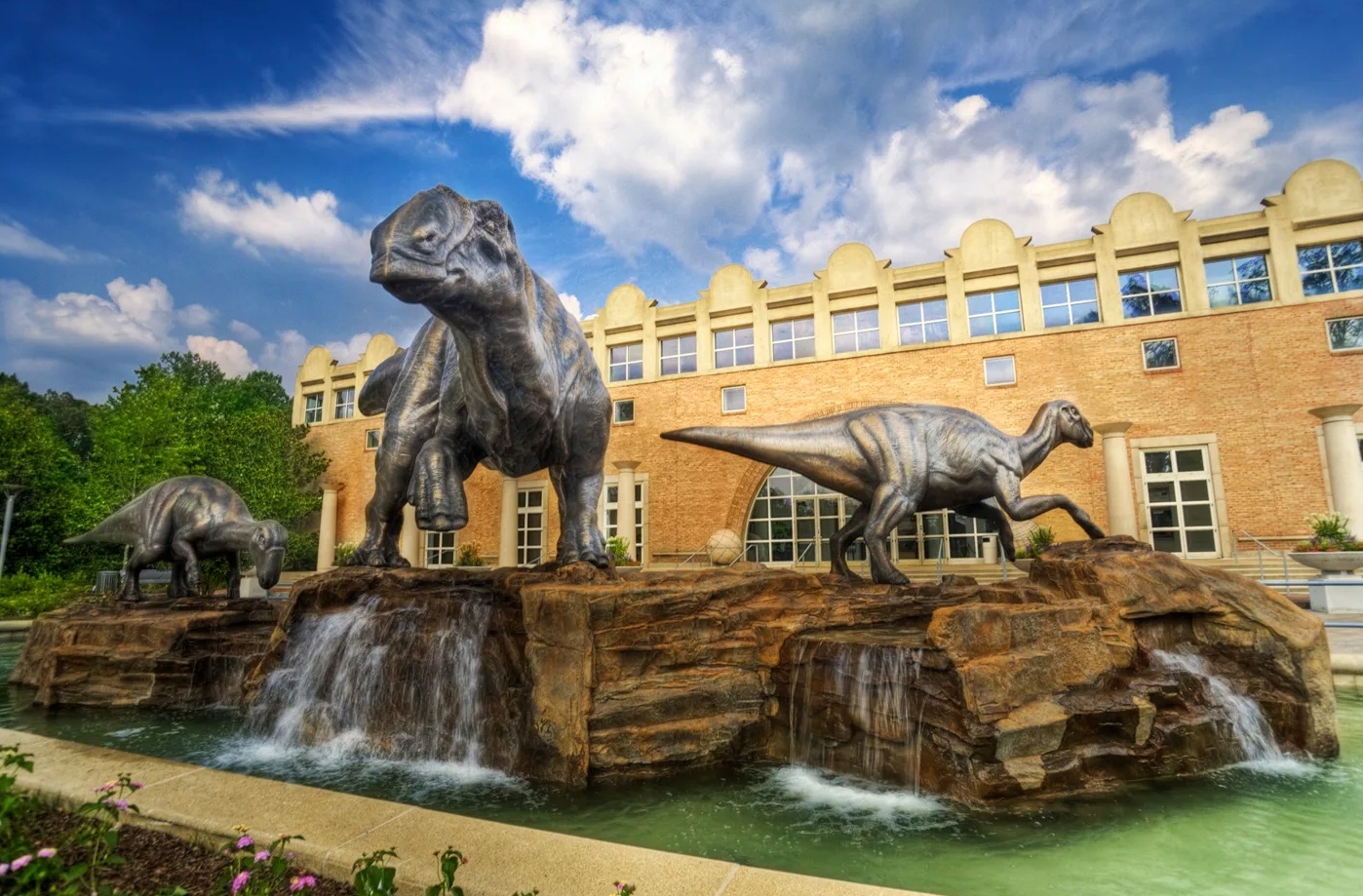 Dino sculpture at the Fernbank Museum of Natural History (Fernbank Museum of Natural History)
At Atlanta's Fernbank natural history museum, a flock of pterosaurs soar overhead while murals and life-size dinosaur models conjure up prehistoric Georgia. The museum's "Giants of the Mesozoic" exhibit features Argentinosaurus, the largest dinosaur ever classified, as well as toothy and fearsome Gigantosaurus, which was about the size of a T. rex.
Field Museum
The pride and joy of Chicago's Field Museum is Sue, the largest, most complete, and best preserved Tyrannosaurus rex skeleton in the world. Not looking a day over her 67 million years, Sue is comprised of her actual bones, with the exception of a cast skull. The actual skull, which at 600 pounds is too heavy for the frame, is displayed on the museum's balcony level.
(MORE: View a family trip itinerary: 3 days in Chicago with kids.)
Natural History Museum of Los Angeles County
LA's natural history museum houses the world's only T. rex growth series of skeletons ranging from baby through young adult. The collection also includes Allosaurus, Camptosaurus, Mamenchisaurus, Stegosaurus, and Triceratops. It's worth noting that, just a few miles from the Natural History Museum, the La Brea Tar Pits contain thousands of Ice Age specimens (mammoth, saber tooth cat, dire wolf, etc.) preserved in the tar where the creatures became stuck and met their death.
Dave Parfitt of Adventures by Daddy contributed this to www.MiniTime.com.