Hawaii with kids
By Mimi Slawoff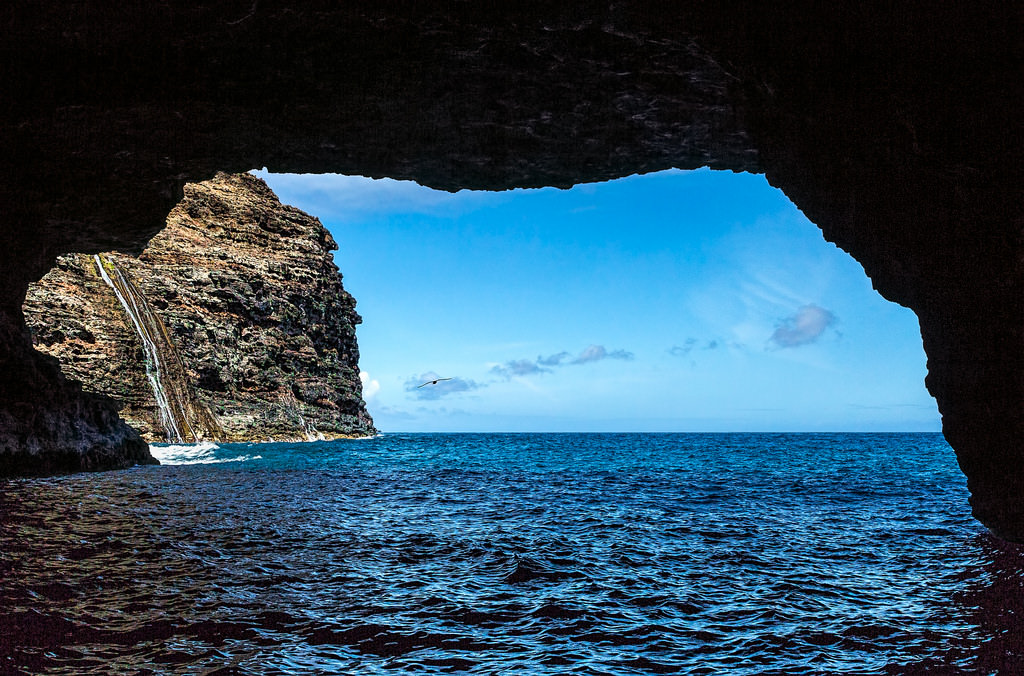 The sea caves along the Na Pali Coast are among the most magical spots in Hawaii. (Flickr: Sheila Sund)
Beyond Hawaii's picturesque beaches are numerous unique attractions, some of which you wouldn't expect to find on the islands. Some are easy outings, others are adventure trips. But they're all part of Hawaii's rich history and fascinating culture that still exists today. Where else in the U.S. can you visit royal archeological sites?
There's something magical about these exclusively Hawaiian attractions. While there are many magical spots in Hawaii, some stand out for their unique features, history or remote location. For example, traipsing through a crater's serene lavender fields and cruising through remote sea caves pounded by waves.
The following 10 magical spots are sure to enhance your next family vacation in Hawaii.
(MORE: Family-Friendly Guide to Turks and Caicos with Kids)
Ali'i Kula Lavender Farm, Maui
As if driving up a volcano isn't amazing enough, there's a charming lavender farm budding with laid-back adventures. Nestled on the slopes of Haleakala, Ali'i Kula Lavender Farm is among the most serene magical spots in Hawaii. Walk along lavender-scented paths through purple gardens, and relax with a cup of lavender tea. A family-friendly treasure hunt (maps provided!) leads to surprises in hidden parts of the farm.
Surfing Goat Dairy Farm, Maui
Situated on the grassy slopes of the Haleakala Crater, the working dairy farm offers a different side of island paradise. This farm makes the magical spots in Hawaii list for its atypical Hawaiian activities. No, goats don't surf. But you can milk the goats, lead a herd from pasture, and feed farm animals on your Hawaiian family vacation. The farm also produces award winning gourmet cheeses. Learn about the process, and sample the goods.
Na'ili'ili Haele (Bamboo Forest) Hike, Maui
Ready for adventure? This hidden hike is one of the most magical spots in Hawaii for many reasons. First, it takes a little magic to find it. There's no trailhead. Look for parked cars along mile markers 6 and 7 on the Road to Hana. Find openings in the bamboo, then follow a stream to pools and four waterfalls. For young explorers, the hike to the first fall may be enough. Strong hikers can aim for the 200-foot high Makahiku Falls.
Pu'uhonua o H?naunau National Historical Park, Hawaii Island
This sacred site on Honaunau Bay in Kona was certainly one of the magical spots in Hawaii for refugees. Until the early 19th century, the place of refuge was where lawbreakers could flee to safety. Today, the park's history and archeological sites make it a magical place to visit on a family vacation. See wooden images of gods and the sacred temple housing bones of 23 chiefs. As you stand on the water's edge, you may see scores of turtles magically swim ashore.
Manoa Falls, Oahu
About a 15-minute drive from bustling Waikiki is this serene hike that brings you face-to-face with a 150-foot high waterfall. The fact that a towering waterfall is so accessible is magical in itself. Along the lush, 1.6-mile jungle trail are guava, eucalyptus and banyan trees. Under a rainforest canopy, it feels like you're miles away from civilization. No wonder scenes from Jurassic Park and Lost were filmed here in one of the most magical spots in Hawaii.
Na Pali Sea Caves, Kauai
Situated at the base of the towering Na Pali cliffs, the sea caves have an aura of mystery. It's easy to imagine pirates burying treasure in these remote caves pounded by crashing waves. It's a magical experience to explore the caves by boat. Cruise through a waterfall to enter the skull-shaped Pirates Cave, so big it houses three more caves. The Open Ceiling Cave is called Pukalani, Hawaiian for "hole into the heavens." The mystical sea caves may be the best magical spots in Hawaii to visit on a family vacation.
Molokai
The most undeveloped accessible Hawaiian island, Molokai is a snorkeler's dream. It's where you'll find empty beaches and 30 miles of reef with abundant marine life. It's almost surreal and definitely magical to swim around shallow reefs teeming with colorful fish. Don't be surprised to see your guide spearing fish for his dinner that night! Snorkeling in Molokai's waters is a truly one-of-a-kind, magical experience.
Kalihiwai Falls Hike, Kauai
Hiking, rappelling and swimming in a waterfall make this one of the most adventurous magical spots in Hawaii. The family-friendly, guided hike traverses a rainforest and rappels down a 10-foot rock wall. All that exercise pays off with a picnic and swim in a refreshing waterfall.
(MORE: 5 Attractions to Visit in Australia's The Gold Coast)
Kauai Plantation Railway, Kauai
Climb aboard a train, and imagine you're a king or queen riding through royal farmlands and fields. The train cars are reproductions of the railway cars of the period of King Kalakaua. You'll get to sample plantation fruit and meet the farm's pigs, goats, sheep, cattle and horses. After a gourmet lunch under the trees, hike through a jungle. This fun and informative outing is ideal for a family vacation.
Na 'Aina Kai Botanical Gardens, Kauai
Guided tours are the only way to explore the 240-acre, ever-evolving gardens and bronze sculptures. On Family Tours and monthly Keiki Days, you can play in the whimsical Under the Rainbow Children's Garden. Splash in fountains, climb forts, and explore a Navajo village. A visit to this living mosaic of gardens adds a magical touch to your family vacation.
Mimi Slawoff of Planetfamilytravel contributed this to MiniTime. She is a Los Angeles-based journalist and a seasoned family travel expert who explores the world with her three children and writes about their journeys.