Best of Yellowstone for families
By Suzanne Rowan Kelleher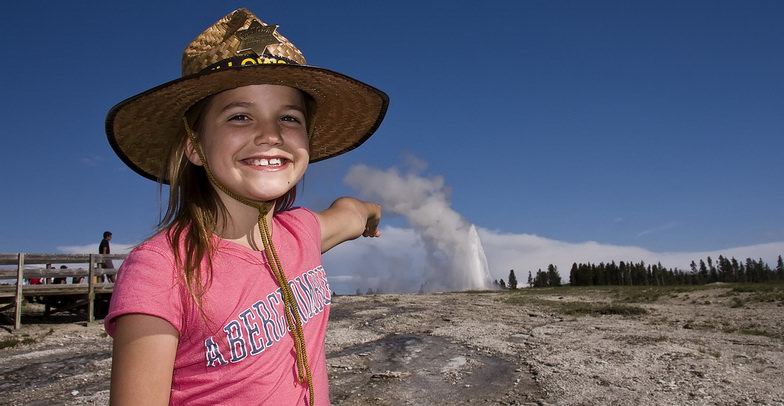 Old Faithful in Yellowstone National Park (Flickr: gr8dnes)
Why Go: With bookings down and the promise of a less-crowded summer, this just may be the year to visit Yellowstone, America's first national park and arguably its most unique. Its 2.2 million acres sit atop one of the continent's largest active supervolcano, whose several eruptions in the past two million years carved out a diverse eco-system of lakes, canyons, rivers, and mountain ranges. Thanks to ongoing volcanism under the surface, Yellowstone's landscape is dotted with thousands of geysers, mud pots, hot springs, and other things that go splash, bubble, and hiss.
"Yellowstone is a landscape unlike anything you'll encounter anywhere else on earth," says Brian Ek a repeat Yellowstone visitor. "You are surrounded by hot springs, steaming vents, geysers, and beautiful multi-hued pools." Amazingly, half of all of the world's geothermal features are located within Yellowstone, but that's only part of what makes this such an iconic national park. "It's absolutely otherworldly," agrees Dan Wulfman, President of Tracks & Trails, a company that specializes in self-drive national park vacations for families. "Besides the geothermal features, Yellowstone offers access to spectacular wildlife that you just don't get anywhere else," says Wulfman.
Ray Turro, a financial advisor from Ridgewood, NJ, will be making his third visit to Yellowstone this summer. He is awed by the variety of Yellowstone's landscapes. "It is constantly changing," he says. "You can see the effects of the massive fire 20 years ago and how the flora is coming back." The park is as fascinating on your tenth visit as on your first, agrees Tammie Dooley, a travel blogger (Solo Road Trip) who got married in Yellowstone and spent nearly every weekend there during the three years she lived in nearby Jackson Hole. Now she lives in Tulsa, OK, "but I still go back at least once a year. Yellowstone is impossible to get enough of."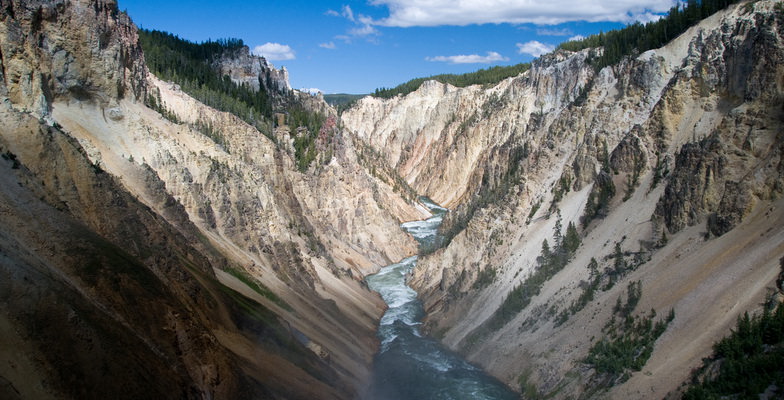 Grand Canyon of the Yellowstone (Flickr: art-sarah)
Long before it was a national park, Yellowstone was steeped in myth and legend. While passing through Montana in 1805, Lewis and Clark heard stories of strange phenomena in the Yellowstone region. Thinking that these were tall tales, the expedition party did not investigate. Several years later, however, one member of the expedition did return. John Colter journeyed through the region, getting wounded along the way in skirmishes with Blackfoot and Crow tribes. When he described a place of "fire and brimstone," his stories were roundly dismissed as delirious rantings, and the area was nicknamed "Colter's Hell." Over the next half a century, dozens of trappers and mountain men spoke of boiling rivers and multi-colored, steaming pools, but their stories were disbelieved until 1869, when the first organized expedition arrived in Yellowstone. A more detailed geological survey two years later convinced President Ulysses S. Grant in 1872 to set apart the vast area as America's first national park, a full 44 years before the National Park Service was created. Yellowstone is so vast that it's impossible to see it all in a single trip. Still, you can survey most of the park's highlights in as few as four days. We asked a panel of repeat Yellowstone visitors to recommend their favorite attractions. Here's their shortlist of can't-miss experiences:
Old Faithful and Upper Geyser Basin
Sure, the park's no. 1 draw is touristy, but it's also a must. The geyser erupts every 91 minutes, so check the schedule to be sure to catch it at least once. "If it's really crowded, go inside Old Faithful Inn," advises Wulfman. "You can go out on the second-story deck, sit on rustic benches, and take in the show from up above, looking over the heads of those in the crowd. It's even better with a drink or a sandwich in your hand." After viewing the eruption, Ek recommends taking a walk along the boardwalk through the geyser basin to see more geysers and colorful hot springs. The two-mile asphalt Morning Glory Pool trail begins at the General Store in Old Faithful Village, passes next to Old Faithful and also several other impressive geysers—including Grand, Castle, Daisy, and Riverside—on its way to the popular Morning Glory Pool. "If you go early in the morning, you'll probably see bison and elk right by the trails," says Ek.
Junior Ranger Program
Got kids between the ages of 5 and 12? Shortly after you arrive at Yellowstone, go to a visitor center and pick up a Junior Ranger booklet, which lays out some easy tasks that can be completed during your time in the park. "There might be a scavenger hunt, a quiz, or writing assignment that kids can finish at their leisure," say Wulfman. Bring the completed booklet back to the visitor center and hand it to a ranger. By all accounts, rangers tend to make quite a show of congratulating kids on their accomplishment, right down to an induction ceremony where kids raise their right hands and recite the ranger pledge. Finally, and perhaps best of all, each kid gets a Yellowstone Junior Ranger patch as a souvenir.
Norris Geyser Basin
Located on a fault line, this is the oldest, hottest, and most dynamic geyser basin in Yellowstone. Hot springs have flowed here for more than 115,000 years, leaving salt deposits that have bleached the basin floor a chalky white. The highest temperature ever recorded in Yellowstone was measured in a scientific drill hole at Norris: 4,590 degrees Fahrenheit, less than 1,100 feet below the surface. The water also tends to be more acidic than in other areas of the park, which results in colorful hot springs and steaming pools in hues of reds, browns, yellows, and greens. "Norris Geyser Basin is an eerie almost moonscape of steaming land, geysers, and hot springs," says Ek, whose kids always loved to come at dusk, "because it's downright spooky at that time of day." Norris is also home to the tallest active geyser in the world, Steamboat Geyser, which shoots up to 300 feet high. Another selling point: The crowds are always much thinner on the Norris boardwalks than on those in Upper Geyser Basin.
Grand Canyon of the Yellowstone
Okay, so it's not as big as the Grand Canyon in Arizona. But at 20 miles long, 1,000 feet deep, and 2,000 feet wide, the Grand Canyon of the Yellowstone is downright spectacular, with majestic vistas and several waterfalls. "This is a must, any time of day," says Dooley. The canyon area has hiking trails galore. Try the easy, four-mile North Rim Trail, from Inspiration Point, for fabulous views of the falls and river. Viewing platforms are located at many strategic locations, including Inspiration Point, Lookout Point, and even the brinks of both the Lower and Upper Falls. One of Dooley's favorite views is from Artist Point, an outcropping of land with panoramic views of the canyon, river, and Lower Falls.
Lamar Valley
Dubbed "The Serengeti of North America" because of its wildlife, this is home to one of Yellowstone's wolf populations and a prime location for animal watching. Take the road from Tower Junction to Cooke City, says Ek, "and be sure to bring a telescope or binoculars if you want to see wolves. They tend to stay far from the road and people." Wulfman agrees. "Wolves are very elusive. Some visitors are patient and willing to sit on a ridge line with a spotting scope. But I wouldn't visit Yellowstone expecting to see a wolf in the wild. What you will see are bison, elk, moose, and lots of little critters."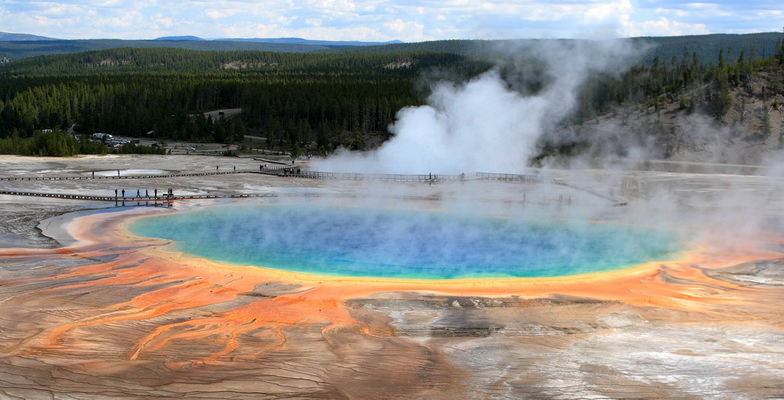 Grand Prismatic Spring via the Midway Geyser Basin Trail (Flickr: [email protected])
Mammoth Hot Springs
The steaming, step-like limestone terraces formed at Mammoth Hot Springs have been a popular attraction since the stagecoach days. Between the springs and the lower elevation, this section of Yellowstone is usually quite a bit warmer than other areas of the park. "This was my family's favorite section of the park," says Beth Hipsley of Saratoga Springs, NY, who visited Yellowstone last summer with her husband and two school-age boys. "Elk sightings are common in Mammoth, especially in the morning. At our campground, there was a huge hill with a trail for the children to climb."
Boiling River, near the North Gate
"The Park Service doesn't really advertise it," says Wulfman, "but the Boiling River is really cool." Just inside the North Gate, near the 45th parallel, look for a small parking area with a signboard about Boiling River. Walk about half a mile alongside the Gardner River, says Wulfman, and you'll come to a place where the water literally boils up over the bank. This isn't just any swimming hole; the water in this hot spring is steamy but not scalding, even when the river water is downright chilly. "When conditions are right, the water is hot-tub temperature, and you can get in and have a soak," says Wulfman. Don't forget to bring towels and wear watershoes. "Most visitors never know it's there or where to look for it," says Wulfman, who has one last tip: "For the best effect, go at sunset when the air is cooler."
Fountain Flat Drive
"This is my absolute favorite place for viewing bison," says Ek. Turn off the main road between Madison and Old Faithful onto Fountain Flat and you'll find yourself on a paved road that cuts through a meadow that's home to one of Yellowstone's larger bison herds. "One time, we got there early in the morning when it was still dark. We pulled off, stopped the car, got out our picnic breakfast, and waited," Ek recollects. "It was so dark that we heard them before we saw them looking into our car. They were grunting as the herd moved across the road to get to the river. Then we stayed for two hours, watching the interaction of bison right in front of us."
Grand Prismatic Spring, in Midway Geyser Basin
This is the largest hot spring in the US, and the third largest in the world. It may also be in the running for the most colorful (see picture, above). The vivid hues are actually bacteria pigments in the microbial mats growing around the fringes of the mineral-rich water. The bacteria produce colors that range from red to green, depending on the ratio of chlorophyll to carotenoids. The mats turn orange and red in the summer and dark green in the winter. The extreme heat sterilizes the water in the pool's center, which in turn makes it appear a vibrant blue color when reflected. Visit on a sunny day, recommends Dooley, "or even better, after a day or two of sunshine. Then it looks like a kaleidoscope."
Ranger Talks
Regardless of where you're staying, our panel highly recommends the free 45-minute ranger talks that take place around the park each evening. "My kids loved the ranger talks," says Ek. "The rangers are great with kids. Make sure they are right up front," he says. Times and locations are posted in the campgrounds, hotels, and at major attractions. "They are always very family oriented, and the topics change throughout the week," says Wulfman. "One night, the ranger talk might be about formations. The next night, it could be about animals. These hands-on talks always have plenty of show and tell, and even young kids can easily follow along."
Grizzly & Wolf Discovery Center, in West Yellowstone
You may not see a wolf or grizzly in the wild at Yellowstone, but you're guaranteed to see them in this nature center just outside the park limits in West Yellowstone, Montana. "The animals are in captivity but it's very well done and a cool place for kids," says Wulfman. The center offers several special programs, including naturalist- and ranger-led talks and "Keeper Kids," a twice-a-day workshop for kids 5 to 12 about bears. ($10.50/adult, $5.50/child 5-12, free for kids under 5)