Best kid-friendly things to do and see in Atlanta
By Lori McMillen Brown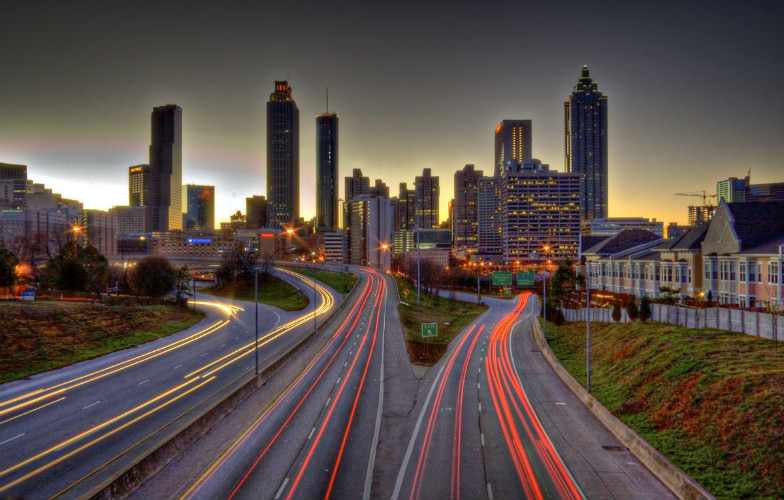 Downtown Atlanta (Flickr: Steve Hardy)
Atlanta is so much more than southern food, famous people and Gone With the Wind. Take all those things and mix it with great weather, world-class attractions, and a new-found love for sustained and reclaimed outdoor environments. You get an end-product that is ripe for family adventure and perfect for multi-generational travel.
1. Dubbed the "City in a Forest," Atlanta has the highest percentage of tree coverage out of all major American cities. Snap a picture of the cityscape from Atlanta's most famous park, Piedmont Park, and you'll see skyscrapers enveloped by over 100 species of trees. Piedmont Park hosts festivals, markets, and concerts throughout the year and boasts daily activity opportunities from fishing to bocce ball. Don't miss the artful Noguchi Playscape created by world-renowned artist and sculptor Isamu Noguchi, the only playground completed in his lifetime.
2. Metro-Atlanta is very decentralized, consisting of much more than just the city proper of Atlanta and encompasses an area in square miles that is comparable to the state of Massachusetts. What does that mean for visitors? It means big city offerings, such as Broadway shows at The Fox Theatre and small town ruralness full of history, antebellum homes and agritourism.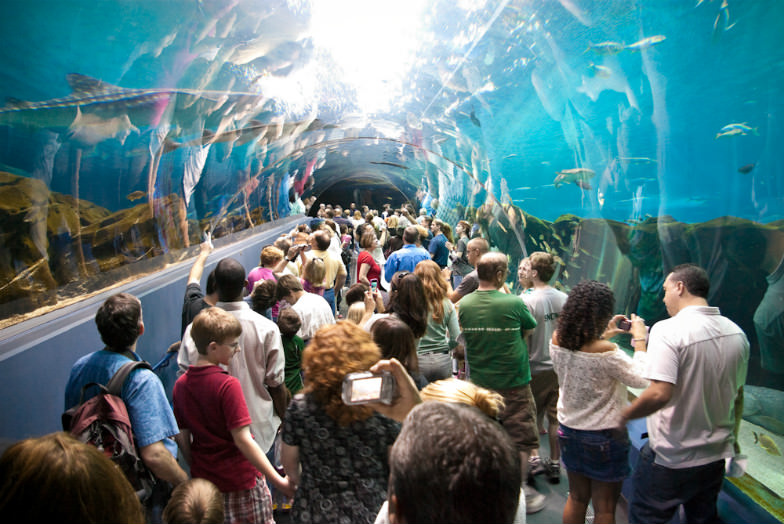 Georgia Aquarium (Flickr: Robert S. Donovan)
3. You can do Atlanta without a car by staying downtown in the Luckie Marietta District. Families can make base camp at several hotel options, but Embassy Suites at Centennial Park offers two-room suites that makes the stay a little roomier. From Centennial Park, all the attractions in Luckie Marietta District are no more than a five-minute walk in this pedestrian-friendly area. Attractions include: Inside CNN Studio Tour, Georgia Aquarium, World of Coca-Cola, The Children's Museum of Atlanta, SkyView Atlanta Ferris Wheel, National Center for Civil and Human Rights, and the College Football Hall of Fame. Special events, such as concerts and sporting events, are held at the Georgia Dome and Philips Arena. Restaurant options range from fine dining to southern goodness. Don't miss Googie Burger and make sure to find a King of Pops cart!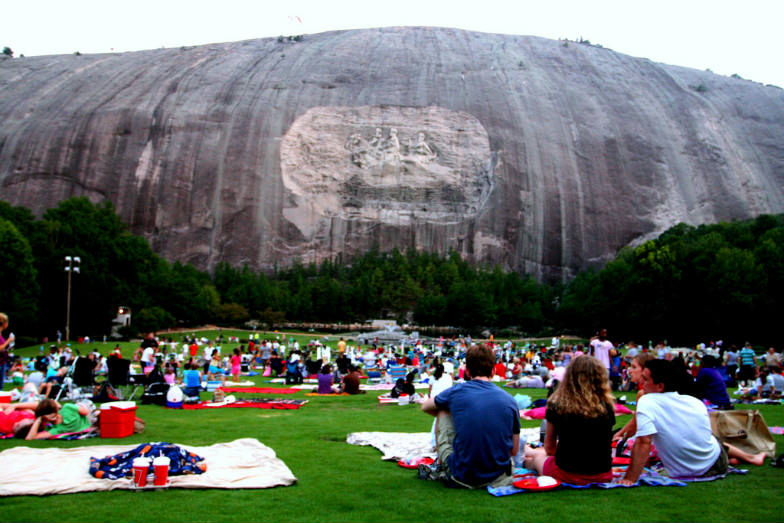 Stone Mountain Park (Flickr: Tennessee Wanderer)
4. Georgia's most popular attraction is located in Atlanta: Stone Mountain Park. This 3,200-acre property can host whatever style suits your family best. If you enjoy more luxurious amenities such as spa services, then the Atlanta Evergreen Marriott Resort is your ticket. For outdoor lovers, Stone Mountain has Georgia's largest campground with amenities such as free wi-fi, a pool, volley ball court, and playground. Their special "Ready, Set, Camp!" package includes a tent and four sleep pads, that are yours to keep, all set up ready for your arrival. You'll abandon your hotel during the day to partake in the extensive activity options available, such as hiking and biking trails; seasonal specials such as the Lasershow and Snow Mountain; historical exhibits; train rides; swiss cable car ride to the top of the mountain; festivals; fishing; and golfing.
5. A river runs right through the metro area. Originating from a tiny spring in Northeast Georgia, the Chattahoochee river supports both wildlife and recreation options. There are only two trout streams in North America that flow through a major urban area, and the Chattahoochee is one of them. Fishing and floating the river, also known as "shootin' the hooch", are popular activities. Local nature organizations, such as Chattahoochee Nature Center in Roswell, offer naturalist led canoe trips to view wildlife and geological features.
6. Atlanta makes it easy to visit from anywhere. Being the hub for Delta and the home of the world's busiest airport, Hartsfield-Jackson Atlanta International Airport, flights arrive from all around the country and the world with great frequency. Stay for the weekend or as an extended vacation. Atlanta can also be enjoyed on long layovers. The Downtown Luckie Marietta District and attractions are just a short 8 mile cab ride away.
7. Atlanta can be used as a jumping-off spot for other adventures. With majors highways leaving Atlanta that run north, south, east and west, it is easy to transition to a road-trip emanating out of the city. The mountains as well as Atlantic and Gulf beaches are all within a day's drive.
8. Atlanta's big city offerings come with a price tag that is cheaper than other major metropolitan's, such as New York City. According to NerdWallet.com's cost of living calculator, the cost of entertainment in Atlanta is at least 16% cheaper than New York, leaving you the ability to do more within your budget.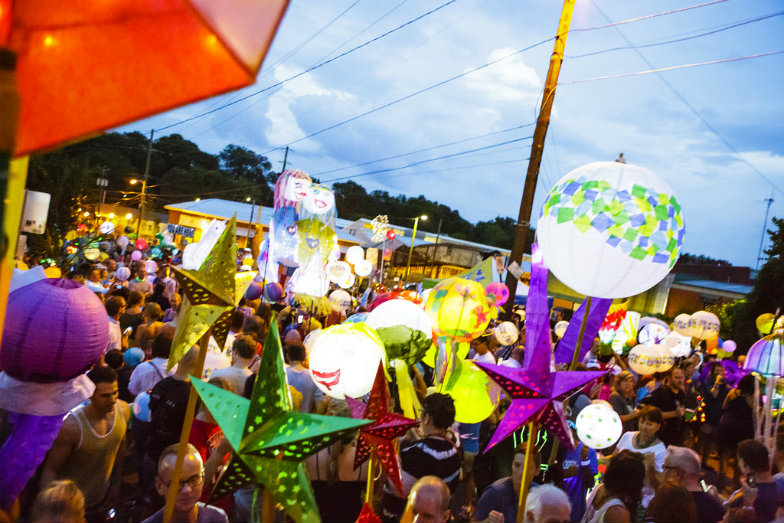 Atlanta BeltLine (Atlanta Beltline)
9. The industrial history of Atlanta is making a return as unique greenways and urban nature areas. Utilizing a historic 22 mile railway corridor, the Atlanta BeltLine seeks to unite communities and reclaim space for resident and visitor enjoyment. Free arboretum walking tours and BeltLine bus tours are available most weekends.
(TRIP PLAN: See how one family with two kids spent three days in Atlanta.)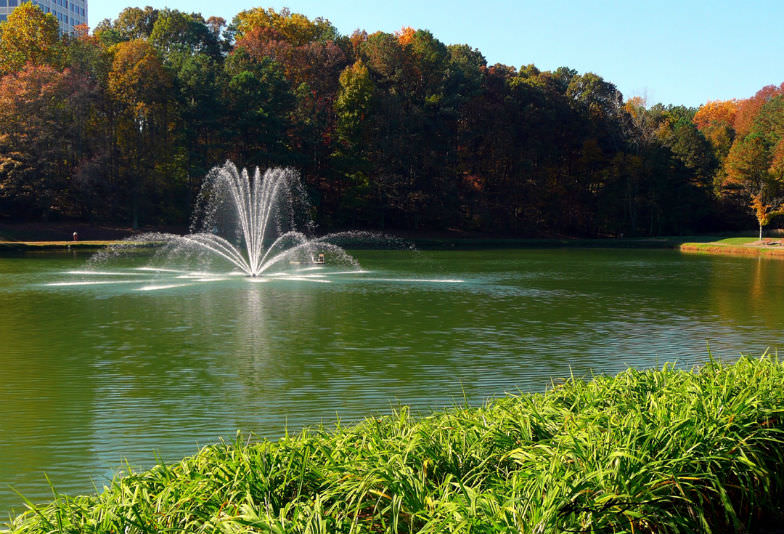 Atlanta in the fall (Flickr: sayednairb)
10. Atlanta is a four-season town. The mild climate allows for the multitude of outdoor activities, events and concerts that Atlanta offers year round. If you want to be pegged as a tourist, then go ahead and call it "Hotlanta". No self-respecting local would ever refer to their city in that way. Yes, during July is gets really hot and humid, with average highs around 89 degrees fahrenheit. On the other side of the heat, Atlanta is rewarded with fall colors and weather that supports long-sleeves. Snow is possible, but not something it is able to sustain recreation around.
Lori McMillen Brown of Expedition Mom contributed this to MiniTime.