Kid-friendly things to do in Cancun
By EcoColors Tours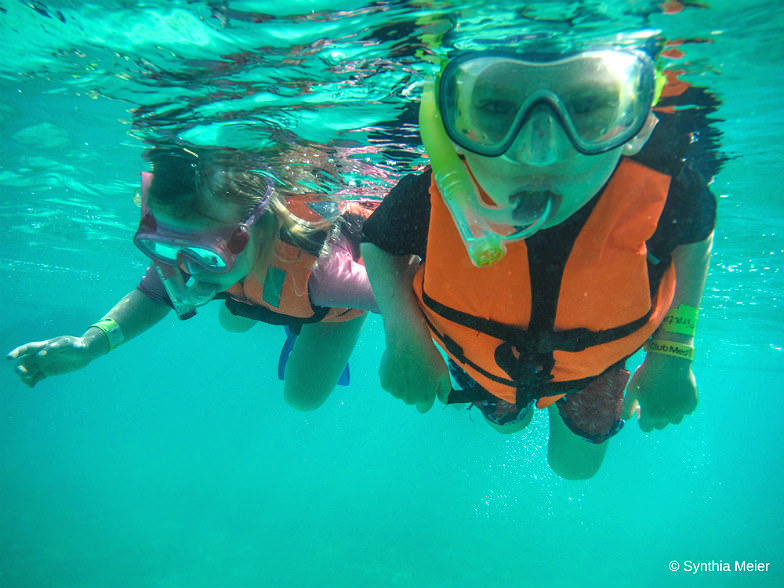 Snorkeling is just one of the many kid-friendly things to do in Cancun. (Synthia Meier via EcoTravel Mexico)
Cancun is not only for spring breaks and parties. We have many kid-friendly attractions and gorgeous natural places perfect for families, a lovely weather and perfect beaches, and warm, friendly people who are happy to help you any time!
Here are 10 great reasons why you should visit Cancun with your kids: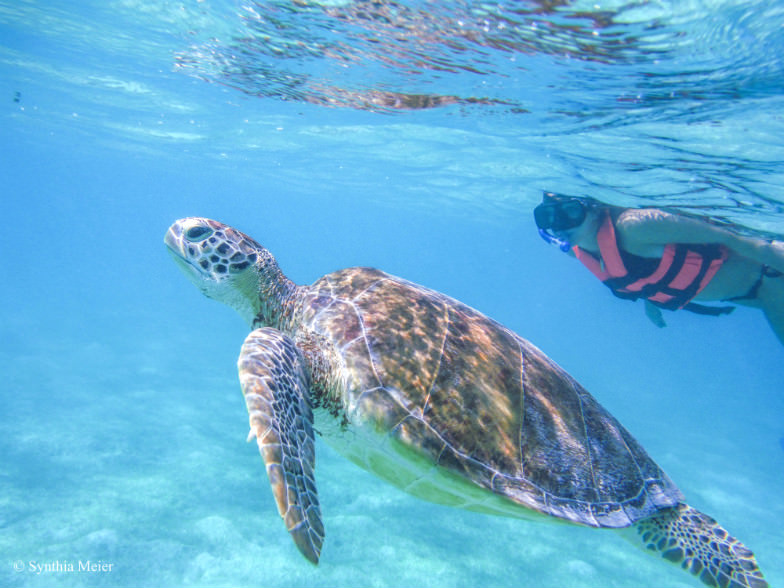 Swim with marine turtles in their natural environment. (Synthia Meier via EcoTravel Mexico)
1. Fabulous wildlife encounters: If you and the kids love animals, you will love Cancún. One of the best things to do here all year long is to swim with marine turtles in their natural habitat, which can do in the beautiful Akumal Bay, just 1 hour 20 minutes from Cancun. Another, more intense option is to swim with whale sharks (and sometimes mantas and dolphins) during summer months (May to September) near the coasts of Cancun and Contoy Island. For a less exciting and more traditional but equally fun option, you can go snorkeling in the reefs where you can find different, brightly-colored fish and other exotic marine life.
(MORE: Find kid-friendly hotels and resorts to stay in Cancun.)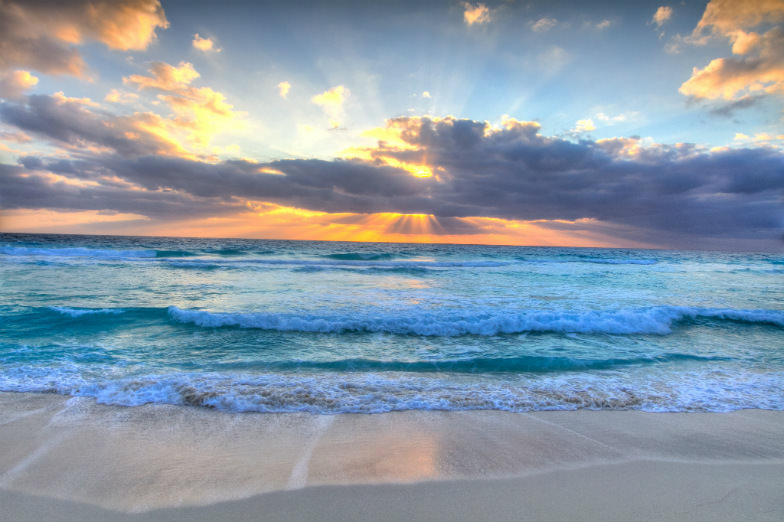 Cancun has some of the most beautiful beaches in the world! (Flickr: Sakeeb Sabakka)
2. Fantastic beaches: White sand and turquoise water make many of our beaches some of the most beautiful in the world! Some of them, like the Playa Delfines Beach (Mirador), are wide, with restrooms, plenty of shade, and big waves to play in (in which case, remember to keep an eye out for the kids). Others, like "Las Perlas" or the beach in front of the "Presidente Intercontinental Hotel," are perfect for smaller children, with their shallow waters and lack of waves.
3. Perfect weather: Either winter or summer, that makes no big difference here; you will be able to go around in shorts everywhere with your kids almost every month of the year. This gives you the opportunity to enjoy the beach and outdoor activities any day.
Cenotes are perfect for kids because they can swim without currents. (Synthia Meier via EcoTravel Mexico)
4. Unique cenotes: A cenote is a natural pit or sinkhole resulting from the collapse of limestone bedrock that exposes groundwater underneath. These beautiful cenotes are perfect for kids because they can swim without currents or waves putting them in danger, and for snorkeling to see some of the fish that live below. Make sure to take your cameras because with good lighting, you can take some pretty amazing shots.
5. Amazing archaeological sites with plenty of history: Who hasn't heard of Chichen Itza (one of the New 7 Wonders of the World), Tulum (with a spectacular view of the Caribbean Sea), Coba (you can actually climb the main pyramid), or the many others archaeological sites in the area?! These archaeological spots are perfect for the kids – not only will they get to experience the amazing pyramids, they can also learn about Mexico's culture and history in an interactive and fun way. And some of these spots are near typical Mayan communities that are also worth a visit while you are there.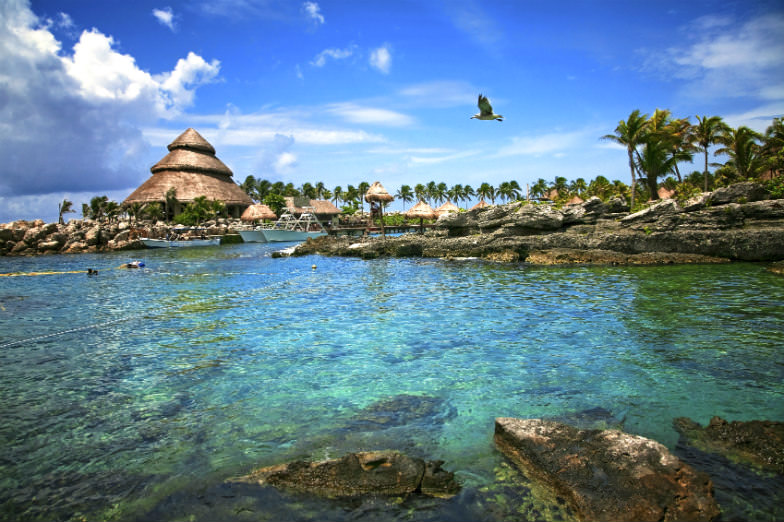 Xcaret is just one of the many amazing eco parks in and near Cancun. (Flickr: Grand Velas Riviera Maya)
6. Famous Eco parks: We have several fun and interesting Eco parks in the area: Xcaret, Xel-Ha, Xplor, Rio Secreto, Tres Rios, Boca del Puma, Selvatica, Crococun Zoo, Wet n Wild or Aktun Chen are some of the most important and all-inclusive ones. Some of them feature various wildlife and display of culture, while others offer the more adventurous activities like zip lining and snorkeling. Whichever you pick, you and the kids are guaranteed to have a blast.
7. Mexican food: We are lucky to have such a diverse and rich gastronomy, using only the freshest local ingredients. From tacos and guacamole to the tastiest hot chocolate, your kids will have plenty of options to choose from. And there will be enough for the adults too. We are experts in making spicy "salsas" (sauces), made of different types of chili peppers, that you can add to almost every dish. Take a chance, sample some of the street food downtown or ask locals where their favorite food places are.
8. Hotels for all budgets and preferences: In Cancún, we are focused on customer service so wherever you choose to stay, know that you will be pampered during your vacation. You can choose from boutique hotels, pet-friendly accommodations (if you are travelling with pets), or the more accessible hostels downtown. Or you can choose to stay at the big resorts that have special kids club, waterparks, and a staff that can help take care of the younger kids so you can have some quality R&R, or at fancy hotels that offer babysitting services, outdoor activities, and great pools for kids. The whole family will have everything they need!
9. Super friendly and warm people: You will notice it the moment you arrive in Mexico, especially in Cancun. Our people are known for their warm hospitality and friendliness, and you'll feel right at home. And besides being warm and friendly by nature, everyone is also well-versed in the art of tourism so we're there to help you in any way we can. Don't hesitate to ask for directions or help with translating something because we're always happy to assist.
(MORE: Find more kid-friendly things to see and do in Cancun.)
10. Safe and accessible transportation: When traveling with kids, it is very important to consider the distance you're traveling, your family's safety, and everyone's comfort. In Cancun, the entire Hotel Zone is connected by road, with hundreds of buses and taxis that can take you anywhere you want, even downtown. You will never have to walk for more than one kilometer to find a bus of cab to take you to your next stop. And the prices are very affordable: buses in the Hotel Zone charge around $11 pesos ($1) per ride, no matter the distance while taxis, which work a little bit different because the price depends on the distance, are considerably cheaper, especially compared to cab prices in other cities. For longer distances, take an ADO bus if you want to go visit Puerto Morelos, Playa del Carmen or Valladolid (longer distances). The bus station is in the heart of Cancun (Pino St, between Tulum and Uxmal Ave) and services 4 different bus lines with departures almost every 30 minutes to the top destinations. All buses have A/C and comfortable seats, and some even have toilets.
Daniela Garcia Mtz of EcoColors Tours contributed this to MiniTime.