Best family-friendly things to do in Vegas for free
By Michelle Rae Uy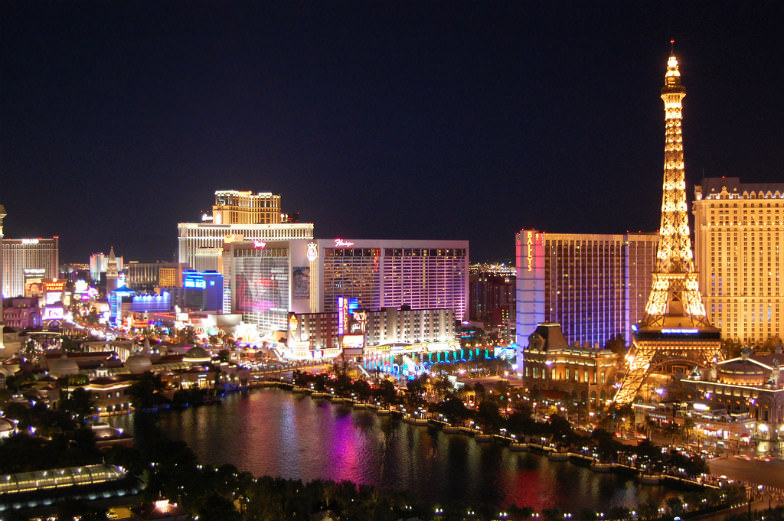 The Vegas Strip (Flickr: Samantha Celera )
It's no secret that a Las Vegas vacation might involve gambling and partying until the early morning hours as well as spending a boatload of money to have fun. But while this desert city in Nevada is indeed the gambling capital of the United States, it also prides itself on offering family-friendly attractions that are just as fun for kids as they are for adults. And, despite popular belief, you don't have to spend much to have a good time.
Skip the city's famous casinos and grand shows this year. If you're on a budget, then rejoice. Here are 20 wonderful things to do in Vegas that won't cost you a dime!
DEAL: Offer_FREE Breakfast (Residence Inn, Fairfield Inn,SpringHill Suites)
Flora and Fauna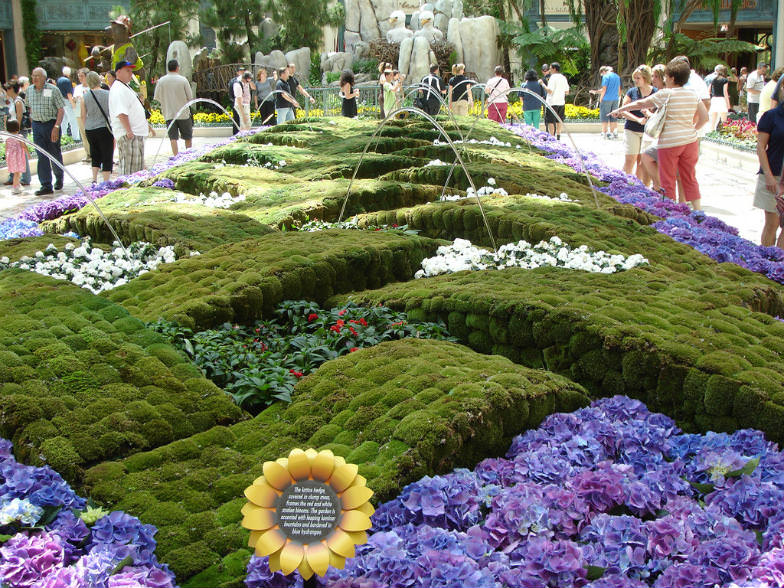 Bellagio's Conservatory and Botanical Gardens (Flickr: Lynn Gateley)
Bellagio's famous attraction is its water show, but it's not the only one. Open 24/7 is the hotel's Conservatory and Botanical Gardens, which showcases beautiful and colorful flora according to season and hosts live performances from 5 to 6 pm. For your curious future botanists and gardeners, head there from 10:30 to 11:30 pm to meet Mr. and Mrs. Green Thumb.
The Caesars Palace is one of Vegas' most iconic hotels. If a night's stay in one of its rooms proves a little over your budget, don't despair. You don't have to book a pricey room here to enjoy it. Aside from its beautiful architecture and fountains, all designed to resemble ancient Rome, you can also visit its impressive 50,000-gallon saltwater aquarium. It's brimming with tropical fish – from clown fish to rays and sharks – that the kids will absolutely adore.
As a tribute to its namesake, the Flamingo offers families vacationing in Vegas a respite from the hustle and bustle with their beautiful Wildlife Habitat, a 15-acre home to an assortment of birds, including Chilean flamingoes, pelicans, parrots, and even hummingbirds. It's open daily from 8 am 'til dusk and holds pelican feedings at 8:30 am and 2 pm.
Silverton Casino's massive saltwater aquarium, all 117,000 gallons of it, is not only home to some 4,000 brightly colored tropical fish that the kids will marvel at, but also features wonderful mermaid shows every half hour at certain times from Thursday to Sunday. Plus, they hold interactive feeding shows every day at 1:30 pm and 4:30 pm.
With MGM Grand's Lion Habitat and the Southern Nevada Zoological Park both closing permanently, it might be hard-pressed for animal-loving families to find a land animal-related attraction in the city. Thankfully, Anderson Dairy offers a free hour-long Barnyard Buddies Tour of their plant, where kids can interact with a talking cow, a rooster with attitude, and a hound dog.
Greatest Free Shows on Earth
The oohs and aahs aren't over yet after you visit the Caesars Palace's aquarium. Behind it is a spectacular fountain that features animatronic figures. Every hour daily, these figures put on a fantastic fountain show called the Fall of Atlantis, which tells the myth of the legendary city.
To see the world's largest permanent circus, look no further than Circus Circus which takes place daily starting at 11 am in the Carnival Midway and features entertainment favorites clowns, flying trapezes, jugglers, and contortionists. And just when you think it doesn't get better than this, you realize that the shows are completely free.
Famously starring in many movies, the Bellagio Fountain Water Show is even more impressive in person. The show, accompanied with music – from show tunes to holiday songs, features lights and dancing water that can shoot as high up as 460 feet. Best of all, it runs all day and all night until midnight so families can enjoy it as often as they want.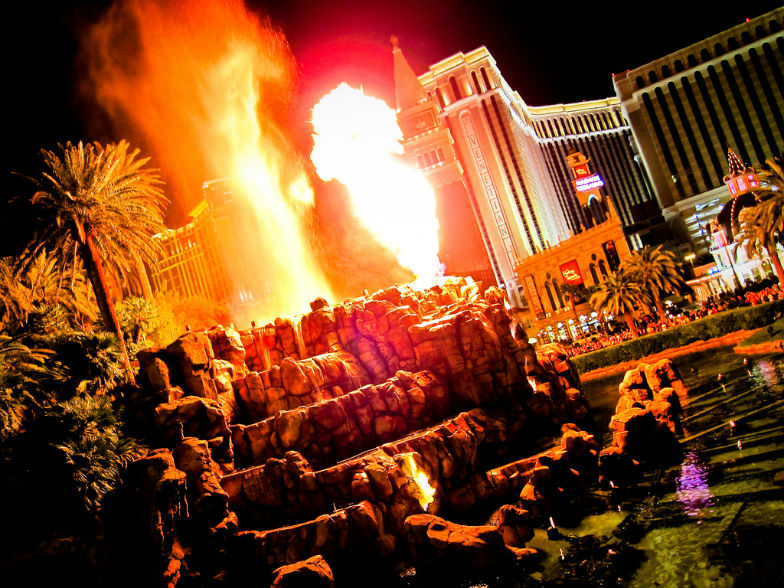 Mirage's Volcano show (Flickr: Nan Palermo)
Every night on the hour from 8 pm until midnight, the Mirage impresses passers-by with its awesome volcano show, complete with fire, (fake) lava, smoke, and sound effects, right in its front yard. The show is free for everyone to see and will amaze the budding volcanologists and geologists in the family.
You don't have to buy tickets to the Tournament of Kings Dinner Show at the Excalibur Casino to get some medieval age fun. At the Court Jester's Stage in the casino's Medieval Village, performers, jugglers, and magicians entertain spectators for free every 45 minutes daily starting at 11 am. Of course, you're welcome to see the dinner show afterwards and take the experience to a new level.
(MORE: Celebrate the Holidays at the Great Wolf Lodge SoCal)
A large part of casino traffic may have moved to the Strip years ago, but Fremont Street is still alive and well, what with the Freemont Street Experience making this original strip its home. Daily shows and live performances as well as the light and sound show of Viva Vision make this open-air mall a must-visit when you're in town. The ample shopping opportunity doesn't hurt either.
Shopping is made better at the Venetian's Gran Canal Shoppes with the shows that take place there daily. Members of the street performing group Streetmosphere go around in Renaissance Italian costumes and liven up the atmosphere with their short performances that include the 15-minute opera Carnevale di Venezia and the twice-a-day Gondolier March.
On a secluded lake at the Wynn Resort is a nightly show of music, water, lights, puppetry, and other special effects. The Lake of Dreams has been voted as one of the top attraction in Vegas, and not only is it free, it's also visible from many different vantage points around the lake, so you and your kids can enjoy it while savoring a nice family dinner at a nearby restaurant.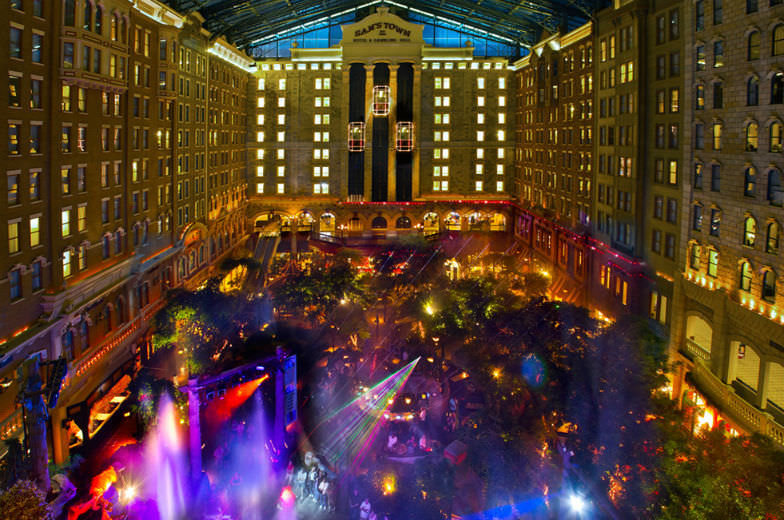 Sunset Stampede Laser Light and Water Show at Sam's Town (Sam's Town)
The tranquil atmosphere in Mystic Falls Park at Sam's Town Hotel is disrupted as the park suddenly comes alive with music, dancing water, and an awesome display of laser light. The show, dubbed Sunset Stampede Laser Light and Water Show, recounts the journey of the Western pioneers and plays five times daily, beginning at 2 pm.
(MORE: 5 Cool Ways to See Paris With Kids)
Museums
Take a break from that high mid-afternoon desert sun and let the kids cool down while learning about the history and culture of the Southwestern American Indian tribes as well as ancient Mexico. Located not far from the Vegas Strip, the Marjorie Barrick Museum of Natural History opens its doors at 9 am on weekdays and at noon on Saturdays and is completely free (donations welcome).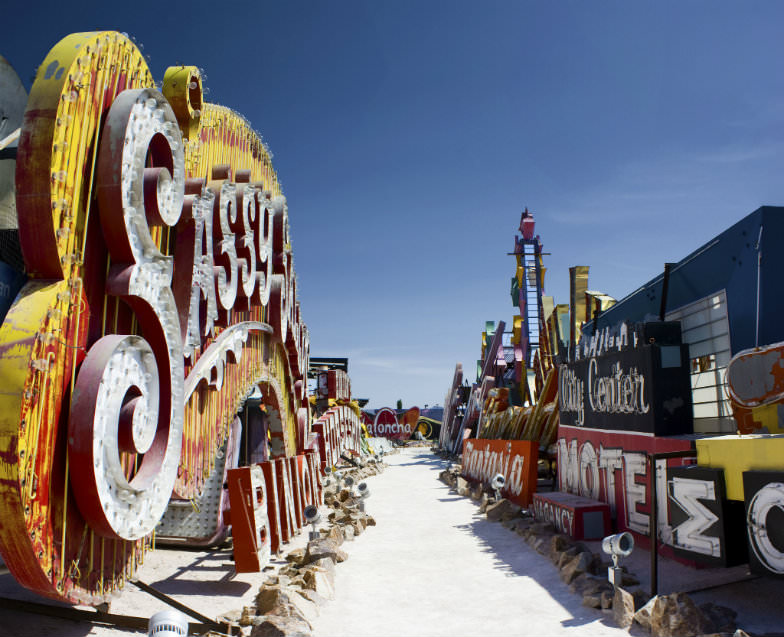 Neon Museum (Flickr: soccergirl296)
While it might be, in a lot of ways, a neon sign graveyard, the open-air Neon Museum is a colorful and unique treat for everyone in the family, especially those who love all things vintage and kitschy. A section of it, the Neon Museum Urban Gallery, that features refurbished neon signs, is free for everyone. You can download the map to this outdoor gallery on their website for free.
Sweet Tooth
The chocolate lovers in your family will appreciate the sweet surprise when you take them to tour the Ethel M Chocolate Factory, which includes delicious chocolatey samples. Afterwards, you can burn off all those extra calories by exploring their botanical cactus garden. Best of all, you won't have to spend a penny… unless, of course, you want to take some goodies home.
This M&M's World location is not just a candy retail store. It's THE first M&M World location. Additionally, it has a replica of the M&M race car used in the NASCAR Sprint Cup, a 3D movie theater, and a gallery that shows the evolution of our beloved M&M characters over the years. And sometimes, they even give out free chocolate samples. Yum!
(MORE: 10 Things to Add to Your Fall Bucket List with Kids)
Architecture
Paris is a place like no other, but the Paris Casino's impressive replicas of the City of Lights' best landmarks, including the Eiffel Tower, the Louvre, and the Arc de Triomphe, come pretty close. Take the kids here for a preview of what's to come, if you're planning a trip to Paris soon, or simply to enjoy the architectural wonders.
A must-stop during your visit in Vegas, Hoover Dam is a modern engineering marvel that astounds anyone who looks upon it. Look for the free parking area, walk around and see the dam, and visit the Visitor's Center area where you will be welcomed with more fascinating tidbits. The dam is open from 9 am to 5 pm daily.
Michelle Rae Uy contributed this to www.MiniTime.com.