Orlando, Florida
By Ana Connery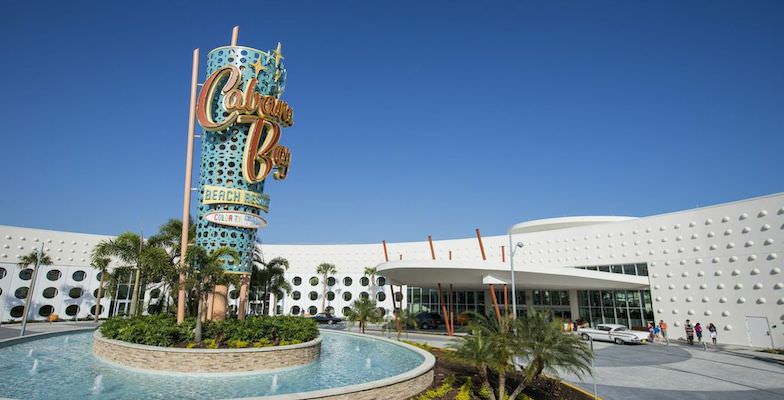 Walking into the lobby at Universal Orlando's new Cabana Bay Beach Resort is like stepping into the 1960s cartoon "The Jetsons." The vibe is both retro and modern, with funky, midcentury-inspired furniture designs in orange and electric blue shades. The Swizzel Lounge, a nod to the famous stir sticks found in martinis and other iconic drinks of the 1960s, shares the lobby with a huge terrarium that leads up to a skylight, flooding the space with Florida sunshine.
As you walk around Universal's first new resort in years, you can't help but get caught in the nostalgia of the place, even if you weren't born until the last quarter of the 20th century. The buildings have kitschy-cool names like Thunderbird and Starlight, and the patios are sprinkled with concrete benches and tables with built-in checker boards.
Guests of Cabana Bay score the same park perks as those who stay in the other, deluxe Universal hotels, such as early park admission, free transportation, and special golf rates at nearby courses. But the price is way lower: Family suites that sleep six go for $179 per night during summer's peak season. If you have kids, I don't think there's a better spot to lay your fam's head at night than Cabana Bay Beach Resort. Here are the 10 standouts that make Cabana Bay the perfect family getaway, whether you actually make it out to the theme parks, or just check in and hang out!
(MORE: View a family trip plan: 11 days in Orlando with kids.)
1. Fun deets. Half the fun of Cabana Bay Beach Resort is checking out the furnishings and design details, and the gazing begins before you even check in. Three classic cars permanently parked in the driveway serve as prime picture spots. Even the Cabana Bay Beach Resort entrance sign advertising "Color TV" oozes personality. At the Starbucks coffee lounge inside, images of the Weeki Wachee Springs mermaids give a nod to Old Florida, as does a bubbling fountain meant to mimic the springs.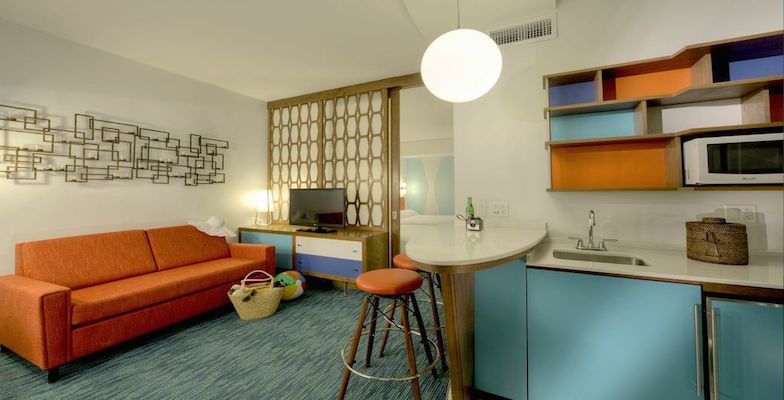 2. Fam-friendly rooms. Most of the rooms here are family suites that sleep up to six with two double beds and a pull-out sofa. Each has its own kitchenette that includes a small refrigerator, sink and microwave, so you can whip up a snack or breakfast without leaving your room.
Cool wooden pocket doors separate the living area from the bedroom and give you (and the kids) privacy when you need it. The bathrooms were brilliantly designed as three separate areas: a room with a shower and sink connects to an open dressing area and a second sink, which connects to a third room with a toilet. If you have little ones, it makes it so much easier to get ready at the same time when every family member can claim a spot and you can keep an eye on everyone. Two flat-screen TVs—one in the living area and one in the bedroom—are a godsend if you're not into late-night cartoons like your kids. Fun details like analog clocks, Zest soap and V05 hair products add the perfect throwback touch.
3. Waterside fun. The Cabana Courtyard is home to a dive tower and a 100-foot water slide that curves before dumping you into a huge zero-entry pool.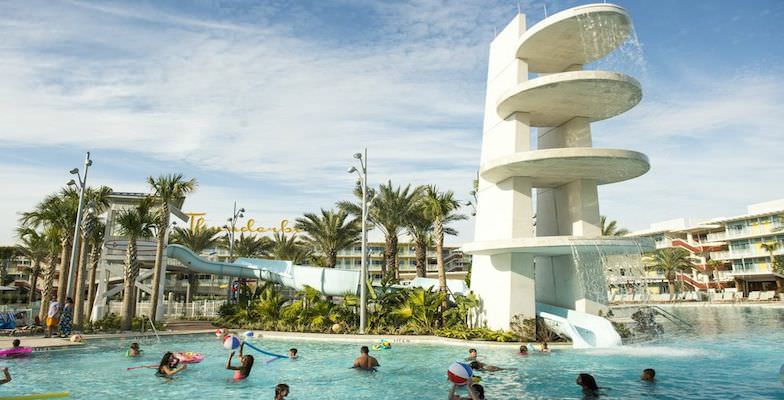 Cool cabanas made of wood slats line the perimeter and come with a table and chair set for four, two cushioned loungers and a flatscreen TV for an incredible value of $50 to $100 per day, depending on the season. (You'd be hard-pressed to find poolside cabanas for less than $150 these days.)
A special area for little ones dubbed the Youngsters Pool lets them play with fountains and spouts while buckets overhead periodically dump water over them. Bigger kids can join hula hoop contests by the pool by day and dive in at night when Universal films play on a big screen nearby.
4. Out-of-this-world bowling. At Galaxy Bowl in the main building, 10 lanes await your family's best bowling and rock-n-rolling. Nosh on burgers or pizzas while keeping your eye on the scoreboard. Beer and wine is also served, so parents can get their galaxy groove on, too. $19 per person includes shoe rental.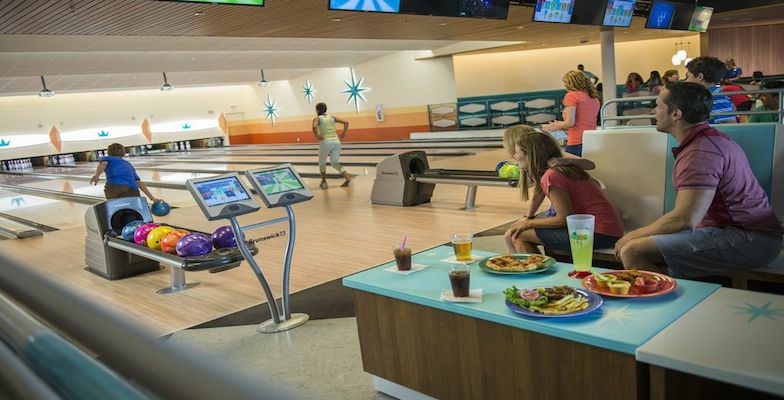 5. Lazy lounging. Later this summer, the last two Cabana Bay towers will open and feature both family suites and standard rooms, but the crown jewel will be the lazy river, complete with water cannons and waterfalls to keep you from falling asleep on your float.
6. Sand games. Adding a twist to the term "lawn games," a huge sand pit near the Courtyard Pool is the spot to join an impromptu ping pong tournament, toss bean bags or rings, or simply grab a bucket and a set of shovels and start building your dream sandcastle. If you're feeling competitive, make like Gidget and challenge your partner to a hula hoop contest. Hoops in every shade of the rainbow are on hand here, too.
(MORE: Find kid-friendly attractions in Orlando.)
7. Jack LaLanne. The godfather of fitness is the namesake for the hotel gym that's packed with memorabilia highlighting his illustrious career, including his famous juicer. Even if you never do a single jumping jack, the place is worth a visit for the museum-quality displays alone, though the view of the dive tower and slide isn't bad, either.
8. Game on. If it rains, an old-fashioned Rec Center near Galaxy Bowl is packed with board games like Monopoly as well as card tables in case Grams is in the mood for Gin Rummy or Bridge. Game-O-Rama is an old-fashioned arcade with both new and nostalgic games, like air hockey and Skee Ball.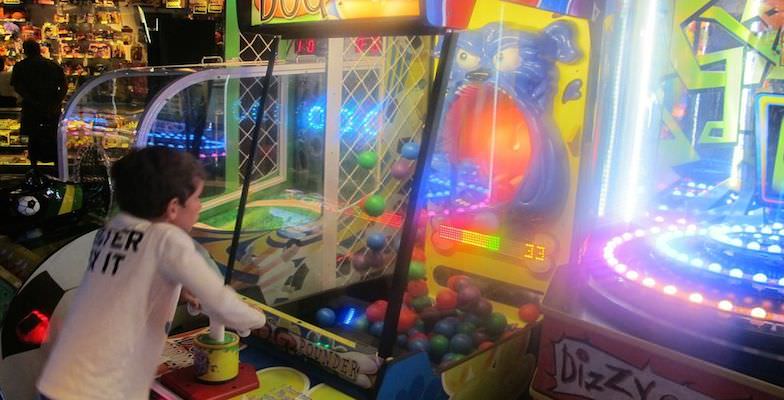 Ana Connery
9. Nostalgic noshing. Bayside Diner is the main eatery on site, serving three meals a day in a cafeteria-style atmosphere. Huge flat screens on either side of the enormous seating area play vintage movies, cartoons or TV commercials, keeping the theme alive even while you eat. You can slide your tray across your fave food station (pizza, burgers, deli and more) or pop into the adjacent mini mart for grab-and-go foods to stock the fridge in your suite.
10. Keys to the kingdom. One of the best things about staying at a Universal resort like Cabana Bay Beach is that your room key doubles as an Express Pass, so you can bypass the long lines at most of the attractions, with the exception of Pteranodon Flyers, Harry Potter and the Forbidden Journey, and Ollivander's Wand Shop. You still have to pay for the Express Passes, but at least you don't have to go to each ride and scan your park ticket for a separate pass. Since your room key is linked to a credit card, you can also pay for meals and souvenirs with it and not worry about carrying a purse or wallet. Whatever you buy can be delivered to your room, free of charge, too. If only my house key did all that…
For more deets on Cabana Bay Beach Resort, click HERE.
Ana Connery contributed this to www.MiniTime.com.