Toronto with kids
By Holly Rosen Fink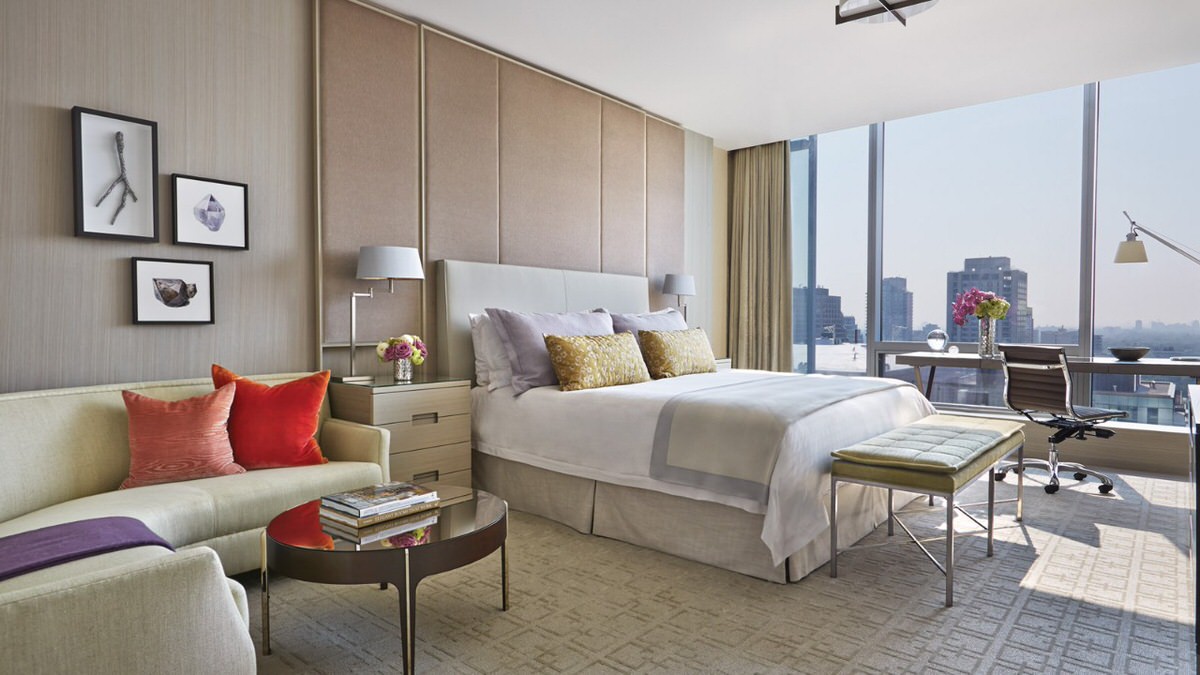 Four Seasons Toronto is a luxurious family-friendly hotel in Toronto with incredible views and kid-friendly amenities. (Courtesy Four Seasons Toronto)
Four Seasons Toronto is a luxurious family-friendly hotel in Toronto with incredible views of the city. Staying in this hotel is a unique experience that doesn't compare to many others. To start, kids are indulged as soon as they enter the establishment. Additionally, the rooms have a soft, warm palette and were made with comfort in mind. They offer customizable beds and are spacious for families traveling with children.
Four Seasons Toronto also has a lovely pool where children are allowed in the presence of an adult, as well as ample onsite dining. In addition, the family-friendly hotel has a warm, professional staff, and daily housekeeping and laundry services on hand. These are services meant to improve a traveling family's visit.
Any traveling parent will recommend Four Seasons Toronto when visiting this Canadian city. It offers outstanding customer service, comfort, and close proximity to an abundance of culture and history. It's hard to do better than Four Seasons Toronto for a family getaway.
(MORE: Toronto Travel Guide for Families with Kids)
Why Go
The Four Seasons Hotel Toronto is in the city's Yorkville district, which is accessible to most parts of the city. More importantly for families, it is incredibly kid-friendly. Amenities here go beyond the usual family-friendly ones like an indoor family pool. The hotel also offers several special offerings for young visitors that are special and unique to the Four Seasons chain. These include welcome gifts at check-in and sweet treats sent to the room throughout one's stay. Babysitting services are also available for an additional fee, offering parents the option of a special night out in Toronto.
Rooms & Amenities
The hotel's 259 kid-friendly rooms and suites are sophisticated and modern. Kids will absolutely love the latest technology and parents will appreciate the hotel's modern touches. These include the in-room iPads that access all the hotel's services and TVs in the bathrooms that are built into the mirrors.
The rooms' floor-to-ceiling windows with skyline views make for a picturesque stay. For a comfortable one, each room features signature beds with down duvets and pillows, flat-screen TVs with satellite access, and other amenities needed to improve a family's visit. There is abundant closet space, which is helpful when traveling with kids. And parents will appreciate the blackout shades and double-walled windows for soundproofing. If there is one thing a parent wants on a trip, it's a good night's sleep.
In addition, the bathroom is spacious, complete with a very large bathtub. It's perfect for bathing kids at the end of a long day exploring Toronto.
Dining
Hungry families at this family-friendly hotel in Toronto can enjoy a French-inspired meal at Café Boulud. If your kids love oysters and steak, they'll be very happy with Chef Daniel Boulud's menu.
For more simple palettes, there is a lounge called djbar on the main floor where families can rest and relax. It offers a more simple, casual dining. On the menu are artisanal cheeses, gourmet hamburgers, roasted chicken breast, soup of the day, and poutine, a Canadian favorite.
Alternatively, in-room dining is always available. Or for families who want to step out at night, there is a slew of restaurants nearby. There are Japanese restaurants, locales offering traditional native Canadian cuisine, and pretty much any cuisine. Simply ask the concierge for assistance and let your child lead the way using navigation on their smart phone.
Family-Friendly Activities
The family-friendly Four Seasons Hotel Toronto is close to a few kid-friendly attractions in Toronto. These include the Royal Ontario Museum, the Bata Shoe Museum, and Casa Loma. Across town, families can visit the CN Tower, Toronto's tallest building, or Ripley's Aquarium of Canada. They can also stop by the Toronto Zoo or visit Centreville Amusement Park. Families with extra time can venture to Niagara Falls for a day by taking a bus tour or renting a car.
For Kids Only
Four Seasons Hotel Toronto offers kids many treats during their stay. These include gifts and sweets (like maple cookies) that are sent to the room, child-size bathrobes, and children's toiletries. Families with children under 18 also receive a complimentary in-room movie, complete with movie snacks (such as popcorn, candy and soda) during their stay. There is nothing like a fun night-in after a long day of sightseeing.
Things We Love
The suites are large and spacious for larger families.
We love the beautiful indoor pool that plays underwater music. Remind the kids to listen while taking a swim.
Movie night! Both parents and kids can get comfortable in bed after a long day out, sharing a movie experience.
(MORE: Secret Toronto for Families: See the City Like a Native)
Insider Tips
Fun fact: Four Seasons Toronto is the chain's flagship hotel. It was the first Four Seasons hotel to ever be built in 1960.
There is exquisite art all over the hotel. Be sure to walk around with your kids and explore the collection.
Don't miss the Bata Shoe Museum, not far from the hotel. It's a great museum for parents and kids alike that teaches the history of shoes. The collection dating back to the stone age is very impressive.
Kids are allowed in the health club in the presence of an adult. Be prepared to spend a morning there, or the better part of an afternoon. There's a beautiful indoor pool, lush lounge chairs and simply the softest robes you'll ever find.
Holly Rosen Fink of The Culture Mom contributed this to MiniTime. She is a full-time marketer living in Larchmont, NY with her husband and two children.