Family-friendly destinations for the holidays
By Mimi Slawoff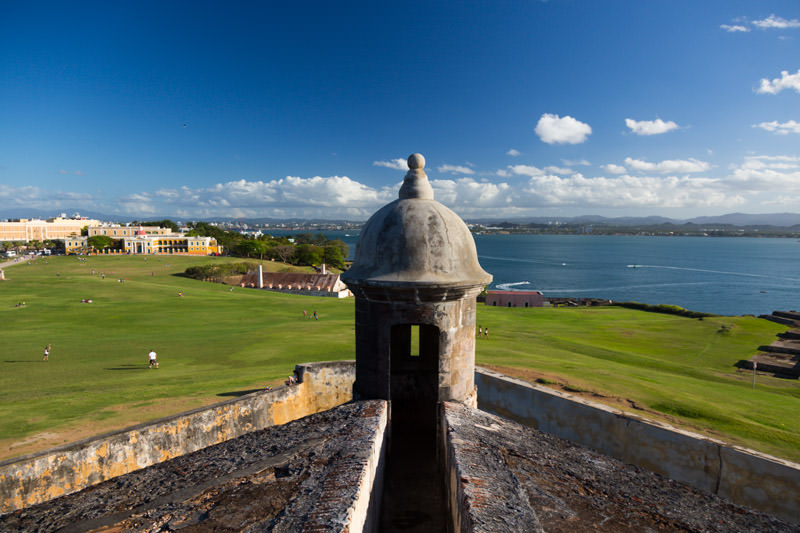 San Juan, Puerto Rico (Courtesy MeetPuertoRico.com)
Do the winter holidays have you dreaming of a sunny Christmas? If sitting on a warm, sandy beach sounds better than huddling by a crackling fireplace, then consider adding these 10 destinations on your holiday wish list. Better yet, there's no time like the present to start planning a festive family vacation in a sunny destination.
Here are our top picks for a warm and sunny Christmas for families.
(MORE: Offer_Kids_Club_Package Breakfast for the kids and more in the Caribbean and Mexico CODE* MAJ (Valid through 11/10/16, See Landing Page for Terms and Conditions))
Puerto Rico
With pristine beaches and a historic capital city that's fun to explore, Puerto Rico is a family-friendly destination year-round. San Juan is especially festive during the holidays. Fun things to do with kids include exploring forts, such as Castillo de San Cristobal and zip lining with EcoQuest Adventures.
Puerto Rico has many kid-friendly hotels. Based in San Juan, Hotel El Convento is walking distance to restaurants and major kid-friendly attractions. Just outside Old San Juan, the oceanfront Marriott Resort & Stellaris Casino San Juan has a prime beach location, large family pool and a seasonal children's program.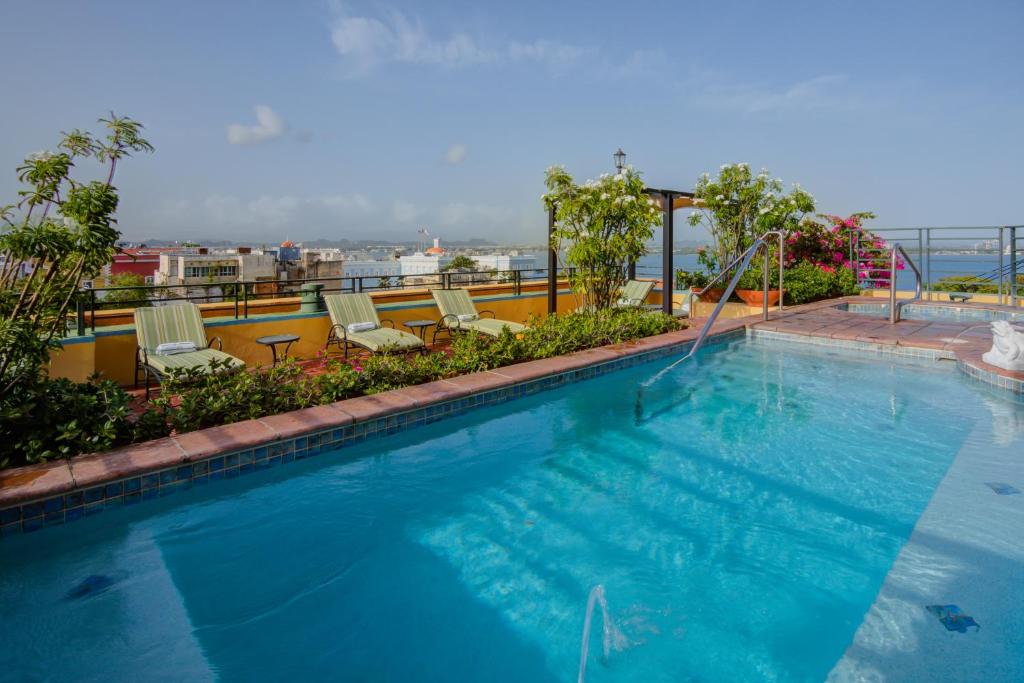 Hotel El Convento (Photo: booking.com)
To experience Puerto Rico as a family-friendly and exciting destination, you can try staying at Hotel El Convento. The hotel, which is situated in the center of Old San Juan, grants guests access to the El Convento Beach Club on Isla Verde Beach.
All the fun is available: Numerous cruise ship docks are conveniently close to Hotel El Convento. San Juan's renowned museums and historical sites are accessible by foot. The distance to the Luis Muoz Marn International Airport is 15 minutes.
Food is delightful: There are 2 restaurants right there at Hotel El Convento. Gourmet cuisine is offered outdoors at Patio del Nispero, and a tapas menu and a broad selection of wines are available at El Picoteo. The Manager's Reception offers wine and hors d'oeuvres every evening on the La Veranda Terrace.
Varied amenities provided: The hotel has a fitness facility, library, and business center, and its pool and hot tub look out over San Juan Bay.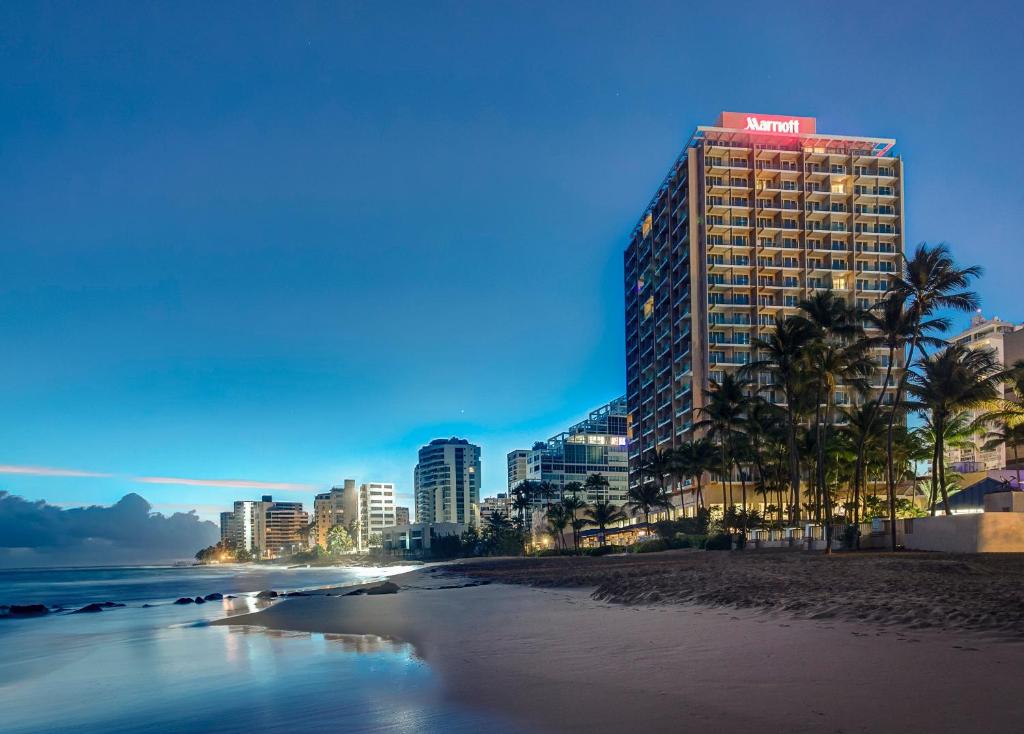 San Juan Marriott Resort and Stellaris Casino (Photo: booking.com)
If you want to make your vacation even more exciting, and experience a full range or resort entertainment, San Juan Marriott Resort is an excellent option. This hotel in San Juan, Puerto Rico is situated just next to Condado Beach. The resort is ten minutes by car from San Juan Luis Munoz Marin International Airport.
Nice places to eat out: At Gingambo, buffet-style meals are offered all day long. At Red Coral Lounge, guests can also have a meal and a drink. La Panaderia provides takeout nibbles and local coffee for people who are constantly on the move.
Great convenience on-sight: On-site amenities for businesses and spa services are offered. Modern equipment is available in the 24-hour fitness center of the San Juan Marriott Resort & Stellaris Casino.
Punta Cana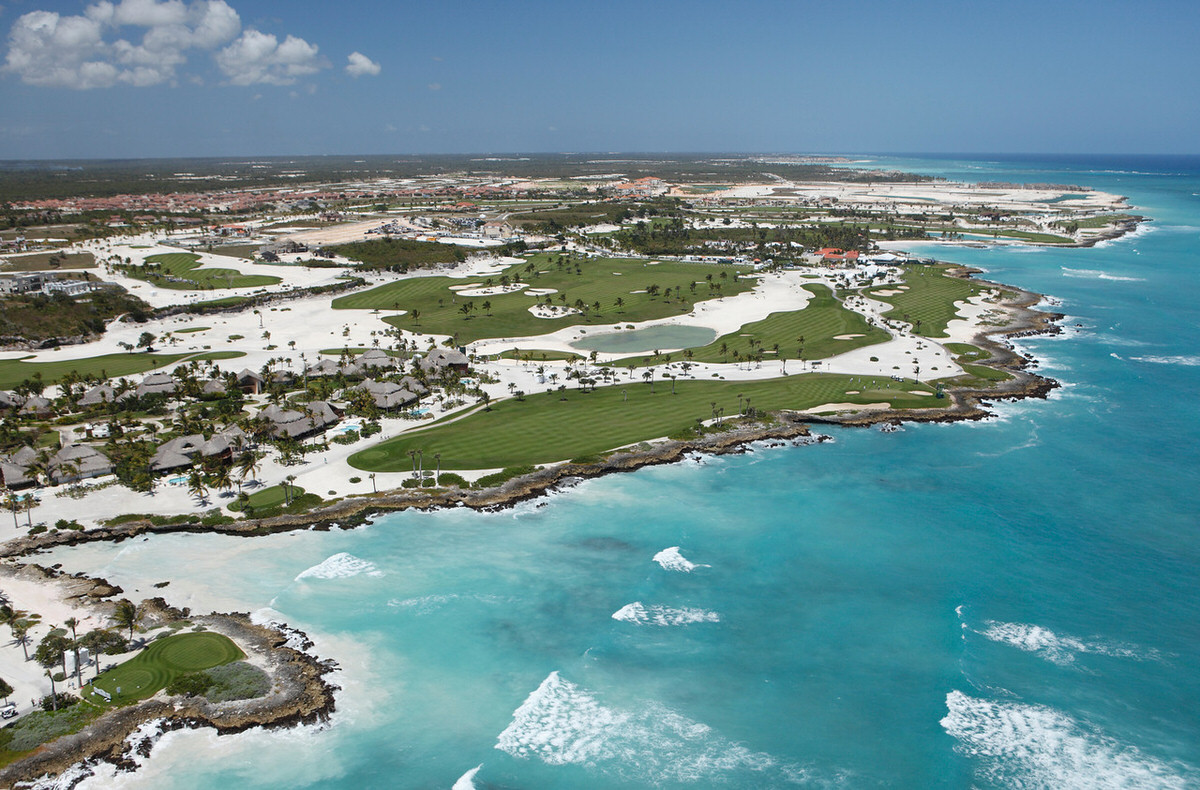 Punta Cana, Dominican Republic (Courtesy GoDominicanRepublic.com)
Exotic Punta Cana's beaches are ideal for water sports and kid-friendly activities. Families can interact with dolphins at Dolphin Island Park or Dolphin Explorer Wildlife Park and see local marine life up close on a Marinarium Snorkeling Cruise. And who wouldn't want to explore the Fun Fun Cave, one of the largest caves in the Dominican Republic.
Four Points by Sheraton is an all-inclusive resort with an excellent children's program and so many fun onsite activities you may never leave the grounds. At the Majestic Elegance Hotel Punta Cana, family amenities include a kids' pool, babysitting and complimentary breakfast.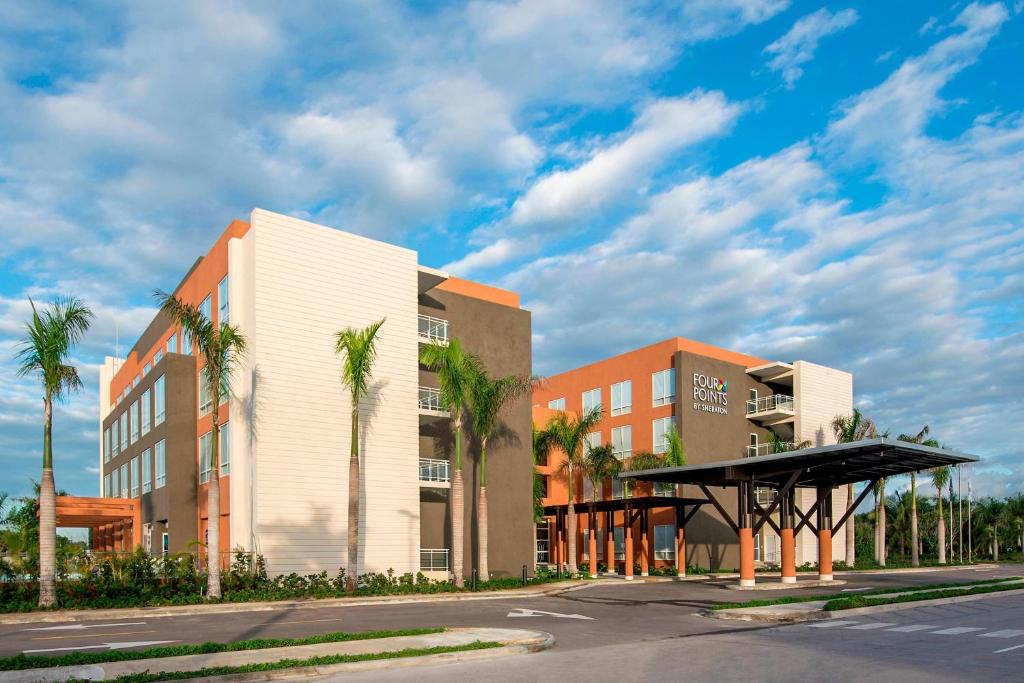 Four Points by Sheraton (Photo: booking.com)
During your vacation at Punta Cana, you should try Four Points by Sheraton as accommodation – the place is located perfectly well: Manati Park is 15 minutes away by car, while Bavaro Beach is 20 minutes away. Also, 3 miles away is the Coral Motorway. The hotel is conveniently situated in Punta Cana Village, 10 minutes by car from the hotel's private beach, and only 2 kilometers from the airport.
Entertainment is abundant: La Cana golf course, Six Senses spa, Punta Cana beach, and Punta Cana Nature Reserve are all accessible via a free scheduled shuttle. The hotel has complimentary Wi-Fi, a pool, and a fitness center.
Comfort for the guests: The air-conditioned rooms of the Four Points by Sheraton Punta Cana Village have contemporary furnishings, a desk, a heater, and cable TV. The showers in the facilities have complimentary toiletries.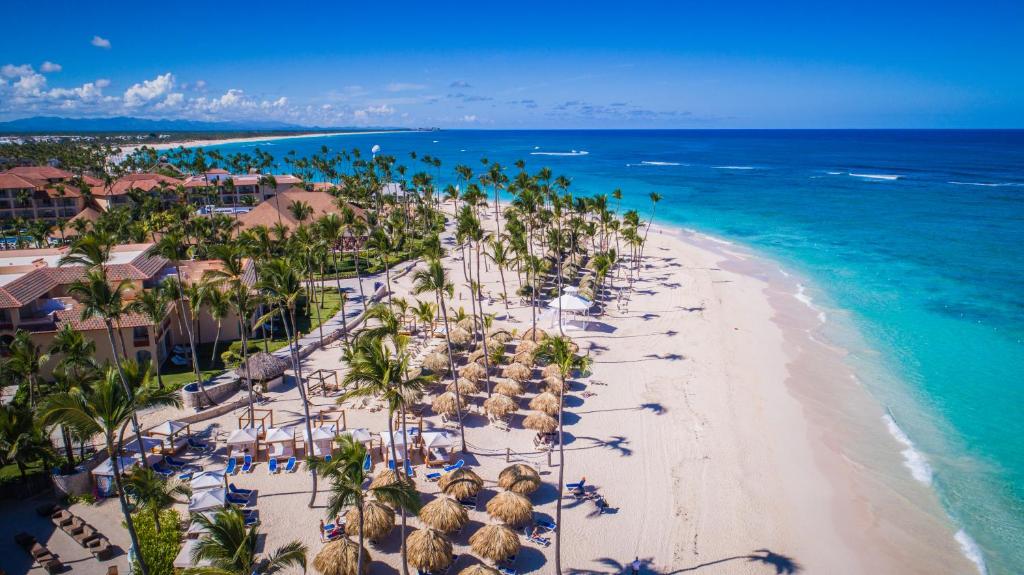 Majestic Colonial Punta Cana (Photo: booking.com)
If you are determined to get the most out of relaxation and unwinding in Punta Cana, you should choose Majestic Colonial Punta Cana as your dream resort.
Exclusive recreation: This beachfront resort has 7 restaurants, a five-star spa, tennis facilities, and exclusive beach access and is located on Arena Gorda Beach with views of the Caribbean Sea. There are two hot tubs and a 400-meter outdoor pool at Majestic Colonial Punta Cana.
A delight for body, mind, and stomach: The Majestic Colonial has 11 bars, several of which have live music, including a poolside and beach bar. Seven restaurants provide both elegant and informal meals. There is both local Caribbean cuisine and food from other countries.
Comfort and convenience: Each apartment has a spa bath in the bathroom. Tile flooring and four-poster beds are features of exquisite and roomy rooms. Each comes with a workstation and a sizable seating space. At Spa Resort Colonial, visitors may unwind with 10 treatment rooms surrounded by gardens, 2 saunas, and a large hot tub.
Nassau
The capital of the Bahamas, Nassau is a popular cruise ship port stop with kid-friendly beaches and unique attractions. Fun places to visit with kids include the Pirates of Nassau interactive museum and Graycliff Chocolatier, where you can make your own candy.
For outrageous water play and dolphin encounters, stay at the popular Atlantis Paradise Island. The beachfront resort's main attraction is the 141-acre Aquaventure, a water park with slides, lazy rivers, pools and a marine habitat.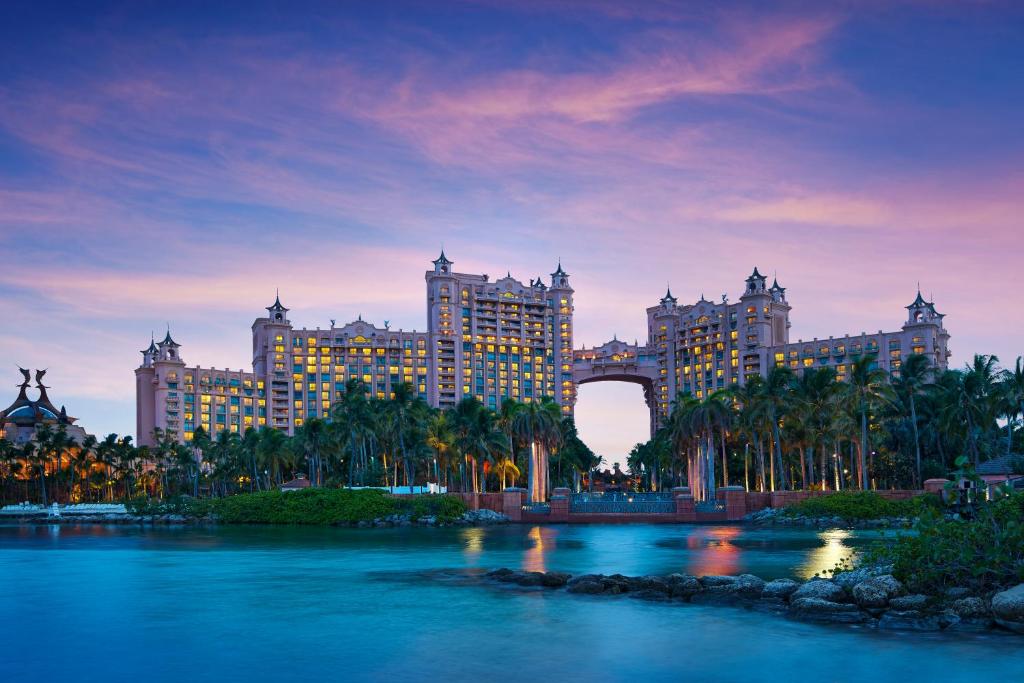 The Royal at Atlantis (Photo: booking.com)
If a cruise ship (or any other transport of choice) ever brings you to Nassau, you just can't miss a chance to spend an amazing time at Atlantis Paradise Resort.
Outstanding entertainment options: The Aquaventure Water Park on Paradise Island has rock climbing, 11 beautifully designed pools, and waterslides. Additionally available to Atlantis Royal Towers visitors are dolphin swims at Dolphin Cay and comedy events at Jokers Wild.
Special sites to visit: In the foyer of this famous tower lies a sizable open-air marine ecosystem called The Dig and Ruins Lagoon. It is situated inside the Atlantis Paradise Resort and Casino.
Cultural and gastronomic pleasures: Every modern Royal Towers Atlantis room has a French balcony with views of the port, the ocean, or the gardens. The Atlantis Paradise Resort features 19 bars and 21 restaurants, including Nobu, which offers fine Japanese cuisine.
Jamaica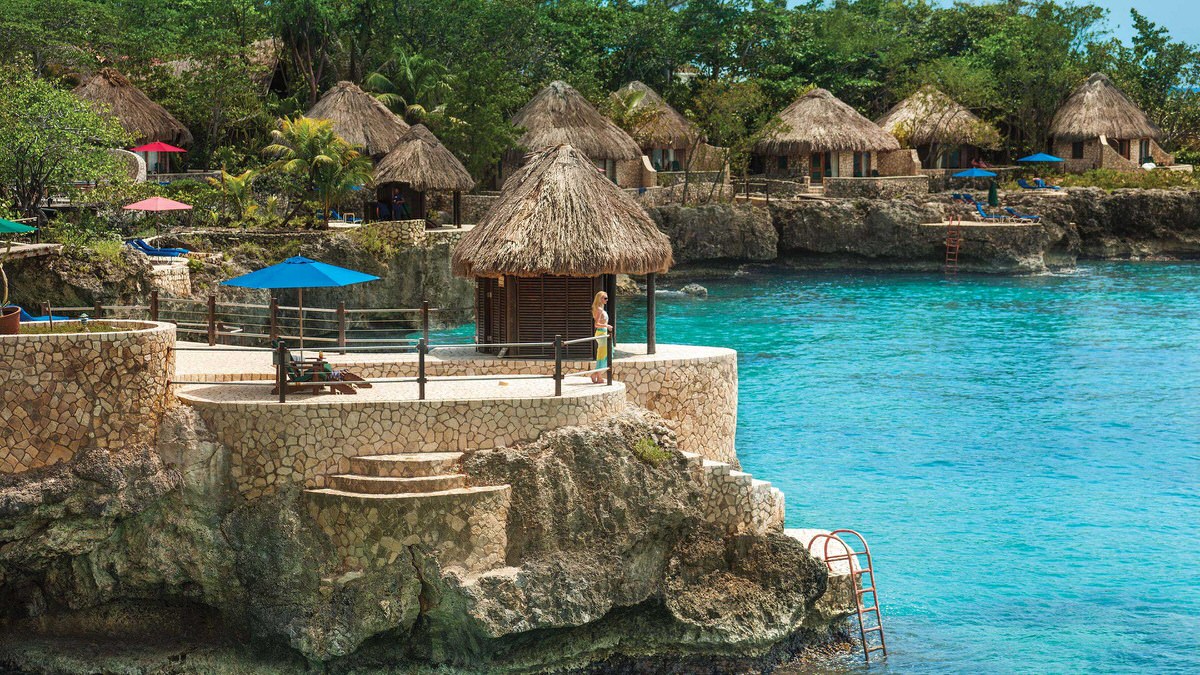 Jamaica (Courtesy VisitJamaica.com)
Friendly locals and a laid-back vibe attract families to this year-round sunny island. Thrilling family-friendly adventures include the Dunn's River Falls & Snorkeling Adventure Tour in Ocho Rios and excursions by Chukka Tours, which include rafting, dune buggy riding and zip lining.
After an exciting day of play, relax at the kid-friendly Jamaica Inn in Ocho Rios. Another good family hotel is Riu Hotel Ocho Rios, featuring a kids' club and water sports.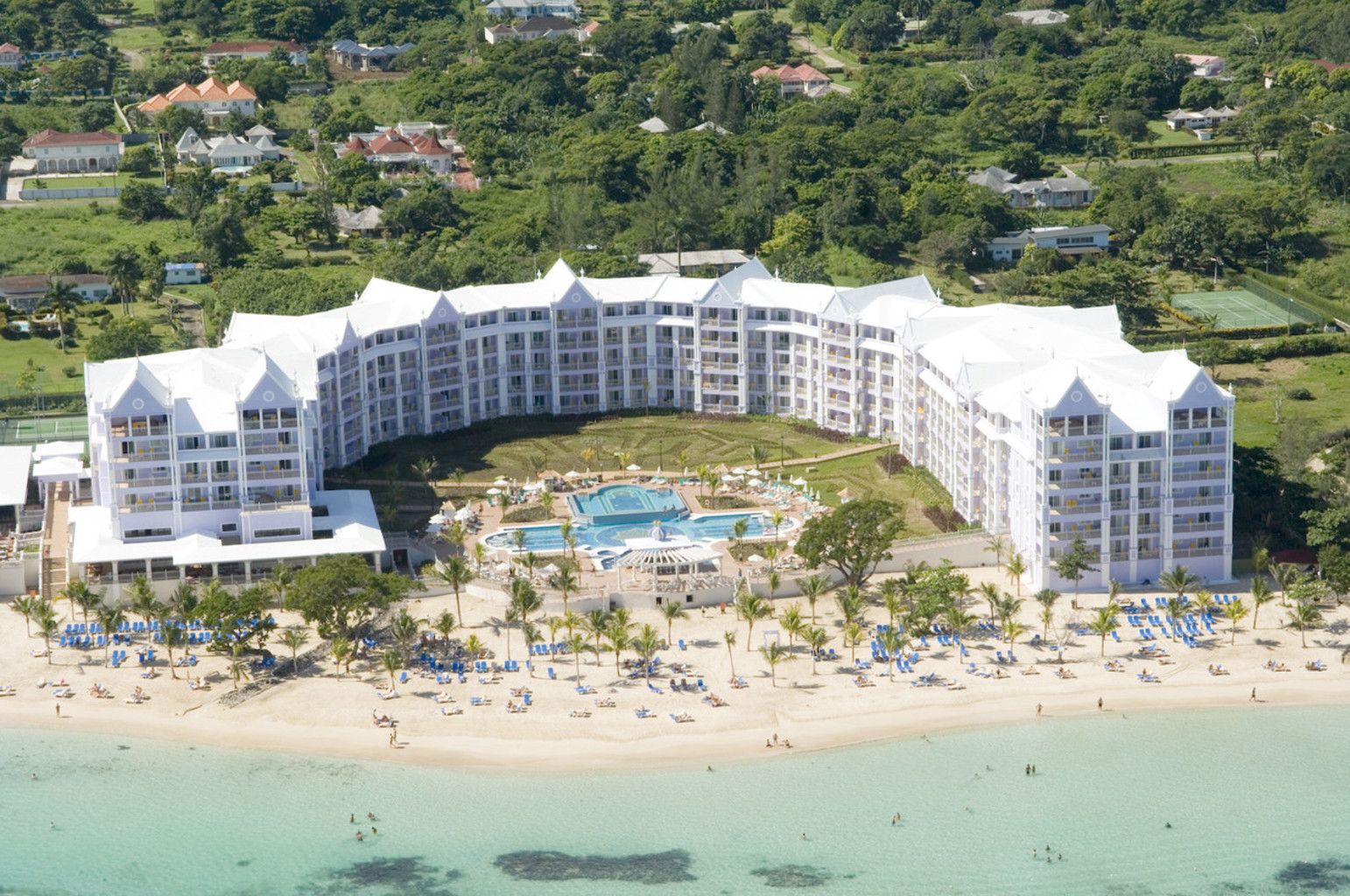 Riu Ocho Rios (Photo: booking.com)
No other place can make you experience the delights of Jamaica better than Riu Ocho Rios – All Inclusive. The main attractions are only a short stroll from Riu Ocho Rios. To make it easier for guests to get around Ocho Rios' attractive regions, the hotel offers services like car rentals.
Direct tour orders from guests are accepted at the lodging establishment. Some of the accommodation designs at the Riu Ocho Rios feature extras like a balcony or terrace.
The housing facility's close proximity to the beach is one of its benefits. Massage treatments, a salon, a sauna, a spa, and a spa tub are available to finish your journey. A swimming pool is one of the many leisure options provided by Riu Ocho Rios.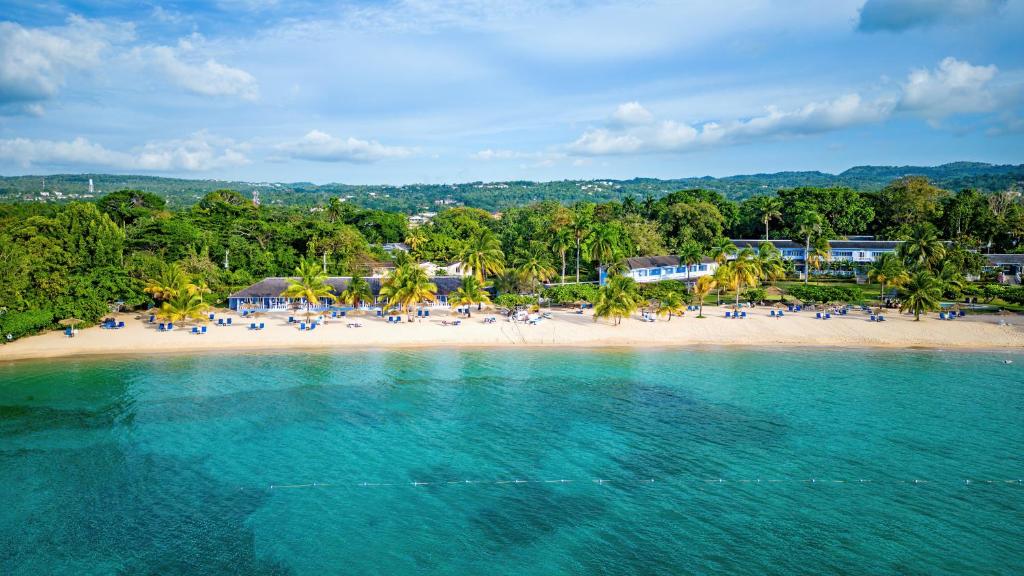 Jamaica Inn (Photo: booking.com)
Another place to offer you an exciting pastime is Jamaica Inn – a resort that offers elegant suites with equipped porches or balconies overlooking the Caribbean Sea are available. The oceanfront spa and outdoor pool are features of this chic resort.
Outstanding kinds of entertainment: In addition to kayaking, snorkeling, and croquet, the Jamaica Inn can arrange for additional adjacent watersports. On-site parking is free, and the concierge can arrange transportation to the airport upon request.
Food delights: Breakfast is given in a variety of ways on the terrace, which overlooks the bay. Fresh soups, salads, and light fare are served for lunch, and there are weekly lobster nights on the dinner menu. On request, lunch can be carried to the beach, and each morning, guests are given a complimentary glass of punch.
Cabo San Lucas
With sunny beaches and loads of kid-friendly attractions, it's no wonder Cabo is a favorite family vacation destination. A top kid-friendly attraction is the Buccaneer Queen, a pirate-themed ship that sails by the famous arches, Lovers Beach and the coral reefs. And at Cabo Dolphins, you can touch, feed and swim with dolphins.
After an exciting sightseeing day, unwind at the beachfront Villa Del Arco Beach Resort, equipped with kitchenettes and private balconies.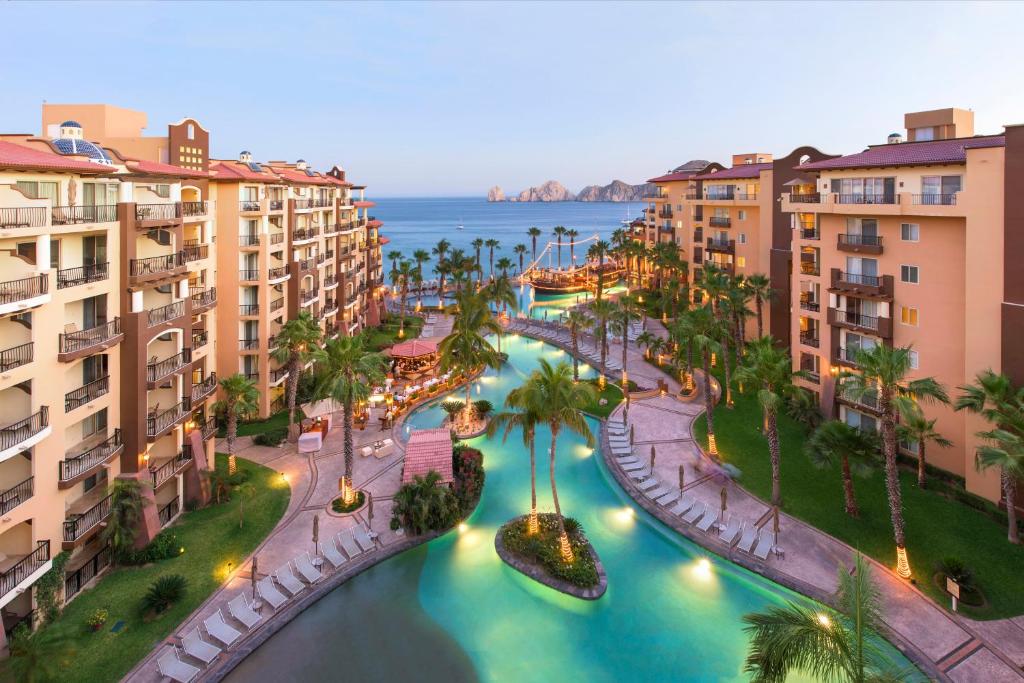 Villa del Arco Beach Resort & Spa (Photo: booking.com)
Your ultimate vacation in Cabo San Lucas can become truly luxurious if you choose to stay at Villa del Arco. This elegant beach resort and spa is situated in Cabo San Lucas on El Médano Beach.
All the entertainment you can wish for: Along with restaurants and a sailing facility, there is a three-level wellness spa. The sauna and pool are available for use by visitors. Tennis courts, a scuba diving facility, and a mini-market are all available in Cabo San Lucas Villa del Arco.
Convenient accommodation for travelers: At Villa del Arco Cabo San Lucas, every suite has a living room and a spacious bathroom. The kitchenettes come with a microwave, refrigerator, and burner.
Hawaii Island
Home to volcanoes and black sand beaches, the Big Island has larger than life adventures. Walk through an ancient lava tube, then hike to the bottom of the Halemamau Crater at Hawaii Volcanoes National Park. For aerial views of flowing lava and waterfalls, catch a ride with Blue Hawaiian Helicopters. Snorkel in crystal clear water with Fair Wind Big Island Ocean Guides. The evening Manta Ray cruise is also a fun family adventure!
The Hilo Hawaiian Hotel is a good home base for exploring the island's northeastern coast. In Kona, the Outrigger Kona Resort and Spa has fun family pools.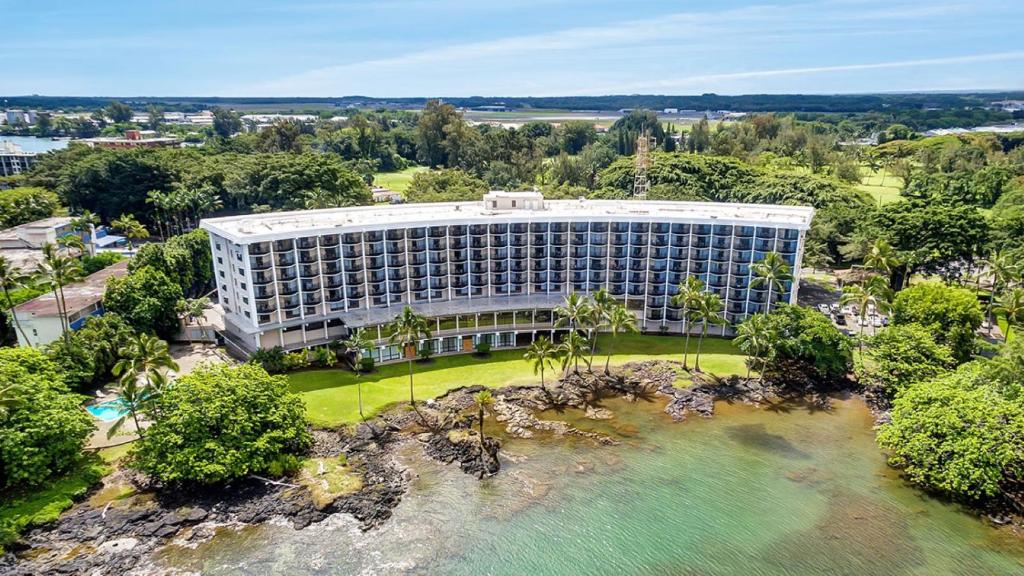 Castle Hilo Hawaiian Hotel (Photo: booking.com)
Your dream Hawaii vacation can become an even more outstanding experience at Castle Hilo. The Hilo Hawaiian Hotel offers visitors numerous thoughtful amenities, like a gift shop and a freshwater pool, in addition to its excellent location. This hotel offers roomy, contemporary accommodations just outside of Hilo.
Activities to fit any taste: Visitors can take leisurely strolls along Onekahakaha Beach or through Liliukalani Garden. Additionally nearby is the Halemaumau crater, which has waterfalls and trees. Near the Castle Hilo Hawaiian Hotel, there are countless options for recreation, including top-notch golf courses.
Your restaurant dream is here: The Hilo Hawaiian Hotel's Whiskey Steak Wine (WSW) The Steakhouse restaurant is available to guests. It offers top-notch steaks, a wide selection of seafood, East Hawaii's greatest wine list, and a table-side Whiskey Cart experience.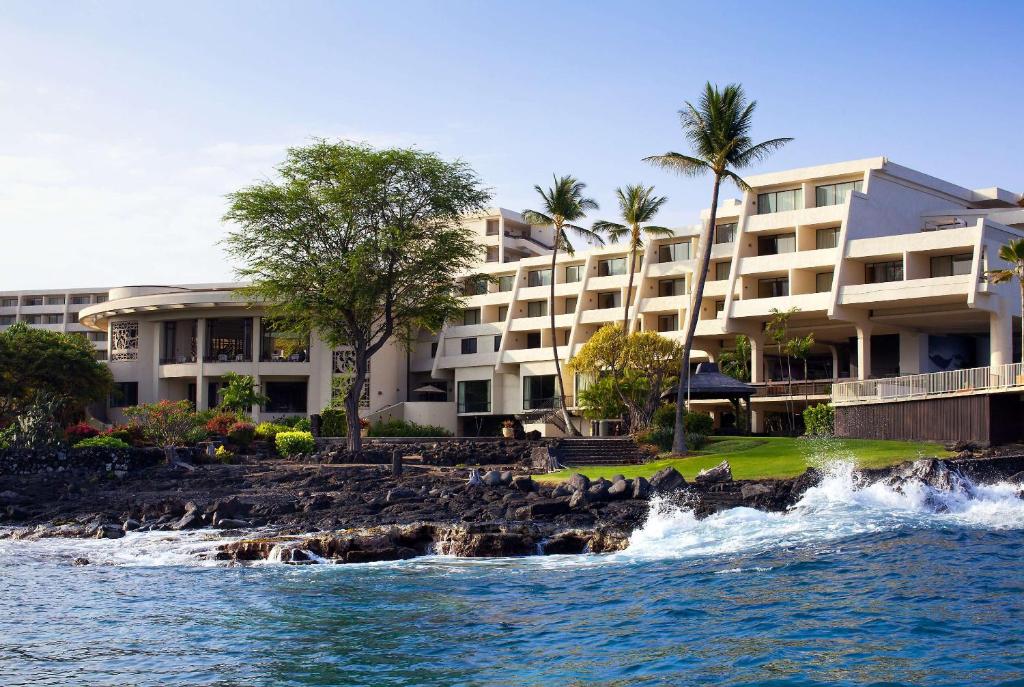 Outrigger Kona Resort and Spa (Photo: booking.com)
Another incredible option of Hawaiian accommodation is Outrigger Kona Resort and Spa. Services at the opulent Ho'ola Spa are provided in its individual outdoor treatment rooms with views of the ocean. This hotel boasts breathtaking views of the Pacific Ocean, a multi-level fantasy pool, and a 200-foot water slide.
Yoga, lei-making, hula lessons, ukulele lessons, and cultural tours of the nearby old fishing hamlet are among the guest activities.
(MORE: Top Places to Spend Christmas at the Beach)
Grand Cayman
The largest of three Cayman Islands in the Caribbean, Grand Cayman is a water lover's paradise with thrilling family-friendly activities. For a memorable experience, visit Stingray City, a natural habitat for stingrays along shallow sandbars. Feed and pet the gentle creatures. At Dolphin Discovery, you can swim with dolphins in shallow water.
Several hotels are situated on pristine Seven Mile Beach (a destination in itself). Enjoy water sports at the Grand Cayman Marriott Beach Resort, and the large pool at the Ritz-Carlton Hotel Grand Cayman.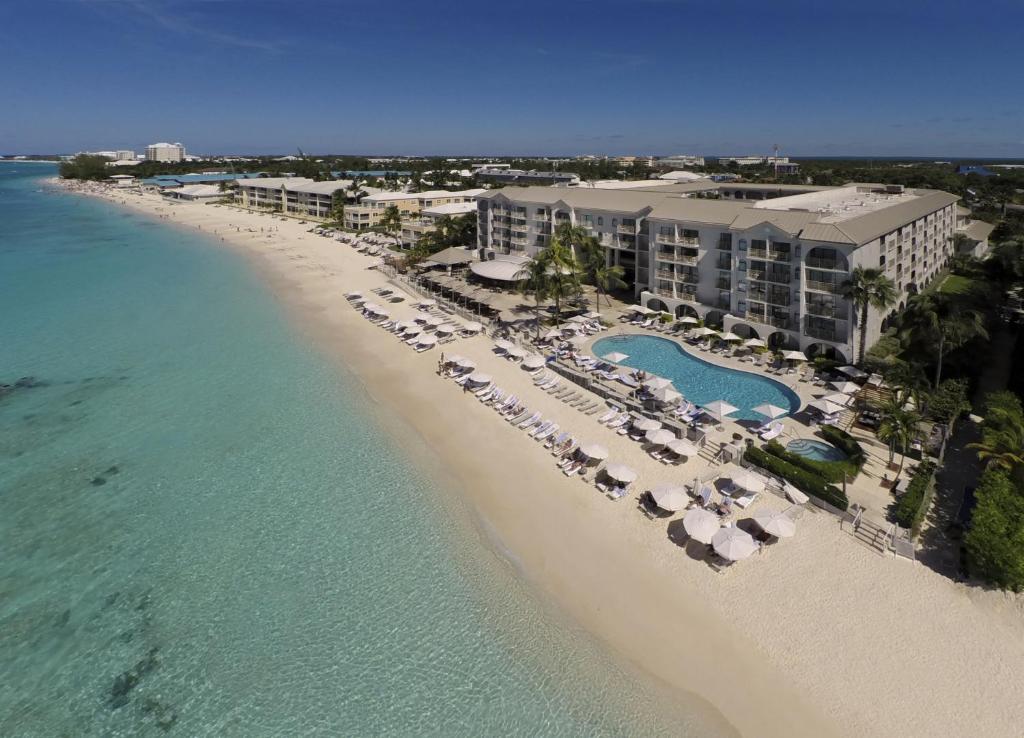 Grand Cayman Marriott Beach Resort (Photo: booking.com)
You can't fully experience Grand Cayman if you do not try staying at Marriott Beach Resort. There are restaurants on-site and an oceanfront pool at this opulent Grand Cayman beachfront hotel. The Grand Cayman Marriott Beach Resort offers accommodations with a calming beach house vibe.
Great location and attractions: From The Links at Safehaven Golf Course, this hotel is 0.6 miles away. The distance between the hotel and Owen Roberts International Airport is about ten minutes by car. The Marriott Grand Cayman's on-site full-service Botanika Union Spa offers massages for guests to unwind. In addition, there are attractive lounging places and tropical gardens with a turtle lagoon.
Outstanding food: Veranda on Seven Mile Beach and the Anchor & Den in the Great Room are two on-site restaurants that provide international food for lunch and evening. The Den has a juice bar and creperie for breakfast.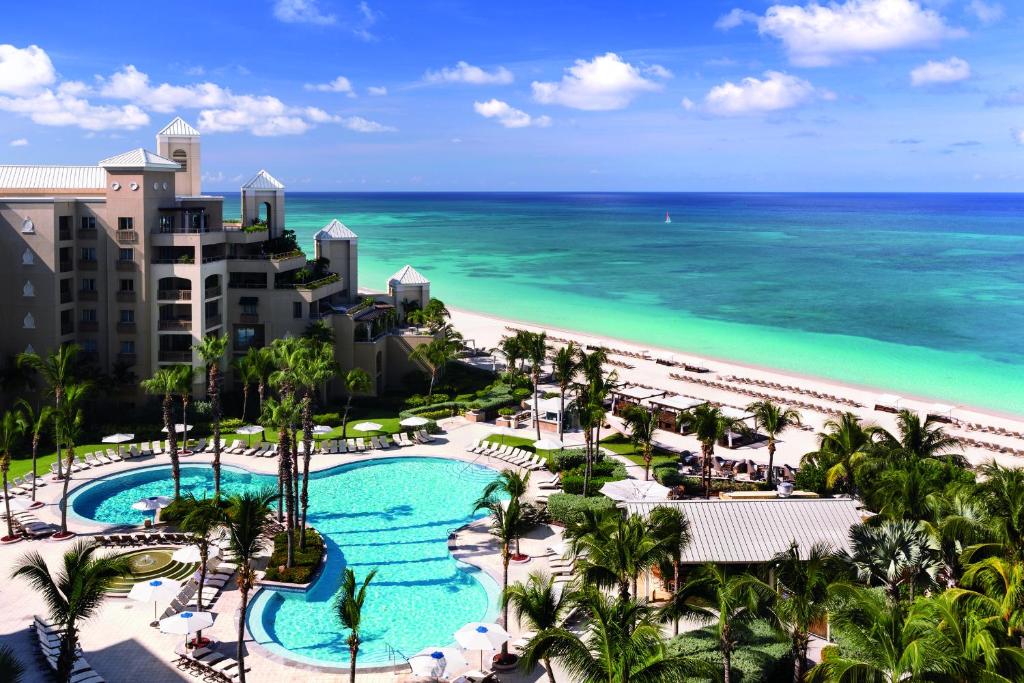 The Ritz-Carlton, Grand Cayman (Photo: booking.com)
Another wonderful option is The Ritz-Carlton. The drive to Owen Roberts International Airport takes only ten minutes.
Just 1.9 miles separate this beachside hotel from George Town. This AAA Five Diamond Award winner has a restaurant, a bar, a snack bar, a hot tub, and concierge services among its amenities.
Los Angeles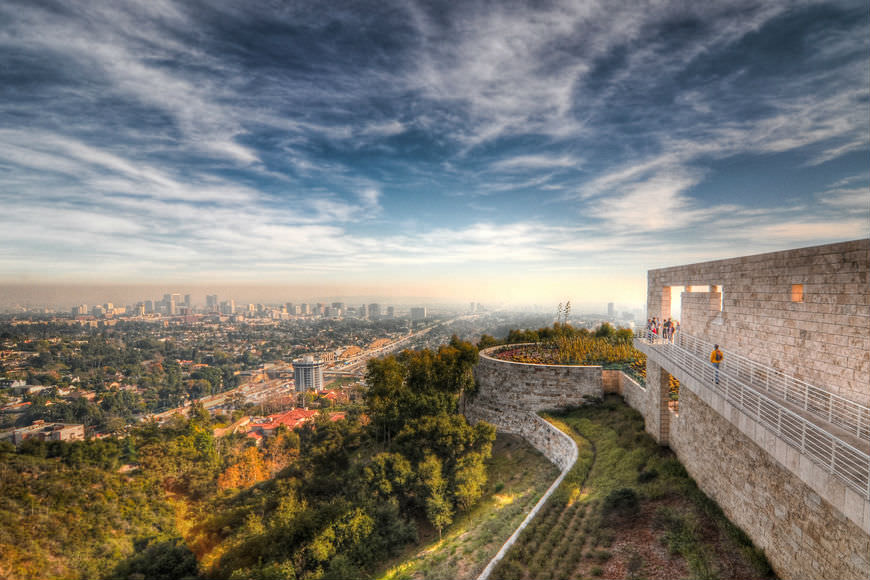 Los Angeles, CA (Flickr: Justin Vidamo)
While temperatures are typically cooler during the winter months, most days are warm enough for outings to beaches, parks, mountains and family-friendly attractions in Los Angeles. If sun and surf is what your family seeks, head to the Santa Monica Pier, home to an amusement park, carousel, aquarium and restaurants. Wade in the ocean and picnic on the wide state beach. Another top family destination is Griffith Park, where you can ride horses and miniature trains, visit the LA Zoo and check out starry sights at the Griffith Observatory.
Among LA's many family-friendly hotels is the Sheraton Universal Hotel, just steps from Universal Studios Hollywood. Prefer staying near the beach? Loews Santa Monica Beach Hotel is a short walk to the beach.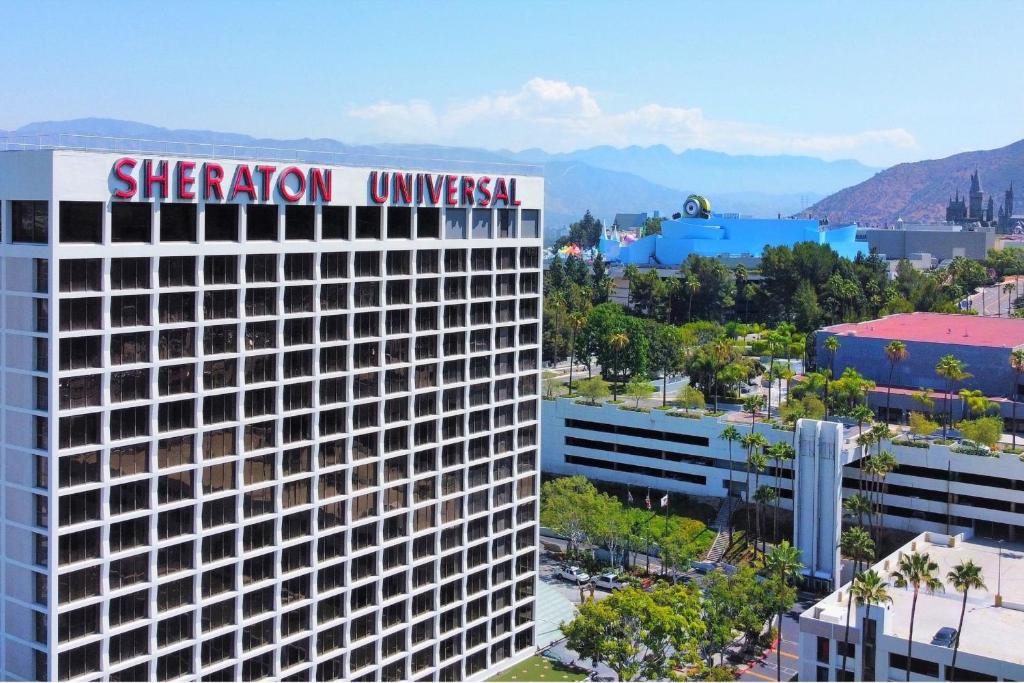 Sheraton Universal (Photo: booking.com)
One of the best places to enjoy beach activities in Los Angeles is Sheraton Universal – Melrose Avenue, Hollywood, Beverly Hills, and downtown Los Angeles are all easily accessible to guests of the Sheraton Universal Hotel.
Hollywood-level entertainment: In the center of Universal City, close to numerous nearby attractions, is where you'll find the Sheraton Universal Hotel. Swimmers can cool down in the outdoor pool. The Hollywood Hills and Universal Studios will also be accessible to visitors.
Can make any foodie thrilled: The Sheraton Universal Hotel offers quick access to the region's many attractions, including dining, shopping, and entertainment. All of these come with a wide selection of contemporary amenities that will satisfy the requirements of both leisure and business tourists. Visitors can unwind at the property's on-site cocktail lounge after a day of touring.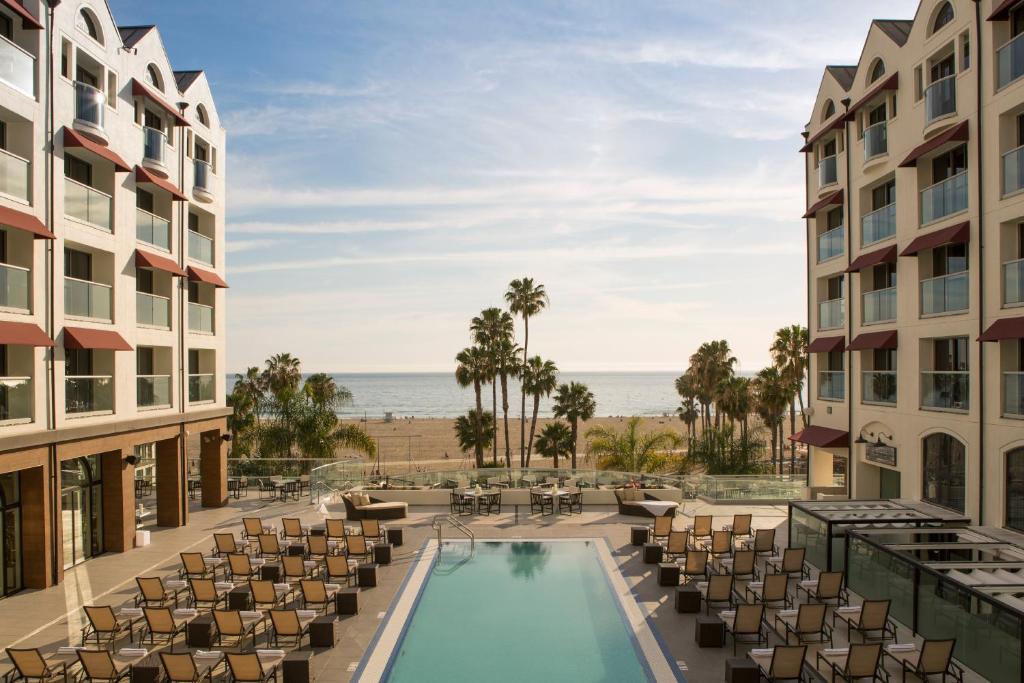 Loews Santa Monica Beach Hotel (Photo: booking.com)
If you prefer exquisite beach accommodation in L.A., Loews Santa Monica Beach Hotel can become your dream destination. A beachfront hotel with views of the Pacific Ocean and Pacific Park Amusement Park is located 22.5 kilometers west of downtown Los Angeles. It has a sizable pool right on the water.
Joyful foods: Contemporary California food is served at Blue Streak Restaurant and For Five Coffee Roasters, both of which are housed in the Loews Santa Monica Beach Hotel.
Any kind of fun available: Visitors can unwind in the hotel's raised pool on the fourth level, which provides stunning views of the Pacific Ocean and Santa Monica Pier. Visitors may soak up the sun or unwind at the hotel's pool deck, which features 13 fire pits designed to look like campfires and commanding seaside views. The hotel provides personal trainers.
Convenient for business travelers and sightseeing: The hotel offers both indoor and outdoor conference and event rooms, as well as close proximity to Santa Monica's famous attractions. It also has a sizable fitness facility. The Loews Santa Monica Beach Hotel is 3.2 kilometers from Venice Beach. The facility is 15 minutes drive from Los Angeles International Airport.
Riviera Maya and Cozumel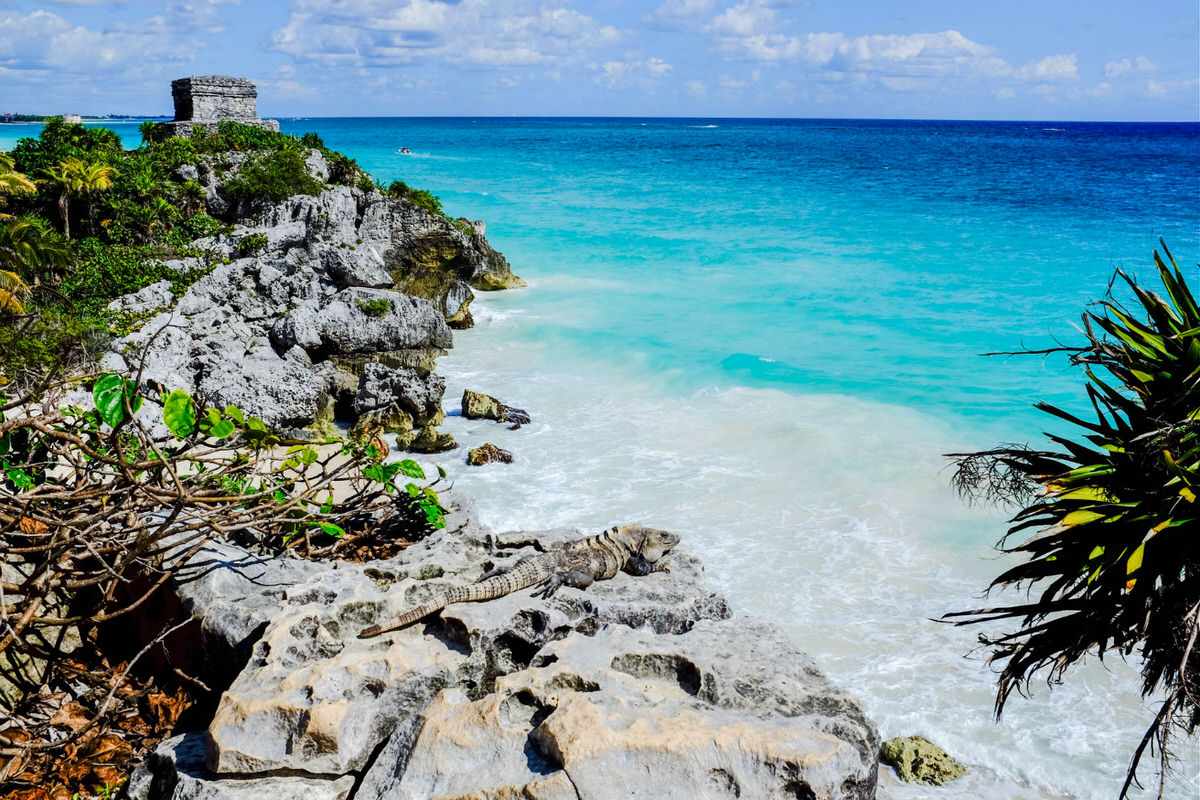 Riviera Maya, Mexico (Photo: Michelle Uy)
While best known for Mayan ruins, Riviera Maya has stunning family-friendly beaches as well as attractions utilizing natural surroundings. For example, Xel-Ha is a 210-acre natural aquarium and tropical jungle that's simply magical. Activities include snorkeling, tubing and cliff diving. Also a must-see is Tulum, the site of a pre-Columbian Maya walled city overlooking the azure sea below. In nearby Cozumel (about a 45-minute ferry ride), families can swim in a lagoon, snorkel and play laser tag in mock ruins at the Chankanaab Beach Adventure Park.
Great kid-friendly, all-inclusive resorts in the Riviera Maya area include the luxurious Grand Velas Riviera Maya, which has pools, gourmet restaurants and personalized butler concierge services. El Cozumeleno Beach Resort Cozumel faces the Caribbean and is near downtown's shops and restaurants.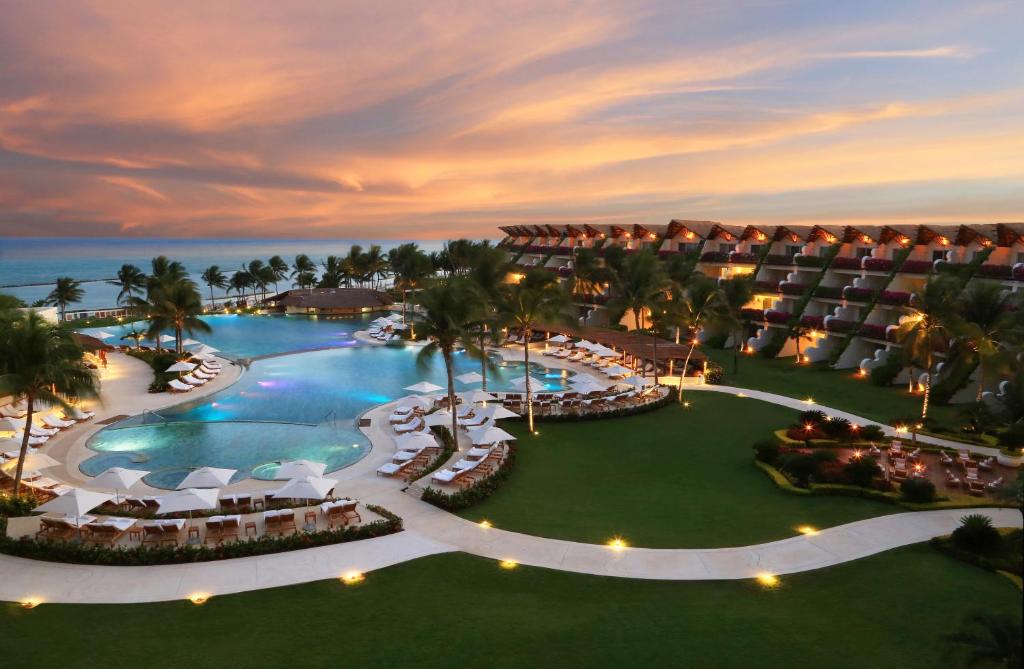 Grand Velas Riviera Maya (Photo: booking.com)
If you are looking for an all-inclusive system of vacation, you should pay close attention to Grand Velas Riviera Maya. Grand Velas, which offers natural settings devoted to treating the senses and allowing you to reconnect with the carefree yet opulent Caribbean lifestyle, opens its doors with a view of the Caribbean Sea.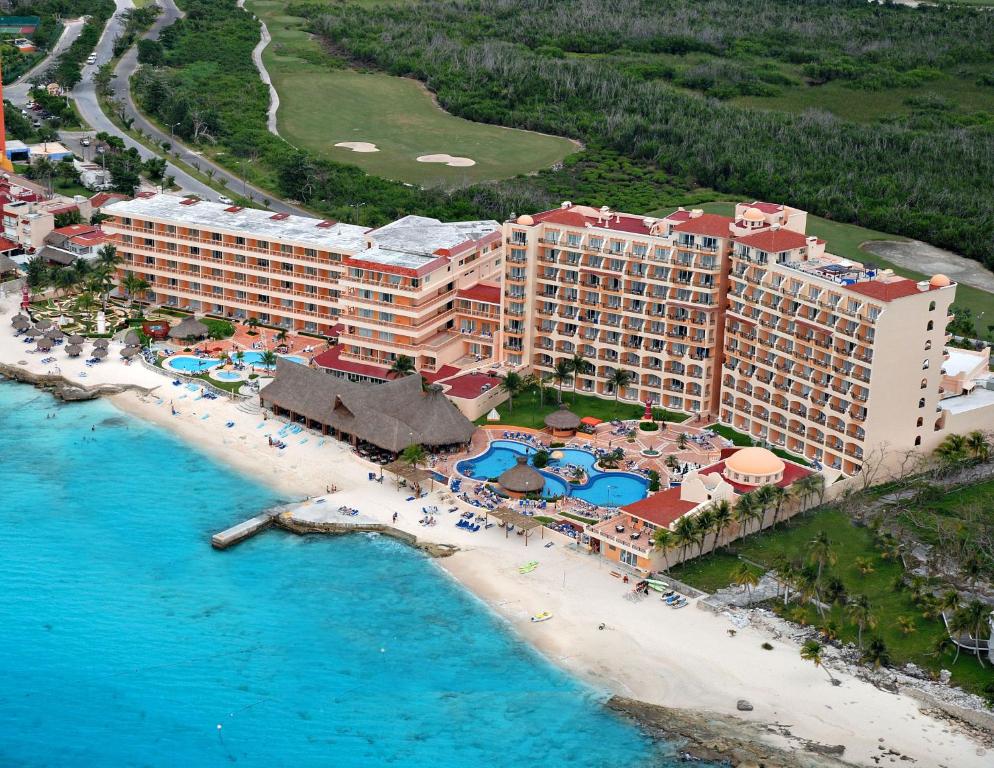 El Cozumeleño Beach Resort (Photo: booking.com)
Another place to give you a memorable experience is El Cozumeleño Beach Resort. This all-inclusive resort, located at the northernmost point of Cozumel's Hotel Zone, provides an outdoor pool, two restaurants, and free WiFi in public areas.
A great variety of entertainment: High performing athletes can train at the property's specific facilities. All year long, special transportation to some of the sporting events as well as themed banquets is also provided. The dive shop at El Cozumeleo Beach Resort provides free snorkeling gear as well as no-cost introductory diving instruction in the swimming pool. Adults can take a bike excursion or utilize the gym.
Foodies' delights: El Cocal Restaurant serves breakfast, lunch, and supper buffet-style or à la carte. The pool bar provides national and foreign beverages and snacks.
(MORE: Most Festive Christmas Destinations in Europe)
Orlando
With several world-class theme parks, Orlando is practically synonymous with thrilling family vacations. Walt Disney World has four theme parks and two water parks while Universal Orlando has two theme parks and CityWalk, with the well-designed Wizarding World of Harry Potter straddles both parks.
For Disney perks including free transportation to the parks, stay at an onsite hotel, such as Walt Disney World Dolphin or Disney's Polynesian Village Resort. Universal Orlando onsite hotels, such as the Loews Portofino Bay Hotel is a family favorite for its amenities and close proximity to the parks.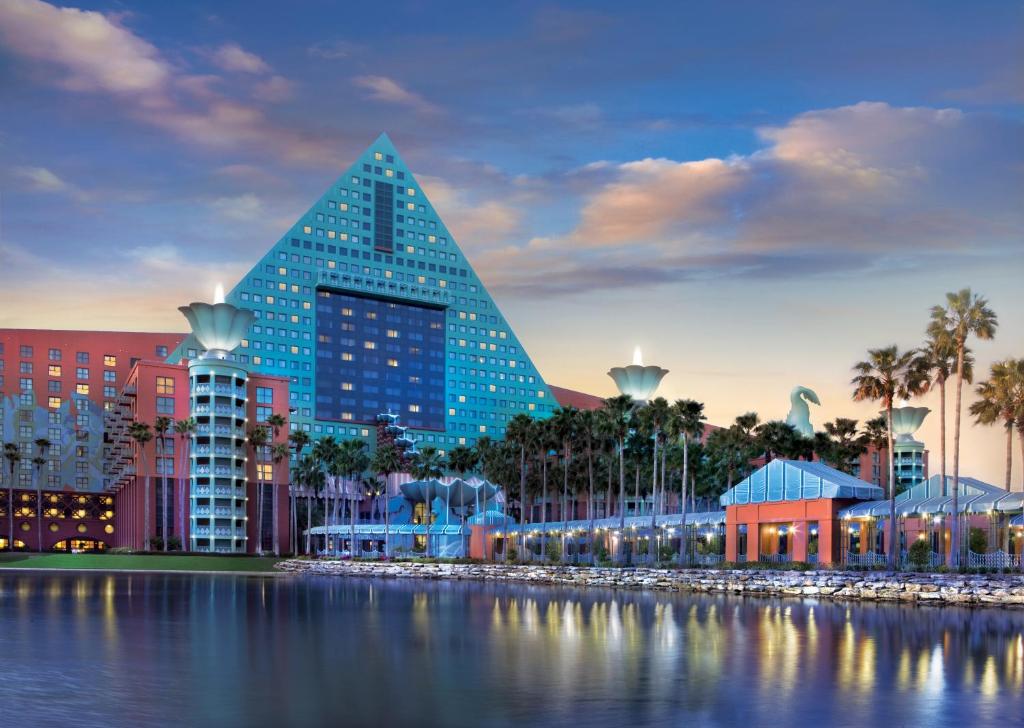 Walt Disney World Dolphin (Photo: booking.com)
We have personally checked and now can say for sure that for a family-friendly entertainment, leisure and enjoyment in Orlando, Walt Disney World Dolphin is absolutely outstanding.
All sightseeing is available: The distance to Universal Orlando Resort is 12 miles. The Disney BoardWalk's attractions and restaurants are a seven-minute stroll from the hotel. The Epcot theme park is about a 15-minute walk away from visitors.
Outstanding entertainment: There are five outdoor swimming pools, four hot tubs, and a spa on site. All Walt Disney World Dolphin visitors get access to early admission, longer nighttime hours, and daily 7 AM Lightning Lane options at Walt Disney World.
The most varied dining options: The Dolphin offers access to 17 dining establishments, including Shula's Steak House and Todd English's Bluezoo restaurant. At Garden Grove, there is a character-themed dining option.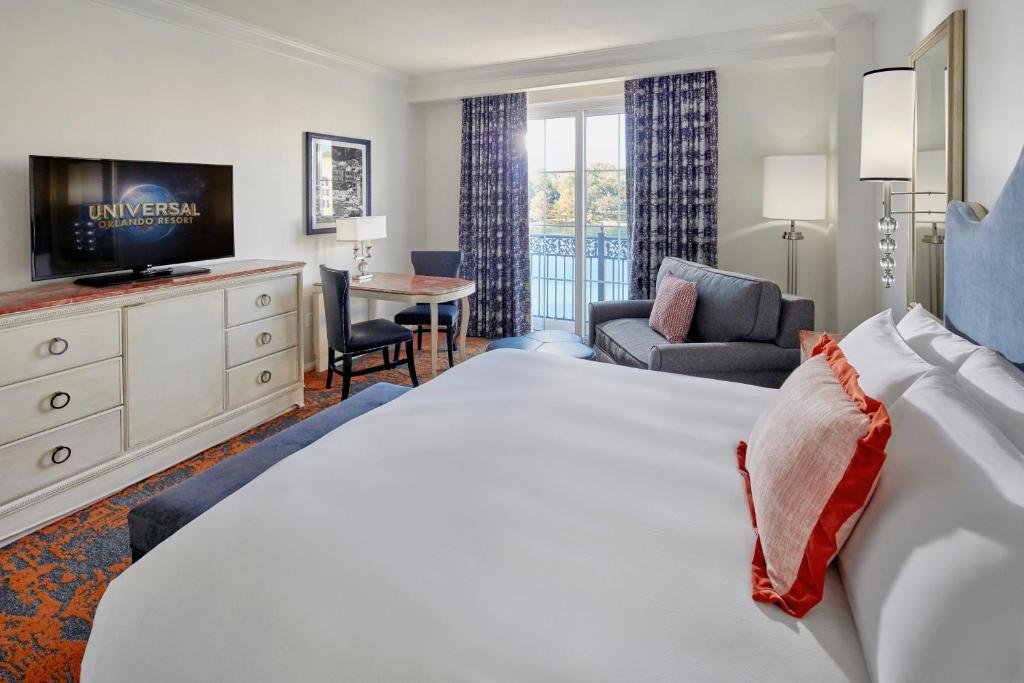 Universal's Loews Portofino Bay Hotel (Photo: booking.com)
Another incredible place to stay in Orlando is Universal's Loews Portofino Bay Hotel, offering comfort and varied entertainment options. The Wizarding World of Harry PotterTM and Universal Studios are located in Islands of Adventure, which is accessible via the complimentary transfer service. It is 9.9 miles to the Orlando Premium Outlets.
All-in-one fun: On-site amenities include a fully-stocked fitness facility and the full-service Mandara Spa. The Orlando Loews Portofino Bay Hotel boasts three themed outdoor pools, an on-site art gallery, and a shuttle service to Universal Studios entertainment parks.
Food delight for everyone: For supper and property views, Bice Ristorante specializes in exquisite Italian food. At Mama Della's Ristorante, diners may enjoy informal Italian cuisine.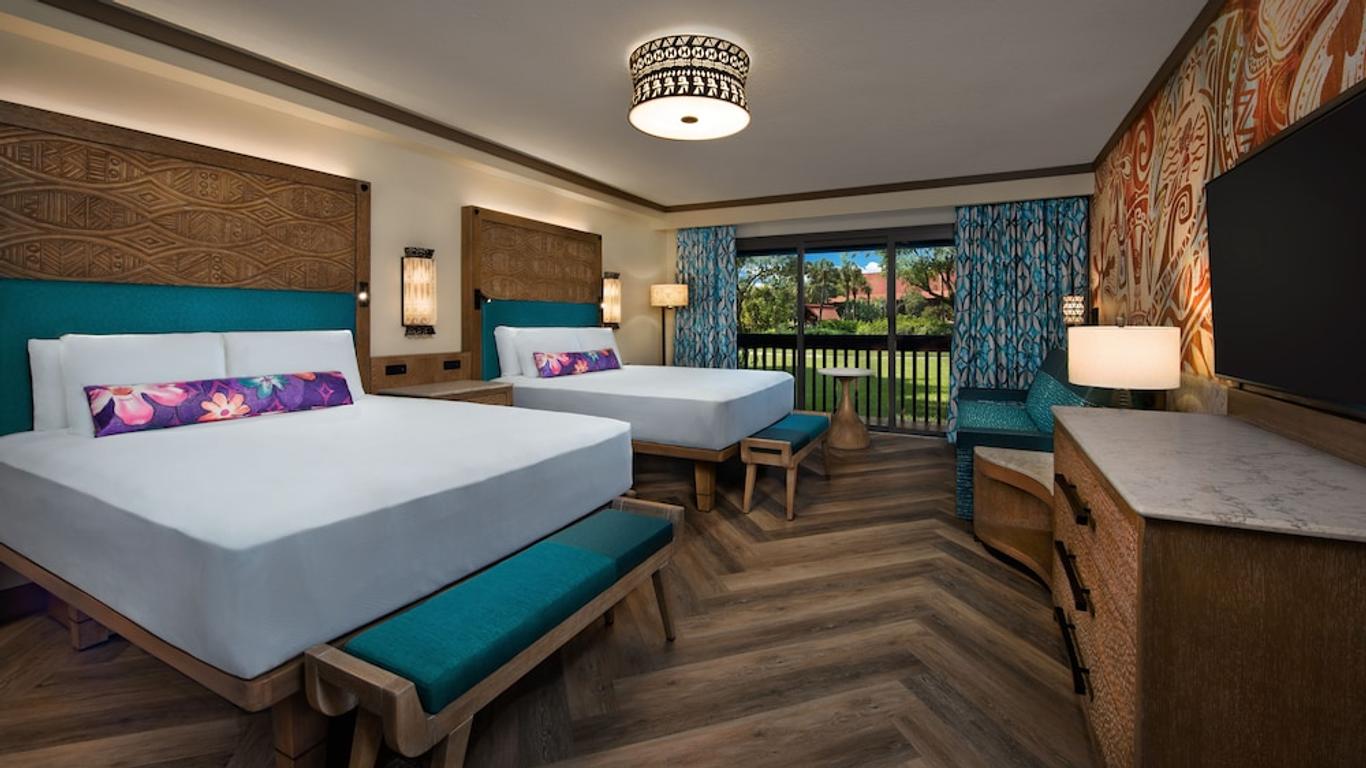 Disney's Polynesian Village Resort (Photo: agoda.com)
Last but not least, you can't miss a chance to experience a vacation at Disney's Polynesian Village Resort. One mile from Disney's Polynesian Village Resort, Disney's Magic Kingdom is where nature enthusiasts can enjoy the wonderful outdoors.
Greatly convenient: There is on-site parking at this resort if you're traveling by vehicle. To ensure that your stay is as comfortable as possible, this resort provides car rentals and shuttle service.
A lot of fun to experience: You'll want to hang out at the poolside bar at Disney's Polynesian Village Resort. Excellent sports facilities are available at this resort to assist visitors to maintain their fitness while away. Boat services are available for those who enjoy water sports.
Mimi Slawoff of Planetfamilytravel contributed this to MiniTime. She is a Los Angeles-based journalist and a seasoned family travel expert who explores the world with her three children and writes about their journeys.