Walt Disney World, Florida
By Mary Waring and A.J. Wolfe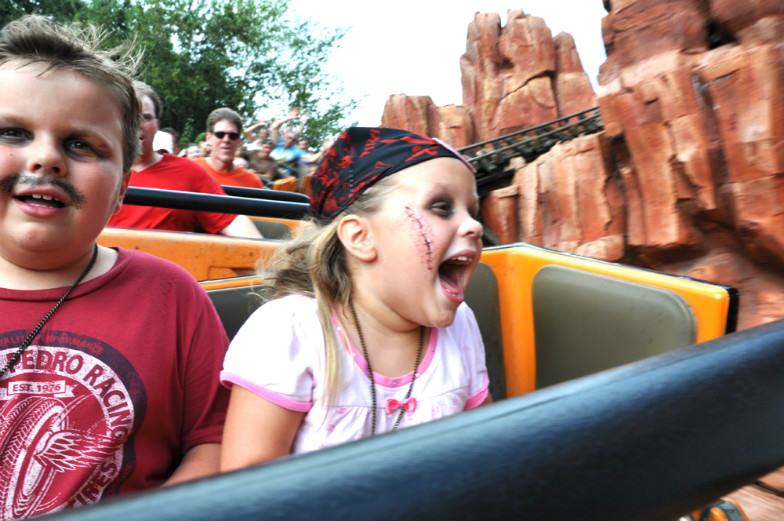 Mini pirates at Disney World (Flickr: Serena)
Two popular Disney bloggers, Mary Waring of Mousesavers.com and A.J. Wolfe of DisneyFoodBlog.com, share with us 13 free things you can do with kids in Disney World without having to buy a park ticket. From exploring the BoardWalk and Downtown Disney to catching the fireworks show and going on a little hidden Mickey hunt, you and the kids can experience the Disney magic without spending the big bucks!
BoardWalk: Disney's beautifully themed BoardWalk, built along the edge of a lake, is reminiscent of Cape May or Coney Island in the 1930s. It's fun to walk around and enjoy the old-fashioned atmosphere, and kids will love checking out their reflections in the funhouse mirrors. In the evenings you can enjoy street performers such as jugglers, comedians, fire-eaters and jazz ensembles.
Downtown Disney: This attractive shopping and restaurant zone is perfect for a family stroll. Check out the interactive fountains where children (and adults who have the guts) may enjoy playing and getting wet. The LEGO Imagination Center has a free 3,000-square-foot outdoor play area filled with thousands of LEGO blocks, plus huge LEGO sculptures for you to admire. There are also free magic demonstrations at the Magic Masters shop.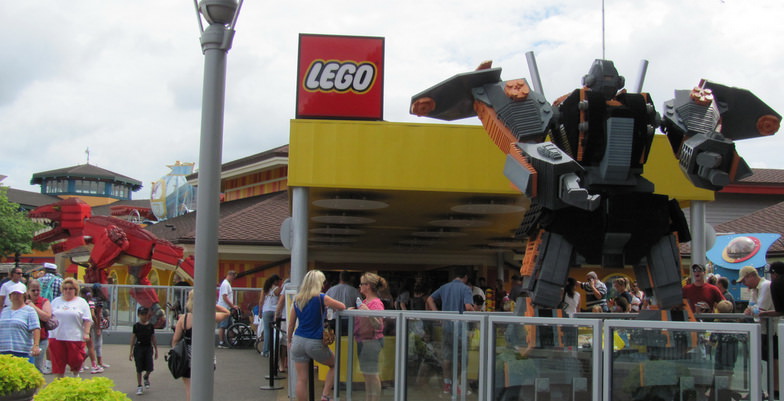 Lego Imagination Center in Downtown Disney (Flickr: Loren Javier)
Disney Value Resorts: If you're looking for a fun photo opportunity, consider visiting one of Disney's Value Resorts: All-Star Sports, All-Star Movies, All-Star Music or Pop Century. Each of these hotels features enormous models of pop culture icons. You can take a family photo in front of a 35-foot Buzz Lightyear at All-Star Movies, or with Mr. and Mrs. Potato Head at Pop Century. Just tell the gate attendants you'd like to visit the resort and they'll give you a three-hour parking permit.
(MORE: Dazzling Discounts for Late Summer/Early Fall at Disney)
Monorail: There is no charge to ride and you can get a bird's-eye view of the Magic Kingdom. You can even ride up front with the monorail driver if you ask the cast member at the gate. Usually the drivers are very friendly and will give kids a special certificate.
Monorail in Magic Kingdom (Flickr: Evan Wohrman)
Electrical Water Pageant: This floating parade is visible every night, usually starting at 9pm, from Disney's Magic Kingdom-area resort hotel docks and beaches. The pageant takes about an hour to move slowly around the lake, stopping at each resort in order: Polynesian, Grand Floridian, Wilderness Lodge, Fort Wilderness and Contemporary. You can also get a wonderful, and free, view of the Magic Kingdom fireworks from the beach areas at Disney's Grand Floridian and Polynesian resorts.
Enjoy a Campfire with Chip 'n' Dale: This rollicking outdoor event is the perfect place to unwind. Located at Disney's Fort Wilderness Resort, the evening includes a sing-a-long around the campfire (marshmallow roasting kits are available for a fee), followed by an under-the-stars screening of a kid-friendly Disney film. The campfire usually begins around 7:30pm, when Chip 'n' Dale stop by. This is one of the only places in Disney World to hang out with characters for free.
Catch a Fireworks Show: Seeing the Magic Kingdom's fireworks display is a rite of passage for Disney World guests, but you don't need to fight the crowds to catch a great view. Bring a picnic to the beach at Disney's Polynesian Resort, relax in a hammock, and catch the brilliant fireworks show from across the lake. You'll have a full, clear view of the entire show unfolding over Cinderella Castle. Parking at Disney's Polynesian Resort is free if you let the attendant know you'd like to explore the hotel.
Hunt for Hidden Mickeys: Disney's Imagineers have a fun tradition of incorporating "hidden" Mickey Mouse head silhouettes into their designs and construction, and it's a great game to hunt for them. Disney's Wilderness Lodge has a special self-guided Hidden Mickey hunt available to everyone. Just stop at the front desk and ask for the paper describing the clues for the hunt, then spend an afternoon exploring the hotel and searching for the famous mouse. While you're there, be sure to stop by Fire Rock Geyser down by Bay Lake to see it erupt on the hour. Again, parking is free at the resort.
Go on Safari: Disney's Animal Kingdom Lodge is not only a beautiful hotel; it's also a haven for African savanna animals. Head straight through the hotel lobby outside to the Arusha savanna, where cultural guides will answer all of your questions about the giraffe, zebra, ankole cattle, kudu, and other incredible animals you'll see. Animal Kingdom Lodge also has seated and covered viewing areas throughout the hotel. Bring binoculars if you have them. Tip: Visit early morning or at dusk, when the animals are most active.
(MORE: 10 Reasons Why Disney World is the Favorite Family Destination)
Sample Some New Tastes: Also at Disney's Animal Kingdom Lodge, the three restaurants—Jiko, Boma, and Sanaa—offer an array of fascinating African and Indian dishes. To help folks feel comfortable with trying new tastes and flavors, the restaurants offer pre-dinner tasting tours featuring samples of their dishes. To tour Boma and Jiko, meet at the Jiko podium at 4pm; to tour Sanaa, meet at the Sanaa podium at 4pm. This might be a great way to help your picky eater open up to new possibilities.
Holiday Fun at Celebration: Just a ten-minute drive from Disney World is the town of Celebration, a planned community originally developed by the Walt Disney Company. This is a pedestrian-friendly, very tidy Mayberry-style small town. You can have a great time exploring the old-fashioned downtown area called Market Street, which has different events scheduled each month, such as craft festivals and antique car shows. Throughout December, Celebration hosts an evening event called "Now Snowing Nightly," which features a snowfall four times a night, on the hour between 6pm and 9pm. The town provides entertainment and kids can even visit Santa in his lakeside chalet, all for free.
Note: If you're entering by car through the Magic Kingdom Entry Booth in order to visit the Magic Kingdom resorts, join the line on the right and let the attendants know that you're visiting the resorts, not the theme parks. You will not have to pay a parking fee.
This article originally appeared as two entries in our "Land of the Free" series, written by Mary Waring, editor of the indispensable Disney deal-finding site Mousesavers.com, and A.J. Wolfe from the unofficial Disney food review site The Disney Food Blog.