Family vacation in Mexico
By Michelle Rae Uy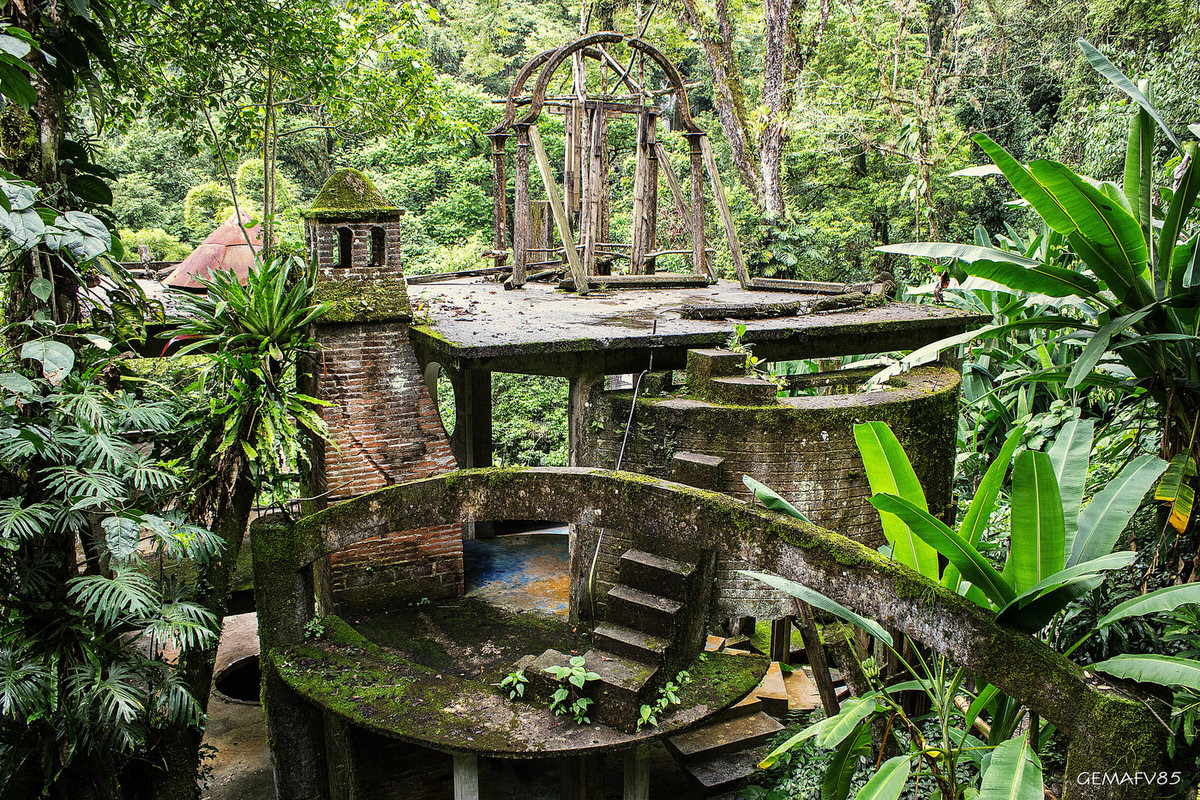 Las Pozas in Xilitla, Mexico (Flickr: Gerardo Martin Fernandez Vallejo)
Fun and busy Cabo, adventurous Riviera Maya, and thrilling Cancun. These are everyone's go-to destinations when vacationing in Mexico, the vacation spots mostly responsible for putting the enchanting country in the top ten list of the most visited countries in the world. Yet a large part of Mexico and many of its underrated places that are just as beautiful remain undiscovered by most families.
This 2016, steer clear of the heavy crowds and lead the kids off Mexico's beaten path to discover unforgettable gems – from small, colonial towns that take you back in time and exquisite beaches sans the clusters of beach umbrellas to darling hotels with lovely amenities and remote eco-lodges that take you on exciting outdoor adventures. Here are our 16 top picks of under the radar spots that families must consider visiting in 2016.
(MORE: 5 Family-Friendly Mexico Hotels)
Archaeological sites along Ruta Puuc. While it's hard to resist the archaeological complex of Chichen Itza, one of the New7Wonders of the World, and the cerulean waters of Tulum, the string of well-preserved Mayan sites (Labna, Xlapak, Sayil, Kabah and Uxmal) set along the Puuc route a couple of hours south of historic Merida are also well-worth seeing. See Mayan chultunes, magnificent arches, intricate palaces, Chac masks and a large pyramid peeking over the trees, with noticeably fewer crowds.
Zihuatanejo. This vibrant city in Guerrero is only less than 20 minutes away from sister city Ixtapa and its high-rises, and cruise ships often come bearing tourists that pour into town in waves, hilly Zihua largely remains charmingly authentic, thanks to its low-rise, brightly-colored buildings, some gorgeously overlooking the bay, and the local fishermen that come in from the sea every morning with the day's catch. Zihuatanejo Bay's calm water is perfect for families with kids and relaxing water sports like stand-up paddleboarding, while the city's modest streets are wonderful for finding hidden treasures.
Family-friendly stay: An airy, Adobe-style guestroom or suite at family-friendly Viceroy Zihuatanejo is perfect for that ultimate relaxation in a luxurious, idyllic setting.
Los Toriles. In a huge country teeming with archaeological sites, visitors are bound to miss a few, and Los Toriles, also known as the Ixtlán del Rio Archaeological Site, is one of them. The Aztatlán ruins, located about 4 hours from popular beach destination Puerto Vallarta, boast several palaces, four plazas, petroglyphs, and shaft tombs containing human bones, ceramic jars and other artifacts.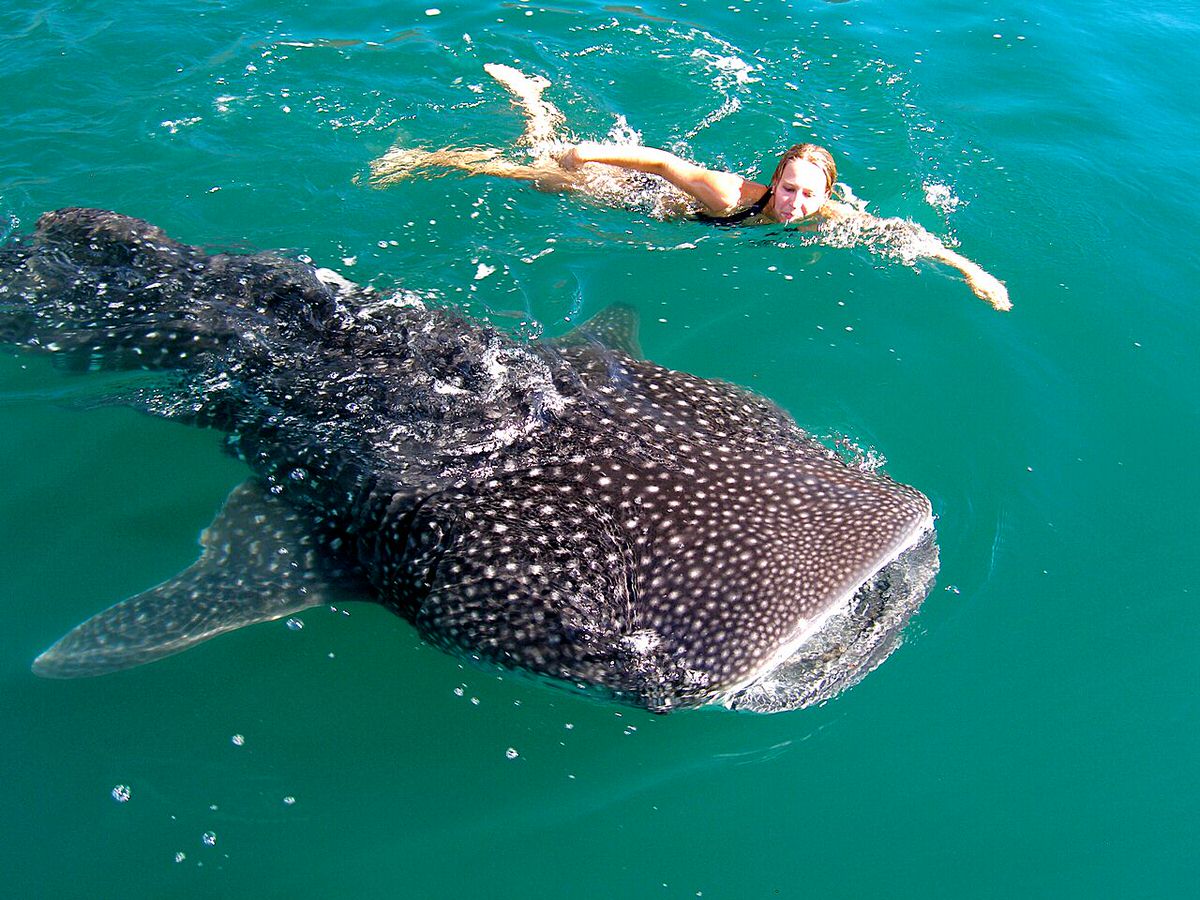 Swimming with whales in the Sea of Cortez (Courtesy Baja AirVentures)
Las Animas Eco-Lodge. Swimming with the gentle whale sharks is already a truly breathtaking encounter, but it isn't the only memorable experience you'll have at the Las Animas Eco-Lodge. Nestled in the Sea of Cortez an hour's boat ride from Bahia de Los Angeles, the all-inclusive, self-sustaining island destination takes guests away from all the hustle and bustle to commune with Mother Nature and get up close and personal with the marine life (dolphins, sea lions and blue whales, to name a few). Back on land, private beachside yurts await guests for an untroubled good night's rest.
Pueblos Mancomunados. Ideal for families with older kids, the remote villages of Amatlán, Benito Juárez, Cuajimoloyas, La Nevería, Lachatao, Latuvi, Llano Grande and Yavesía – collectively known as the Commonwealth of Villages – are as under the radar as it gets and the perfect way to explore the hidden cultural and natural treasures of Mexico. Immerse yourselves in the Zapotec way of life, experience beautiful canyons, waterfalls and caves, and sample the local cuisine. For a safer visit with the kids, enlist the services of a tour agency in Oaxaca.
Hotel Coral and Marina. It's nice to skip the big name brands once in a while for a warmer and more authentic experience. A local, small brand hotel is, sometimes, surprisingly better than a big, well-known resort. And Hotel Coral and Marina, a waterfront property a few minutes north of Ensenada in Baja California, is one such hotel. Its charm, warm and friendly staff, and family-friendly water activities are surpassed only by its onsite restaurants that serve amazing food, suites with balconies that offer picturesque views of the coast, and seriously affordable rates. It's the perfect base for your family vacation in BC's culinary route. Don't forget to try the famous fish tacos!
Tawexikta Lugar Del Sol. It's one of Riviera Nayarit's hidden gems, home to the area's Huichol or Wixáritari tribe, which still practice their traditional way of life. The Place of the Sun is only accessible by small boats, but definitely worth a trip especially if you want to expose the kids to a new and vibrant culture. During your visit, watch their ritual dances, shop for their local, handmade products (beaded masks and necklaces are very popular) and maybe do a little fishing on the side.
San Blas. It's got its share of tourist traffic, sure, but thanks to its close proximity to popular resort areas Puerto Vallarta and Nuevo Vallarta, San Blas and its historic streets remain mostly untouched by high-rise development, which means less crowded beaches and cheaper hotels. Spend a day on quiet Playa Hermosa, ride the waves at Playa de Matanchen, explore the mangrove forest of La Tovara, sample the local cuisine along Playa Las Islitas near the small village of Matanchén, and take a day trip out to Mexcaltitan, the birthplace of Aztec civilization.
(MORE: 5 Best All-Inclusive Resorts in Mexico for Families)
Xilitla. Popular with the more adventurous travelers, the beautiful town of Xilitla in San Luis Potosí offers a simply enchanting escape for families looking to explore Mexico's lush mountains and rainforest. Caves, caverns, natural springs, waterfalls and a surreal garden created by English artist Edward James in the middle of a subtropical rainforest await travelers. Visit nearby Parakeeet Cave for a chance to see wild green parrots, explore the incredible Las Pozas garden, walk around the town center, and remember to try the local coffee and sample the local specialty, zacahuitl.
Todos Santos. About an hour away from touristy Cabo, near the foothills of Sierra de la Laguna, the coastal town of Todos Santos remains largely unspoiled, its beaches busy with local fishermen bringing their day's haul to shore rather than tourists, its streets lined with small, charming structures rather than massive resorts. It certainly lives up to its title as one of Mexico's Pueblos Magico. Hiking, horseback riding, surfing, whale and bird watching, and getting your creative juices flowing are just a few of its many family-friendly offerings. While there, explore the new community of Tres Santos and immerse yourselves in its residents' holistic way of life. Who knows, you might just decide to stay there a while longer…
Where to Stay: The historic Todos Santos Inn, a former hacienda, is a picturesque family-friendly retreat located within walking distance from the town's shops and restaurants. To stay on the beach, the Liz Lambert-designed Hotel San Cristobal in Tres Santos is set to open in 2016 and will offer amenities for families.
La Paz. While it has its share of resorts, Cabo's little sister is still the place to go in Baja California Sur if you prefer smaller crowds. It's set along the Sea of Cortez, Jacques Cousteau's Aquarium of the World, which means plenty of opportunities for eco-tourism and water activities. The pristine Isla Espiritu Santo offers wildlife (sea lions, rays and jellyfish) sightings as well as SCUBA and snorkeling while Balandra Beach boasts beautiful, blue waters, a white sandy beach and paddle boarding. Many tour companies offer dolphin and whale watching opportunities as well. For a lovely lunch on the beach, head to Playa El Tecolote.
Family-friendly stay: At the CostaBaja Resort & Spa, all guestrooms come with private balconies and complimentary WiFi access. The waterfront resort is perfect for families with kids, thanks to its kids' pool, kids' club and other family-friendly amenities.
Merida. Yucatan's capital and largest city – and one of the oldest continually occupied cities in the Americas – is a melting pot of cultures and cuisines as well as architectural styles (Italian, French and Yucatec Maya), making it the perfect destination for a cultural vacation with the kids. The White City boasts picturesque streets, vibrant buildings, and close proximity to some of Mexico's most beautiful Mayan ruins and cenotes. Sample the Yucatecan cuisine and learn a bit of the Mayan language while there to complete your cultural immersion.
Where to Stay: Hacienda Petac, nestled 40 minutes outside of Merida, is the perfect hideaway for families – it's close enough to town but far enough so that you'll feel like you're in a world entirely. Among its many kid-friendly offerings are cooking and piñata-making classes for kids, scavenger hunts and junior archaeology digs and a pool nestles in an idyllic setting.
(MORE: Underrated Mexico Destinations for Families with Kids)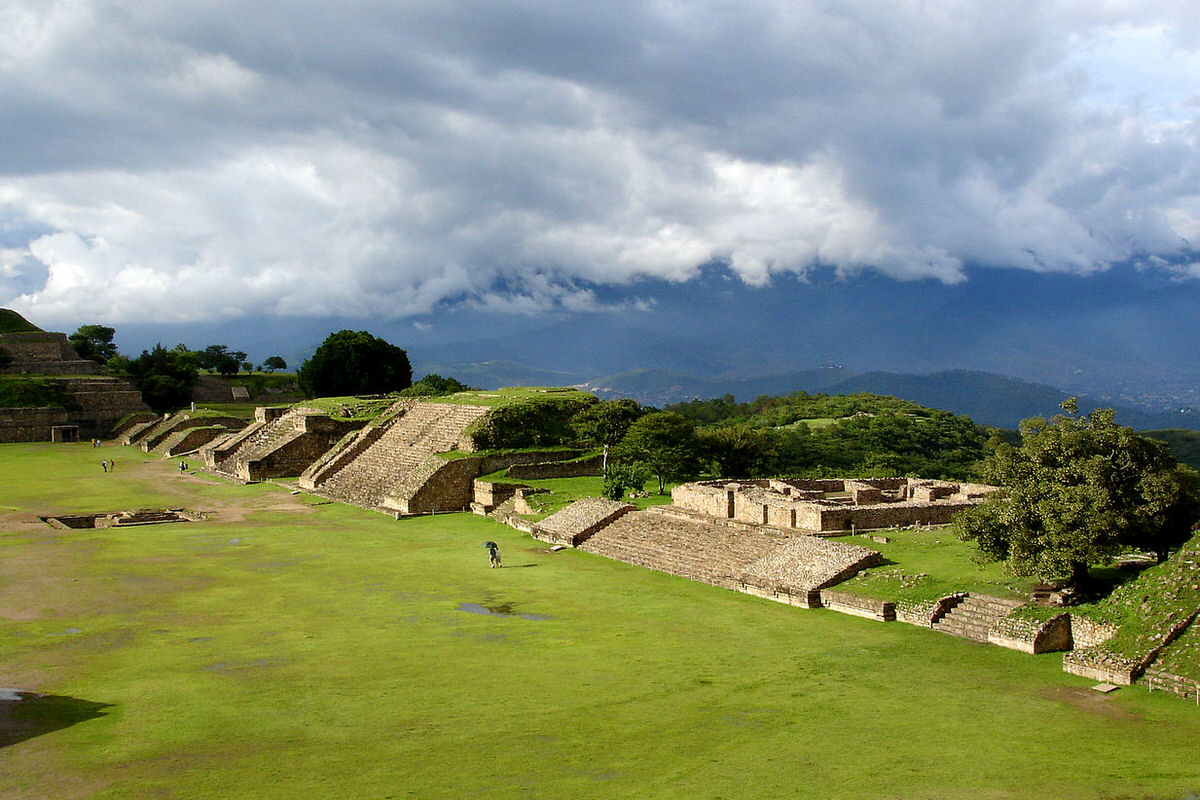 Monte Alban in Oaxaca, Mexico (Flickr: Anissa Wood)
Monte Alban. A visit to a UNESCO World Heritage Site is a definitely must if you really want to explore Mexico, and the pre-Columbian archaeological site of Monte Alban in Oaxaca deserves a top spot on your list. It's one of the country's best-preserved Mayan ruins and boasts 1,500 years worth of glorious history, from the Olmecs to the Zapotecs to the Mixtecs. One of its notable features is that many of its structures, like its pyramids and dams, were carved out of the hills and created to withstand earthquakes, which is a common occurrence in the region. The nearby Oaxaca City serves as a great, family-friendly base during your visit.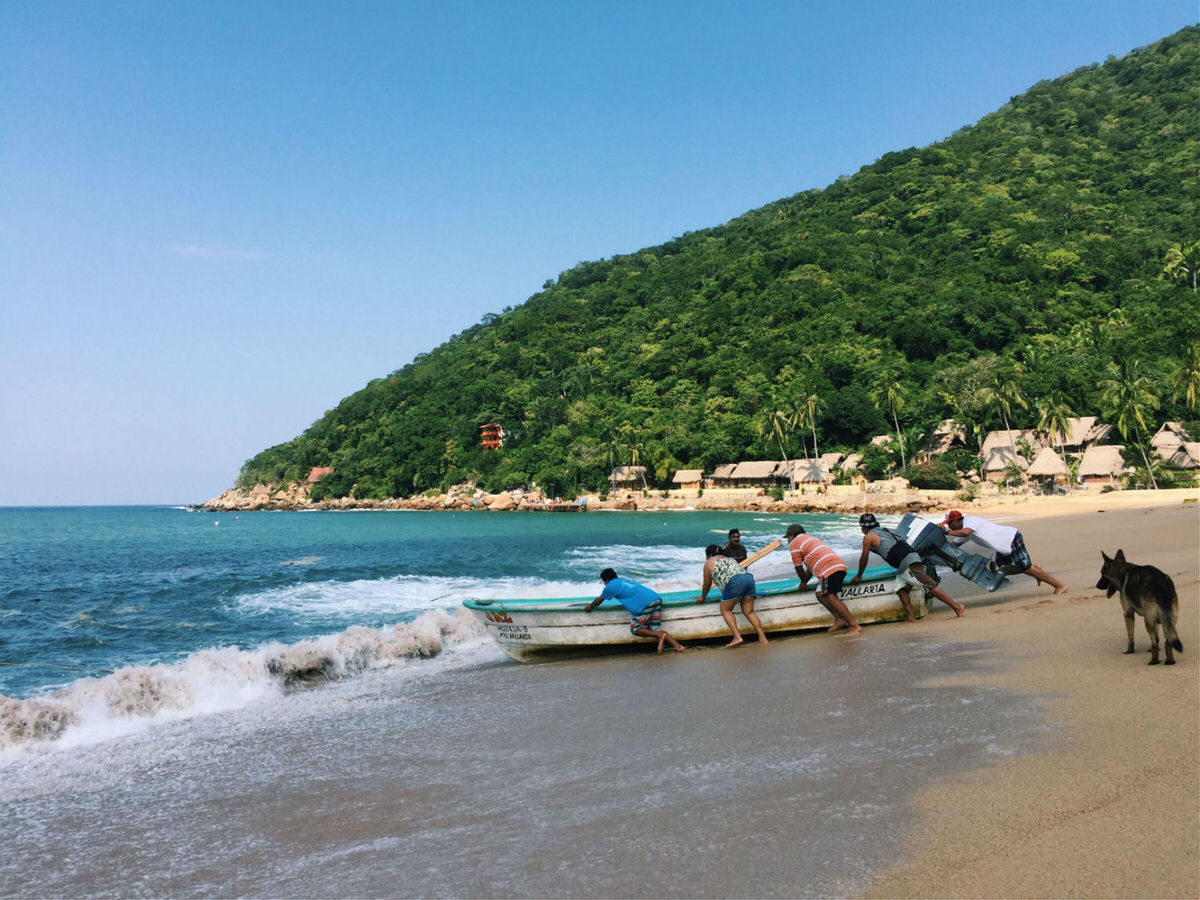 Yelapa in Jalisco, Mexico (Photo: Michelle Rae Uy)
Yelapa. Set in the stunning Banderas Bay, one of the world's largest, this small, family-friendly beach town in Jalisco remains charmingly unaffected, abundant with modest, brightly painted houses, locals that still gaze in wonder at every small group of tourists that happen to come ashore and a very laid-back lifestyle. Yelapa is about an easy hour's boat ride away from lively Puerto Vallarta; but as you explore its narrow, winding streets, you'll feel like you've traveled to a place far away. Have a leisurely meal at one of the small cafes and restaurants in the village, hike up to the waterfalls and wade in its refreshing pool, snorkel, and relax on the beach as you watch the local daily bustle. If you're feeling brave, parasailing is also a popular activity.
Where to stay: Velas Vallarta is an affordable, all-inclusive, beachfront resort with its very own lazy river and cascading waterfall, tropical garden and activities and entertainment that celebrate the Mexican culture. You can book your Yelapa boat excursion with Vallarta Adventures at the resort for convenience.
Sayulita. This small coastal village less than an hour north of Nuevo Vallarta in Nayarit is popular with surfers and other water sports enthusiasts. However, it does remain largely undiscovered by vacationers coming to explore Mexico's Pacific coast, which only add to its low-key appeal. Visit the town for a quieter vibe or to enjoy some family-friendly water activities such as boogie boarding, surfing and paddleboarding; and then complete your vacation with some culinary tastings (fish tacos and ceviche are popular) and by shopping for local, handmade products.
Where to stay: The luxurious Grand Velas Riviera Nayarit in Nuevo Vallarta is not just family-friendly and all-inclusive. It also boasts suites with private balconies, fantastic kids and teens clubs, an infinity pool with sweeping views of the ocean, and a great spa that offers treatments for adults and kids.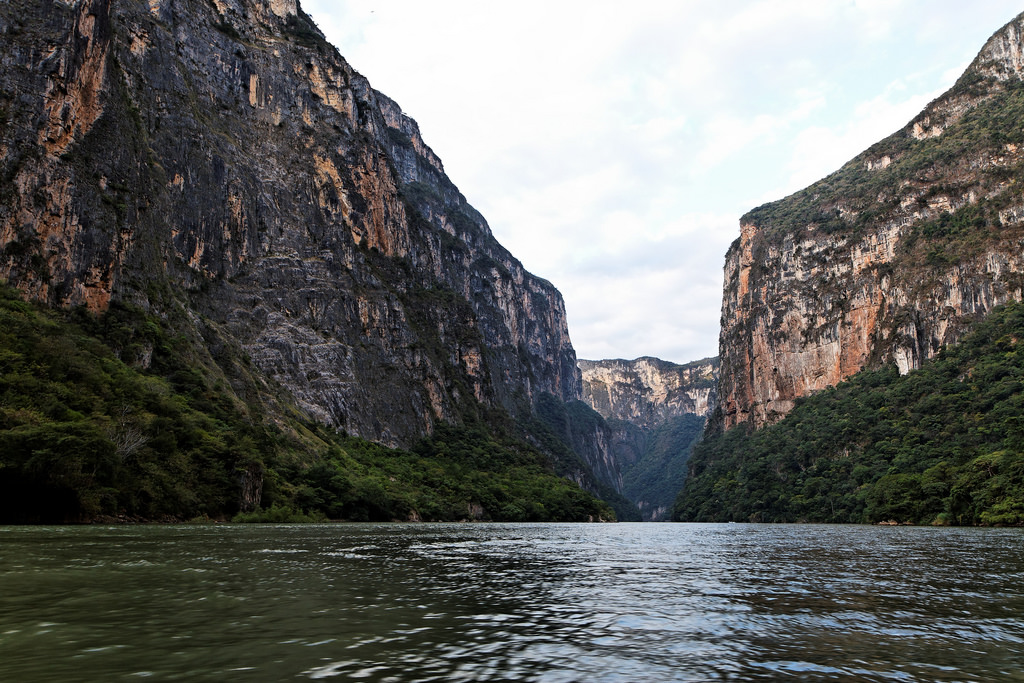 Sumidero Canyon in Chiapas (Flickr: Laurent Espitallier)
Sumidero Canyon. North of Chiapa de Corzo in Chiapas, Sumidero Canyon is just as old and impressive as the more famous Grand Canyon in the US. The canyon is home to 308 species of wildlife and has drawn travelers interested in adventure, eco-tourism and the great outdoors. You can visit the park by car and see the canyon from the designated lookout points, or if you're feeling adventurous, explore it by boat along the Grijalva River. Take the kids to see one or more of its waterfalls, the Amikúu Ecological Park, and the Ruins of Berlin.
Michelle Rae Uy contributed this to MiniTime. She is a travel writer based in Los Angeles and MiniTime's Head of Content, who spends her free time on adventures and film photography.