Best things to do in Madrid with kids
By Iberica Travel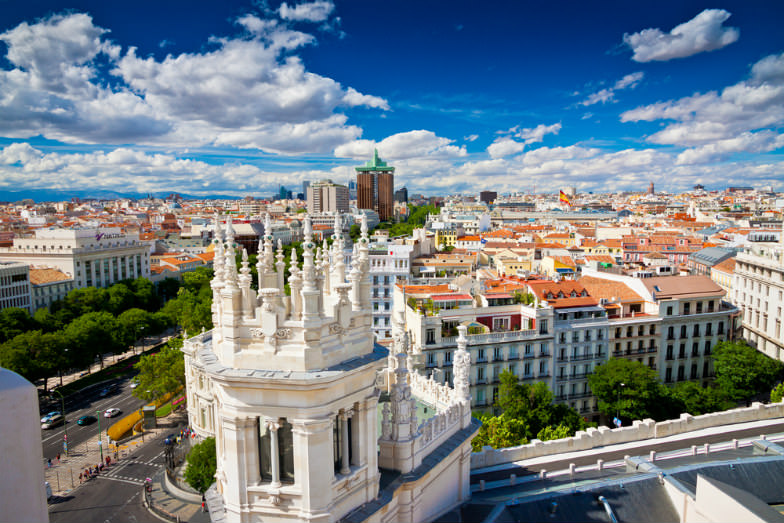 Madrid, Spain (Iberica Travel)
Madrid is a great destination for families with children as there are many attractions, museums and parks that your children will definitely love. Even if you visited this beautiful city without children before, it will be a completely new experience with them as there are lots of things to do – especially for families with children.
(MORE: Look for kid-friendly hotels in Madrid and make it your home away from home.)
1) Guided bus tour through the city – To get a general overview of Madrid and its best sights you should consider booking a guided bus tour through the city like the Panoramic Tour. It will take you to a multitude of significant sights like the Gran Via, a famous boulevard with various boutiques, theaters, cinemas and much more, the Plaza Espanya, a large and gorgeous square at the western end of the Gran Via, a University founded in 1293, the Moncloa district, the Calle Mayor with its numerous historical monuments and attractions, the Puerta del Sol, one of the busiest and most famous places in Madrid. Especially if you do not have that much time in Madrid, this is a fun and cheap option to discover Spain's capital with your children.
2) Geocaching – Geocaching is a fun activity to keep your children motivated while exploring the city. It is an outdoor recreational activity in which the participants use a GPS or other navigational techniques to locate the so called caches which are hidden all over the city. Your children will feel like being on their very own treasure hunt. While having your children look out for the next cache you can admire Madrid's astonishing architectural sights. At the end of the day you will have visited the main sights of Madrid while keeping your children in a constant state of excitement.
3) Parque de Atracciones – The Parque de Atracciones is an amusement park located in park Casa de Campo. It is a great attraction for a day excursion with the whole family. This amusement park preserved the ambience from when it was built in the 60s. Nevertheless it has many modern attractions such as roller coasters, white-water rides and a haunted house with real live people scaring the guests in their realistic display of vampires and other spooky creatures. This park can easily be reached by Metro with the line 10, getting off at the station "Batán".
4) Warner Brothers Movie World – The Warner Brothers Movie World located about 25 kilometers south of Madrid in San Martín de la Vega is an absolute highlight that you should not miss visiting with your children. Meet your kid's favorite movie heroes such as Bugs Bunny, Daffy Duck or Batman and enjoy 36 rides and 18 diverse shows for young and old. If you decide to stay for more than just one day the park also offers packages with an overnight stay in a nice
5) Madrid Zoo Aquarium – The Madrid Zoo Aquarium, located in the district Casa del Campo, is with its 20-hectar one of the largest zoos in Spain and one of the few where you can see Giant Pandas or orangutans. In addition to the zoo this facility also includes an aquarium, a petting zoo and a dolphin exhibit, the so called Dolphinarium. If you and your children enjoy land animas as well as aquatic animals the Madrid Zoo Aquarium is a wonderful place to spend your day.
6) Teleférico de Madrid – For a more relaxed and laid back time with your kids the Teleférico de Madrid offers a breathtaking view of the city out of a cable car. It gives you a general overview of the city and reveals the diversity of the city with all its inviting green isles. The Teleférico de Madrid starts at the station Casa de Campo or at Rosales and leads to the Cerro de Garabita where you will encounter a beautiful playground for your children. If you feel like having some alone-time with your family and to just enjoy each other's company this is a perfect alternative to explore the city.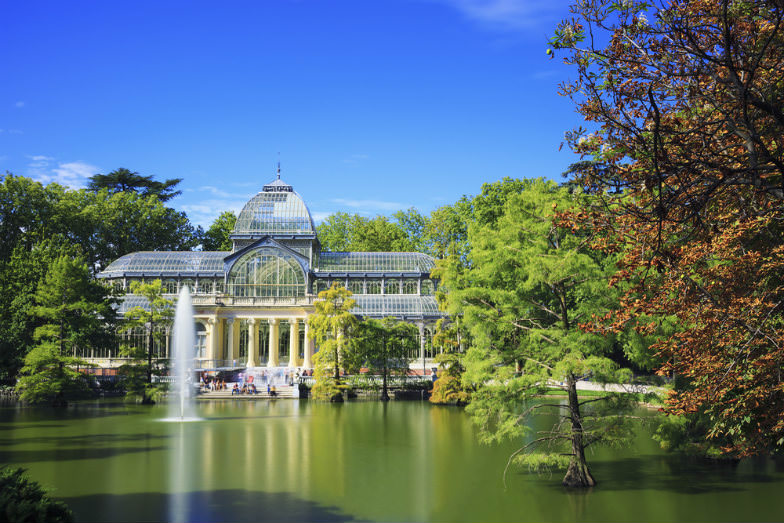 Retiro Park (Iberica Travel)
7) Visiting Madrid's green side – If you like to get away from the pulsating vein of the city and enjoy the green side of Madrid there are plenty of options available. Visit the Park Retiro, one of the biggest parks in Madrid located at the edge of the city center where you can rent boats and enjoy puppet theaters at the weekends. Another fun option to take your children out into the green is by visiting the nature and leisure park Faunia. It is somewhat out of the city in the community Valdebernardo and can be reached with the metro line 9. This nature theme park is a really unique zoo that offers a variety of habitats that are barely found in other zoos. The polar ecosystem, the tropical rain forest and the desert are just a few of the displayed, rare habitats you can find there. You and your children can witness how butterflies emerge from their chrysalis, look inside a beehive or journey to the inside of a volcano.
8) Madrid Rio – The 10 kilometers long park Madrid Rio at the banks of the Manzanares River offers a lot of activities for children and parents. Your kids will love the seventeen different play areas that can be found all over the park. Look out for the tree trunk jungle, the super zip-line and the slides hill, good fun for the whole family! As Madrid's closest natural beach lies about 350 kilometers outside of the city this is a great opportunity for water lovers. It is located just 1.5 kilometers away from Puerta del Sol. So pack a picnic, some towels and you are ready to have an amazing day full of activities and fun in this park.
9) Aventura Amazonia – The climbing and adventure park Aventura Amazonia in Pelayos de la Presa, 70 kilometers outside of Madrid is a magnificent possibility to spend a day surrounded by nature. The park is located in a marvelous area near the reservoir San Juan in the east of Madrid. This trip connects nature, leisure time and adventure all at the same time. Out of six different routes with different levels of difficulty you can choose the one that matches you and your family's level of expertise. Additionally they offer nearly up to a hundred games and rope slides. No matter how old your kids are or how old you think you are, all of you will have an incredible time.
10) Museo de Cera – This wax museum is a fun attraction for all ages. Besides the multitude of displayed international stars famous amongst adults, there are also plenty of fun wax figures that will rob your kid's attention such as the Simpson Family, Superman or ET. Additional attractions like the so called terror train, the spaceship simulator and a multivision show about the history of Spain make this visit an amusing experience. The wax museum is close to the Metro station Station Cólon and can be reached via line 4.
11) Madrid Snowzone – If your family enjoys skiing or snowboarding, the Madrid Snowzone has to offer a fun possibility to do so even during the summer. It is located 23 kilometers outside of Madrid at the Xanadu shopping center. With 1800 square meters it is the biggest indoor winter sport area in Europe. It is equipped with two different runs, one for beginners and one for the more experienced skiers and snowboarders. All the necessary equipment can be rented here and also a ski school is offered. The Madrid Snowzone is open during the whole year and presents an amazing alternative to Madrid's hot warm breeze. Powdery fun for the whole family is guaranteed!
12) Museo del Ferrocarril – The in 1984 opened railway museum Museo del Ferrocarril de Madrid houses an impressive range of different locomotives and passenger coaches where you and your family can get insights on the traditional ways of travelling by train and where you can see the enormous differences in travelling between rich and poor people back in the days. Look out for all the special events that are offered for children. Between spring and autumn the museum offers a special opportunity to travel between Madrid and Aranjuez on a Strawberry Train, an authentic vintage train. On the first Sunday of every month a railway flea market takes place where you can find all kinds of different model railways. So put on your conductor hat, pack your whistle and hop on board this great train adventure!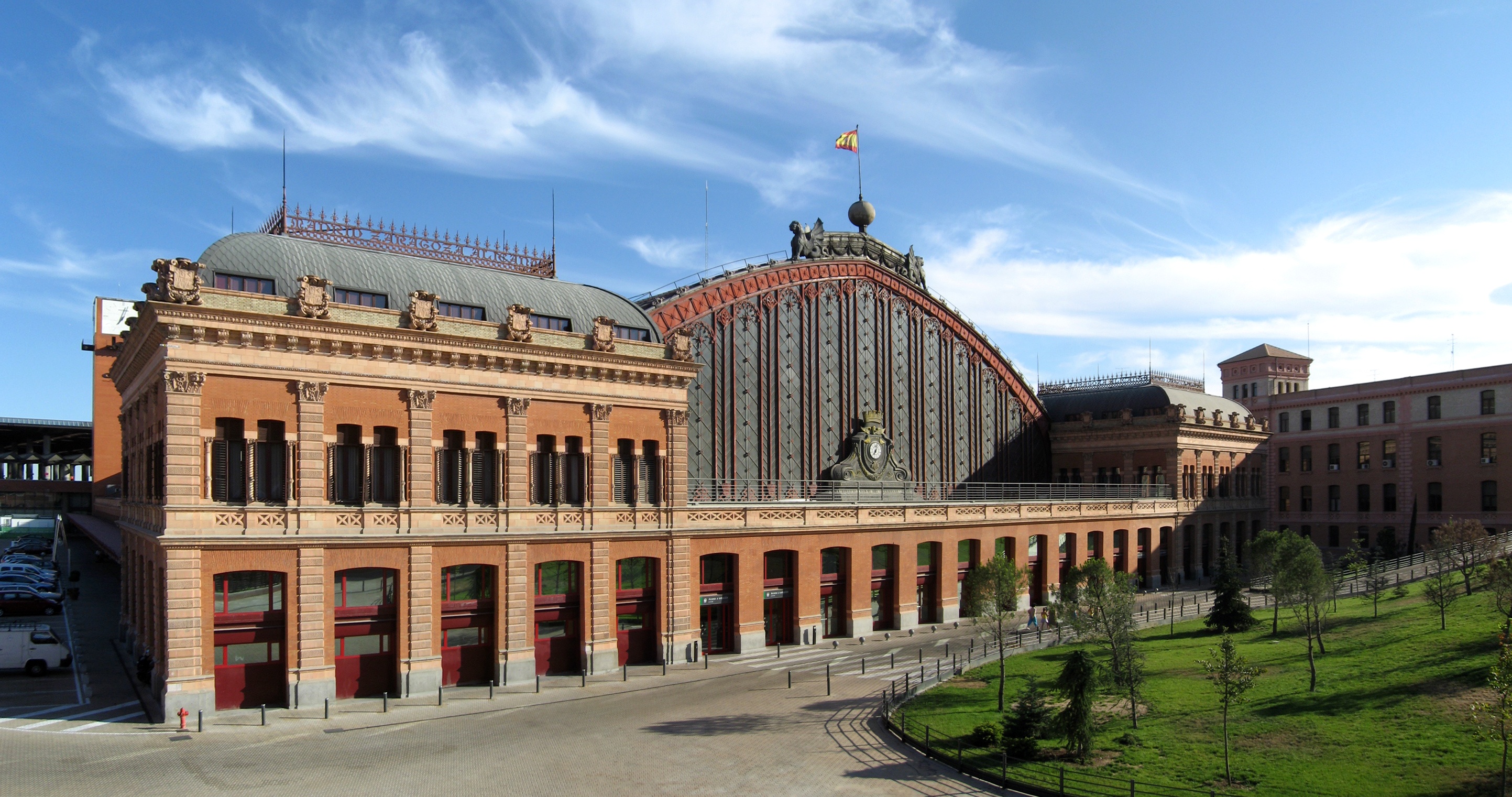 Madrid Atocha (Photo: Gryffindor)
13) Madrid Atocha – What appears to be the beginning of a rainforest is in reality the famous railway station Madrid Atocha. It is filled with palm trees, exotic plants and a lovely lagoon for turtles. Madrid Atocha was rebuild in 1992 and the old entrance hall was reshaped into a botanical garden. Take some time to stroll through these corridors from 10 am to 1 pm or from 4 pm to 6 pm and enjoy the tropical ambiance. All the cute little turtles will enchant you and your children.
14) Museo Nacional de Ciencias Naturales – The National Museum of Natural Sciences or Museo Nacional de Ciencias Naturales is housed in an old neo-renaissance style building from the late 19th century situated in the center of Madrid, next to the Paseo de la Castellana. The museum exhibits a plentitude of fossils, minerals, skeletons and even huge replicas of a variety of animals. Some of the most impressive pieces this exhibition has to offer are probably the giant dinosaur skeletons. Another treasure of the museum is a giant two million years old ground sloth skeleton found by a monk in the 18th century. Your children will surely be impressed by the incredibly divers exhibits this museum has to offer!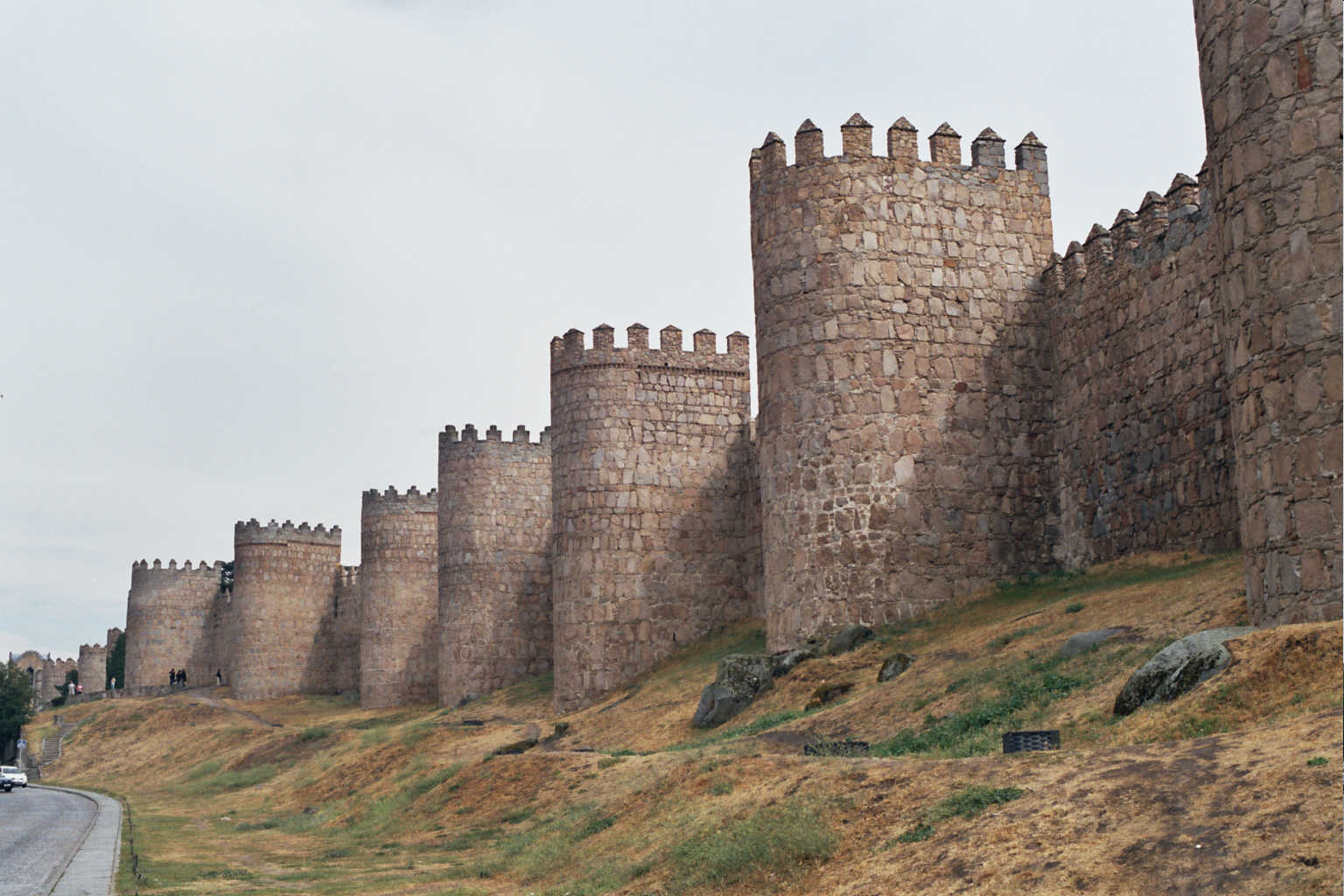 Medieval city walls in Ávila (Photo: Pelayo2)
15) Madrid's surrounding area – Madrid is beset with many beautiful cities and places that are definitely worth visiting during your stay in the capital. For example Ávila, a small town and the capital of the Province of Avila with its high number of Gothic and Romanesque churches and its surrounding medieval city walls makes for a lovely excursion. Segovia, another marvelous place for a daytrip, was influenced by the Romans and displays a massive, ancient aqueduct that was declared World Heritage by the UNESCO in 1985. The former residency of the Spanish king can be found in Aranjuez and is open for the public. With its huge gardens and parks it is an impressive and beautiful place to spend a couple of hours wandering around with your family. Last but not least, located 70 kilometers in the south of Madrid resting on top of a granite headland and surrounded by the river Tajo lies the marvelous town Toledo. The famous painter, sculptor and architect El Greco was born in this town which was declared World Heritage Site by the UNESCO for its cultural and monumental heritage and the historical co-existence of Jewish, Christian and Muslim Culture. All of the places mentioned above capture the Spanish history and culture in different ways and are absolutely worth visiting with the whole family.
16) Santiago Bernabeu – An absolute must-see for all the soccer fans out there is of course the Santiago Bernabeu, the stadium of Real Madrid C.F.. This stadium offers an interactive tour where you can experience over 100,000 exhibits such as trophies, important documents and videos. Take a stroll through the locker rooms of the Real Madrid C. F. team members and the locker rooms of the visiting team. Even if your family is not a huge soccer fan this excursion offers you a fun way to get to know more about the Spanish soccer culture, which nowadays forms an important part of the Spanish culture itself.
17) Museo Naval de Madrid – What man used to dress up as a pirate or a captain when he was still a boy? Yes, the answer is every last one of them. And even though navigation, ships, old maps and nautical charts seem to be a subject of mainly male interest the maritime museum Museo Naval de Madrid has plenty to offer for both genders as well as all ages. Next to a multitude of ancient artifact such as weapons, naval architectures, nautical charts and uniforms it displays maps of the colonized countries in South America that talk about the first explorations of the new world. One of the highlights shown is a world map from the year 1500, the first map ever to contain the American coast and which was made by a companion of Columbus. This Museum will fill your afternoon with interesting and informative facts for the whole family.
18) Language courses – While travelling to foreign countries many visitors are confronted with the down side of not speaking the local language. To better understand the Spanish culture and to even become part of it Madrid has to offer an abundance of language learning courses for all ages and even special courses for children. Getting to know some simple sentences in another language is a fun and rewarding activity as you and your kids will be able to use it right away. if you are staying in Madrid for more than a few days, this is a option that you and your family should definitely consider.
(MORE: Find more great kid-friendly attractions in Madrid.)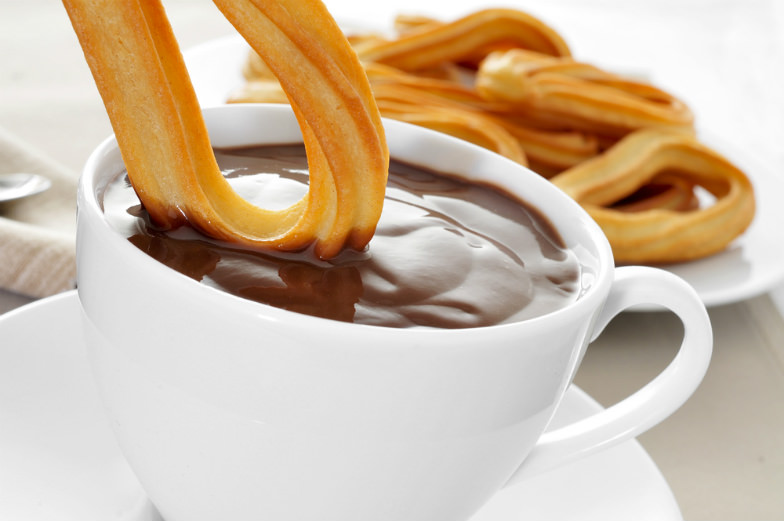 Chocoate con Churros (Iberica Travel)
19) Spanish Culinary Specialties – As Spain is one of the world's epicenters when it comes to culinary varieties, especially its capital Madrid has a lot of delicacies to offer. In the goodies section one of the most famous treasures Madrid has to offer are the so called Chocoate con Churros. Churros are Spanish deep fried pastries which are then served with a layer of liquid chocolate. This sweetness will definitely make your children feel like being part of Willy Wonka's Chocolate Factory. As they are offered at nearly every street corner, market or café you can barely deny your kids this wonderful treat. In the more salty section one of Spain's most famous dish are the so called Patatas bravas, white potato wedges fried in oil and served with a spicy tomato or garlic sauce. It is the perfect appetizer for big and small and is found in almost every restaurant and tapas bar. The Spanish omelet, the Tortilla Española, is another Spanish specialty consisting of an egg omelet base that includes potatoes pieces and is fried in vegetable oil. This delicacy comes in all kinds of variations, be it with or without meat, and definitely has to be tried by every visitor.
20) El Rastro – If you are in Madrid for a short period of time you should definitely not sleep in on Sundays as you would miss the El Rastro, the most popular open air flea market in Madrid that takes place every Sunday morning along Plaza de Cascorro and Ribera de Curtidores and between Calle Embajadores and the Ronda de Toledo. If you are looking for curious and funny items, clothes, pictures or paintings, this is the place where you will find it. Even if you are not looking for anything in particular, just take a stroll through the colorful market stands and enjoy.
Iberica Travel, a travel specialist for group and individual programs to Spain, contributed this to MiniTime. For more information about Madrid, to buy tours, transfers and attractions, visit Around-Madrid.com.