5 Family-Friendly Resorts that Reflect the Big Island's Diversity
By Mimi Slawoff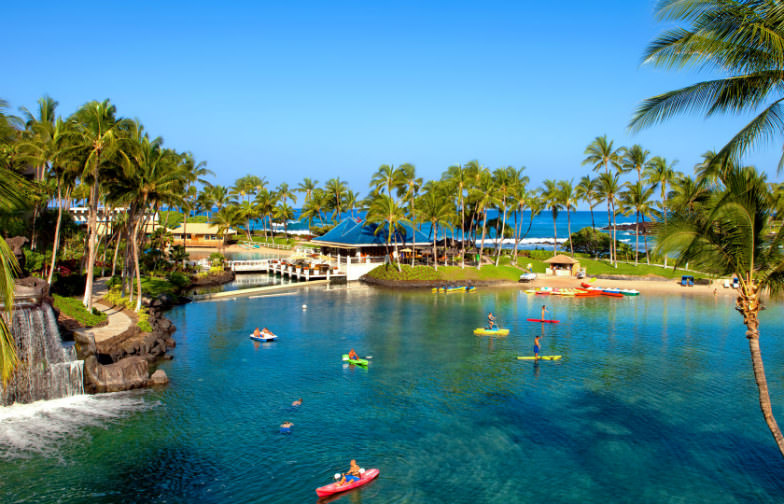 Lagoon at Hilton Waikoloa Village (Hilton Waikoloa Village )
From iconic family-friendly hotels with old Hawaii charm to inns and lavish resorts, Hawaii Island (best known as the Big Island) offers a range of family-friendly accommodations to fit every lifestyle and budget. Because of the island's massive size (twice the combined size of the other Hawaiian Islands), you may want to consider staying at two properties to cut down on driving time.
For example, if you're staying on the Kona (west) Side of the island, spending a night in Hilo on the east side provides easy access to Hawaii Volcanoes National Park.
For your home-away-from-home, consider these 5 resorts — as diverse as the Big Island itself.
Kona
Kona is on the sunny side of the island with access to white sand beaches.
1. Courtyard King Kamehameha's Kona Beach Hotel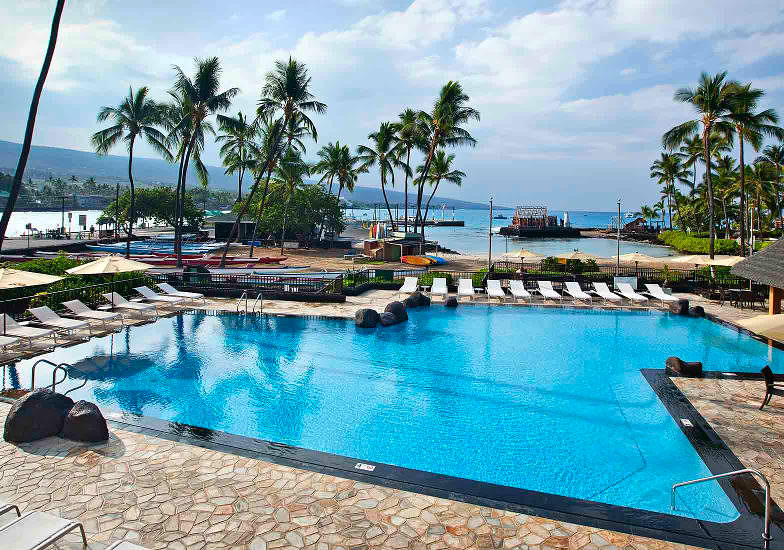 Pool at Courtyard King Kamehameha's Kona Beach Hotel (Marriott International)
Overlooking Kamakahonu Bay, the recently renovated resort sits on grounds where Hawaii's most famous king ruled. Spacious, Big Island-themed rooms (think lava), a swimming pool, and bay location make this an ideal home base for families staying in Kona. It's safe for kids to play in the gentle bay and practice stand up paddling or kayaking. The onsite Honu's on the Beach restaurant serves breakfast, dinner, and tapas (on select nights). Another perk – the hotel is steps away from the seaside village. More fun: The onsite Island Breeze Hawaiian Luau is among the best on the island.
2. Sheraton Keauhou Bay Resort & Spa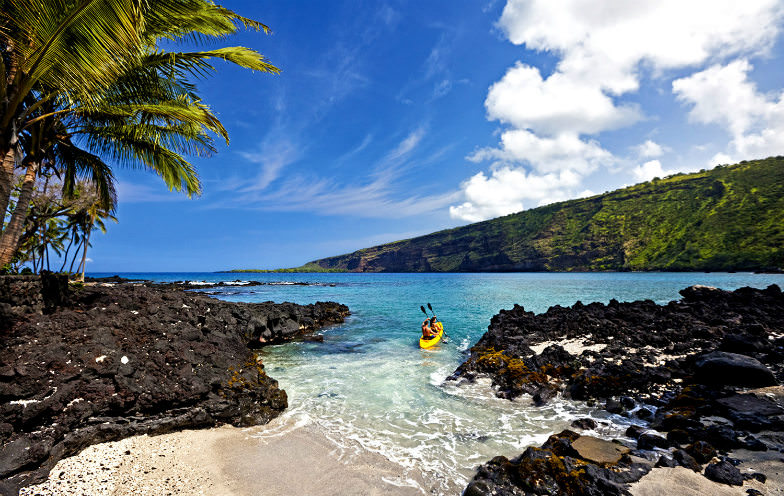 Adventure awaits at Sheraton Keauhou Bay Resort & Spa (Sheraton Kona)
Its remote, dramatic location on ancient black lava rocks prevents this beautiful, oceanfront resort from having its own swim beach, but fabulous pools and posh, ocean view rooms will keep everyone happy. The elaborate Manta Ray Super Pool & Slide brings the beach to the resort. A river system connects to pools and waterfalls and flows into a 200-foot-long lava tube water slide. Young kids can play in the 900-square foot sandy-bottom children's pool. Several onsite restaurants, a weekly luau, spa facility, and lushly landscaped walkways create a tropical paradise. More fun: Kid-friendly activities include pool slide contests, ping pong and hula lessons.
(MORE: Need more choices? Check out our list of amazing kid-friendly hotels in Kona.)
Hilo
There are no five-star hotels but plenty of accommodations, including inns, hotels, B&Bs, cabins, and campgrounds in Hilo. It is the gateway to all of East Hawaii and is known for scenic black sand beaches.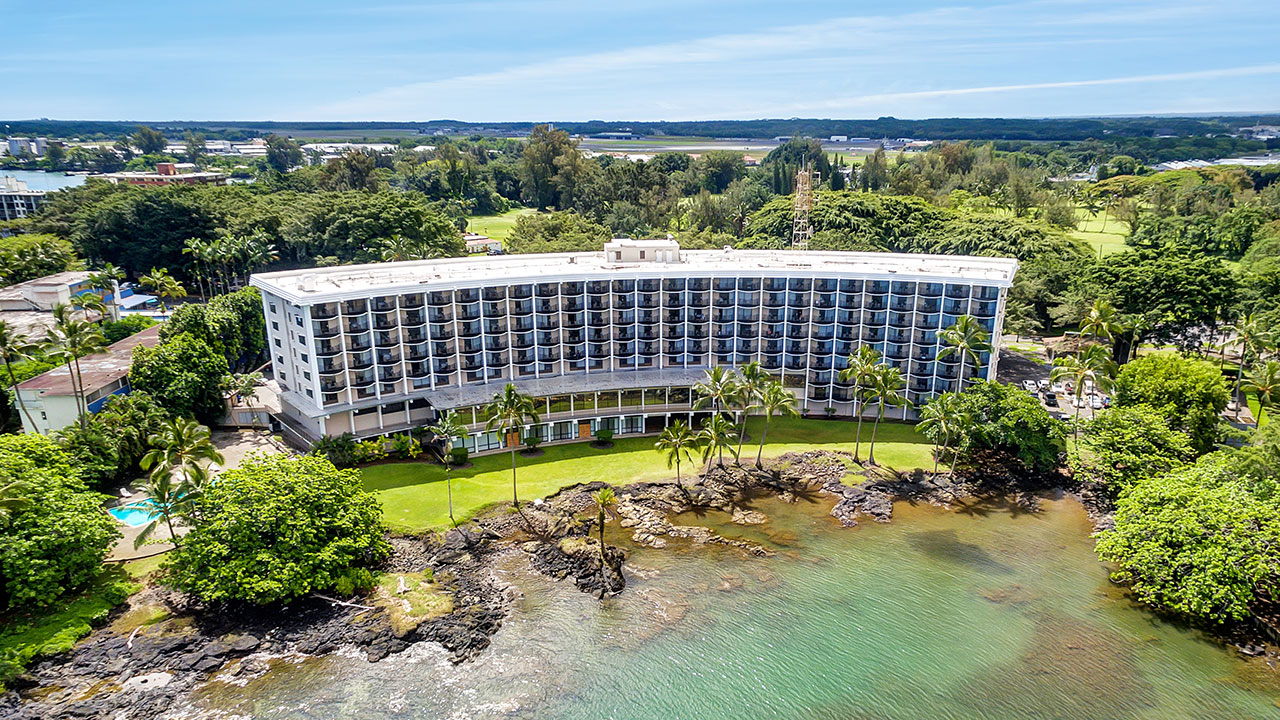 Located on Hilo Bay, the classic hotel exudes old Hawaii charm and has views of the ocean and Hilo Town, framed by Mauna Kea. With just under 300 rooms, the mid-sized hotel is easy to navigate and provides the essentials: a swimming pool, restaurant, café, and free parking. It is also adjacent to the serene Lilioukalani Park and Gardens and serves as an ideal home base to Hawaii Volcanoes National Park (a 45-minute drive). More fun: Pack a picnic to enjoy at Reed's Bay, the nearest swim beach.
(MORE: Find kid-friendly attractions in the Big Island of Hawaii.)
Kohala Coast
Find massive, five-star resorts and some of the island's best golf courses, restaurants, and shops.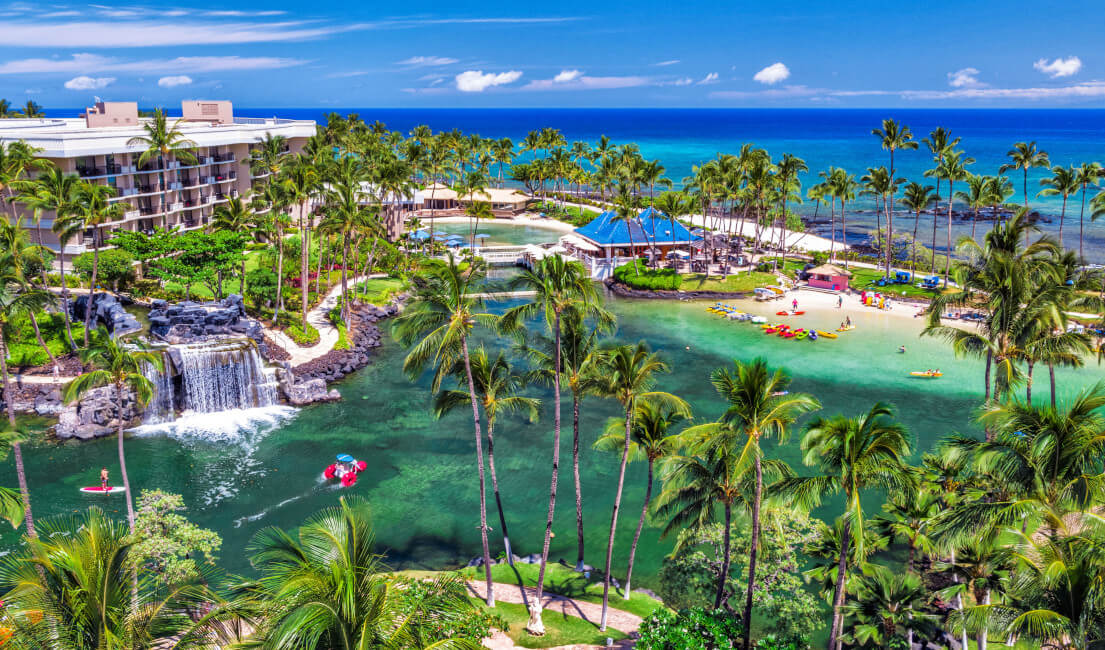 If sprawling resorts with numerous amenities are your family's idea of paradise, you'll love this 62-acre oasis. Exploring the village is an activity in itself. Tropical gardens with waterways, three amazing pools, a lagoon, a museum walkway, two championship golf courses, and eight tennis courts are sure to please every family member. Kid-friendly programs include the interactive Dolphin Quest (for ages 5 and older) and action-packed Club Keiki (ages 5 – 12). And with 14 restaurants/lounges and an onsite luau, no-one will go hungry. More fun: Rent cruiser bikes and ride to the sandy beach of Anaeho'omalu Bay.
5. Hali'i Kai at Waikoloa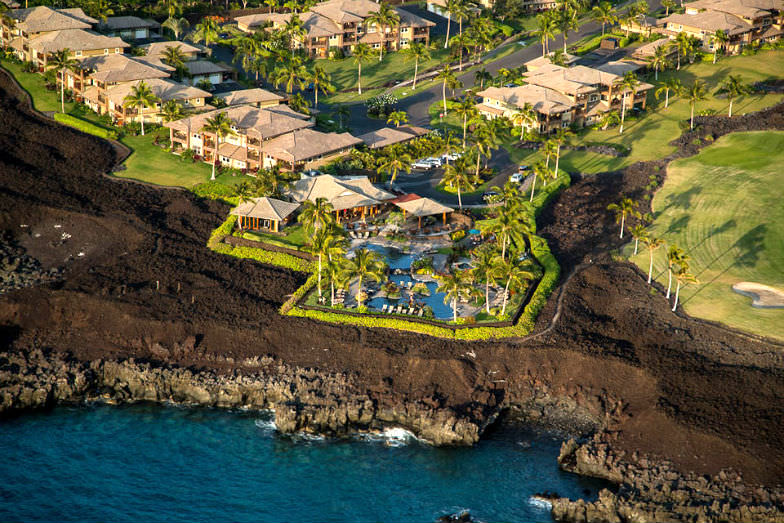 Hali'i Kai at Waikoloa (Castle Resorts)
Make yourself at home in one of these ultra-comfortable villas, featuring fully-equipped kitchens, private lanais, and family-friendly amenities, such as beach towels, bikes, and tennis rackets. Resort amenities include tennis courts, 18-hole golf courses, and a cool rock pool designed with coves, waterfalls, and lounge chairs set in shallow water. Black lava rocks deter beach access but the pool more than makes up for it. And the views are breathtaking! Dining is a breeze – the property has several restaurants. More fun: Enjoy free Hawaiian music, hula, lei-making, live entertainment, and a weekly farmers market at Queens' MarketPlace and Kings' Shops. The shopping centers are filled with boutiques, art galleries and restaurants.
Mimi Slawoff, a Los Angeles-based journalist, contributed this to www.MiniTime.com.