The best ghost stories start here
By Kristi Marcelle on Sep 17, 2014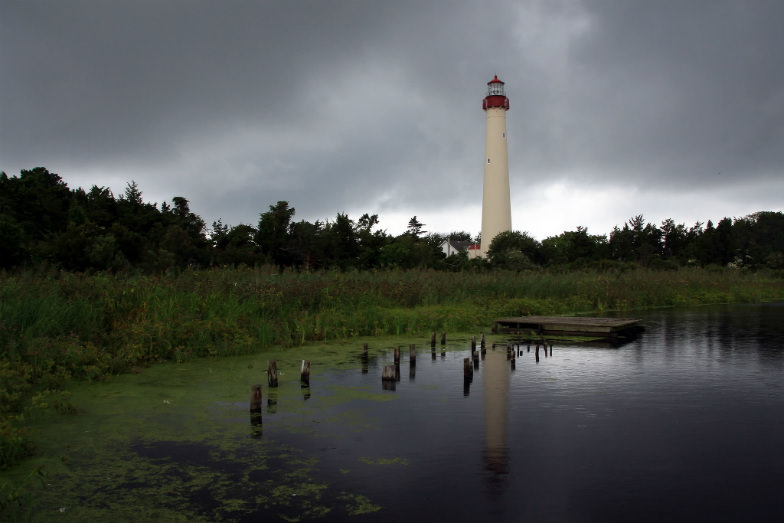 Cape May Lighthouse (Flickr: Christoph Bieniek)
Every good ghost story requires an isolated location, howling winds, and things that go bump in the night. You'll find plenty of these at America's most exciting haunted lighthouses, where paranormal lore and legend make for an especially memorable visit during the spooky season. Each of these beautiful beacons is said to have at least one resident spirit, so grab a flashlight and explore this fall—if you dare.
Cape May Lighthouse: Cape May, New Jersey
Standing guard where Delaware Bay meets the Atlantic, this 1859 gem draws nearly 100,000 visitors a year. For most, climbing the 199-step tower is a Jersey Shore rite of passage that rewards with far-reaching panoramic views. But what if you're more interested in Cape May's rich ghost lore? Wait until nightfall, then hop on a red trolley for the Ghosts of the Lighthouse Trolley Tour, which shares the stories behind many of the town's haunted places en route to the lighthouse. As you ascend the spiral staircase, be on the lookout for one of the famous residents: a ghostly woman in a flowing, white gown carrying a lantern in one hand as she holds a child. (Info: 800/275-4278. Price: $20 for adults; $15 for kids ages 3-12.)
(MORE: Check Cape May best hotel rates)
St. Simons Lighthouse: St. Simons Island, Georgia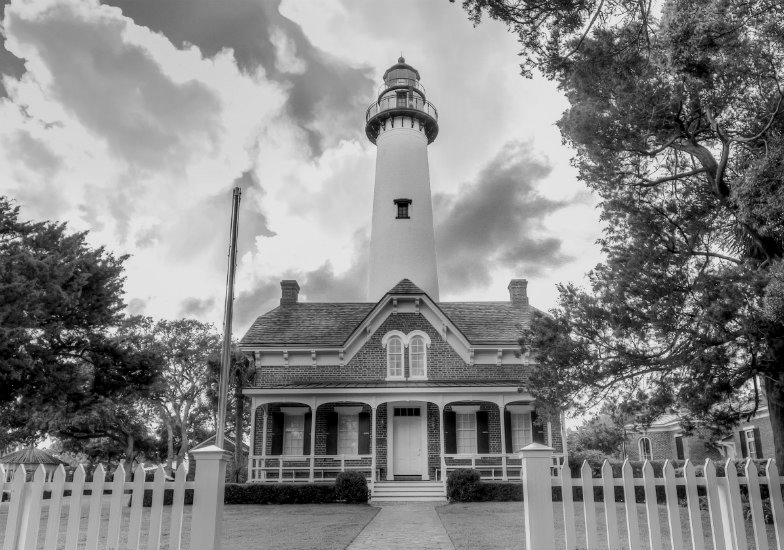 St. Simons Lighthouse in St Simons Island, GA (Flickr: Rain0975)
This lighthouse on the southern tip of one of the Golden Isles is the setting for one of Georgia's well-known ghost stories. In 1880, the light keeper, Frederick Osborne was killed in a gun duel with his assistant keeper, who was never convicted of wrongdoing. For over a century, many who have climbed the 129-step tower have reported hearing unexplained footfalls on the stairs or seeing Osborne's restless spirit standing at the balcony railing. (Info: 912/638-4666.)
Point Sur Lightstation: Big Sur, California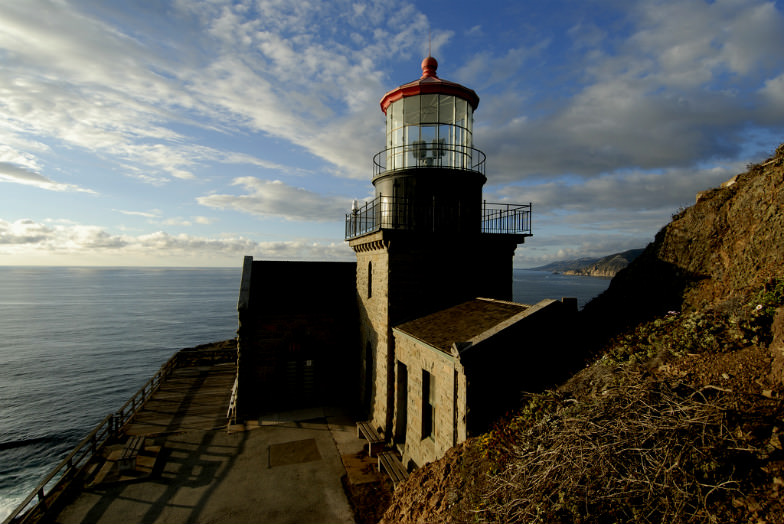 Point Sur Lightstation (Flickr: NOAA Photo Library)
Perched on the famous rocky coastline between Big Sur and Carmel, the beacon that has protected sailors and fishermen since 1889 was named one of America's most haunted lighthouses by the Travel Channel's "Ghost Adventures." During the show's visit, the hosts claimed to encounter the spirit of an admiral and heard accounts of unexplained laughter in the stairway and desk drawers opening mysteriously in the light keeper's quarters. Year-round, you can take a three-hour daytime or moonlit tour. Book early as ghost tours tend to be sold out early. (Info: 831/625-4419. Moonlight tours: $20 for adults; $10 for kids ages 6-17; free for kids 5 and under.)
(MORE: Browse parent reviews of kid-friendly attractions in Carmel)
White River Light Station: Whitehall, Michigan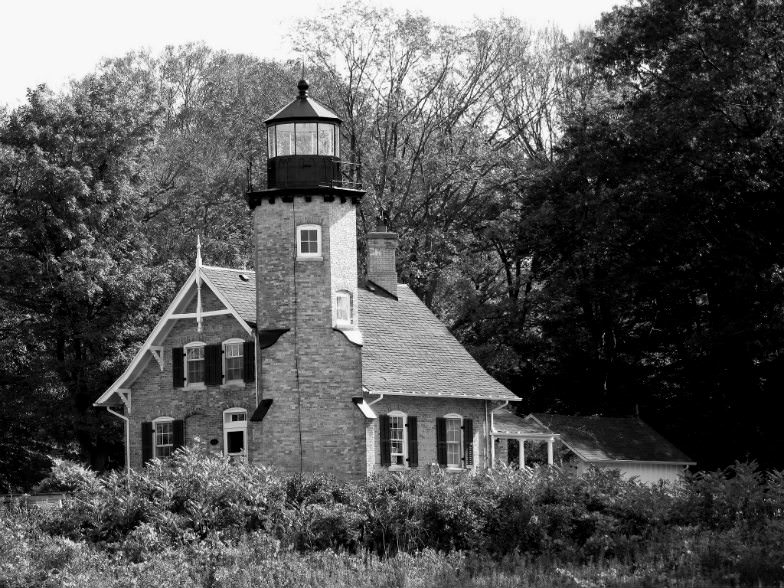 White River Light Station in Michigan (Flickr: Rachel Kramer)
On the eastern shore of Lake Michigan, a few hours' drive south of Traverse City, this compact lighthouse-turned-museum no longer guides ships but may have a very dedicated head keeper still caring for it. Captain William Robinson, who served for 47 years and died here, is said to pace around the building and even do some occasional dusting. The lighthouse is open for visits from June till October. (Info: 231/894-8265. Admission: $4 for adults; $2 for kids ages 2-12; free for kids under 2.)
St. Augustine Lighthouse: St. Augustine, Florida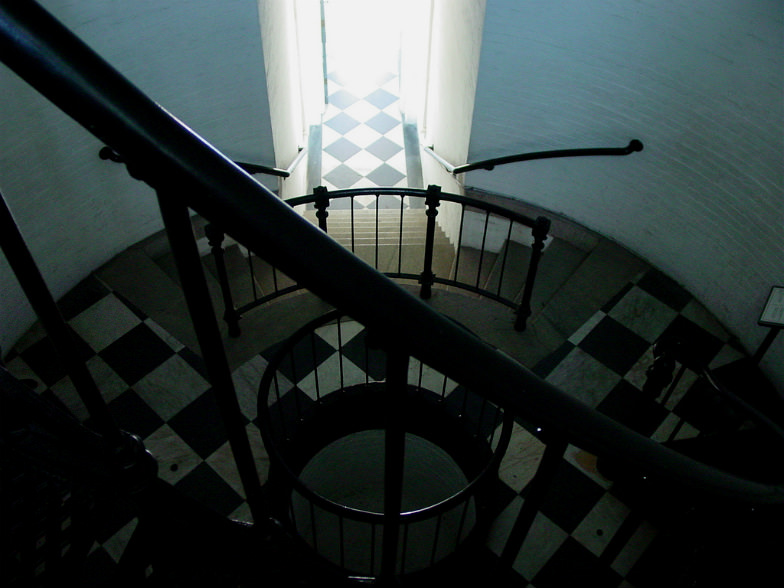 St. Augustine Lighthouse (Flickr: Dan Smith)
A star turn on the SyFy series "Ghost Hunters" has brought street cred to this lighthouse in America's oldest city, and the Dark of the Moon Paranormal Tour (billed as "all ghost, no gimmicks") leaves you wondering if the place is, indeed, cursed. Since 1874, when several members of a family, including children, were accidentally killed during the lighthouse's construction, a long list of folks have claimed to have witnessed strange happenings, from voices on the staircase to the wafting scent of cigar smoke to a ghost-like man in the basement. Don't forget to bring your own flashlight; after the tour, you'll otherwise be armed with only a glow stick to investigate further. (Info: 904/829-0745. Price: $25 for adults; $20 for kids under 12.)
Kristi Marcelle, a California based-freelance writer, contributed this to www.MiniTime.com.