Thanksgiving with kids
By Katrina Brown Hunt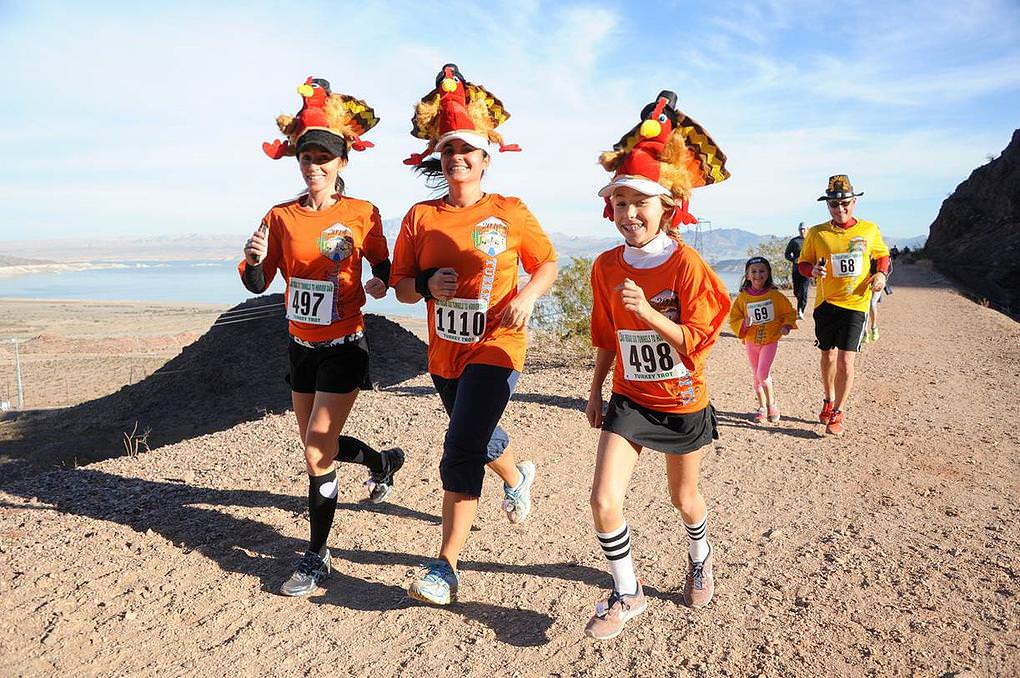 Turkey Trot in Las Vegas (Courtesy Las Vegas Turkey Trot)
Torn between two camps of in-laws—or just tired of the same routine of eat-turkey-watch-football-take-nap? Thanksgiving is a great time to plan a family vacation that stretches well beyond the family den. And while it's always nice to sit down to a traditional turkey feast that was cooked and served by folks at a hotel, several events around the U.S. turn the usual Thanksgiving tradition on its ear. Here's where to take the kids for a Turkey Day holiday that may be short on actual turkey, but long on unique memories:
(MORE: Five Best Destinations for a Family Thanksgiving Getaway)
Jog the Mother of All Turkey Trots, Las Vegas
If your family would rather stay moving than stuff your faces, head to Vegas, and the Las Vegas Turkey Trot: Six Tunnels to Hoover Dam. Starting about 18 miles from the Strip, this famed Turkey Trot has three distances to choose from: a 12K, a 5K and a one-miler (it's family-friendly, but no dogs or strollers are allowed). Scenery includes Lake Mead and, as the name implies, six tunnels en route to the iconic dam.
Great family-friendly place to stay: The Red Rock Resort is nicely away from the Strip and has an on-site movie theater and bowling alley.
Watch the Sand-Sculpting Championship, Fort Myers, FL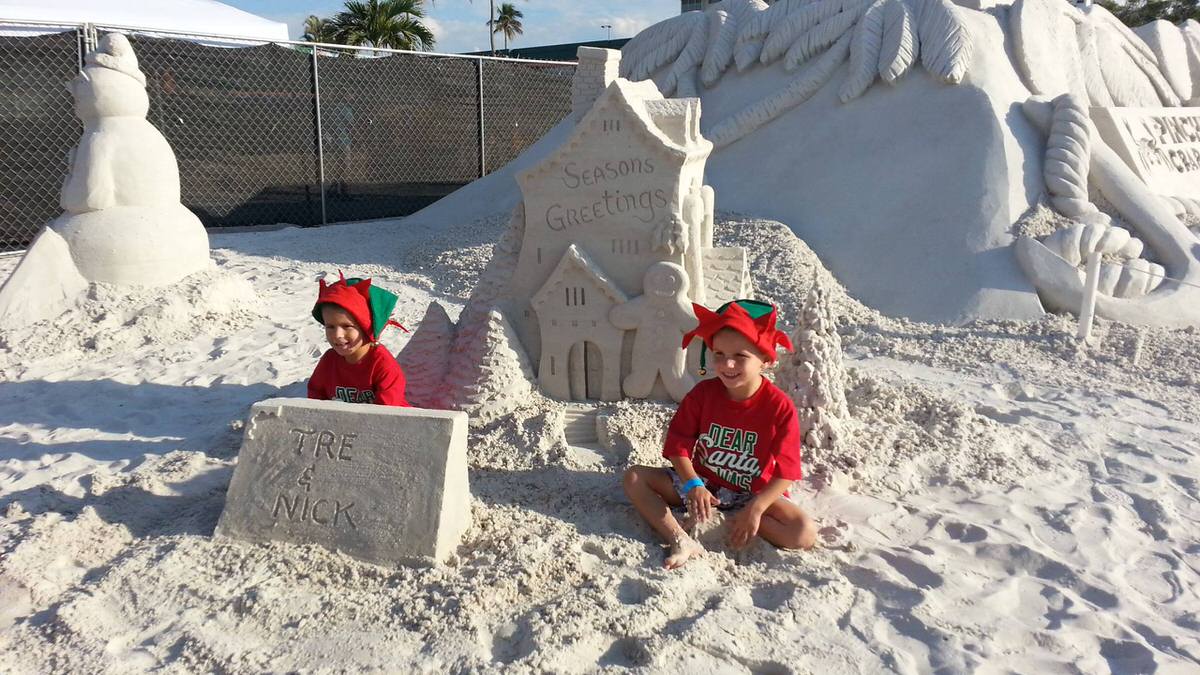 Kids at the American Sand-Sculpting Championship in Fort Myers, FL (Courtesy American Sand-Sculpting Championship)
On Fort Meyers Beach, turkey trots are for the birds: Instead, Thanksgiving here means another year of the American Sand-Sculpting Championship (this year, running from Nov. 20-29). You'll see the work of world-class master sand sculptors as well as state-championship winners and amateur entries—and you can even pick up tips for entering next year in the sand-sculpting demonstrations.
Great family-friendly place to stay: The Pink Shell Beach Resort has three pools and condo-style suites, and sits right on the sand in Fort Myers. Or, try the century-old Gasparilla Inn & Club, on nearby Boca Grande, which has a private beach club and a Thanksgiving Day Package that includes more sand sculpting, beach games and family football.
Spend the Day with Racehorses, Del Mar, CA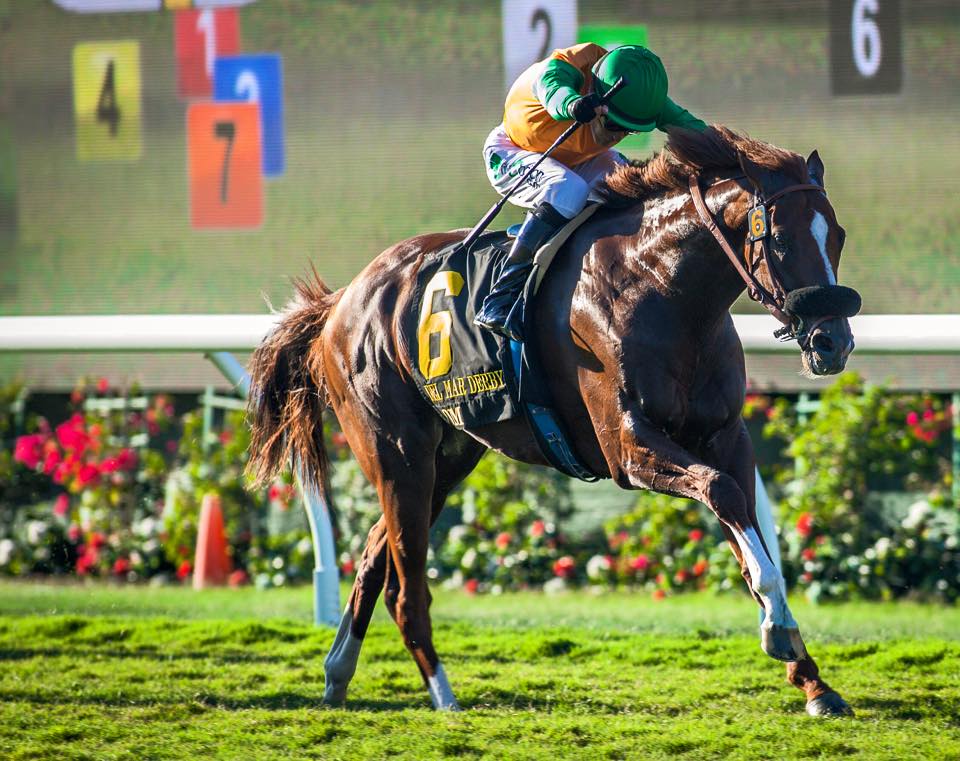 Del Mar Racetrack (Courtesy Del Mar Racetrack)
November offers pretty mild weather in San Diego, and it also brings an extra horseracing season at the historic Del Mar Racetrack. The "Bing Crosby Season" (named after one of the track's famous founders) does it up big on Turkey Day, kicking off with a human fun run on the field, then followed by a Thanksgiving Brunch at the Turf Club and eight horse races.
Great family-friendly place to stay: Just a few miles away, the arts-and-crafts-style Lodge at Torrey Pines is a plush crowd-pleaser: it backs up to the acclaimed Torrey Pines Golf Course, has beach access and, during the holiday season, offers cider, cookie-decorating and outdoor s'mores-roasting.
Go Watch Midget Car Racing, Perris, CA
Tired of football? Come to this clay-oval speedway outside L.A., which is carrying on the Turkey Night Gran Prix, a Thanksgiving tradition since 1934; the competitors are midget cars, typically with 300-400 horsepower. The races can also offer an all-star cast from the racing world: winners over the years have included A.J. Foyt and Tony Stewart, and NASCAR's Kyle Larson.
Great family-friendly place to stay: In Riverside, the castle-like Mission Inn Hotel & Spa has historic charm (it first opened in 1886), reasonable rates and, as a nice bonus, an on-site cupcake bakery.
Give Thanks with Live Turkeys, Zion National Park, Utah
If you'd rather befriend the turkey then dig into him, go to Utah's Zion National Park, where wild turkeys are known to wander the landscape along with mule deer. Family-friendly trails in the year-round NP include Riverside Walk, the Par'us Trail, and Emerald Pools.
Great family-friendly place to stay: You can even see turkeys on the grounds of the Zion Lodge—which does an all-day Thanksgiving Buffet that also includes ham and roast beef, if the "free-range" turkey option seems to hit a little too close to home.
(MORE: 10 Warm Destinations to Spend Christmas with the Family)
Run a "Taco Trot", Orchard Park, NY
Even if you can't dodge that tryptophan high on Thursday, you can cleanse your palate with tacos at the Black Friday Mighty Mile contest outside Buffalo. Held at Chestnut Ridge Park Casino at noon on Black Friday, your entry requirement is four tacos from beloved local taqueria Mighty Taco. There are only four laps—each a quarter mile—and after each lap you wolf down one taco. Whether you eat or just watch, it still sounds like more fun than standing in line at the big-box stores.
Great family-friendly place to stay: In the city, Embassy Suites Buffalo has an indoor pool and puts you close to the Buffalo Theater District, Erie County Botanical Gardens and the Buffalo Waterfront & Marina.
Go Fishing, Costa Rica
Just not into turkey? Costa Rica's Los Suenos Marriott Ocean & Golf Resort offers an intriguing alternative. Its You Hook It, We Cook It program invites you to catch a fish off its sports-fishing magnet Herradura Beach—where you'll have good access to sailfish, black and blue marlins or mahi mahi. Then, the hotel chefs will fix it up as your Thanksgiving dinner with all the trimmings—which, in this case, could likely mean frijoles, creole cabbage and ripe plantains.
Katrina Brown Hunt contributed this to MiniTime. Katrina is based in San Diego and writes about travel, business and lifestyle for publications and websites.