Family-friendly travel tips
By Rowena Carr-Allinson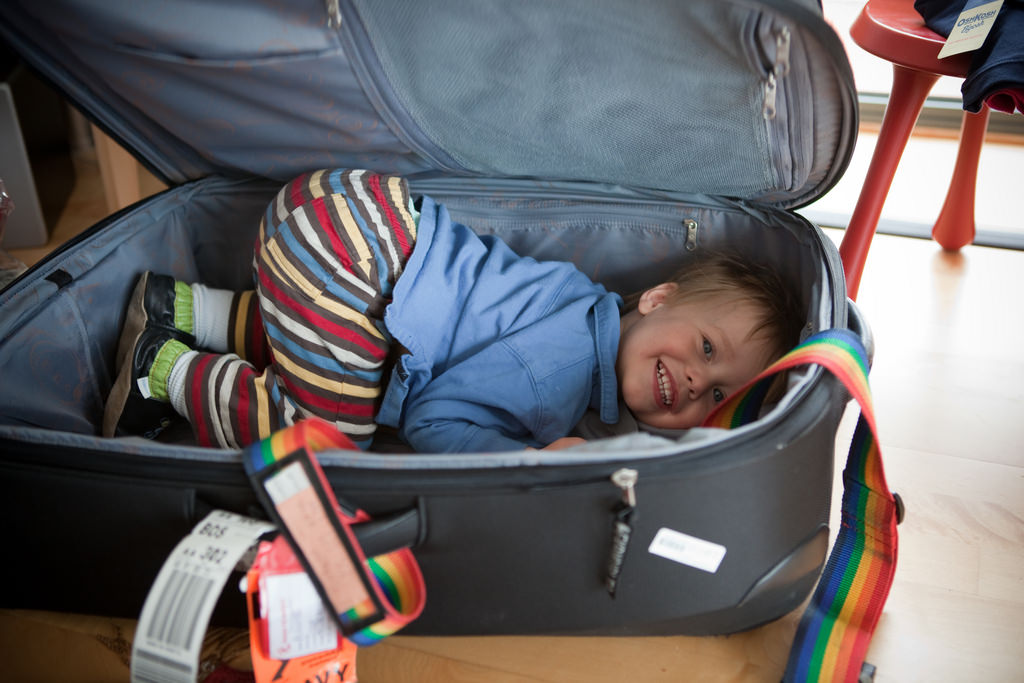 Vacationing with the kids? Avoid these packing mistakes. (Flickr: Lars Plougmann)
Don't let packing become a nightmare! A bad packing strategy can mean you don't get the most out of your family vacation, or worse – end up spending extra budget on extra weight allowance or on buying essentials you forgot to pack! It's not easy to travel-light but beware of the inclination to bring it all, including all the 'just in case' stuff…
When packing for your family vacation, these usual culprits should be avoided at all costs.
The Most Common Mistake: Overpacking
Overpacking is the most common – and can become the most costly – mistake if your baggage allowance is surpassed. These days, each ounce over the limit is charged at sky-high baggage fees so beware! Pack the kids' favorites only, that way you know they will wear/use them. Cut down on the heavy items like shoes and books. It's common sense, but the urge to pack 'just in case' stuff is strong. Be stronger.
The Most Dangerous Mistake: Forgetting Food
If your child is anything like mine, packing food is crucial. An expert in 'hangry,' my sweet son, if underfed, will suddenly turn into a mini-monster. Sadly there is no warning system. At age 3, he still won't give me a heads-up; so packing a selection of snacks and drinks for any journey is crucial. Also pack extra snacks in the suitcase for 'on the spot' consumption when in luxury hotels in remote locations when you know getting hold of snacks will be tricky (or expensive) – eating them as we go along means a little space to bring a souvenir back!
The Easiest Mistake: Travelling Without a Day Bag
We tend to go for the largest case we can and the largest carry on feasible. It's human nature! We can, but try to think ahead and remember that once on site we'll no doubt be heading out for a few hours at a time and will need a smaller backpack or beach bag to contain the daily basics. Use this as your carry on, a smaller bag will also help avoid being weighed down like a donkey.
The Obvious Mistake: Forgetting a Change of Clothes
Some habits from traveling with baby should remain. All parents with infants carry around way too much kit, it's part of the joys of new parenthood, but some things are really rather useful. A spare change of clothes for example – at least a T-shirt and pants for them (and for you) is a really handy thing to have in your carry on for two reasons: (1) in case of unexpected sickness, and (2) in case the airline lose your luggage en route… both happen occasionally, and then you're really in trouble!
(MORE: Sunny Deals For An Unforgettable Family Summer)
The Silliest Mistake: Assuming Things
Never assume. Always do your research. Do your research in terms of weather and temperature so you're not packing the wrong gear. It sounds obvious, but you'd be surprised how hard it is to project yourself in a warm climate if you're freezing back home, or vice versa! Research will help you pack more strategically. In case of doubt with the temperatures, make sure you pack items you can layer for optimum warmth if possible. Also, never take a dress code for granted. Check your hotel's policy before packing as some won't accept you in the dining room in shorts or casual shoes, and require smart casual attire and at least one pair of smart shoes – not always top of the beach vacation packing list!
The Rebel Mistake: Ignoring TSA Guidelines
Rules are rules, including the TSA Guidelines, and we're all subject to them. Liquids, aerosols, and gels must be 3 oz or less in volume in your carry on and placed in a clear Ziploc bag. The rule is one bag per person which can be tricky with kids if you're carrying juice boxes and baby food pouches, though, thankfully, security seem a little more lenient with stuff for little ones… However, do not think you can flout the rules and bring a full bottle of sunscreen in your carry on. Security will throw it out and you will have a frustrating start to the trip!
Rowena Carr-Allinson contributed this to MiniTime. Since the arrival of her son in 2011, she has taken him everywhere from Bangkok to NYC, writing family friendly articles en route.