Looking for a memorable vacation experience? Put a dolphin encounter at the top of your list.
By Erin Gifford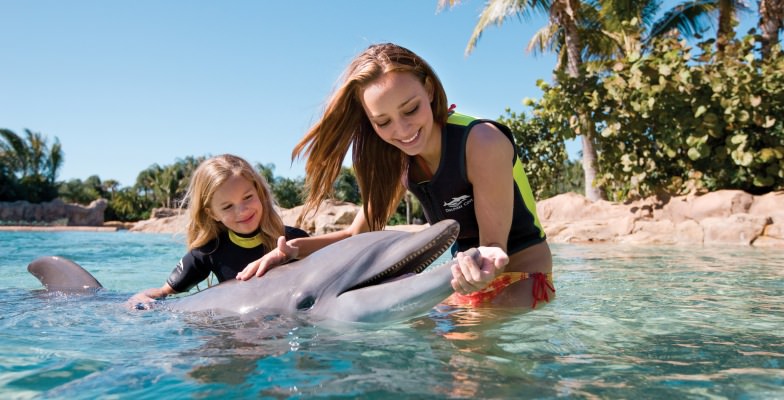 Dolphin Interaction at Discovery Cove (Discovery Cove)
Looking to give your family an experience to remember? Then put a dolphin encounter at the top of your list. While you can find dolphin encounters at a variety of aquariums nationwide, the most unique opportunities are available in warm-weather destinations such as Florida, Hawaii, Mexico, and the Caribbean. These six programs truly stand out for their first-rate educational and interactive dolphin experiences.
RESORT DEAL: Offer_Enjoy Your Getaway to the Caribbean or Latin America and save 15% at participating Marriott hotels! *CODE 7YJ (Valid through February 26, 2017, SEE LANDING PAGE FOR TERMS AND CONDITIONS)
Discovery Cove: Orlando, FL
For dolphin-loving families with a trip to Orlando in the works, a visit to Discovery Cove is a must. The "Trainer for a Day" program lets you shadow a marine expert and learn all about dolphin behavior and communication. The highlight is a 30-minute dolphin interaction, including an exciting dorsal fin ride around the lagoon and the chance to attempt the double-foot-push maneuver, where two dolphins push you along the water. The package includes a private photo session with two dolphins.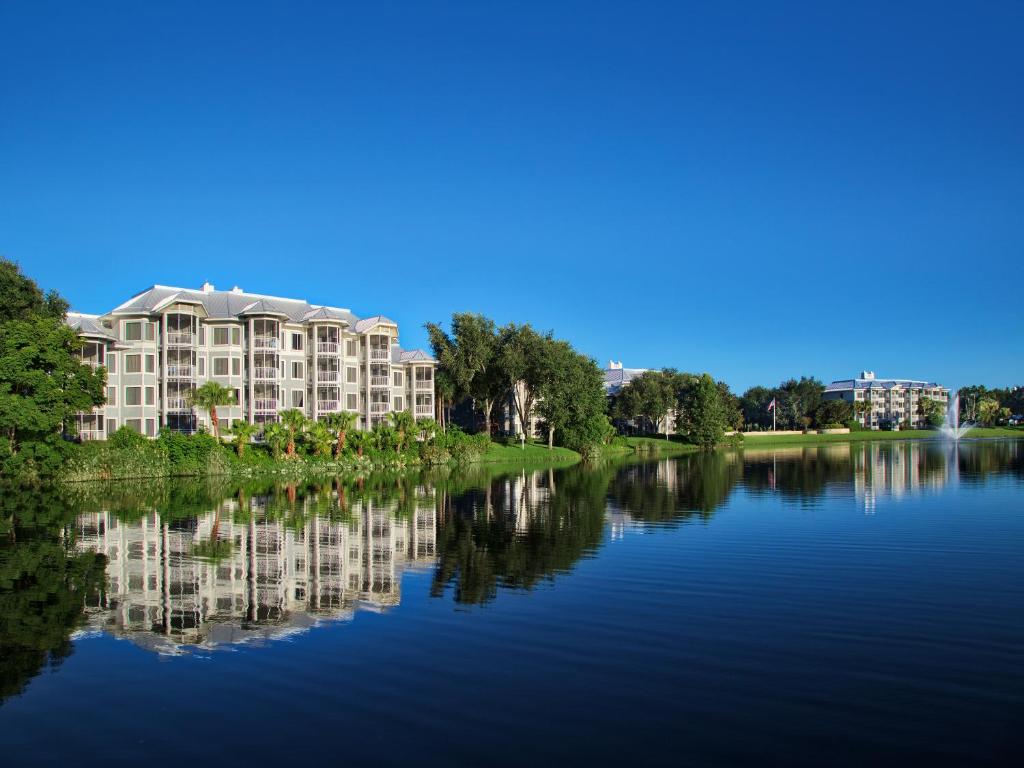 Marriott's Cypress Harbour Villas (Photo: booking.com)
To make your time at Discovery Cove an even more exciting experience, we can strongly recommend staying at the Marriott's Cypress Harbour Villas. The distance to SeaWorld® Orlando is about 1.6 kilometers – so all the water-related activities are made easy for your family!
This location has a lot to offer for your entire family: the Marriott's Cypress Harbour Villas provide a lakeside outdoor pool, a hot tub, and a sauna for guests' use. There is a spa there called Cypress.
The games area is a great place for younger visitors to have fun: Walt Disney World is about 9.6 kilometers away from Marriott's Cypress Harbour.
The convenience is top-notch: The distance to Orlando International Airport is 20.9 kilometers.
So whether you are going to see the dolphins alone, with your other half or with your family, you are sure to have a nice time here!
Dolphin Quest: Hawaii & Bermuda
With branches in Bermuda, Hawaii's Big Island and Oahu, this ultra-comprehensive dolphin experience offers activities for everyone in the family. "Wee Family, Fins and Fun" is a 15-minute pint-sized dolphin encounter designed for parents and kids 4 and under. Older kids 12 and up can go all out and join the "Trainer for a Week" program to spend one-on-one time with experienced trainers and assist with morning dolphin health exams and feeding.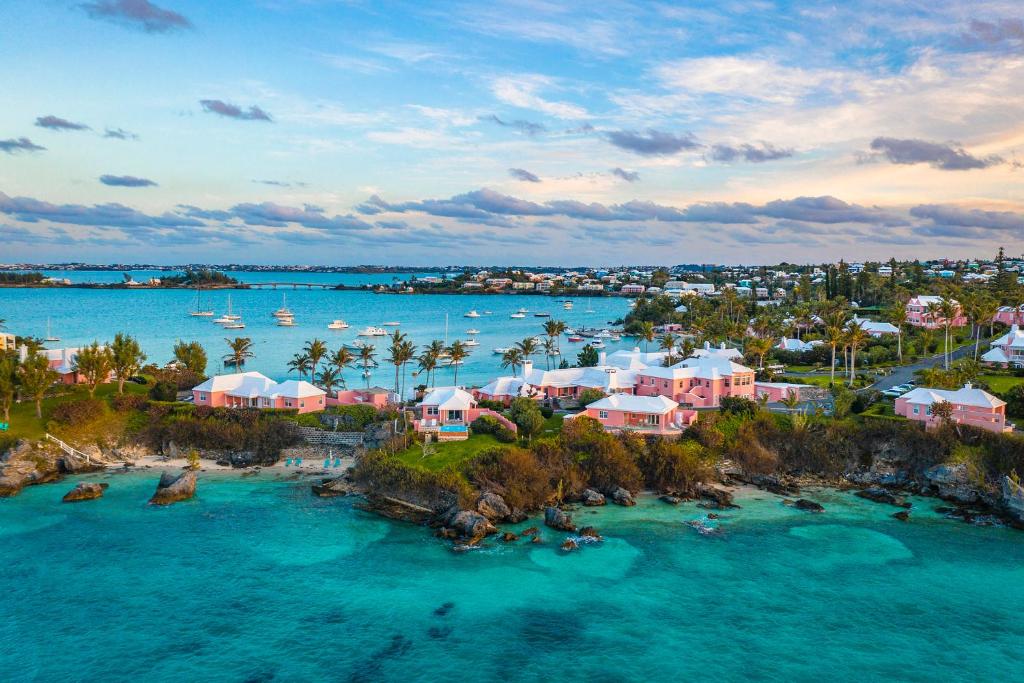 Cambridge Beaches Resort and Spa (Photo: booking.com)
To enhance your enjoyment from the Dolphin Quest, a place like Cambridge Beaches Resort and Spa is absolutely unrivaled. Your vacation is sure to be fantastic because of the four private beaches and accommodations that have views of the Caribbean.
The area is great and safe for your kids: All visitors can swim in the outdoor pool or take a tennis lesson from a pro to warm up for the fun in the water. In order to ensure that you don't miss any entertainment, the resort concierge assists visitors with making plans both on-site and off-site.
This location has a lot to offer for your entire family: the resort has a full-service spa, a restaurant, a bar, two pools, a watersports facility, a tennis court, a putting green, a croquet grass, and room service.
The convenience is top-notch: The Royal Navel Dockyard and shopping may be reached from the Cambridge Beach in 5 minutes by car. 12.9 kilometers separate the resort from Horseshoe Bay Beach.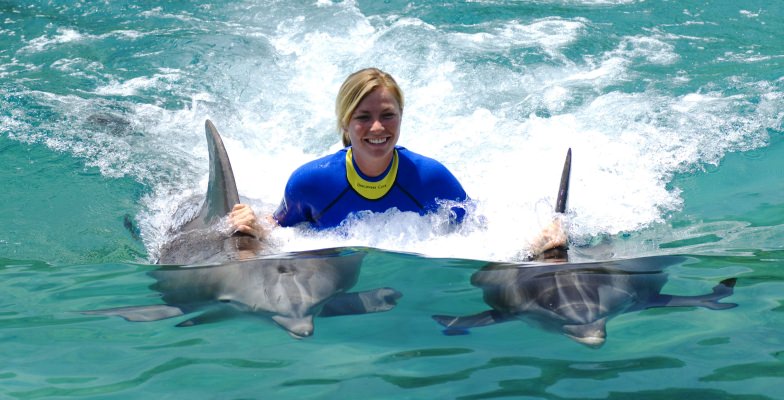 Dorsal Fin Ride at Discovery Cove in Orlando (Discovery Cove)
Dolphin Explorer: Marco Island, FL
Living up to its billing as "the finest eco-tour in Southwest Florida," a cruise aboard the Dolphin Explorer gives kids the opportunity to serve as "citizen scientists," assisting dolphin researchers with the ongoing 10,000 Islands Dolphin Project. During this twice-daily three-hour expedition, you'll see dolphins, learn how they are catalogued, and even get in some shelling on the beach. Children can also take the "Dolphin Challenge" by assisting with photo identification and behavior evaluation of the dolphins.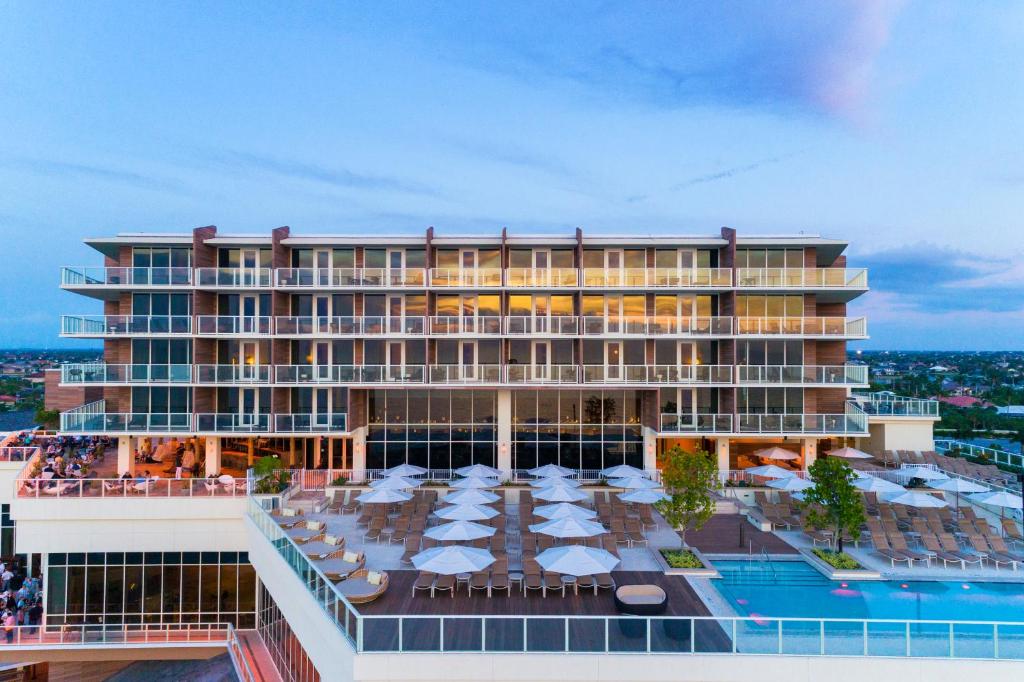 JW Marriott Marco Island Beach Resort (Photo: booking.com)
If you want to make your stay on Marco Island an event not to ever forget, JW Marriott Marco Island Beach Resort is the place you need. This incredible beachfront resort in Florida is situated on Marco Island Beach. At the Marco Island Historical Museum, 3.2 kilometers distant, visitors may examine fossils and historical artifacts from Florida. Only 12.9 kilometers separate the beachfront in Naples from the Tin City stores.
It's a great vacation spot for couples and families: it offers 2 exclusive 18-hole golf courses in addition to 3 outdoor pools. The Spa by JW® provides a variety of services, including massages, facials, and body scrubs and wraps. There are also accessible beauty services including nail manicures.
Fun for kids is also top-notch: There are also twelve restaurants there, and there are several tennis and volleyball courts.
Dolphinaris: Cancun, Cozumel & Tulum
Before hopping in the water to meet the dolphins at Dolphinaris in Mexico, take the time to get an introduction to dolphin behaviors and physiology. As part of the dolphin swim program, you'll also get a kiss and a fin shake from the dolphins, as well as a dorsal ride. Once you're finished with your swim, head to the Dolphin Park for a variety of land and water activities, including Dolphin Planet workshops, which teach participants about behavior and adaptations that dolphins have made to their environments.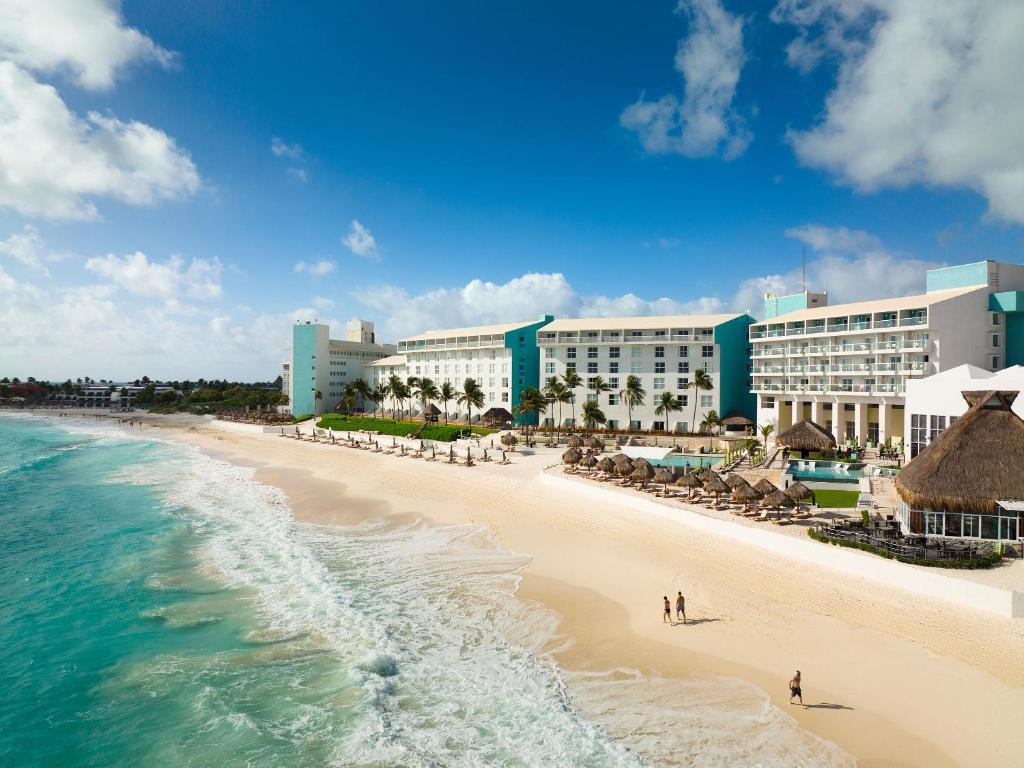 The Westin Resort & Spa Cancun (Photo: booking.com)
To make your time at Dolphinaris an even more memorable experience, we have personally tested The Westin Resort & Spa Cancun during our last vacation and found it absolutely stunning, comfortable, and suitable for any needs.
This opulent resort provides exclusive white sand beaches with breathtaking views of the Caribbean Sea and Nichupte Lagoon while peacefully relaxing at the tranquil end of Cancun's Hotel Zone. Warm lighting, lovely plant arrangements, trademark music, and the relaxing white tea aroma of the resort have all left us speechless.
Great for a family vacation: This resort will amaze any gourmet food enthusiast in your family with its selection of authentic Mexican cuisine, exotic fruits, and delectable fish and shellfish.
Incredible for traveling alone: Heavenly Spa is a fantastic location to unwind, and if you want to mix in some exercise, you may play golf, tennis, or surfing.
(MORE: Is It Cruel to "Swim with the Dolphins"?)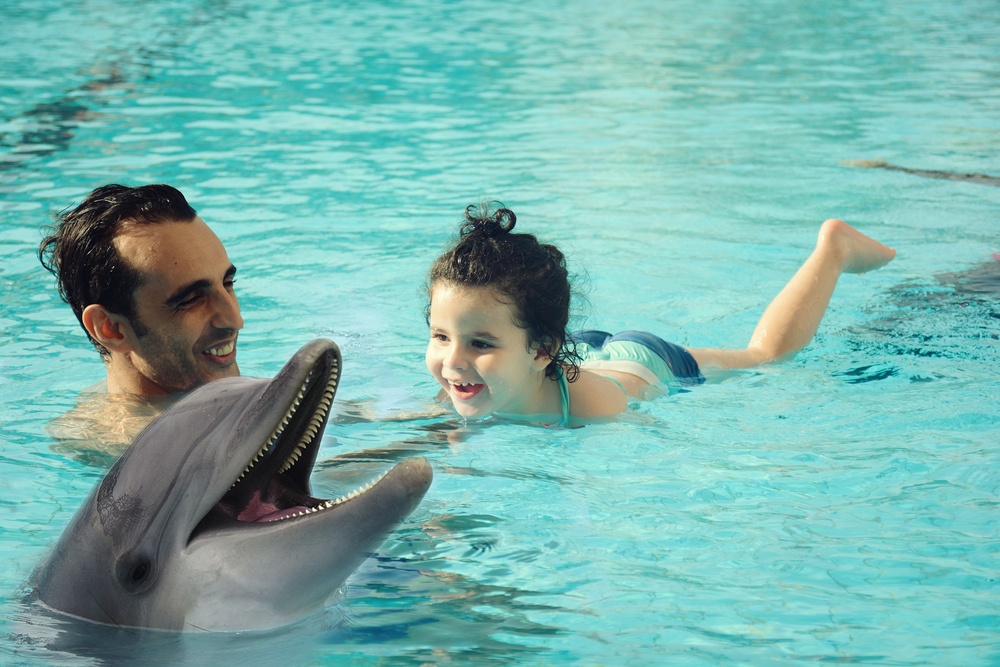 Shallow water interactions at Dolphin Cay (Atlantis Resort)
Dolphin Cay: Bahamas
At the elaborate 14-acre marine habitat inside Atlantis Resort, kids of all ages can enjoy shallow-water interactions with dolphins and sea lions, while older kids 10 and up can get a customized training session with marine mammal specialist in the "Ultimate Trainer for a Day" program. Feeling adventurous? Go on a deep-sea excursion and glide alongside a dolphin with the help of a hand-held water scooter.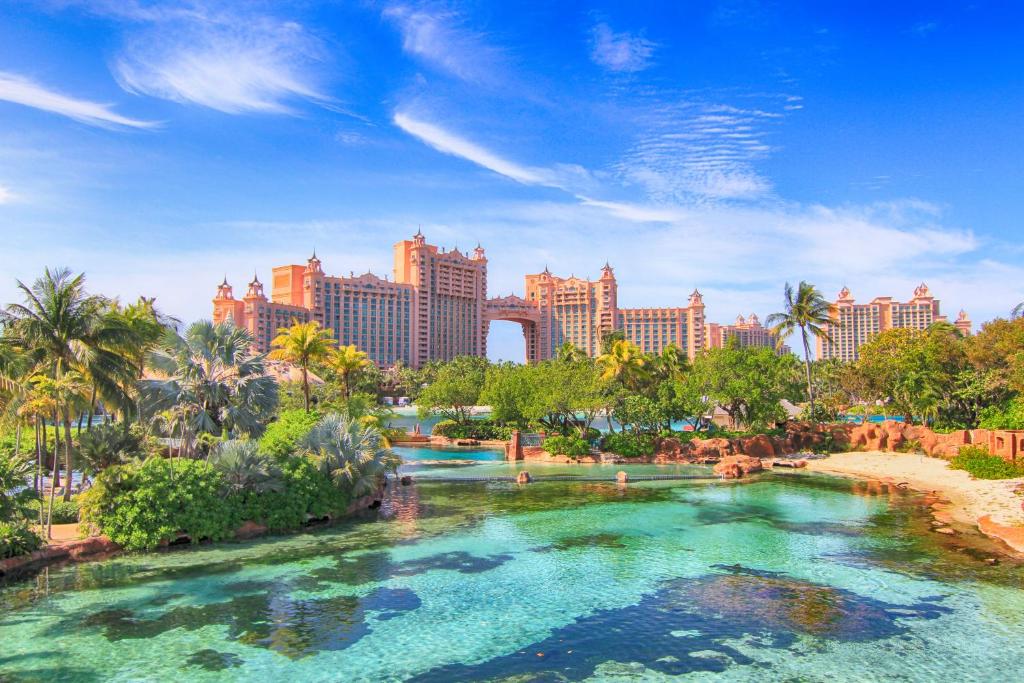 The Royal at Atlantis (Photo: booking.com)
If you are looking for a place to spend a fantastic vacation at Dolphin Cay, look no further! The Royal at Atlantis is just what you and your other half or family need. Their amenities provide a wide variety of entertainment: The Aquaventure Water Park on Paradise Island has rock climbing, 11 beautifully designed pools, and waterslides.
Additionally available to Atlantis Royal Towers visitors are dolphin swims at Dolphin Cay and comedy events at Jokers Wild. In the foyer of this famous skyscraper lies a sizable open-air marine ecosystem called The Dig and Ruins Lagoon. The Atlantis Paradise Resort and Casino is where the resort is situated.
Amazing for cuisine lovers: Restaurant services come in a range that is highly adaptable for every taste. The Atlantis Paradise Resort features 19 bars and 21 restaurants, including Nobu, which offers fine Japanese cuisine.
If swimming with dolphins is not enough of an activity: There are six tennis courts accessible, as well as racquet rentals and tennis instruction. Yoga and aerobic courses are available in the 10,000-square-foot gym, which may make your trip active and truly unforgettable.
Dolphin Research Center: Marathon, FL
This non-profit education facility in Marathon offers the well-regarded "Researcher for a Day" program, which lets you join a dolphin research team and help with dolphin cognition studies such as blindfolded imitation. Little kids will love "Dolphin Dip," a fun, wade-in interactive program where you greet dolphins with flipper shakes and learn to give dolphins signals. Want to add some color to your experience? Sign up for "Paint with a Dolphin" and a flippered Picasso will paint a t-shirt for you.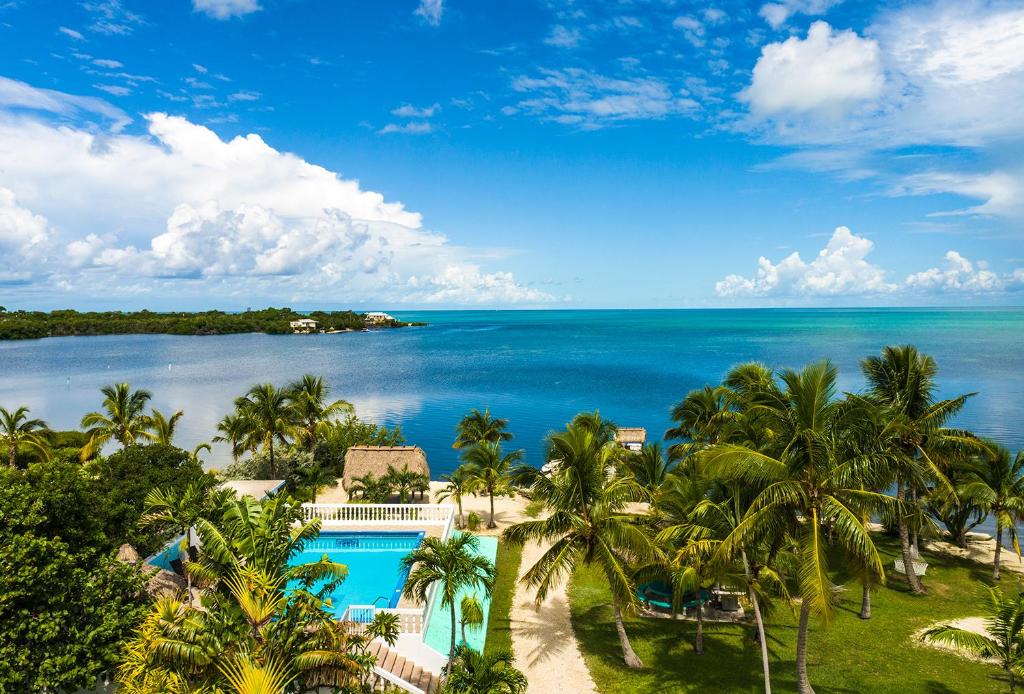 Gulf View Waterfront Resort (Photo: booking.com)
If you are going to experience activities at Dolphin Research Center and Keys Aquarium Encounters, the Gulf View Waterfront Resort is a truly special place to be spending the time of your life.
It features an outdoor pool, free private parking, a garden, and barbecue facilities and is 9.4 km from Florida Keys Aquarium Encounters.
Top-notch convenience: Gulf View Waterfront Resort is 42 km from Windley Key and 37 km from Upper Matecumbe Key. Key West International Airport, located 92 kilometers from the hotel, is the closest airport.
All-in-one services included: The hotel has coffee makers in each of the rooms. All rooms include a flat-screen TV, air conditioning, and a private bathroom with a hairdryer. A few rooms also have a seating area. The hotel's rooms are furnished with towels and bed linens.