Looking for a memorable vacation experience? Put a dolphin encounter at the top of your list.
By Erin Gifford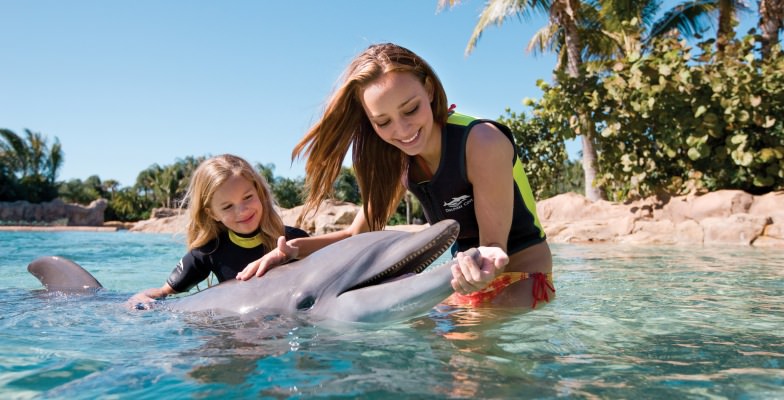 Dolphin Interaction at Discovery Cove (Discovery Cove)
Looking to give your family an experience to remember? Then put a dolphin encounter at the top of your list. While you can find dolphin encounters at a variety of aquariums nationwide, the most unique opportunities are available in warm-weather destinations such as Florida, Hawaii, Mexico, and the Caribbean. These six programs truly stand out for their first-rate educational and interactive dolphin experiences.
RESORT DEAL: Offer_Enjoy Your Getaway to the Caribbean or Latin America and save 15% at participating Marriott hotels! *CODE 7YJ (Valid through February 26, 2017, SEE LANDING PAGE FOR TERMS AND CONDITIONS)
Discovery Cove: Orlando, FL
For dolphin-loving families with a trip to Orlando in the works, a visit to Discovery Cove is a must. The "Trainer for a Day" program lets you shadow a marine expert and learn all about dolphin behavior and communication. The highlight is a 30-minute dolphin interaction, including an exciting dorsal fin ride around the lagoon and the chance to attempt the double-foot-push maneuver, where two dolphins push you along the water. The package includes a private photo session with two dolphins.
Dolphin Quest: Hawaii & Bermuda
With branches in Bermuda, Hawaii's Big Island and Oahu, this ultra-comprehensive dolphin experience offers activities for everyone in the family. "Wee Family, Fins and Fun" is a 15-minute pint-sized dolphin encounter designed for parents and kids 4 and under. Older kids 12 and up can go all out and join the "Trainer for a Week" program to spend one-on-one time with experienced trainers and assist with morning dolphin health exams and feeding.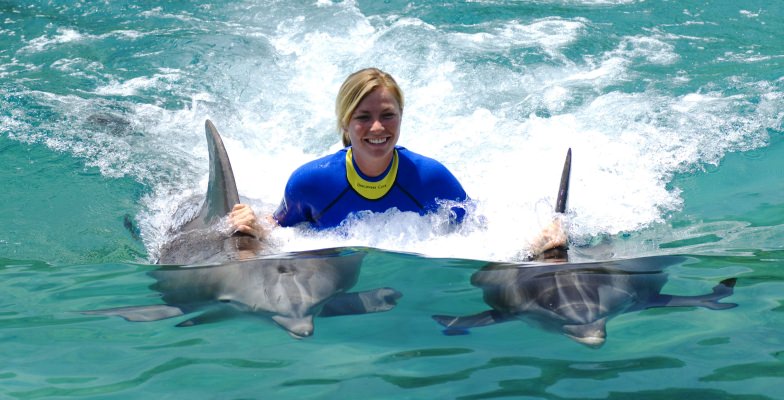 Dorsal Fin Ride at Discovery Cove in Orlando (Discovery Cove)
Dolphin Explorer: Marco Island, FL
Living up to its billing as "the finest eco-tour in Southwest Florida," a cruise aboard the Dolphin Explorer gives kids the opportunity to serve as "citizen scientists," assisting dolphin researchers with the ongoing 10,000 Islands Dolphin Project. During this twice-daily three-hour expedition, you'll see dolphins, learn how they are catalogued, and even get in some shelling on the beach. Children can also take the "Dolphin Challenge" by assisting with photo identification and behavior evaluation of the dolphins.
Dolphinaris: Cancun, Cozumel & Tulum
Before hopping in the water to meet the dolphins at Dolphinaris in Mexico, take the time to get an introduction to dolphin behaviors and physiology. As part of the dolphin swim program, you'll also get a kiss and a fin shake from the dolphins, as well as a dorsal ride. Once you're finished with your swim, head to the Dolphin Park for a variety of land and water activities, including Dolphin Planet workshops, which teach participants about behavior and adaptations that dolphins have made to their environments.
(MORE: Is It Cruel to "Swim with the Dolphins"?)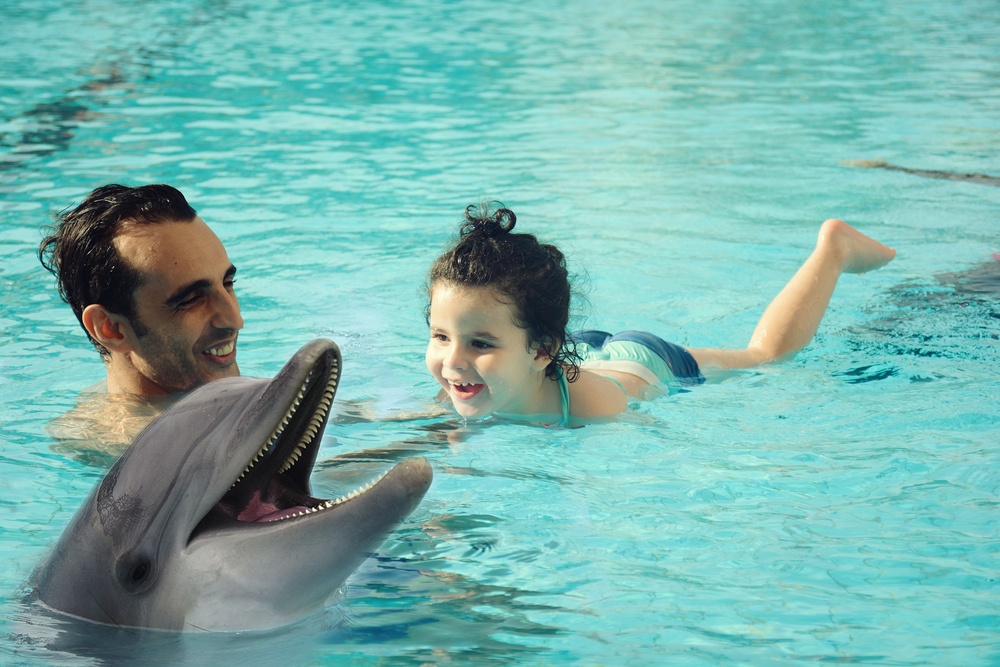 Shallow water interactions at Dolphin Cay (Atlantis Resort)
Dolphin Cay: Bahamas
At the elaborate 14-acre marine habitat inside Atlantis Resort, kids of all ages can enjoy shallow-water interactions with dolphins and sea lions, while older kids 10 and up can get a customized training session with marine mammal specialist in the "Ultimate Trainer for a Day" program. Feeling adventurous? Go on a deep-sea excursion and glide alongside a dolphin with the help of a hand-held water scooter.
Dolphin Research Center: Marathon, FL
This non-profit education facility in Marathon offers the well-regarded "Researcher for a Day" program, which lets you join a dolphin research team and help with dolphin cognition studies such as blindfolded imitation. Little kids will love "Dolphin Dip," a fun, wade-in interactive program where you greet dolphins with flipper shakes and learn to give dolphins signals. Want to add some color to your experience? Sign up for "Paint with a Dolphin" and a flippered Picasso will paint a t-shirt for you.
Erin Gifford of Kidventurous contributed this to www.MiniTime.com.