Hawaii with kids
By Ashley Burnett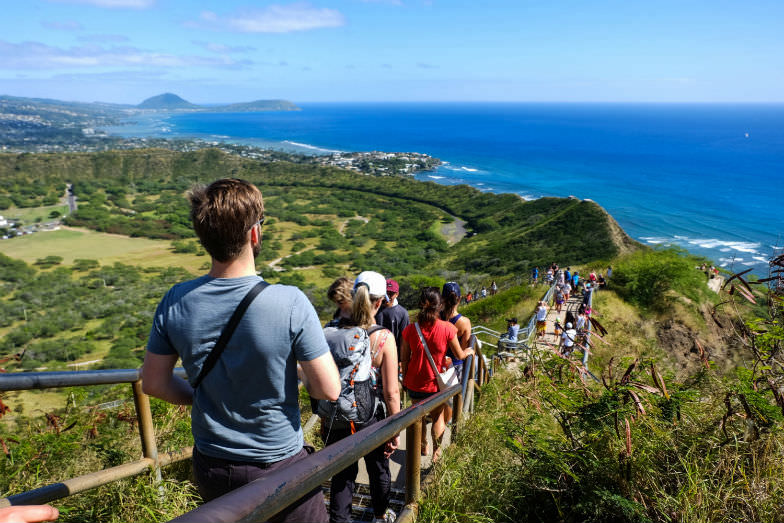 Hiking Diamond Head is one of the best outdoor activities in Hawaii for families with kids. (Photo: Michelle Rae Uy)
For adventure-loving families, Hawaii is a natural destination choice. To really make the most of your family getaway, experiencing all of the natural beauty the state has to offer is a must. Luckily, each island provides plenty of opportunities to get into the great outdoors. From hiking to horseback riding to whale watching, there are plenty of kid-friendly excursions to try out.
Get the most out of your Hawaiian vacation with a list of the best outdoor activities in Hawaii for families. Some hikes or excursions in the state might be too tiring for younger kids. However, these activities we picked are the perfect length and difficulty level.
(MORE: 10 Heritage Sites to Visit with Kids on Oahu)
Hiking Diamond Head
This kid-friendly trail will end with one of the best views of Honolulu and Waikiki you could ever ask for. Kids will most likely fare better with the multitude of stairs than their parents. Bring plenty of water, sunscreen and comfortable shoes, and head out when the sun isn't at its strongest. You'll be treated to one of the most iconic outdoor activities in Hawaii for families. It is, however, not recommended for those lugging around a stroller.
Horseback Riding in Kualoa Ranch
Let the kids live out "Jurassic Park" (while the adults live out "Lost") at Kualoa Ranch. While there's a minimum age requirement (10) for horseback riding, this is a great choice for families with older kids. Explore an area immortalized in countless TV shows and movies. You can't beat views of the Kualoa Mountains, Pacific Ocean, forests, and even World War II bunkers.
Visiting Wet 'n' Wild Hawaii
It's not exactly an 'adventurous' activity. Still, Wet 'n' Wild Hawaii is a great way to get the kids out and about for the day. It's frequently named one of the island's best family attractions. The kid-friendly theme park is housed on 29 acres of tropical landscaping with water-themed activities jam-packed throughout. Rides and attractions are even rated (from "chill" to "extreme") so you know what you're getting into. It's the sheer variety of the park that makes this one of the best outdoor activities in Hawaii for families.
Hiking Makiki Valley Loop Trail
This 2.5-mile loop trail is a great kid-friendly hiking option that should take less than two hours to complete. There are different trails for all experience levels and plenty of shade. Everyone in the family can get lost in nature for a fun afternoon. Its ease and beauty make this trail one of the best outdoor activities in Hawaii for families.
Whale Watching
No matter where you go in Hawaii, a whale watching tour will be nearby. In fact, at certain locations you may not even need a tour. Oftentimes, you'll be able to see whales cresting from your resort. The peak of the season is from January to March. So if you're interested in seeing these majestic marine creatures, plan your trip around that time. You might also be able to see them as late as May or as early as November.
(MORE: Best Cultural Sites to Explore with Kids in Kauai)
Take a Catamaran Along Na Pali Coast
Taking a catamaran along the beautiful Na Pali Coast is easy. With the sheer diversity of sea life in Hawaii, a catamaran will surely lead to plenty of great memories. There's a wide variety of tour operators offering excursions in the area so are plenty of kid-friendly options. Choose a sunset ride, snorkeling tour or even a dinner excursion. It's definitely one of the best outdoor activities in Hawaii for families.
Ashley Burnett contributed this to MiniTime.