Copper Mountain, Colorado
By Krissie Lynch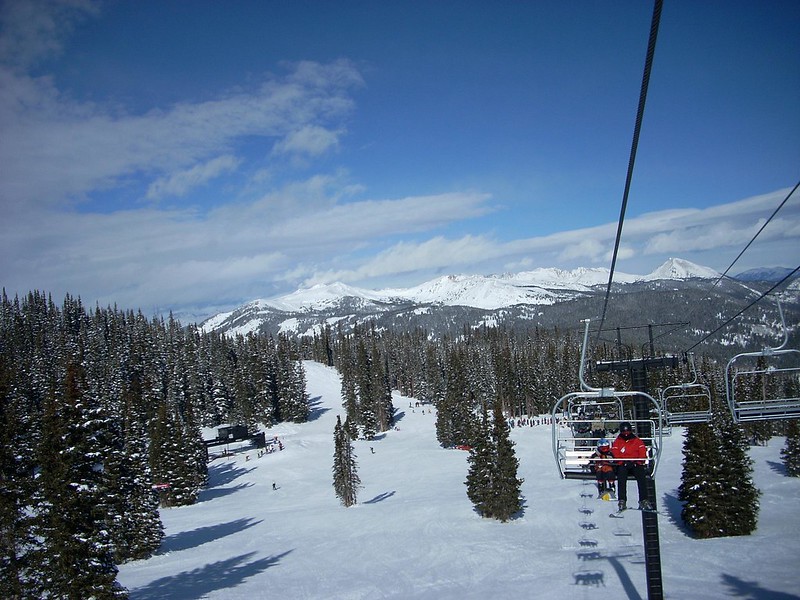 Why Go: Copper Mountain always ranks high in Ski magazine's annual readers' survey (in both 2006 and 2007, it swooshed in at a respectable number 19 in best resorts in the West) and over the years it's built up street cred by hosting some of the sport's marquee events, including World Cup alpine racing. It's one of Colorado's biggest ski resorts, with 22 excellent lifts, a 2,600-foot vertical rise, 125 marked trails, and an impressive 2,450 skiable acres. And let's not forget the fabulous snow—284 inches of the gorgeous, powdery stuff each season, on average. Yet every skiing family knows that killer statistics don't always translate into kid-friendliness—in fact, more often than not, they're a hindrance. Copper is that happy exception: A big ski experience that delivers genuine family appeal.
On a recent 4-day getaway, our correspondent, Krissie Lynch, and her family discovered that Copper's got an awful lot to offer parents and kids alike. For starters, it's accessible—an hour and a quarter of easy driving west on the interstate from Denver. After years of new construction and revamping, much of the village still has a new, just-out-of-the-wrapper feel and there's a bevy of modern, well-equipped, and convenient lodging options. On top of that, Copper boasts a top-notch ski school and daycare facility for little ones.
One of the very best reasons to bring your family to Copper is the mountain itself. The topography offers tremendous variety for all abilities and preferences, including some great terrain parks and fun "secret" spots for kids. But what really sets this mountain apart is its natural segregation of trails by difficulty. The westernmost side of the mountain contains the easiest, green-coded runs. Slopes and trails get progressively more difficult—turning blue and then black—as you move east across the mountain. This logical design means that little kids' ski classes and beginner runs remain safely out of the flight path of faster skiers and hotdogging snowboarders, and that advanced skiers don't have to worry about slow-moving novices crossing in front of them.
Copper deserves credit for consistently offering affordably-priced "kids ski free" packages. When you book your lodging through Copper Mountain, you also get Beeline Advantage, a VIP fast pass that lets you bypass the main lift lines so you spend less of your day waiting around and more time skiing. This is a major advantage on weekends, when Copper gets most crowded. Plus: Beeline pass holders get to hit the slopes 15 minutes before the general public—letting you enjoy that first run of the day without any traffic.
Like so many ski resorts these days, Copper has become a multi-sport destination. In winter, the menu of available activities includes tubing, sleigh rides, snowmobiling, winter fly-fishing, dogsledding, paragliding, mountaineering, snowshoeing, cross-country skiing, broomball, and curling. Try just one or two of them and you'll feel like you truly celebrated the season.
Getting Oriented: Welcome to the breathtaking Rockies. Copper Mountain is set in beautiful Summit County, 75 miles west of Denver and 20 miles east of Vail (a giant by comparison, with twice the skiable acres of Copper). The base elevation at Copper Mountain is an ear-popping 9,712 feet.
The village is divided into three distinct neighborhoods. From west to east, there's Union Creek, the Village at Copper, and East Village. All three areas are within walking distance of each other. The daycare center, as well as most shops, restaurants, and services are located centrally in the Village at Copper. The ski school meets up at the mountain base of Union Creek.
Getting Around: There's no need to use a car once you arrive. You can walk between the three neighborhoods of the resort ("although more sidewalks between the three areas would be a cool improvement"). Free shuttle buses zip around the resort quickly and easily in designated lanes.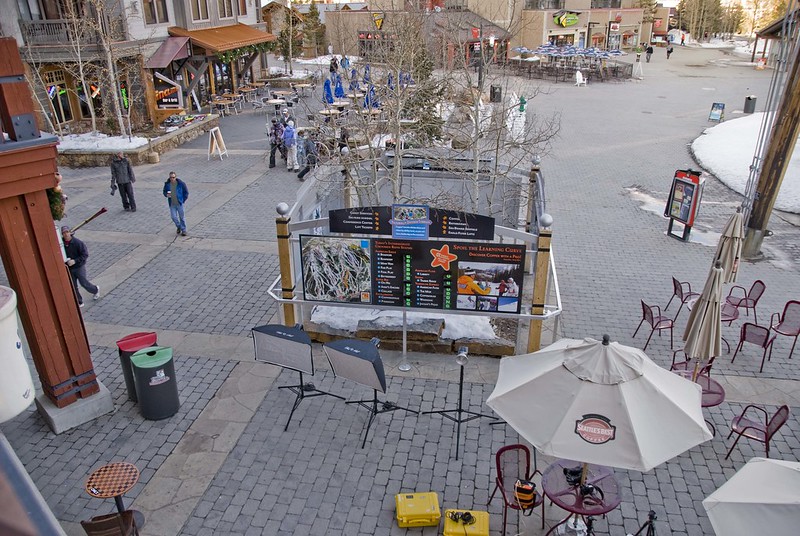 We Are Family: Copper's daycare facility, the Belly Button Bakery, is located in the Mountain Plaza building in the Village at Copper. The center is new and modern, featuring brightly-colored playrooms with lots of stimulating toys, as well as separate, quiet napping areas. Friendly, certified caregivers lead kids in age-appropriate activities throughout the day. For babies and toddlers from 6 weeks to 2 years, the program follows the typical child's eating, sleeping and playing schedule. Older toddlers and preschoolers from 2 to 4 get a mix of indoor playtime (perhaps baking cookies, fingerpainting, and quiet story time) and outside time playing in the snow and sledding. Daycare is available for half-day (8:30am-12:30pm; $78/day) or full-day (8:30am-4:30pm; $88/day) and should be booked 24 hours in advance.
Once your children are old enough for lessons at the Copper Kids ski school, the resort really comes into its own. While Copper is a big mountain, the natural segregation of trails by difficulty makes the resort more accessible to families. Skiers and riders who are just starting out can stick to the Union Creek side of the mountain. All the green slopes and trails are clustered here and it's also the home of the Copper Kids ski and ride school.
At Copper Kids, children can learn to ski—and, unusually, even snowboard—at 3 as long as they are fully potty-trained and "ready for peaceful separation from parents." (Note: They mean it. The school will not accept kids who are crying when they arrive, even if parents offer assurances that their child will stop once the class gets started.) Classes are grouped by age and ability, and run from 10am to 3:30pm. During the lunch break, students are offered a choice of popular kids' foods—hot dogs, burgers, chicken nuggets, and the like.
The Lynch family gave Copper Kids two thumbs up. ("Lessons were excellent, from the organization of check-in and attention to safety to the quality of instruction.") At check-in, 7-year-old Alex's lift ticket was flagged with a red sticker and the unfortunate word "nuts" to alert staff to his food allergy. Since the Lynch boys have been skiing since pre-school, Alex took an intermediate-level class, while 12-year-old Connor tried out an advanced class. Copper Mountain has a wonderful kid's map that encourages kids to find "secret" locations all over the mountain. After two days of lessons, Alex knew the mountain so well that he could lead his mom to places with names like "Witch's Cove," "Wild Ride," and "Boondoggle." ("Here I was, following my 7-year-old all over the mountain!") Connor had the same instructor both days and got to ski all over the upper bowls and experience "skiing by feel," since the powder was chest-deep at times.
Beginners start out at the base of Union Creek on bunny slopes serviced by two "magic carpet" surface lifts (one just for pre-schoolers). A team of friendly instructors teach novices how to form a wedge to control speed ("Make the pizza!"), as well as how to turn and stop. Lynch met parents of pre-schoolers who were pleased with how much fun the program was for kids. ("There was a very cute set-up for tykes that included all kinds of little obstacles.") As students progress, they learn to get on and off a slow-moving chair lift and tackle larger, yet still easy slopes. Small children are required to ride the lifts with an adult. The learning area at Copper Kids is a "kids-only zone." Copper Kids invites parents to watch lessons from behind a fence that surrounds the learning area, to prevent disrupting the instruction.
Bored of skiing? Don't make us laugh. Still, you can break up your day with scenic sleigh rides, dinner sleigh rides, broomball, skating, cross-country skiing, curling, snowshoeing, snowmobiling, dogsledding, and even winter fly-fishing. There's a tubing hill at the East Village—although we think $10 to $15 per kid, per hour, is a tad steep. But no matter. There's plenty more fun to be had in the Village at Copper. In Copper's athletic center (the resort's main registration building), access to the indoor pool and hot tubs is free for all guests of Copper Mountain lodging. Other sure-fire hits include Giggleworks, an interactive toy and candy store, and Rocky Mountain Chocolate Factory, which hosts daily s'more roastings in a fire pit from mid-December through early April. (Kits are sold here and at Giggleworks). Middle-schoolers and teens will love Copper Cade, a huge arcade with air hockey, pinball, and virtual reality games (open daily 9am-10pm).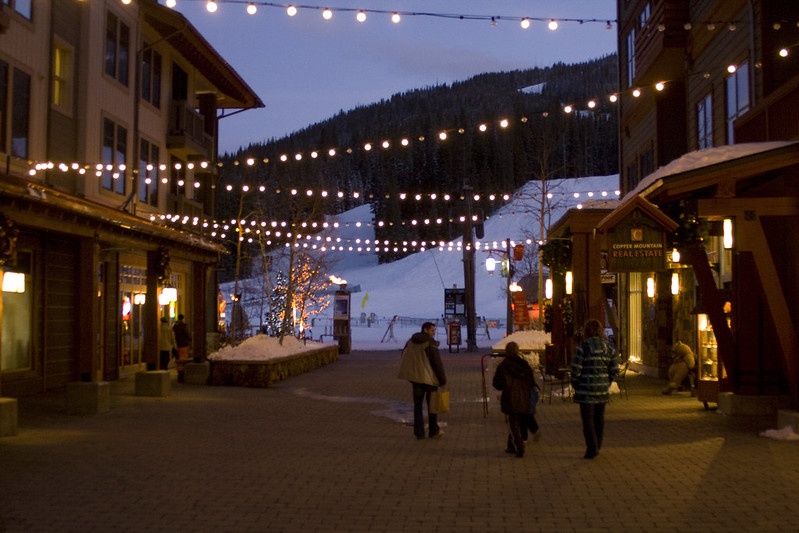 Where to Eat: Gotta love those $3.95 "Kidz Eatz" children's meals offered at about a dozen eateries at the resort. Want variety? Copper's restaurants serve up everything from Italian to Tex-Mex to hot dogs (check out Frank's Franks, at the bottom of the American Eagle) to Chinese (Imperial Palace, in the Village at Copper, was one of the Lynches' favorites). A one-stop favorite with families is the Grand Hall Market food court (2nd floor of Copper Station, at base of the Super Bee).
Nightlife: Though Copper gets its fair share of 20-somethings, it doesn't have the partying nightlife of Aspen or Vail, which probably suits most parents just fine. A good late afternoon destination for families is Jack's Slopeside, which hosts a special kid's après-ski corner every evening until 8:30pm. While mom and dad enjoy a drink at the bar, kids are offered pop corn, candy, ice cream, and soda. Every night, there's something going on just for kids—perhaps movies, arts and crafts, DJ-spinning, bingo, or karaoke.
If you're looking for a nice dinner out—okay, here that means tablecloths and a wine list—Alexander's on the Creek (near the American Eagle lift; open 5:30pm-10pm) is the most upscale alternative. On the January weekend when the Lynches visited, the most popular drinking hole seemed to be JJ's Rocky Mountain Tavern in the East Village (1st floor of Copper Station, at base of the Super Bee). Come nightfall, not a creature was stirring in the Village at Copper, not even at Pravda, a vodka bar touted on Copper's web site for its "exciting frenzy of bar-top dancing." Er, not that weekend anyway.
When you want to get out as a couple, Belly Button Bakery has you covered with two babysitting options. You can book a private sitter (vetted and background checked by Copper) who can watch your kids in your hotel room or condo ($12/hr for first child; $1/hr each additional child; book 24 hrs in advance). Alternatively, your kids can go to "Kids' Night Out," which is a supervised pizza party with arts and crafts, movies, and games. Kids' Night Out is free as long as parents spend at least $30 in the resort that evening for each child who attends (5:30pm-10pm; book 24 hrs in advance). Worth considering: While Kid's Night Out takes children from 6 weeks to 12 years, most of the activities are geared to 3- to 8-year-olds.
Where to Stay: Lodging options are scattered throughout all three neighborhoods: Union Creek, the Village at Copper, and East Village. There are four price categories—platinum, gold, silver, and bronze—based on each property's level of luxury, features, and age of the building. Platinum and gold options are luxurious, four-and five-star new properties with amenities like hot tubs and state-of-the-art appliances. Bronze is the most budget-conscious level, in more basic, slightly dated accommodation without elevators. Note: Silver properties have been recently refurbished. While perhaps not luxurious, they are smartly decorated and can be considered very comfortable.
The Lynches stayed in a platinum-level 3-bedroom, 2-garage townhome in the East Village, the quietest of all areas. It was extremely well-appointed with "beautiful furnishings," five televisions with cable, and a Jacuzzi. Most townhomes and condos in this area have ski-on/ski-off access to the six-person, high-speed Super Bee chair lift. Staying in the East Village makes sense if you've got older kids with advanced ski skills. The ski school drop-off and pick-up is on the other side of the resort, and most easily accessed by shuttle bus.
For families with younger school-age kids, Union Creek, at the westernmost area of the resort, makes the most sense. Chair lifts that access Copper's easiest slopes leave from the Union Creek base, and the ski school is headquartered here, too. At Union Creek, there is platinum and silver lodging available.
If you've got small children who will be using the daycare, or if you'll be partaking in a lot of après-ski and evening activities, consider the Village at Copper, where there are lodging choices at every level.
Price Tag: One of Copper's best options for families is its "Ski Free, Stay Free!" package. If you buy three nights of lodging and lift tickets, you'll get an additional night of lodging and a day of lift tickets for free. This plan includes daily lift tickets for both adults, and kids 13 and under ski free. On a 4-night weekend getaway during the regular season, a family of four would pay $1,448 for lodging in a silver-level 1-bedroom condo anywhere in the resort. Three days of ski school for two kids would cost an additional $560, bringing the total to $2,008. Considering that this package also includes the Beeline Advantage fast pass and free access to the resort's indoor pool and hot tubs, it's a terrific value.
Copper may be a big mountain, but it manages to be accessible and welcoming. It gets kudos for considering and then delivering what families need—affordable packages, low-priced kids' meals, comfortable and accessible lodging, a fantastic ski school and daycare, a super array of non-ski family activities, and friendly, exceptional service throughout the resort. The kid's trail map is just one great example of how Copper goes the extra mile to make skiing fun for families. All this, and the big Rocky Mountain experience to boot.
Insider Tips:
Try to plan your trip so that you have at least some weekday skiing. The resort gets much more crowded on Saturdays and Sundays.
Familiarize yourself with all the perks you're entitled to when you book with Copper Mountain lodging, such as free access to the athletic center.