An affordable, easy-peasy way to enjoy the snow
By Katrina Brown Hunt on Jul 16, 2015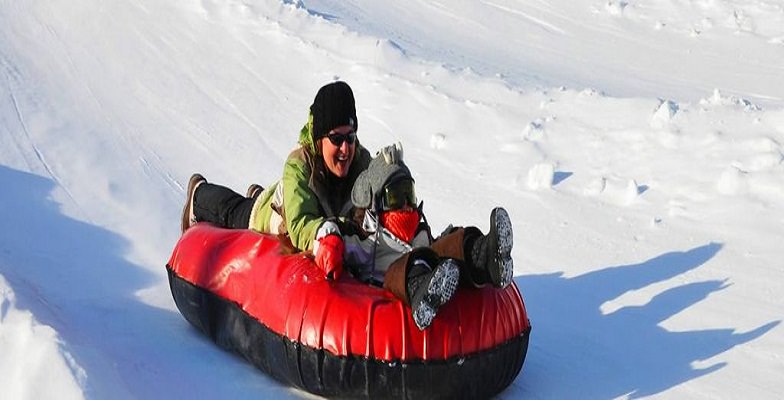 snow tubing with kids: Camelback Mountain (Camelback Mountain)
It may not boast any Olympic heroes, but the winter pasttime of snow tubing has become wildly popular with families. After all, there's no need for expensive gear, pricey lessons, or any particular skill set for that matter.
The low-tech sport is said to date back to the 19th century in the Alps, but the past several years more U.S. ski resorts are opening or expanding their tubing hills for all-ages appeal. Some resorts offer parent-child tandem tubes, or large group tubes—and some are even open beyond the winter season. Here are seven hills where families can get an easy but thrilling day on the slopes:
Camelback Mountain: Tannersville, PA
Home to America's biggest snowtubing park, this ski resort in Pennsylvania's Pocono Mountains offers a whopping 42 tubing lanes and two magic carpet conveyers, with double tubes for parents and kids to share (kids must be between 33 and 43 inches), and single tubes for anyone 44 inches or taller. Three-hour rates start at $20 ($15 if you have a same-day lift ticket). This year's season lasts through Feb. 23.
Timberlee Hills: Traverse City, MI
The biggest tubing and sledding hill in Michigan gets raves for being old-school—no set lanes, but one big hill—with single and double tubes and a nice handle-tow system to get you back to the top. The adjoining café has hot cocoa and pizza for breaks. No height restrictions. One-hour sessions start at $12; two-hour sessions start at $22. Open Thursday through Sunday during winter.
Mad River Mountain: Zanesfield, OH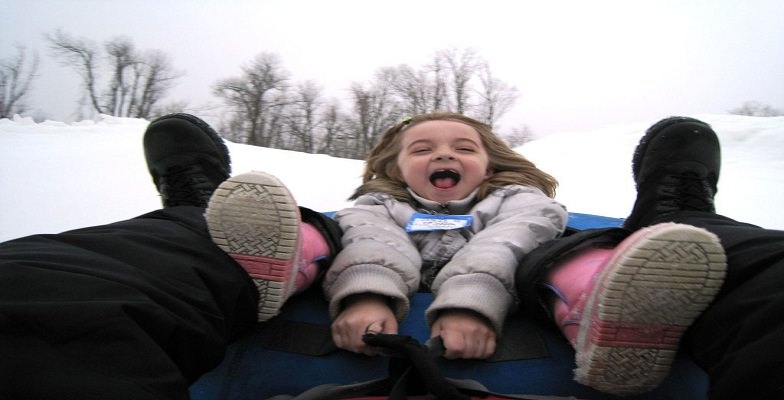 snow tubing with kids: Mad River Mountain (Flickr: The Mighty Tim Inconnu )
The Buckeye State may not be known for its high altitudes, but about an hour east of Columbus lies Mad River's Avalanche Tubing Park, whose 10 ribbon-like lanes offer rolling terrain and a generous 1,000-foot run. Got any night owls in your clan? On Fridays and Saturdays through February, the tubing runs are open until 1 am. There are no height restrictions, and three-hour sessions cost $25 per person. (The Thursday night special is the best deal: four tickets to a four-and-a-half-hour session for $50.)
Heavenly Mountain Resort: Lake Tahoe, CA
The tubing hill at Heavenly Mountain may only have four lanes, but the run is a sweet 500 feet with a exciting 65-foot drop. Plus, it's open year-round: summer offers an all-weather "tubing surface" so that riders can tube in the sunshine. Kids must be 42 inches to ride. The winter rate is $30 an hour; the summer rate is $10 an hour.
(MORE: Find a kid-friendly place to stay near Heavenly Mountain.)
Keystone Resort: Keystone, CO
Located in Colorado's White River National Forest, Keystone Resort's Adventure Point tubing hill has six lanes of varying steepness, so you can get either a gentle or more thrilling ride, and there's a covered magic carpet conveyer to take you back to the top. Some evenings, the hill also offers disco or '80s music nights. Kids who fall short of the Adventure Point's 42-inch height minimum can still take a ride nearby, at the low-key Family Tubing Hill at the Keystone Nordic Center ($16 per hour). Adventure Point rates are on the pricier side, at $31 per person for one hour or $33 for one hour of tubing plus a $5 food or drink voucher. Open through April 20.
Snow Mountain: Stone Mountain, GA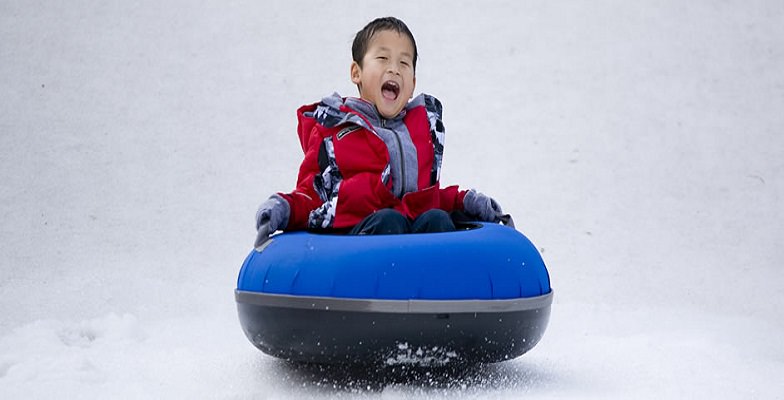 snow tubing with kids: Snow Mountain (Snow Mountain)
Unsurprisingly this Atlanta-area mountain relies on man-made snow to blankets its three hilly runs: for those at least 42 inches tall, there's the Tube Runner and its traditional tubes; for kids 36 inches and taller, the 400-foot Avalanche Alley hill offers family tubes that can easily seat four; and tots 3 and younger can tackle the Little Angels hill on Snoboggan sleds. There's also a SnowZone for snowman building and a snowball-shootin' gallery. Open on select dates through Feb. 17. Day passes cost $29 per person.
Wintergreen Resort: Wintergreen, VA
Ten stories high and three football fields long, "The Plunge" run at this Blue Ridge Mountain resort in Virginia promises to get you sliding up at speeds up to 30 mph. Happily, there's a conveyor-belt lift to get you back to the top. Kids must be at least 42 inches tall to ride, and the resort recommends a minimum age guideline of 6 and up. Ninety-minute sessions start at $18 per person. The 2014 season ends on Mar. 23.
Katrina Brown Hunt contributed this to www.MiniTime.com.