Exciting family-friendly places to paddle
By Mimi Slawoff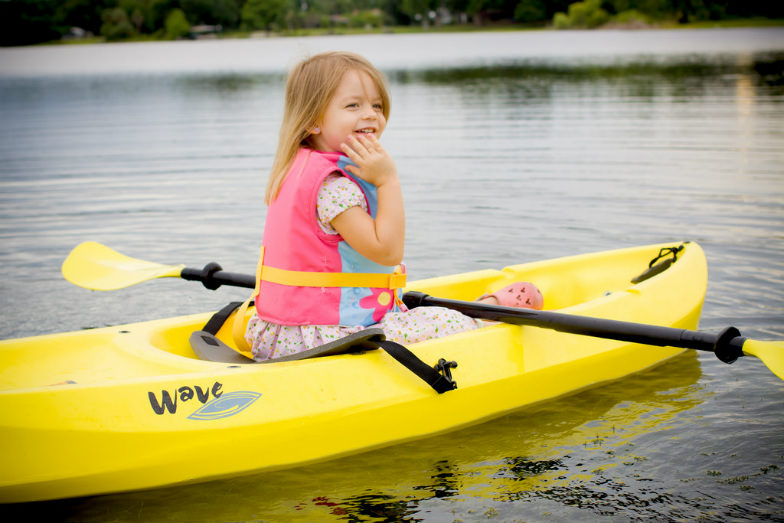 Kids love kayaking (Flickr: Kelly V)
One of the best things about kayaking or canoeing with kids is you can paddle at your own pace in scenic surroundings. You might see dolphins and sea lions in the ocean or fish and turtles in lakes and rivers. No Experience? No problem. Kayaking is a recreational sport in which you become efficient relatively fast. Depending on the location, paddle on your own or join a guided trip to explore sea caves, coves and lagoons. Most guided trips begin with a short lesson. Double kayaks are great when paddling with young kids, and single kayaks — which are easier to navigate — are ideal for older kids who want to row on their own. Even though you'll be wearing life vests, it's important that family members know how to swim. Here's why these 7 places are ideal for paddling with kids:
Door County, Wisconsin
Kayak alongside limestone bluffs, sea caves and uninhabited islands in Green Bay and Lake Michigan. Nicolet Beach is a fun spot for families. Rent a kayak and paddle on calm waters about two miles to uninhabited Horseshoe Island. Door County Kayak Tours leads guided paddling excursions to Cave Point's sea caves not seen from land. Depending on the winds, you'll need a little muscle power for this exciting trip.
More fun: Hop out for a short hike on Horseshoe Island.
(MORE: Find wonderful kid-friendly hotels in Green Bay.)
Glenwood, Arkansas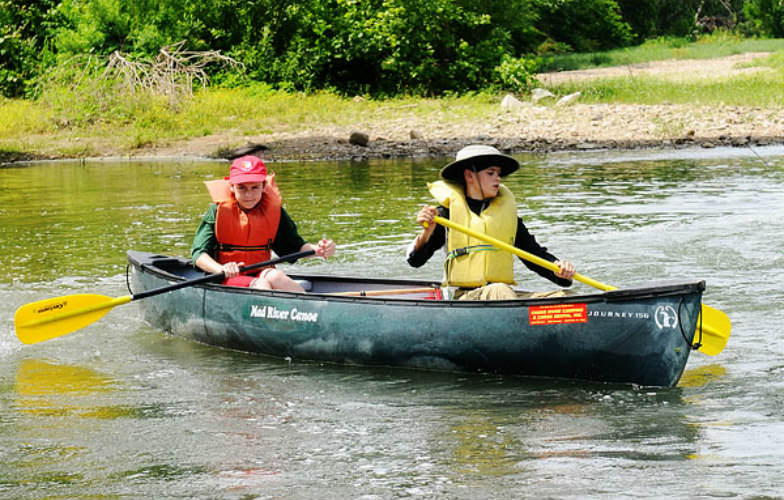 Kayaking in the Caddo River with kids
Pack a picnic and enjoy a family float under a canopy of hardwoods and around willow thickets along the Caddo River, which flows from the Ouachita Mountains to DeGray Lake. Caddo River Camping & Canoe Rentals, which provides kayaks and canoes, shuttles you up the river and picks you up at a designated spot. Although the river is mostly peaceful, there are some exciting class one and two rapids — just enough to make it fun. Gravel bars offer places to stop along the river. Look for turtles bobbing along.
More fun: Fish for walleye and bass in the river.
Ventura County, California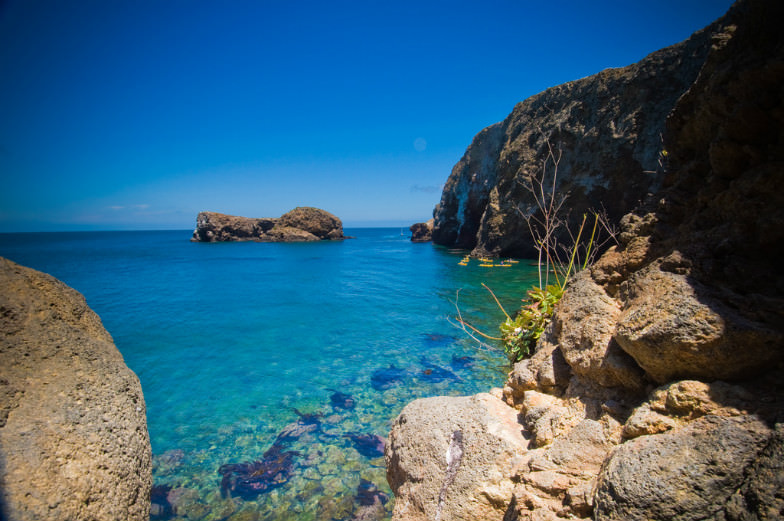 Channel Islands, CA (Flickr: David Wan)
Ideal for young kids is the History & Wildlife Tour in the Channel IslandsHarbor. Paddle through an artificial cave decked out with a mural, pirate skulls and brightly-colored starfish. Then spot real sea lions, seagulls, pelicans and boats in the harbor. Older kids will love kayaking through the Channel Islands National Park's coves and sea caves (including an emerald cave). An Island Packers catamaran ferries kayakers to the islands. Paddle through cave arches and see a blow-hole and a rock garden. See swaying sea kelp, sea lions and California's bright orange state fish, the garibaldi.
More fun: Snorkel at Channel Islands.
Mono Lake, Sierra Nevada, California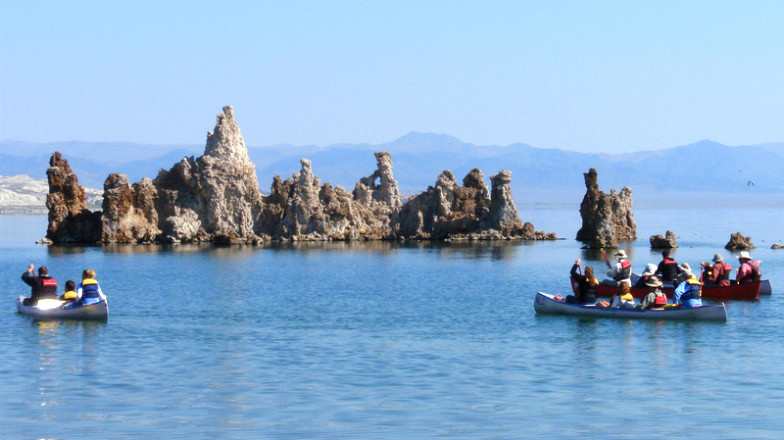 Canoeing in Mono Lake (Flickr: Tom Hilton)
For a unique adventure, go on a two-hour guided canoe tour and learn about Mono Lake's ecosystem. Paddle by tufa towers (limestone formations) growing in this ancient saline lake, home to trillions of tiny brine shrimp. Millions of migratory birds visit the lake each year.
More fun: Fill a small cup with lake water for close-up views of brine shrimp.
Kauai, Hawaii
Hawaii's only navigable rivers — Huleia River, Wailua and Hanalei — are on Kauai. Kayak Kauai offers three-hour guided tours along the serene Hanalei River to the stunning Bay Reef Lagoon on the North Shore. Hop out and swim or snorkel to see colorful reef fish. Feeling adventurous? Keep going to paddle over waves.
More fun: Paddle along the Huleia River and hike to waterfalls and a rope swing with Outfitters Kauai in Lihue.
(MORE: Stay while. Find great family-friendly hotels in Kauai.)
New York City Downtown Boathouse, New York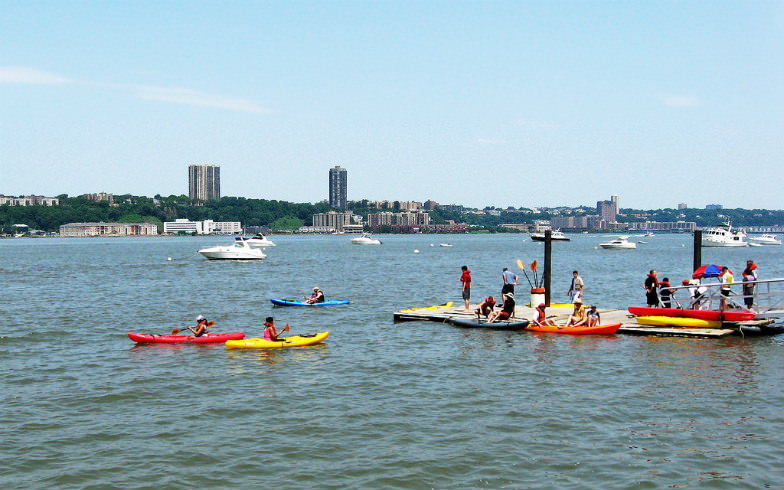 Kayaking on the Hudson (Flickr: Briana C.)
Managed by volunteers, the nonprofit New York City Downtown Boathouse offers free kayaking (donations accepted) programs on the Hudson River at three boathouses. Just stay within the designated rowing areas. A brief instruction, life jackets and equipment are all included. Changing rooms are onsite.
More fun: The New York City Water Trail connects 160 square miles of rivers, bays, creeks, inlets and ocean ideal for canoeing or kayaking.
Chattanooga, Tennessee
Outdoor Chattanooga offers family-friendly, two-hour guided tours of the downtown waterfront. Launch from Coolidge Park and paddle upstream around the Audubon Island Wildlife Sanctuary to view shore birds and maybe even a river otter. On the way back, enjoy views of the Bluff View Arts District, historic Ross' Landing and the city's downtown bridges.
More fun: The Rapid Learning Whitewater Program teaches ages 8 and older (even beginners) how to paddle in rushing water.
Mimi Slawoff, a Los Angeles-based journalist, contributed this to www.MiniTime.com.