Best attractions in London depending on your kid's interest.
By Holly Rosen Fink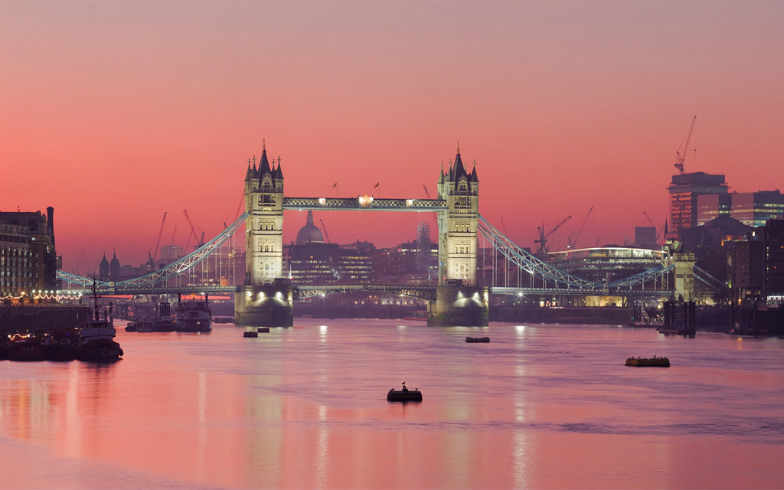 London Skyline (Flickr: Jim Trodel)
London has so much to offer families from fabulous museums, which are free all day, and historical venues that give parents opportunities to teach their kids about the city's rich past, to thrilling rides and vibrant neighborhoods. Here are seven ideas on how to make the most out of your trip to London with kids depending on what they like most:
Best for Entertainment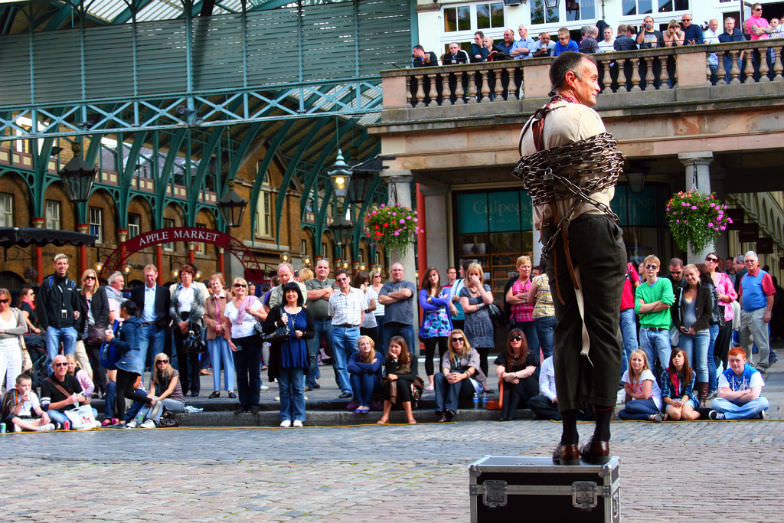 Covent Garden street performer (Flickr: Anthony Kelly)
Covent Garden is a great place to stop after a bit of shopping and browsing in the West End. It's full of great shopping, food and fun, and professional street performers, as well as other types of buskers. Located in the heart of the West End, home of all the prominent theaters, it's ideal to visit before attending one of the many spectacular shows and musicals London is famous for. From clowns and fire swallowers to mimes and comedians, the entertainment is excellent – and completely free to watch!
(MORE: Experience more of The Square Mile. Look for a kid-friendly hotel to stay in London.)
Best for Sporty Types
In the middle of central London lies Hyde Park, home to a paddling pool where kids can swim, tennis courts to play on, and trails to go horseback riding or cycling on. If your kids are really game, they can walk or jog around the park's 4.5-mile perimeter. For some serious playtime, head to Diana, Princess of Wales Playground, right on top of Kensington Palace where Princess Diana once lived. The playground, created in her memory, was inspired by the stories of Peter Pan and utilizes water, sand, and various play areas that will trigger children's imagination. This experience is great for kids who need to take time out and burn off some steam.
Best for Nature Lovers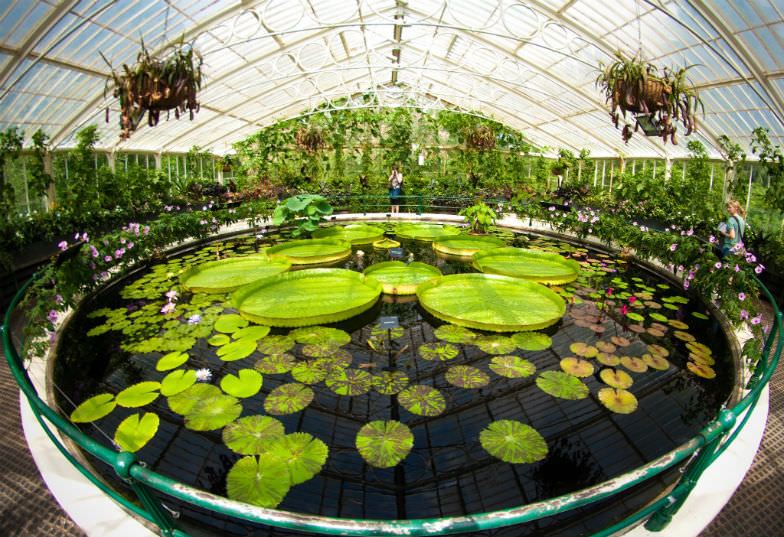 Kew Gardens (Flickr: Poppet with a Camera)
Located in Richmond in southern London, Kew Gardens offers a terrific day out for the whole family. It's an oasis outside the busy city, covering 300 acres of sprawling plants and trees. The gardens include a soaring walkway, tree canopies, and extensive gardens contained both in and out of glass. The site has been designated World Heritage Site status and attracts thousands of visitors daily. Young nature lovers will be mesmerized by giant lily pads, an exotic rainforest, a treetop walkway, and their trip through 10 climatic zones in the Princess of Wales Conservatory. For very young kids, there is an outdoor play area with rope bridges, swings, zip wires, and slides to enhance children's education about the outdoors.
Best for History
A must-see in London, the Changing of the Guard at the Buckingham Palace is absolutely free. It involves Buckingham Palace's Foot Guards and takes about 45 minutes, complete with traditional music performed by a live band. We suggest that you plan to get there early, especially if you are traveling during peak season. It's very busy outside the palace, and if your children don't like crowds, they may feel overwhelmed. You can also venture away from the crowds and still see the event from a short distance.
Best for Panoramic Views
The London Eye (Flickr: Moyan Brenn)
One of the most popular attractions in the British capital is the London Eye, a giant Ferris wheel on the South Bank of the River Thames that will take you and your children 550 feet above ground. It's literally a glass observation wheel that was built for the city's millennium celebrations and provides entertainment to young and old alike on a daily basis. You can save 10% off tickets booking tickets online in advance, which will also forgo waiting in long lines. Your kids will love their bird's eye view of London, and if you ask them their favorite part of their London trip, they'll without question say it was the London Eye.
(MORE: Find more kid-friendly things to do in London.)
Best for Shopping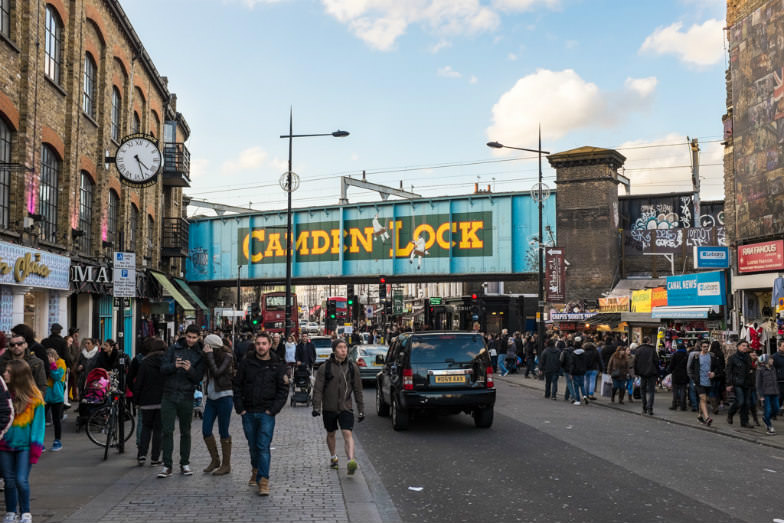 Camden Market (Flickr: James_London)
Jump on the Northern Line of the London Tube and head to Camden Market. There you can enjoy a stroll with the kids through stalls full of interesting fashion items and collectibles. Camden is the largest street market in the UK and offers a wide variety of eclectic items in its different markets, several of which used to be horse stables. Located in a cluster around Camden Lock, there are hundreds of studios, shops, cafes, restaurants, and vendors selling new and vintage clothing and accessories, books, antiques, records, CDs, art, and cuisine from around the world. When you're done, hop on a boat operated by Regent's Canal Waterbus, which will take you for a ride through Camden Lock, Little Venice, and the London Zoo.
Best Interactive Museum for Kids
Located right in Covent Garden, the London Transport Museum teaches the history of the London Underground and the bus system. Find out more about the city's Victorian area with carriages, horses, and trains. Then move on to learn how the underground system was built. The kids can get dressed up as conductors, virtually drive trains and tubes, climb through double-decker buses, and get an amazing insight into the unique London transports.
Holly Rosen Fink of The Culture Mom contributed this to MiniTime.