London with kids
By Michelle Rae Uy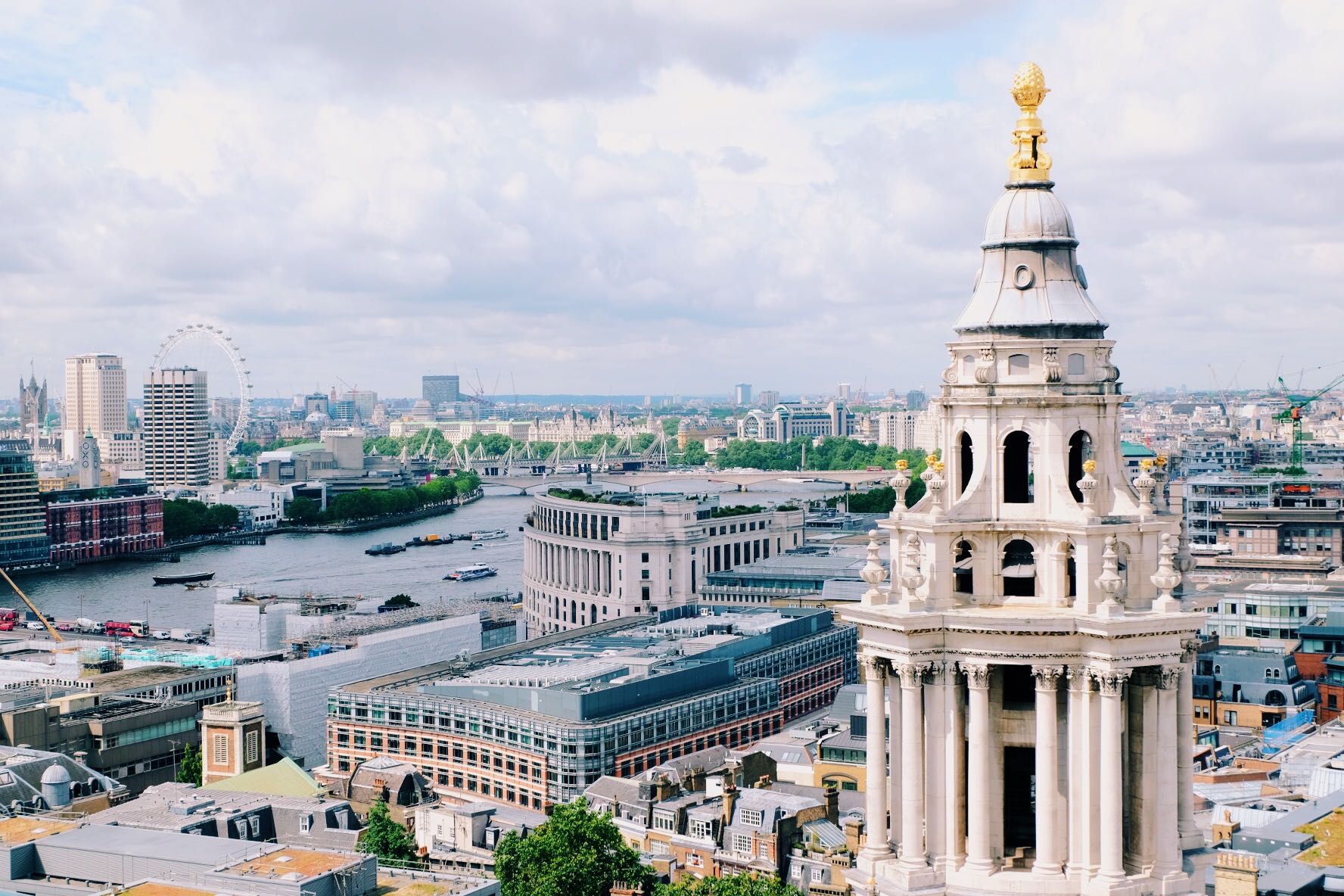 London from St. Paul's Cathedral (Photo: Michelle Uy)
Compared to New York, Tokyo or Los Angeles, London is a small metropolitan. But within its city limits are several neighborhoods—a just little over 40, in fact—and each of them possesses a plethora of sights and kid-friendly diversions that could easily fill up a family's day of exploration.
Within the City of London, one of the oldest neighborhoods, for example, historical attractions, bustling markets and awe-inspiring architecture abound. Here are some of the best ones that families can visit and explore in one day.
Where to Stay: Experience the best of both worlds at the newly opened Batty Langley's Hotel, which welcomes families traveling with kids. The beautifully furnished hotel boasts rooms and suites with Victorian flourishes and antique furniture like gorgeous four-poster beds and exquisite old-fashioned ceramic bathtubs as well as modern conveniences such as Bluetooth and Apple TV connectivity and complimentary high speed WiFi. Best of all, they offer breakfast in bed so you can lounge in bed a little longer the next day!
Tip: If you're planning on maximizing your time in London and visiting many of its popular attractions, the London Pass is a convenient and money-saving tool to have. It gives you access to over 60 of the city's attractions at no further cost as well as skip-the-lines privilege to some of the most famous ones. Plus, you won't have to keep standing in line for tickets, it's so easy to use (show to scan and you're in!) and you get an attractions guide book for free. Purchase the London Pass for each member of your family before you start your day of exploration in the City.
(MORE: 5 Free Things To Do In London With Kids)
St. Paul's Cathedral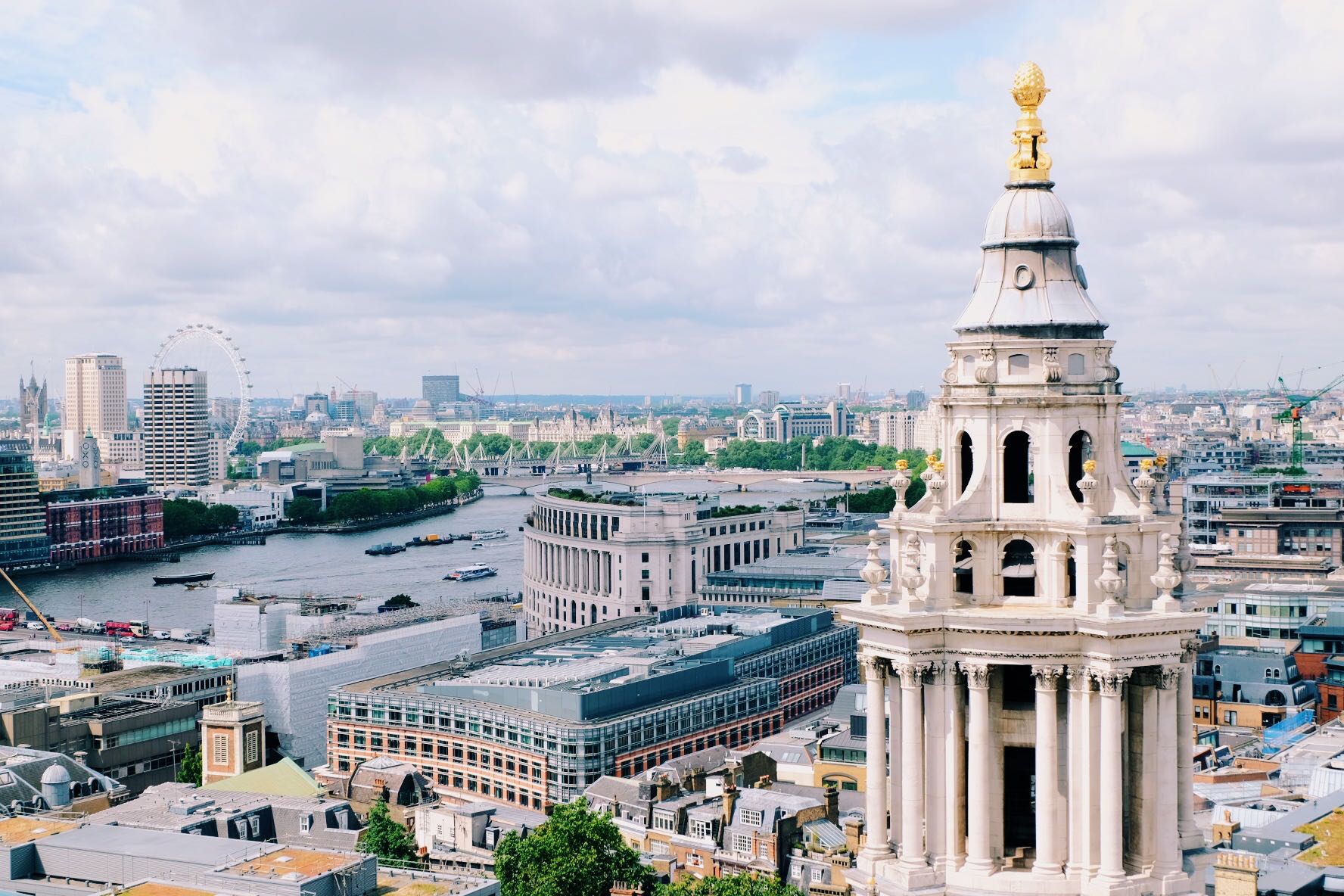 St. Paul's Cathedral is a must visit sight in the City of London. (Photo: Michelle Uy)
Start your day early at St. Paul's Cathedral, which opens to visitors at 8:30 am except on Sundays. While not included in the London Pass, tickets are affordable and can be purchased online.
One of London's most famous and family-friendliest attractions, the cathedral is a sight to behold both inside and out. It's the site of several important events in British history, including the funeral of Winston Churchill and the wedding of Prince Charles and Lady Diana, as well as the final resting place for several people of great significance like Alexander Fleming and its own architect Christopher Wren.
While its history is impressive, it is a far cry from the architecture and design of the cathedral, both of which are lavish and spectacular. While photos are not permitted inside perhaps to preserve its sanctity, the stunning mosaics and paintings, intricately designed arches, columns and ceilings, and incredible high altar will forever be etched in your memories. Borrow the complimentary audio guides, as they'll offer interesting facts and insights you wouldn't otherwise know, and conquer your fear of heights and climb the steep steps up to the Whispering, Stone and Golden Galleries for awe-inspiring views.
Tower of London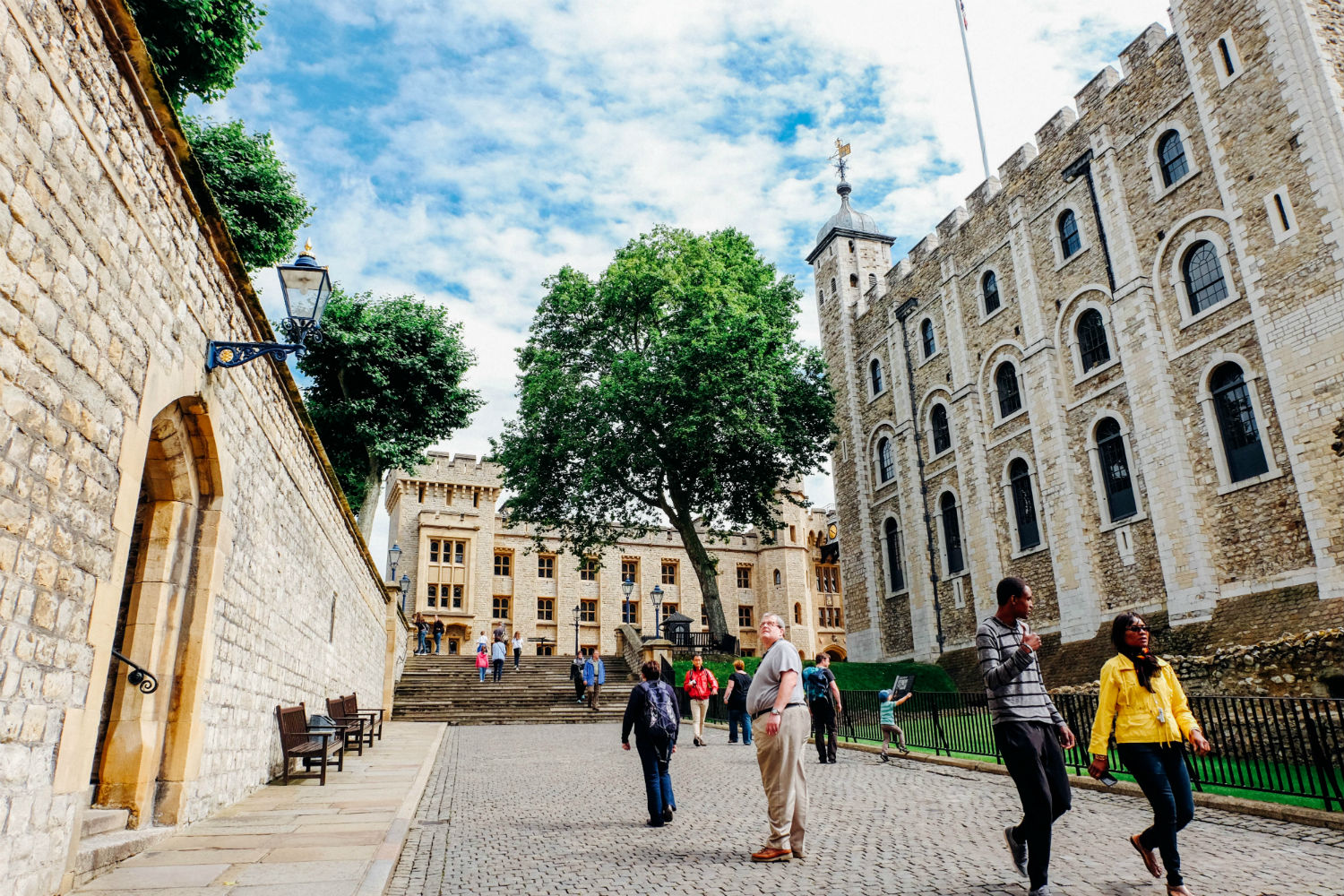 Visit the Tower of London and learn about its role in history. (Photo: Michelle Uy)
After a couple of hours in St. Paul's Cathedral, walk about 20 minutes southeast to the kid-friendly Tower of London. Or save time and take the Circle or the District Line from Mansion House Station to Tower Hill. When there, head straight to the entrance and bypass the line with your London Pass.
The Tower of London is one of London's most historic and most important sites, with a grim history that only adds to its appeal. Today, it is home to the magnificent Crown Jewels as well as the imposing Royal Armouries in the White Tower, both of which you must visit early on as they draw the most crowds. Take your time in both areas as there's so much to see and connect to history. Later, visit the Tower Green Scaffold Site, where Anne Boleyn was executed; the Bloody Tower, which harbors a harrowing secret and where Sir Walter Raleigh was imprisoned; and Chapel Royal of St. Peter ad Vincula, burial place of Anne Boleyn.
While they can draw such large crowds, the 60-minute Yeoman Warders tours that starts every 30 minutes from the Middle Tower, are certainly worth going on as they are very informative and also fairly entertaining.
Tower Bridge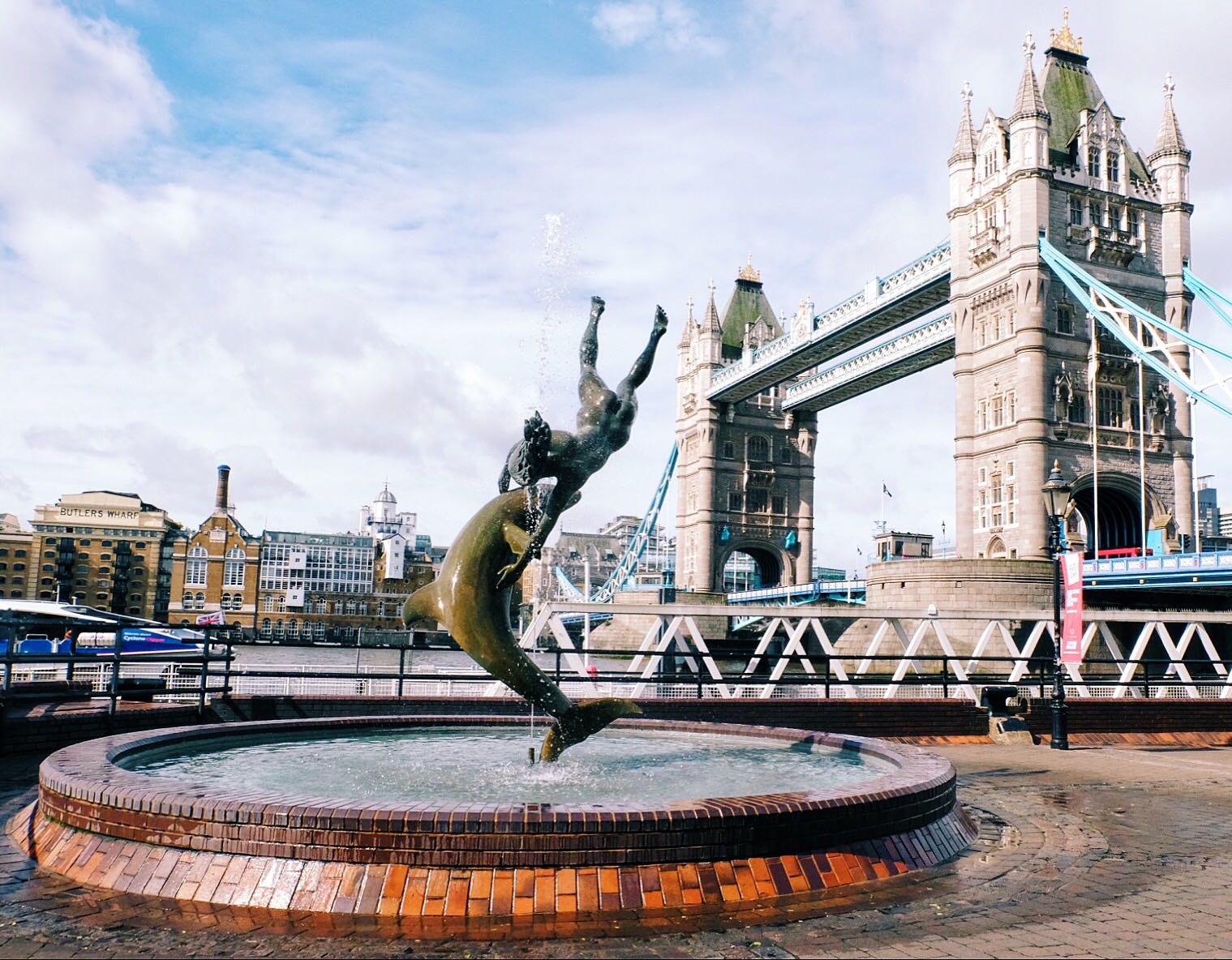 The Tower Bridge is one of London's most beautiful bridges. (Photo: Michelle Uy)
Grab a quick bite at New Armouries within the tower grounds and then head straight to Tower Bridge mere steps away. Again, bypass the line with your London Pass and spend around 30 minutes or so exploring it. But before you do, make sure to take photos of the bridge, which is picture perfect especially when it's bright and sunny in London.
The kid-friendly Tower Bridge Exhibition is worthy of a visit, even if you only have an hour or less to spare in your day. You'll get a chance to see its interiors, learn about its construction as well as bridge engineering, see its Victorian engine rooms, walk over the Thames over transparent glass floors, and even witness fascinating bridge lifts (check the schedule here).
After your visit, visit the Girl with a Dolphin Fountain along St. Katharine's Way for a great photo opportunity.
Leadenhall Market
Walk about 16 minutes to Leadenhall Market where lunch options are aplenty.
The covered market is one of the city's most famous, thanks to its beautiful Victorian roof and the fact that the Diagon Alley scenes from Harry Potter and the Sorcerer's Stone were filmed here. However, it's also known for its food stalls, shopping opportunities, restaurants and pubs. Take your hungry troop here for a much needed refueling and break.
Don't be shy and take photos of the market. Everybody's doing it!
(MORE: 7 Best Things to Do in London with Kids' Interests in Mind)
London Bridge Experience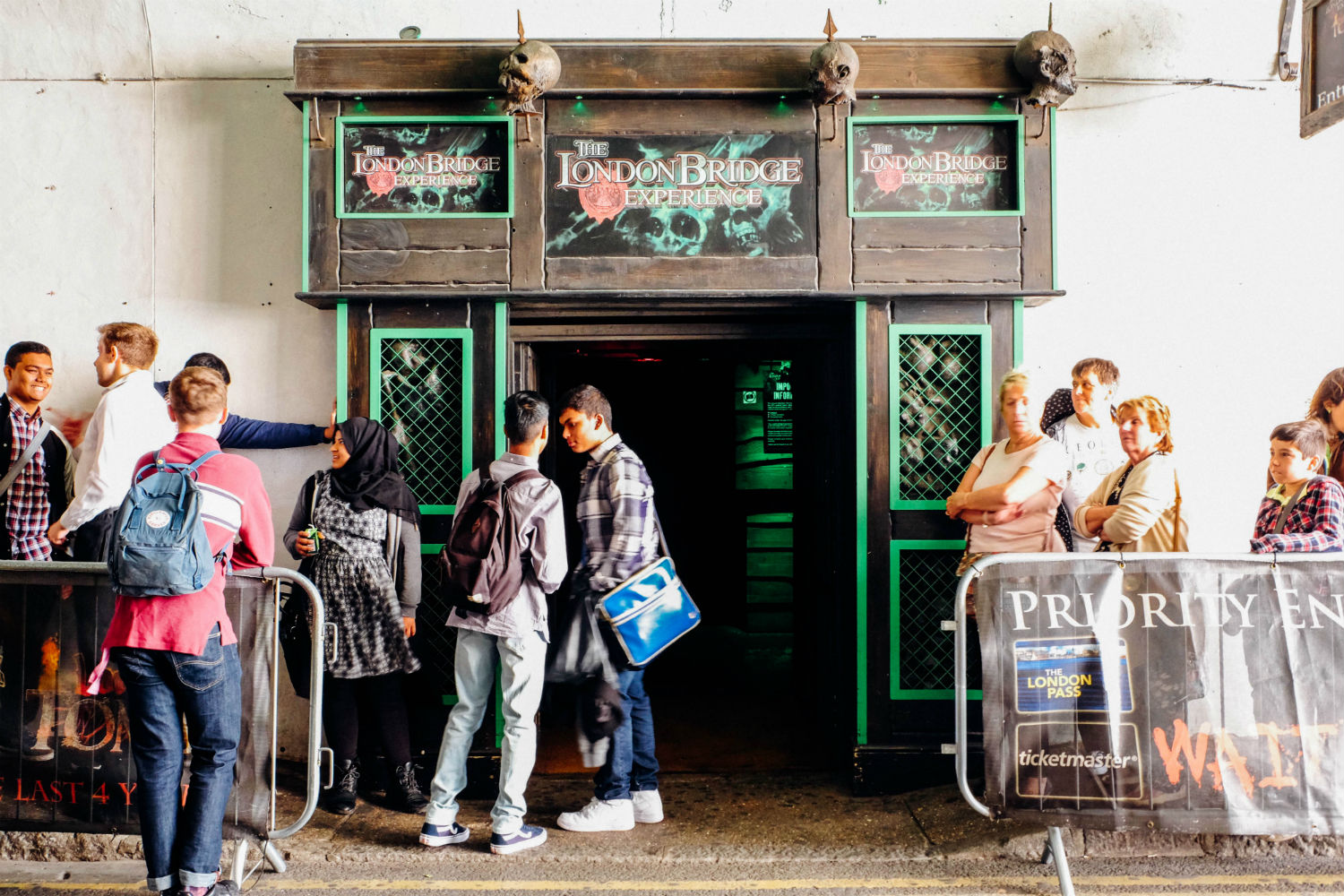 Take the older kids to see the London Bridge Experience. (Photo: Michelle Uy)
While you can take the bus from Leadenhall Market to the London Bridge Experience, which is also included in your London Pass, walking over London Bridge is much more scenic and will only take 13 minutes of your time.
The London Bridge Experience welcomes kids of all ages (except perhaps infants) but may be disturbing for the little ones. The older kids will certainly get a kick out of it however, especially if they are into scary mazes. Comprised of two parts that altogether takes about an hour, the tour starts with a themed, story-telling narration of the bridge's fascinating and at times dark past as well as a small exhibition that depicts its history, and then takes visitors to a dark and at times scary maze that they have to pass through.
The staff will give you a chance to skip the maze, so you will have the option to experience only the first part that offers quite an insight to the bridge's history.
Museum of London
Take the Northern Line from the London Bridge Station to Moorgate and walk less than 10 minutes to the Museum of London since you'll have plenty of time to spare.
Continue your day immersing in London history and visit the kid-friendly Museum of London. Here, you and the kids will be transported to the city's different yet equally intriguing eras—from London before it became London through Roman and Medieval London as well as the time of the Plague to the modern city we've come to know and love—through several galleries and recreations. There are interactive displays as well, which are perfect for teaching the kids, and temporary exhibits that London Pass holders can visit for free.
Michelle Rae Uy contributed this to MiniTime. She is a travel writer based in Los Angeles and MiniTime's Head of Content, who spends her free time on adventures and film photography.